With four required off the final ball of a rain-affected IPL Final, star all-rounder Ravindra Jadeja hit a boundary off Mohit Sharma to fashion a famous win for the Yellow Brigade, who lifted their record-equalling fifth IPL trophy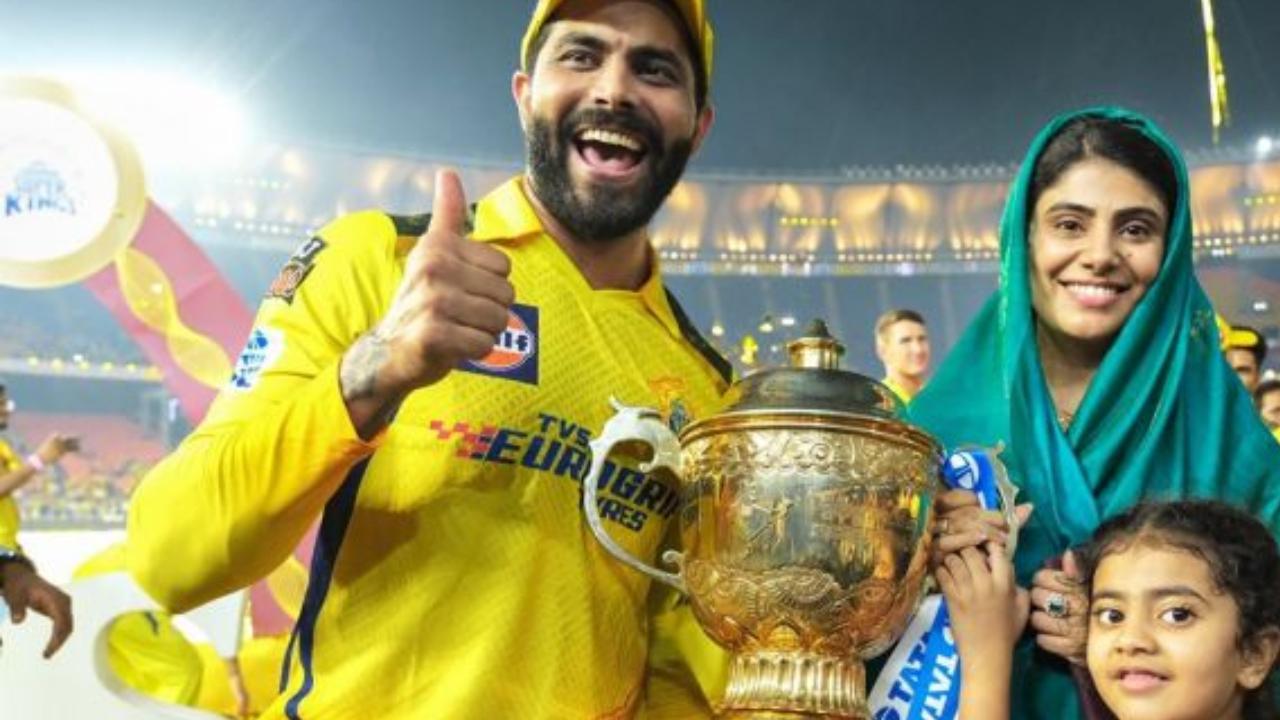 Ravindra Jadeja with wife and daughter (Pic: BCCI)
After witnessing 73 competitive games, the 16th edition of the cash-rich Indian Premier League (IPL) has culminated on a stellar note with a last-over thriller between Chennai Super Kings and Gujarat Titans in the highly-anticipated final at the Narendra Modi Stadium on Sunday. The IPL mania reached its crescendo in a mouth-watering final as two of the best teams in the season locked horns in a summit clash in front of a packed crowd at the world's largest cricket stadium.
With four required off the final ball of a rain-affected IPL Final, star all-rounder Ravindra Jadeja hit a boundary off Mohit Sharma to fashion a famous win for the Yellow Brigade, who lifted their record-equalling fifth IPL trophy. Meanwhile, Tamil Nadu BJP president K Annamalai courted controversy after labelling Jadeja as a 'BJP karyakarta' who swung the game in his team's favour, hitting medium-pacer Sharma for a six and a four. 
ADVERTISEMENT
"Cricketer Jadeja is a BJP worker. His wife Mrs. Rivaba is a BJP legislator from Jamnagar North Constituency. And he is a Gujarati! It was BJP worker Jadeja who led CSK to victory," tweeted @BJP4TamilNadu on Tuesday. 
கிரிக்கெட் வீரர் ஜடேஜா ஒரு பாஜக காரியகர்த்தா. அவர் மனைவி திருமதி.ரிவபா ஜாம்நகர் வடக்கு தொகுதி பாஜக சட்டமன்ற உறுப்பினர். மேலும் அவர் குஜராத்காரர்!

பாஜக காரியகர்த்தா ஜடேஜா தான் CSKவிற்கு வெற்றியை தேடி தந்துள்ளார்

- மாநில தலைவர்
திரு.@annamalai_k#CSK #Annamalai #9YearsOfSeva pic.twitter.com/zvy6B2eUlg

— BJP Tamilnadu (@BJP4TamilNadu) May 30, 2023
Under the stewardship of the iconic Mahendra Singh Dhoni, Chennai Super Kings embellished their already fabulous record in the IPL with a fifth title triumph, beating Gujarat Titans by five wickets in a thrilling summit showdown here on Monday.
Dhoni has been the cynosure of all eyes ever since the Indian Premier League began this year and in a fitting end to the finale, the captain finished with a record-levelling fifth trophy. B Sai Sudharsan slammed 96 in 47 balls as Gujarat Titans posted 214 for four after being asked to bat first.
Set a revised target of 171 in 15 overs after rain interrupted play at the start of the second innings of a final that was pushed to the reserve day owing to heavy downpour, CSK completed the task in the last ball, in what could turn out to be Dhoni's final outing in the T20 league. Jadeja struck a six and a four off Sharma in the final two balls to win it for CSK and even as the players in the yellow jersey run onto the field, Dhoni remained in the dugout, his eyes closed.
Neither the juggernaut of the Gujarat Titans nor bad weather for two days could stop Dhoni's men from drawing level with their arch rivals Mumbai Indians, in terms of most IPL trophy wins.
(With inputs from agencies)