Mumbai Indians successfully chased down the target of 132 with three balls to spare in the low-scoring but tense summit clash at the Brabourne Stadium, with star England all-rounder Nat Sciver-Brunt playing sheet-anchor with an unbeaten 60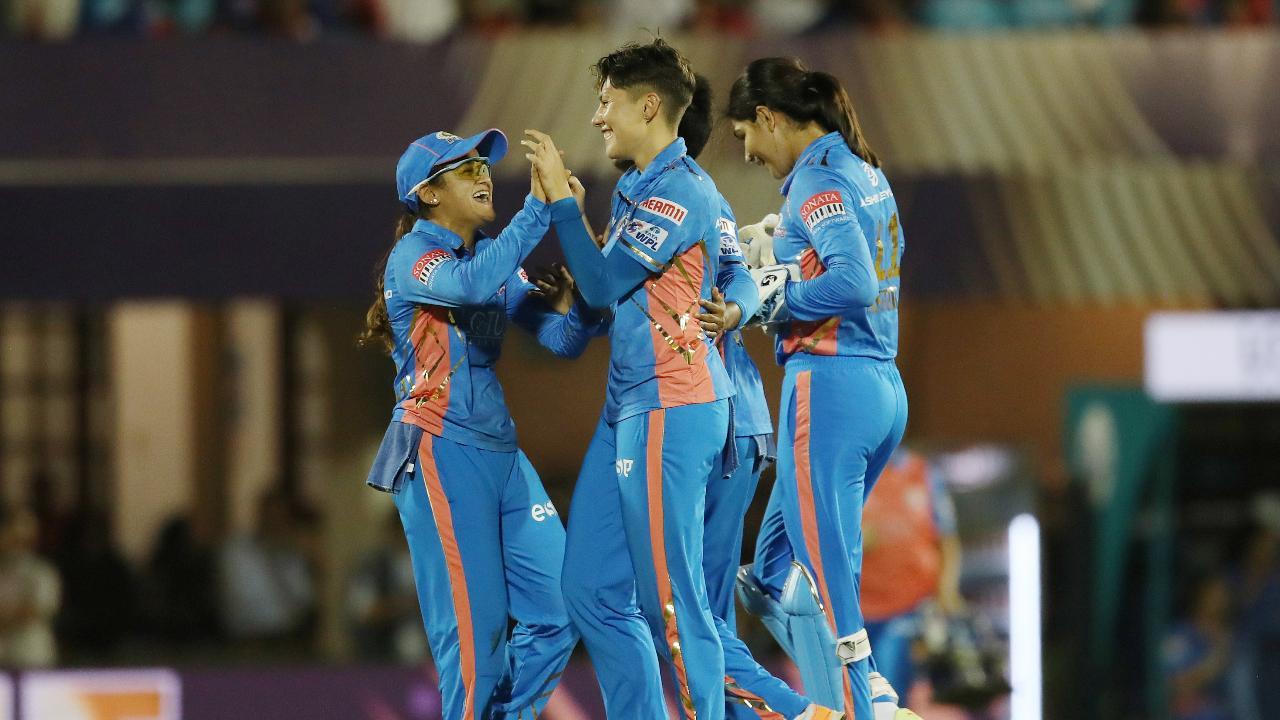 Mumbai Indians (Pic Courtesy: @wplt20)
Having guided Mumbai Indians to their inaugural Women's Premier League (WPL) trophy after a seven-wicket win over Delhi Capitals on Sunday, captain Harmanpreet Kaur feels that focussing on winning crucial moments of matches and not the ultimate prize worked well for her side. 
Mumbai successfully chased down the target of 132 with three balls to spare in the low-scoring but tense summit clash at the Brabourne Stadium, with star England all-rounder Nat Sciver-Brunt playing sheet-anchor with an unbeaten 60.
ADVERTISEMENT
"(Right from start) we were talking about winning the moments. We were not looking for the trophy, we were looking to win all the moments. (We thought) if we win the moments, the trophy will come automatically," Kaur told the media. 
"It feels very good personally also. I was waiting for this moment for a long time when I could win something as a captain. It is also very important for women's cricket. Many times we were there but could not make it. But here the tournament was different, the teams were different. Every side is so balanced and did well in the tournament," she added. 
Also Read: DC vs MI: Nat Sciver-Brunt steers Mumbai Indians to inaugural WPL title
Her run-out against Capitals reminded fans of her dismissal in the T20 World Cup semifinal against Australia, but she said there was enough in her team's tank to overhaul the target. "
Both the run outs were quite disappointing. I was confident in the last match (India versus Australia) because we had so many wickets in hand. I thought we would be able to do it.
But the scenario was a lot different here, we had Nat in the middle and she was well settled. I knew who was going to bowl and how. We were quite positive to finish the game one or two overs left. But when I got out we thought we had to go by the situation," she said.
The Eliminator against Gujarat played a pivotal role in Mumbai gaining momentum into the final.
"When we were doing well, the only thought in mind was to not get into the elimination round. But after losing two matches we were in search of momentum. It went in our favour that we got one more match to play before the final and everybody got into the rhythm. It worked well in our favour. If you play after a long gap, it is tough to get back into momentum," Kaur explained.
Moreover, Kaur was also impressed with how Delhi Capitals players Shikha Pandey and Radha Yadav added 52 runs from just 24 balls for the unbroken 10th wicket, and asked them after the game to play similarly for the national team.
"I told Radha after the match that the way they were playing, I want to see the same approach when you come and play for India. She promised to come with the same approach," she said.
(With PTI inputs)