"We do have technical or tactical changes that we discuss with the players because I believe that the player has a method and style of play. We don't change that much and we try to refine that"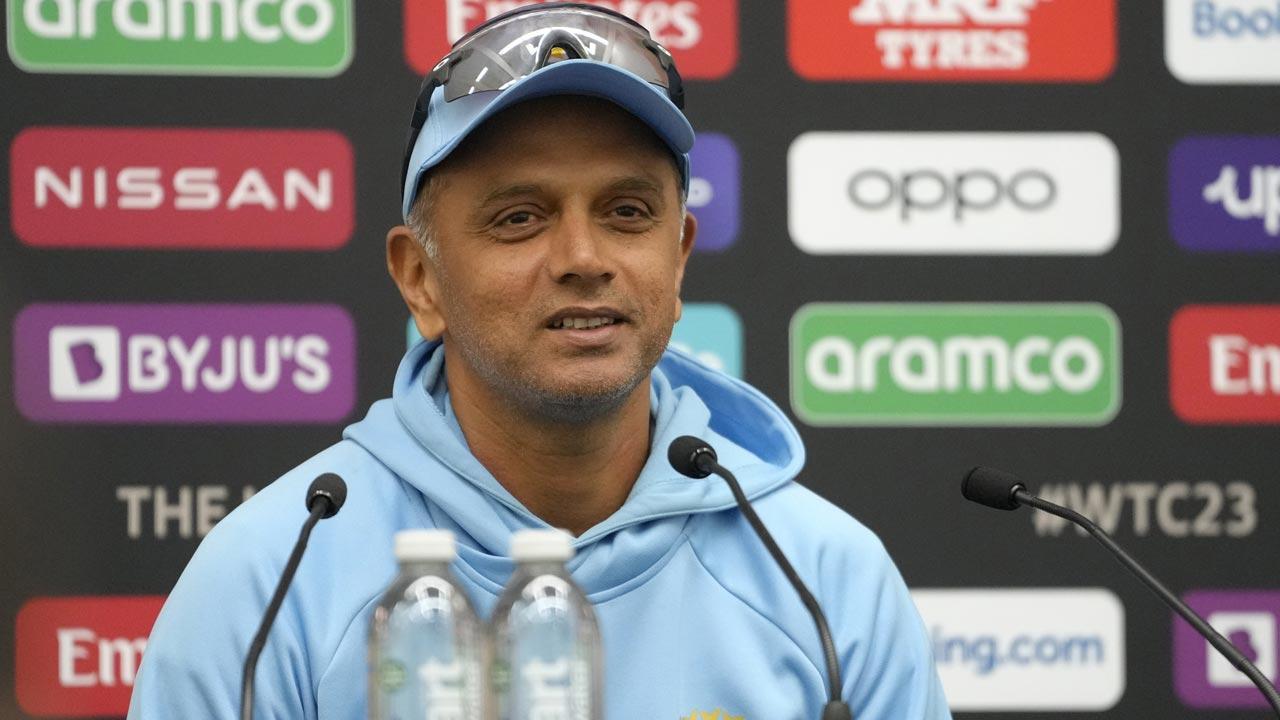 Rahul Dravid. Pic/AP, PTI
Amidst the increasing fears for the future of Test cricket around the world, India head coach Rahul Dravid expressed that his personal wish will be to see a lot more games in the longest format of the game being played and feels that the World Test Championship has added context to the matches worth points.
"I really hope that, because of things like the World Test Championship when you have some context to a lot of these, to a lot of the bilateral games, not that they don't have context in itself. Anytime you play for your country, play against someone else, there's always context, and you always want to win those series."
ADVERTISEMENT
"But really hope that it will encourage a lot more teams to be able to potentially play a lot more Test cricket or to be able to find a way to play a lot more Test cricket. I know it is complicated and that it's hard to go into depth in a press conference and there are a variety of reasons why that is probably not happening, both in terms of time, and finances, there are many things that go into it."
"But certainly, we'd like to see a lot more Test cricket - personally at least, I'd like to see a lot more Test cricket being played. We do play a lot of it. England and Australia, are probably the other two countries that play a lot of it. But the point system actually allows everyone an opportunity to be able to play these," said Dravid in the press conference ahead of the start of the WTC final on Wednesday.
Dravid also endorsed that the WTC format has to be continued to retain the context of Test cricket. "It's not usually skewed in terms of favour of any of the countries because even if you play less, you still have an opportunity to make it to a final like New Zealand showed last year and to win the championship. In fact, it probably playing less gives you an opportunity to protect your resources a lot better than some of the bigger teams have."
"When you're only playing a two-Test match series, you know you can get your bowling attack ready for those two Test matches. Whereas, if you're playing the five-Test match series, like some of us do, it really challenges your depth and resources a lot more. So, it cuts both ways. But certainly, it is a fantastic form of the game and I would really love that a lot more of it is played and with context."
The Oval, the venue for the WTC final starting from Wednesday, will be hosting a Test match in June for the very first time in its history. Of the 104 Tests the venue has hosted since 1880, a huge number of matches have been played in August and September, with only eight matches taking place in July.
Drav'd feels India's bowling attack minus Jasprit Bumrah will be ready to react to whatever conditions are available on match day morning. "At least from the time I have probably been playing or following cricket, I'm not sure if there's actually been a Test match played in June. I'm not sure before that, not sure historically if there's actually ever been cricket played in June."
"But a lot of the data and a lot of the stats that we looked at over the last bit is skewed towards the end of the summer in the UK. Wickets are slightly different, slightly more tired - having played here in the past."
"So it might be different conditions, but we just have to react to that. We just have to react when what we see on in terms of the conditions and how it plays out in the middle and hopefully we have the resources and the ability to deal with whatever comes in front of us."
From an Indian perspective, Cheteshwar Pujara had been playing for Sussex in the County Championship while the rest of the 14 members played in IPL 2023. With IPL 2023 ending in the wee hours of May 30, making a switch in the formats and adjusting to England conditions at short notice will undoubtedly be a huge challenge.
Also Read: WTC Final: 'Pujara's inputs will be invaluable for Indian batters,' says Sunil Gavaskar
Dravid opined that players have a lot of experience of playing in England and are putting in the hard yards to adapt to the swinging conditions which would be on offer for the one-off marquee finale.
"All the boys have played a lot here. Our batting lineup has a lot of experience. People have a lot of ideas about the conditions here. They have played in different conditions here. So we definitely have a discussion. We do it in practice. We analyze what lengths can be put in these conditions. Maybe the lines can be different keeping India in the centre of attention."
"So, there is a practice on that. Our bowlers also want to put those lengths or lines in the nets. So, there is a practice for that. But there is no need to do anything special for it because our players have all played here. They know how to make runs."
"The thing is that in the next 5 days when we get the opportunity, it won't happen that everyone will be successful. If the 4-5 boys who will make the run or get set, if they can play long runs or big runs, then it will be very beneficial for the team."
"It (swing) is a factor for keeping. So, our fielding coach practices on that. We use different types of balls in practice. Some are swerving and swinging, as you might have seen earlier. So, we do have a specific practice and discussions on that."
"We do have technical or tactical changes that we discuss with the players because I believe that the player has a method and style of play. We don't change that much and we try to refine that."
Also Read: WTC Final: Coach Rahul Dravid denies feeling pressure of trying to win an ICC trophy
This story has been sourced from a third party syndicated feed, agencies. Mid-day accepts no responsibility or liability for its dependability, trustworthiness, reliability and data of the text. Mid-day management/mid-day.com reserves the sole right to alter, delete or remove (without notice) the content in its absolute discretion for any reason whatsoever
"Exciting news! Mid-day is now on WhatsApp Channels

Subscribe today by clicking the link and stay updated with the latest news!"
Click here!