Brazil's Alves in sticky situation as tax evasion and contract breach with club add to rape case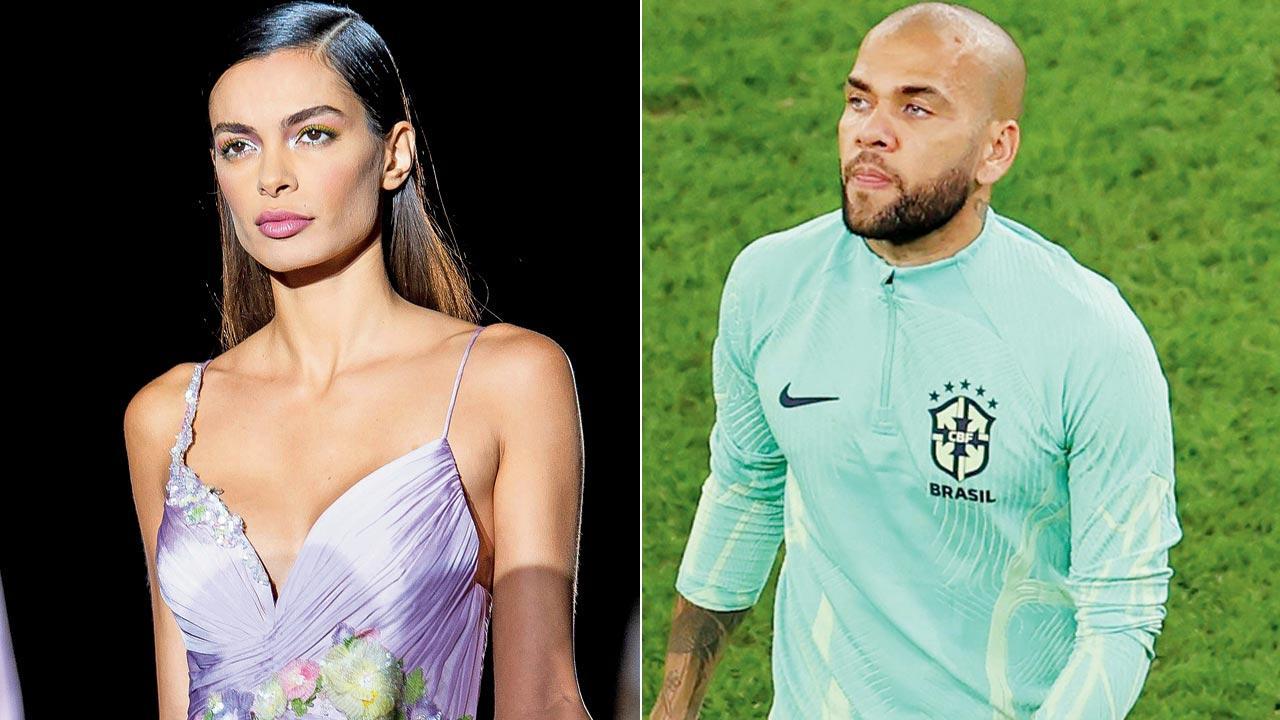 Dani's wife Joana Sanz; (right) Dani Alves. Pics/Getty Images
Known for his sweeping tackles, being a hard-as-nails defender, Brazil football legend Dani Alves has been handed one of the fiercest tackles by life. Alves, 39, who was an integral part of Brazil's defence at the 2022 FIFA World Cup in Qatar, was arrested last month on charges of sexually assaulting a woman at a night club in Barcelona on December 30 last year.
Alves, who has won three UEFA Champions League titles, two Copa America crowns and an Olympic gold medal, had initially refuted the allegation, but later reportedly changed his version, admitting he did have sex with the woman, but insisted that it was consensual and not rape.
ADVERTISEMENT
Financial mess
The former Juventus and Barcelona defender was representing Mexican club UNAM Pumas at the time of his arrest. And now, it has emerged that he owes the club GBP 4 million for a breach of contract. The club are demanding much more in compensation and damages. Alves is also said to owe a further GBP 2 million in taxes to the Spanish government. Needless to say, his personal life has been wrecked. His model wife Joana Sanz, 29, is livid and seeks divorce, though her stand seems to have softened a bit as she recently decided to pay him a visit at the Brians 2 Prison in Barcelona, where he is being held on remand. 
'Not going to leave him alone'
After almost an hour-long meeting inside the jail, Sanz told reporters that she is "not going to leave him alone at the worst moment in his life."
Alves's sponsors however, aren't as sympathetic. Sports apparel giant Adidas have reportedly decided not to renew his contract that expired in January. According to Spanish daily Marca, Alves's flat in Barcelona's Sant Feliu de Llobregat region has been foreclosed due to his debt with the Spanish tax authorities. Also, his share from a 655-square-metre property in Esplugues de Llobregat, that belongs to the couple, has been seized by the authorities. Alves's two restaurants in Barcelona—Boteco Fogo and Alquimia Fogo—have also received notices by the city council for seizure proceedings.
Also Read: Pumas sack Dani Alves over sex assault claims
Prosecutors oppose bail plea
On Monday, Spanish prosecutors opposed an appeal by Alves's lawyers seeking bail.
Alves's lawyers filed the appeal last week, saying the Brazilian agreed to turn in his passport and wear a tracking device if he freed. They also claimed that Alves would report to the court and to authorities as often as required, including daily, and would not go within 500 metres of the accuser or her home or workplace. Prosecutors however, argued that Alves would be a flight risk if set free. 
Rs 40cr
The amount Alves owes his club for a breach of contract
Rs 20cr
The amount Alves owes Spain's tax authorities
This story has been sourced from a third party syndicated feed, agencies. Mid-day accepts no responsibility or liability for its dependability, trustworthiness, reliability and data of the text. Mid-day management/mid-day.com reserves the sole right to alter, delete or remove (without notice) the content in its absolute discretion for any reason whatsoever