Matunga lads clinch MSSA inter-school U-12, U-10 titles; defeat St Stanislaus in both finals on Bandra turf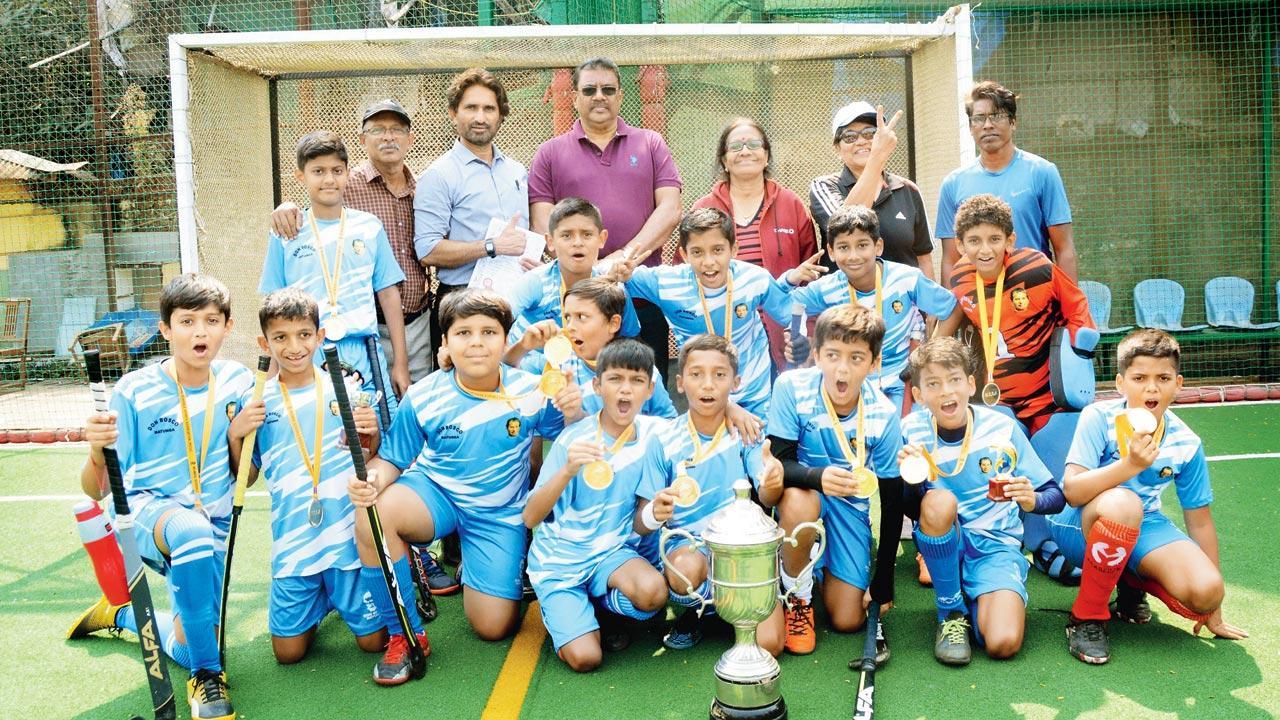 The Walter D'Souza Trophy-winning Don Bosco U-12 team with chief guest Joaquim Carvalho and MSSA officials at St Stanislaus ground in Bandra recently. Pic/Sayyed Sameer Abedi
St Stanislaus (Bandra) boys failed to take advantage of playing in home conditions. Both, the St Stanislaus boys' under-12 and under-10 teams suffered defeats against arch-rivals Don Bosco HS (Matunga) in the MSSA inter-school hockey tournament at the St Stanislaus High School ground recently. 
Samarth scores winner
In the boys' under-12 final, Don Bosco 'A', riding on Samarth Singh's crucial second half goal, recorded a narrow 1-0 win against St Stanislaus to lift the Walter D'Souza Trophy.
Earlier, in the boys' under-10 title clash, Don Bosco 'A' powered by the brilliant twin strikes from Tanish Pednekar scored an authoritative 3-0 win against the St Stanislaus lads to win The Oliver Andrade Trophy. Arjun Pawar scored the opening goal.
Don Bosco U-10 team
There was more joy for Don Bosco as their 'B' team finished third defeating Children's Academy (Malad) 5-1 via the tie-breaker after the scores were locked 1-1 at the end of regulation time.
Also Read: Don Bosco Int'l School clinches 6 gold medals in MSSA inter-school handball tournament
Jashan scores in 3rd minute
Jashan Sharma hit the target in third minute to give Bosco the lead before Children's Academy boys equalised through Kartikeyan Pandey in the 17th minute. 
In the tie-breaker, Don Bosco scored through Jayden Fernandes, Akshit Thinesh, Jashan Sharma and Virk Singh to emerge champions, while only Harshiv Gohil converted for Children Academy.
However, Don Bosco boys' under-10 'B' team suffered a 3-1 defeat via the tie-breaker against Gokuldham HS (Goregaon). Saurya Pawar, Saksham Tulve and Shlok Harsora converted for the Goregaon school, while only Aaron Ullenga managed to score for Bosco.