In an evenly contested encounter, Cambridge School took the early lead when striker Neel Shah found the back of the net in the fifth minute. The Cambridge boys then held on to the slender advantage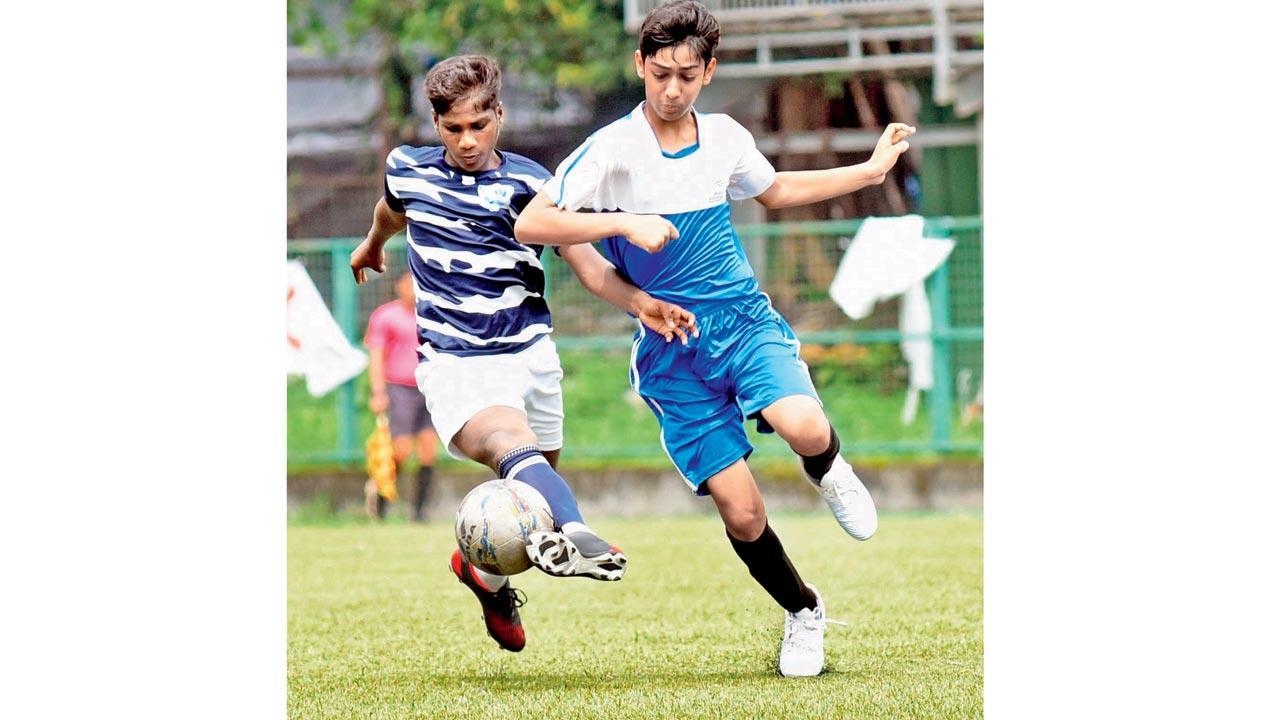 Cambridge School's Neel Shah (right) tries to tackle St Joseph's Joshua Kamble at Cooperage yesterday. Pic/Sameer Markande
Cambridge School (Kandivli) reasserted their dominance over St Joseph's HS (Wadala) with a 1-0 win in the semi-finals of the boys' U-16 Ahmed Sailor MSSA inter-school football tournament at Cooperage on Tuesday. Earlier this month, the Kandivli boys had beaten St Joseph's 3-0 to emerge MSSA Division-II champions.
In an evenly contested encounter, Cambridge School took the early lead when striker Neel Shah found the back of the net in the fifth minute. The Cambridge boys then held on to the slender advantage. They await the winners of the second semi-final, between Don Bosco (Matunga) and Gokuldham (Goregaon).
Also Read: St Joseph's stun Christ Church via tie-breaker
Earlier, in a Div-III semi-final, Utpal Shanghvi Global School (Juhu) got the better of Gokuldham HS (Goregaon) 2-0 via the tie-breaker after both teams failed to score in regulation time. In the shootout, Gokuldham goalkeeper Rishan Martins made three fine saves to ensure their place in the title round.
Other Results
U-16 Div-IV: Ryan Intl (Kandivli) 3 (K Gupta 2, R Chacko) bt Somaiya 0, Fatima 1 (V Mundhe) bt St Mary's (Dahisar) 0, Pawar School 1 ( Nagre) bt St Peter's 0, PG Garodia 3 (K Menon 3) bt Podar Intl 0, Mount Mary 2 (V Singh, A Singh) bt SVIS 0, St Xavier's (Goregaon) 3 (S Baboo 2, L Upadhyay) bt Nalanda School 0, Don Bosco Intl 1 (T Moizuddin) bt AKI Hussain Allana 0, AVM 'A' 11 (A Raje 5, A Upadhyay 2, A Wanchoo 2, S Valecha, I Shankar) bt St Jude 0. What do you make of the new Team India jersey for the ICC T20 World Cup 2022?