Indian grapplers Sushil Kumar, Amit Kumar & Vinesh Phogat dominate en route clinching top spot in men's 74kg, 57kg & women's 48kg categories respectively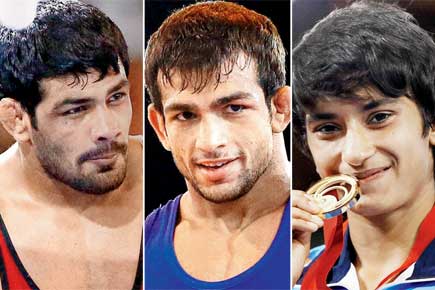 Sushil Kumar, Amit Kumar and Vinesh Phogat
Glasgow: Star grappler Sushil Kumar led India's sparkling show in the wrestling arena as the country claimed three gold medals on the first day of the wrestling competitions at the Glasgow CWG yesterday.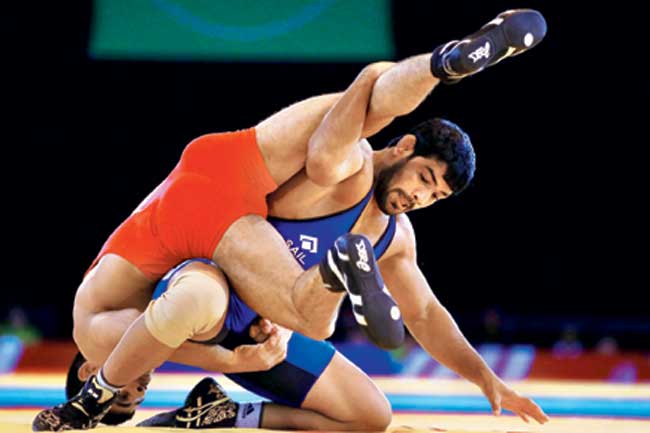 India's Sushil Kumar (in blue) battles Pakistan's Qamar Abbas during the 74kg freestyle wrestling final at the Glasgow CWG yesterday. Pics/PTI 
Sushil expectedly bagged gold in men's 75kg freestyle category while Amit Kumar won the yellow metal in men's 57kg, and Vinesh Phogat finished on top in women's 48kg at the SECC Hall.
Thirty-one-year-old Sushil asserted his class as he won his all four bouts of the day quite comfortably. In the gold-medal bout against Qamar Abbas of Pakistan, Sushil had an easy outing.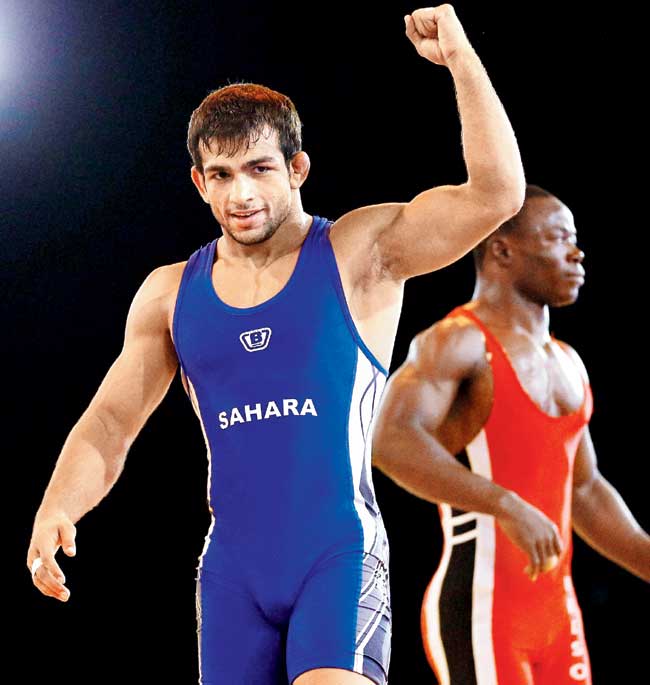 India's Amit Kumar celebrates after winning gold in the 57kg 
Even before one could blink, the contest was over as the Indian pinned down his rival to clinch the gold with a 8-0 scoreline in under two minutes. In no time, Sushil raced to a 6-0 lead and added two more points, straight away finishing off the contest.
Amit Kumar defeated Ebikweminomo Welson of Nigeria 6-2 in his final bout. The 20-year-old Indian started off well and completely dominated the first round 4-0.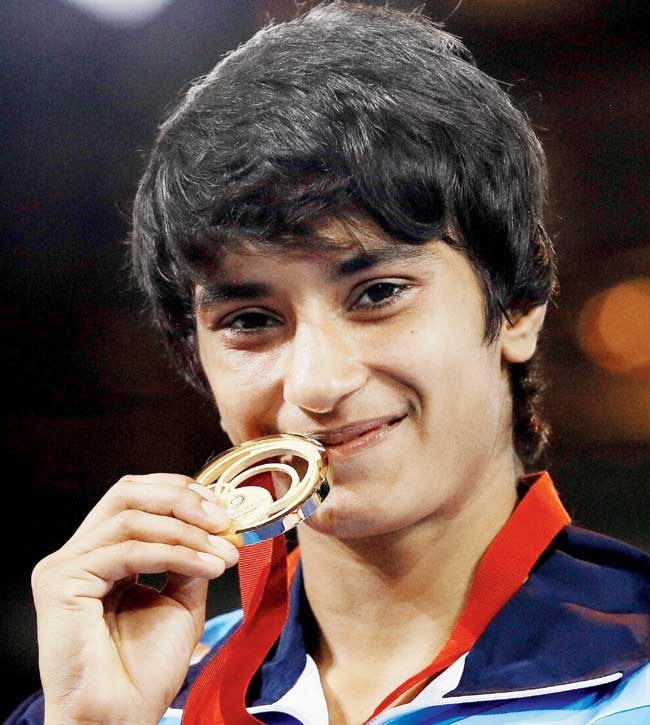 Vinesh Phogat displays her women's 48kg freestlye gold yesterday 
The Nigerian, however, fought back and the two wrestlers bagged just two points each. But due to four points in his kitty already from the opening round, Indian prevailed.
In what turned out to be a close battle between Vinesh and England's Yana Rattigan in the final of the women's 48kg event, the Indian won 11-8.
Vinesh was down 2-4 in the first round and was facing a tough challenge from her English opponent.
But she managed to earn two points to tie it at 4-4 before she could put her rival down again to bag another two just in time to wrap up the opening round 6-4.
The second round was also a fierce contest but the Indian held her composure to earn second gold.