A support staff member reveals that India's Australian-born men's hockey team chief coach was frustrated over his strategy not sitting well with certain squad members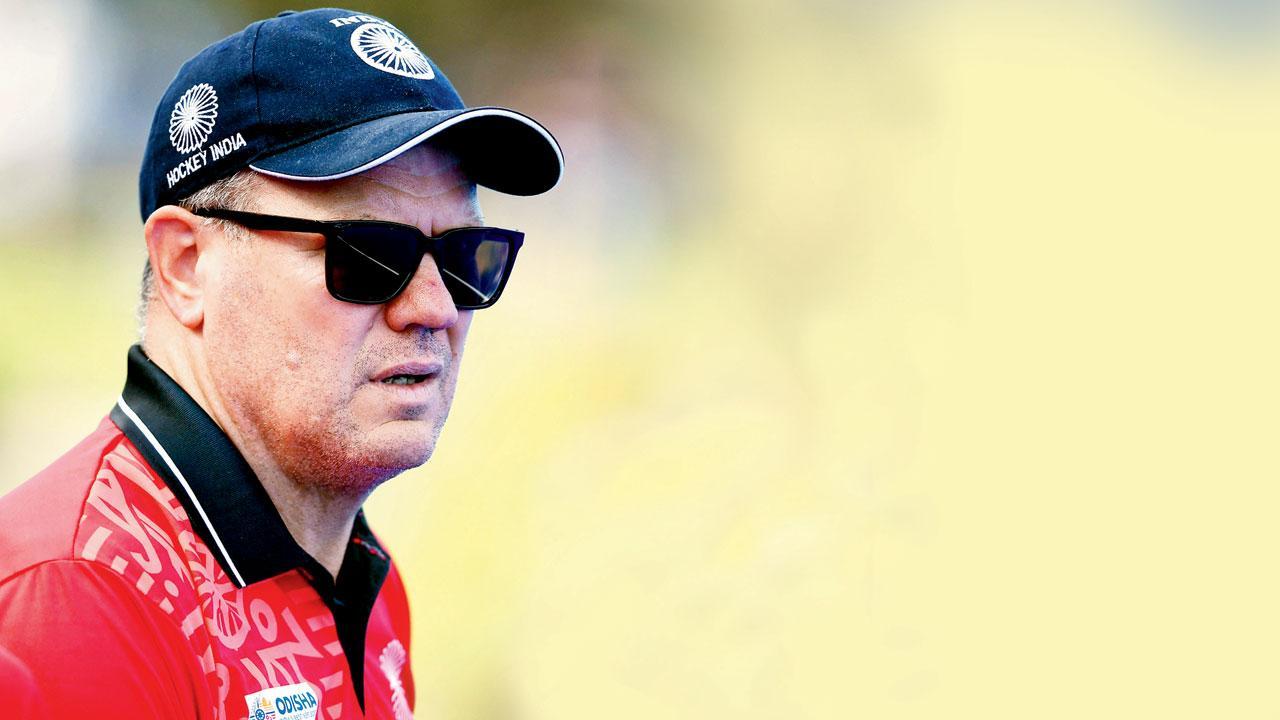 Graham Reid. Pic/Getty Images
The Indian hockey team's ninth-place finish at the World Cup, the worst ever by a host nation, has led to the resignation of chief coach Graham Reid. The Australian, who joined the Indian team in April 2019, announced his decision to quit on Monday, saying: "It is now time for me to step aside and handover the reigns to the next management."
Team India won two of their three league matches at this World Cup (2-0 v Spain and 4-2 v Wales) and drew one (0-0 v England) before losing to New Zealand (4-5) in the Crossover clash to be out of medal contention. They then beat Japan (8-0) in the 9th to 16th place classification match and South Africa (5-2) to eventually finish joint ninth with Argentina.
ADVERTISEMENT
It is learnt that Reid, 58, began to have trust issues with the team. "Graham felt that whatever his plans were, the team were not delivering and so he felt there were some trust issues there. Probably, they didn't trust him enough or he felt he couldn't trust or believe in them enough," a Team India support staff member told mid-day on condition of anonymity. 
'Reid hasn't done a bad job'
"To be honest, I don't think Reid or Team India have done a bad job at this tournament. It was just one quarter [last quarter v NZ where India conceded twice and the Kiwis restored parity from 1-3 down to 3-3]. The team have not lost a single match in regulation time which cannot be termed as a bad show.  "Also, after they lost in the Crossover, it's easy to be mentally downcast but the team fought hard and scored 13 goals in the two classification matches, so credit to them and Reid," added the support staff member. 
During the classification matches, when Reid was asked about his contract with the Indian team, he had categorically stated that his contract is till the 2024 Paris Olympics and that he wants to see it through. "I have signed through to Paris. But we'll be reviewing, I assume, at the end of this [World Cup].
The players meanwhile are surprised about his decision. "He [Reid] spoke to us last night, around dinner time, and said that he would be quitting. We were shocked and some of the players even got a bit emotional. It's been four years with him and he has also helped us win an Olympic medal, so we feel sad to see him go. He, however, told us that he would always keep supporting us in the future and that he was always available for a chat or if need any help at any time, " said one of the Team India players also on condition of anonymity.
Also Read: Need mental conditioning coach going ahead: coach Reid after India's shock exit from WC
Support staff exit too
Along with Reid, his support staff—analytical coach Greg Clarke and Scientific Advisor Mitchell David Pemberton—too resigned on Monday morning. Hockey India President Dilip Tirkey expressed his gratitude towards Reid. "India will always have gratitude towards Graham Reid and his team of support staff who have brought good results to the country, particularly the Olympic Games. As all journeys move to different phases, it is now time for us to move on towards a new approach for our team," said the former India captain.