Later, the Vibgyor girls proved to be more dominant and very comfortably won both their Group 'E' league matches by identical 5-0 margins to qualify for the quarter-finals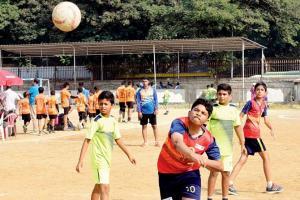 Vigbyor's hat-trick hero Jai Mishra at Azad Maidan yesterday. Pic/Bipin Kokate
Vibgyor High (Malad) were on a high as both their boys' and girls' U-14 teams produced outstanding performances to book berths in the quarter-finals of the MSSA-organised inter-school handball championship played at Azad Maidan yesterday.
In the boys' competition, Vibgyor beat Indian Education Society (Charkop) 6-2 in a Group 'C' league match to secure their place in the last eight. Vigbyor's Jai Mishra bagged a hat-trick, while Reyaan Patel played a good supporting role with two goals. Sohan Shetty scored one.
Later, the Vibgyor girls proved to be more dominant and very comfortably won both their Group 'E' league matches by identical 5-0 margins to qualify for the quarter-finals. They first blanked Ryan International (Chembur) and later outplayed CP Goenka (Juhu).
Catch up on all the latest sports news and updates here. Also download the new mid-day Android and iOS apps to get latest updates