Rinku Singh and Dinesh Patel recall their journey from wide- eyed 18-year-olds to American baseball professionals — encapsulated in the film 'Million Dollar Arm' which releases today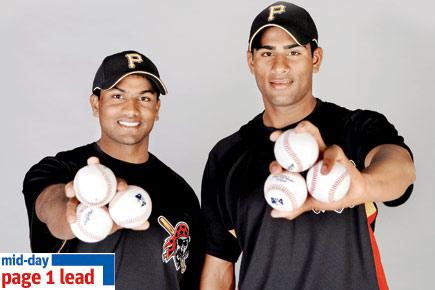 Pittsburgh Pirates' Dinesh Patel (left) and Rinku Singh in Florida, 2009. Pic/AFP
Until 2008, Rinku Singh and Dinesh Patel had not seen a baseball, let alone play the sport. They barely spoke any English and their only dream was to get a job in the security forces (army or Black Cat Commandos) to support their families.
In pictures: 20 inspiring sports movies based on real life stories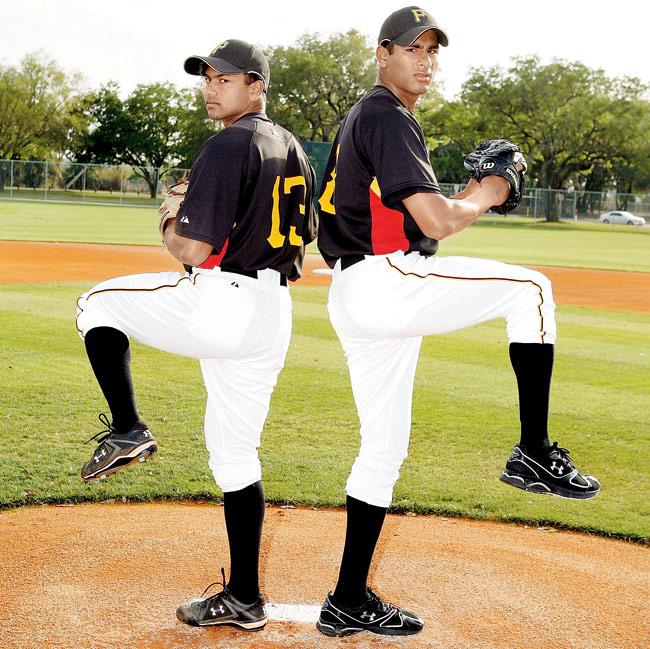 Million dollar dreams: Patel and Singh at the Pittsburgh Pirates training facility in Florida in 2009. File Pic/AFP 
Seven years on, Rinku and Dinesh speak impeccable English — in Rinku's case with a thick American accent — and their journey from naive, wide-eyed boys from rural India to polished baseball athletes plying their trade in the USA is the inspiration for a Hollywood movie called the 'Million Dollar Arm', which releases in India today.
The movie traces American sports agent JB Bernstein's efforts to unearth a super fast pitcher from India who could compete in Major League Baseball in order to keep Bernstein and his company afloat.
Before they were picked from a staggering 37,000 participants in a nationwide baseball-throwing competition — Million Dollar Arm — Rinku and Dinesh were both budding javelin throwers.
'Hardest decision'
"I thought it ('Million Dollar Arm') was a joke. I just went for fun and I wasn't really excited about the contest until I got picked. Taking up the offer to go to the USA was the hardest decision I ever made in my life — being only 18, leaving my family, my college and my sport behind, and going to another country which had a completely different culture.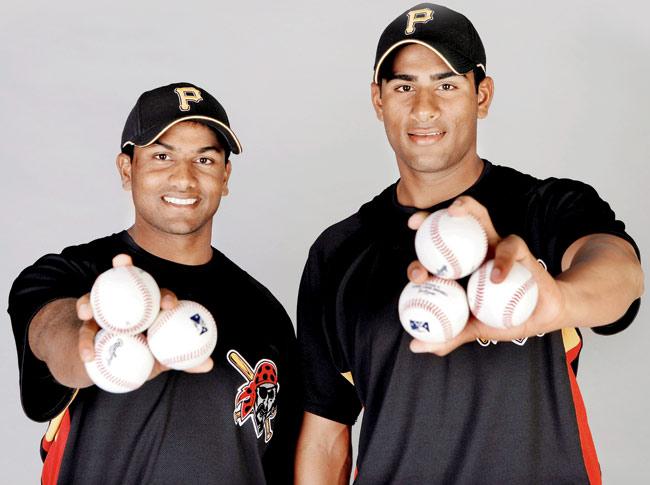 Pittsburgh Pirates' Dinesh Patel (left) and Rinku Singh in Florida, 2009. Pic/AFP

But that decision changed my life," recalls Rinku, a native of Bhadohi in Uttar Pradesh, who finished first in the contest.
That life-changing decision led to Rinku, the son of a truck driver, playing four seasons in USA's Minor League Baseball for the Gulf Coast League Pirates — an affiliate of the Major League Baseball (MLB) side Pittsburgh Pirates.
Major League Baseball is a multi-million dollar franchise-based Indian Premier League style competition in USA. Dinesh, meanwhile, played for two Minor League Baseball seasons and is currently back home studying for his Bachelor of Arts degree from Varanasi's Mahatma Gandhi Kashi Vidyapeeth University.
"The contract money from Pittsburgh Pirates helped my family a lot, I got my sister married. Right now, we are building a new house. I can take care of my family now," says Dinesh.
Overwhelming
The cultural shock of living in the US was too overwhelming though, reveals Rinku. "The US is like a whole new world. But I'm loving it.

It's quite amazing," says the 25-year-old after walking the red carpet with Dinesh and Hollywood stars Jon Hamm, Lake Bell, Madhur Mittal and Suraj Sharma at the film's world premiere at Hollywood's El Capitan Theatre on Tuesday.
While he missed the entire 2013 season due to arm injuries, Rinku will train with the Pirates in the spring this year. He hopes to make the step up from the minor league to Major League Baseball soon. "The million dollar dream is still on," he signs off.
37,000
The number of contestants which took part in the Million Dollar Arm, which Rinku Singh won. Dinesh Patel finished runner-up
13
The number of months it took Rinku and Dinesh to get a contract with the minor league affiliate of the Pittsburgh Pirates
88mph
The speed of the ball Rinku pitched in the strike zone in the Million Dollar Arm which won him the contest.
106mph
The fastest pitch in baseball ever recorded. Hall of Famer Nolan Ryan threw this thunderbolt on August 20, 1974