Boxer Vijender Singh, who turned professional yesterday, hopes to follow in the footsteps of Filipino fighter to become Asia's best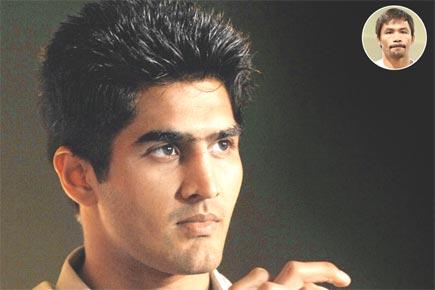 Vijender Singh and (inset) Manny Pacquiao
Life has come a full circle for both, India's star boxer Vijender Singh and Neerav Tomar, MD & CEO of Delhi-based Infinity Optimal Solutions (IOS) Sports & Entertainment. Vijender, an established boxer, who has achieved global success at the amateur level, will have to begin from scratch as he entered professional waters yesterday.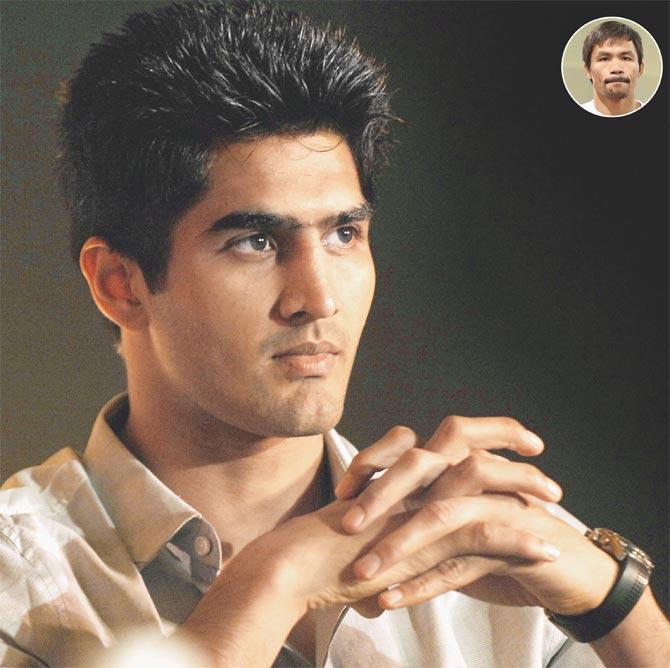 Vijender Singh and (inset) Manny Pacquiao 
Meanwhile, Tomar, who first signed Vijender as a 19-year-old India trainee at Pune's Army Sports Institute in 2005, then saw him leave to join Mumbai-based sports management firm Percept in 2009, and finally return to take the professional path through IOS yesterday.
This means the Beijing Olympics bronze medal-winner Vijender can't represent India again at the Games. Though this may be viewed as a drop in his patriotic fervour, Vijender begged to differ.
"Just like how Pacquiao carried the Phillipines flag and (Floyd) Mayweather Jr carried the US flag to their bout, I will carry the Indian flag to my bouts. I've taken Indian boxing to a new, untested level and opened international avenues for our boxers. This cannot be viewed as un-patriotic," Vijender told mid-day from London yesterday, where he signed a multi-year deal with British promoter Frank Warren's son, Francis' company Queensberry Promotions through IOS Sports and Entertainment. The inspiration...
So what inspired the move?
Vijender answered without a moment's hesitation: "The Mayweather Jr-Pacquiao fight (May 2). I don't want to compare myself to a legend like Pacquiao, but if I can achieve even half of what he has, I will consider myself successful," said the 29-year-old Bhiwani boxer.



British promoter Francis Warren (extreme left), boxer Vijender Singh, trainer Lee Beard and IOS MD & CEO Neerav Tomar in London yesterday 
Tomar elaborated: "A few days after the Mayweather Jr-Pacquiao fight, I met Viju in Delhi and randomly asked him about his future plans. He said he'd represented India at three Olympics and won medals in almost all tournaments and also tried films (Fugly) and TV (MTV show Roadies), but his heart is in boxing.
The proposal...
"So, I proposed the idea of pro boxing. I told him that after Pacquiao retires (the Phillipine boxer has suggested that he will hang up his gloves soon), there is no other big name in Asian pro boxing. I told him that he could be that next big name. And the instinctive guy that Viju is, he agreed. But I still told him that we will first travel to England and only after he sees the set-up there, can he give the final nod."
Vijender has enjoyed his last few days in UK, working with renowned trainer Lee Beard, who has previously been associated with top international boxers like Ricky Hatton and Floyd Mayweather Sr among others. Tomar has an elaborate plan for Vijender. "The deal is that Viju will do a minimum of six fights in the first year.
The plan...
"We are planning a debut fight in September. We plan to have two four-round fights, followed by two six-round fights and then two eight-round fights. In between, if Viju and Lee feel he is ready for a title bout then we could go for a WBC (World Boxing Council) title or WBO (World Boxing Organisation) title, or even a Commonwealth title which is a 10-rounder. We will telecast his fights on Indian TV at primetime, around 9:30 pm. But first Viju will be the chief guest at a WBA event in Wembley on July 24," said Tomar.
The multi-million dollar deal is subject to a good performance from the Indian, who is no stranger to hardwork. For now though, giving up the India shirt hurts a bit. "I'll miss my India blue jersey. But this move is for India too," Vijender signed off.