Former India coach Terry Walsh tells mid-day that the sudden sacking of his successor Paul van Ass yesterday proves that the game in India is run by people who know nothing about it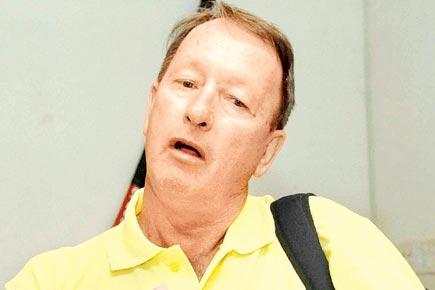 Terry Walsh
Former India hockey coach Terry Walsh's first reaction yesterday, when mid-day informed him that national hockey chief coach Paul Van Ass had been sacked, was: "I'm not surprised. This must be the next part of the puzzle."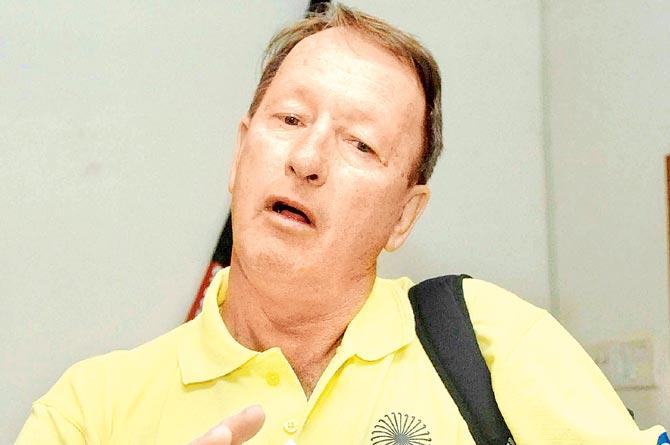 Terry Walsh 
The reaction aptly sums up the haphazard happenings in the Indian hockey set-up over the last few years — right from Spaniard Jose Brasa's coaching contract not being renewed in 2010-2011, to the unceremonious exit of his successor Michael Nobbs in 2013.
That was followed by Walsh's ouster last year and now... Van Ass' sacking. Van Ass' ouster is being attributed to his spat with Hockey India (HI) president Narinder Batra during the recent Hockey World League in Belgium where he stopped the administrator from critisising the players soon after the team's 3-2 win over Malaysia.
System failure
However, Walsh puts it all down to a systematic failure of the way hockey is run in the country. "I'm saddened by what I see and hear. I don't know what transpired between them (Batra and Van Ass) but I believe HI is simply not in sync with what's going on globally," Walsh, a world champion with Australia in 1986, said from his residence in Perth. Walsh resigned from his post as India coach (October 2013 to October 2014) after a disagreement in his contractual discussions with HI and the Sports Authority of India.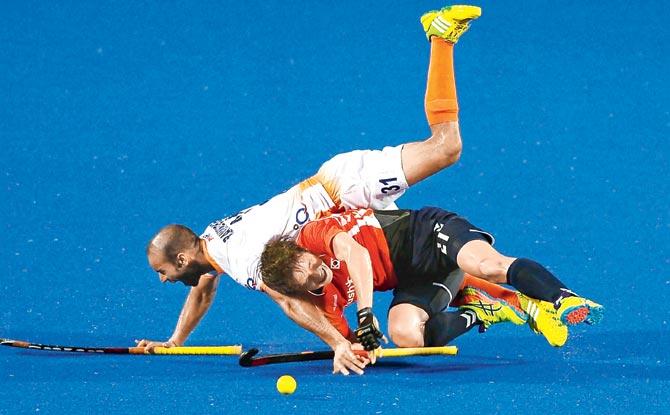 All fall down: India's Ramandeep Singh (in white) collides with South Korea's Lee Seunghoon during a Sultan Azlan Shah Cup tie in Malaysia in April this year. Pic/AFP  
Walsh said it's high time HI get their act together. "I'm not saying that Van Ass or myself are the best fit, but it's incredibly important from the point of view of not just Indian hockey but world hockey, that HI give a better account of themselves and what they do and how they do it because whatever they are doing is inappropriate," added the 61-year-old, who ensured India's direct qualification to next year's Rio Olympics after guiding them to a historic gold at the 2014 Incheon Asiad, a feat achieved after 16 years.
'I tried, but failed'
The three-time Olympian said he tried to clean the system himself, but failed. "When I was India coach, I tried to establish a greater say for the High Performance Director Roelant Oltmans. I wasn't asking anything for myself, but was only trying to get better protocol, where people who knew what they were doing were making the decisions rather than people who didn't. But now it's people, who don't understand what's required at the international level, who are making decisions again. This is a case of ego vs common sense," said the FIH Master Coach.
Ultimately, it's the Indian hockey team that's suffering, said Walsh. "I watched India play at the HWL in Belgium and felt very sad. They've lost quite a bit and I can't blame them because they've been pushed through a series of cultural changes with so many coaches in and out.
"Brasa brought in European knowledge and tried to club it with the Asian style. After him, Nobbs spent a lot of time doing nothing. Then, I mixed the Australian and Asian style. Now, Van Ass brought in the European model again. Spare a thought for the lads who are forced to cope with all this. Consequently, Indian hockey is deteriorating with each passing month."