World champ Anand credits wife for convincing him to participate in Rapid event, one that he wasn't keen on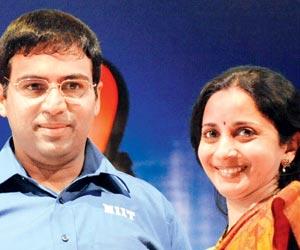 The World title in Rapid and a bronze in Blitz at the age of 48 makes Viswanathan Anand the man of the moment. His love for his craft invokes the determination and dedication to log long hours while his flexibility and adaptability provides him the fine-tuning to come up trumps in any format. Relaxing in Kerala with his family immediately after the event held in Riyadh, Anand in a candid chat, reveals how his love for chess keeps him ticking and helps him triumph against all odds.
Excerpts:
How does it feel finishing on the podium in the Rapid and Blitz events at Riyadh?
Winning the Rapid was a wonderful feeling and gave me lot of confidence and energy. At the same time, I resisted from getting euphoric. Half your body wants to celebrate and half wants to play the Blitz but the confidence I got from winning the Rapid had me keeping my control and stability. Losing just one game in 27 is a huge achievement. I think my stability was the key factor as both Rapid and Blitz are two very different formats which require different rhythms (Rapid games are roughly 30 minutes each and Blitz just five minutes). Realistically, I had given myself a chance to do better in one and not both. Not many players barring Carlsen have finished on the podium in both.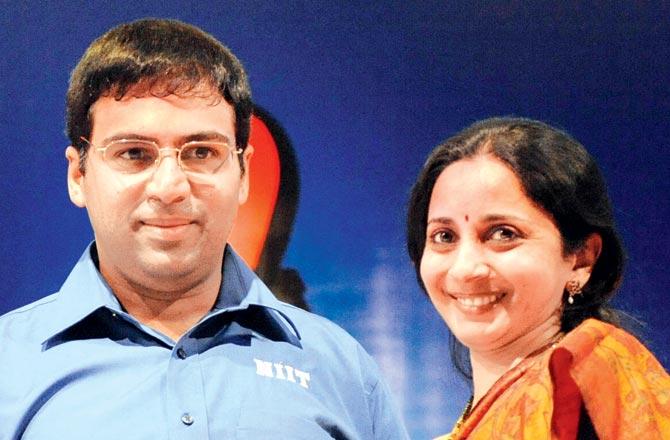 World Rapid chess champion and Blitz bronze medallist Viswanathan Anand with his wife Aruna. Pic/AFP
You had decided against playing the World Rapid. What changed your mind?
We along with a friend from Spain had planned a holiday to Kerala and I wanted to go ahead with it after a disappointing show at London a few days prior. I was physically and mentally exhausted. Finishing last there, was a heavy blow and my performance in the previous two tournaments too was disastrous. However a FIDE official requested that I play and slowly Aruna started trying to convince me to play the event. After a couple of days I was convinced and look what a wonderful surprise it has been!
Did you prepare exhaustively for this event?
No, I was too exhausted and there was hardly any time. In fact, I spent some quality time with Aruna and Akhil (in Chennai). We watched the 3D movie, Ferdinand as Akhil wanted to watch it, tasted lot of cakes, indulged in a lot of shopping.
Was there a conscious change in your approach this time?
While analysing what went wrong last time, I realised that the long gaps between rounds resulted in loss of concentration. This time, I made a conscious decision to use the time in between more effectively using my laptop and mobile, something which I had not done previously. I kept my focus and the arrangement in Riyadh was fantastic, the time between rounds was minimal.
Was there also a conscious change in preparation?
Basically I had to alter the preparation style for the last two or three years as match preparation was based on preparing specifically for one player where you tried to get under his skin and outdo him in thinking. Now, it is based on clever use of ideas effectively and immediately. A lot of preparation done for a match would not be used.
At what point did you start thinking that the title was tantalisingly close?
I played a beautiful game against Leko on the first day and I realised that I was playing well. It was like I was transported back a few years when I was dominating Rapid events. It was a totally positive feeling and the victory against Magnus Carlsen was another feel good factor. Magnus has been dominating all events and he has this amazing ability to win a game on demand and I thought he was a firm favourite for the title. We had an intense game. I was optimistic as I thought my position was better and probably both of us hallucinated that the game was a draw. But after re-checking, it hit me that I was winning and then I looked up at him and realised that it had also just hit him that he was losing! When I beat Alexander Grischuk in the penultimate round, I knew I would be on the podium.
Was it nerve-wrecking before the tie-break?
I was the first one to finish my last round and there was a possibility of three others who would be involved in the tie-break. My mind started conjuring up images of Magnus. I took a break from all thoughts and called up Aruna. She asked me to calm down and suggested I was playing well and should focus on just doing that, irrespective of the opponent and not to lose concentration at any point.
Looking back what do you think has been your biggest asset?
My flexibility. I work hard on chess which also includes physical fitness and don't shy away from changing my approach if something doesn't seem to be working out. I work hard because chess interests me and I am not sure if I would be able to work hard on something which doesn't interest or excite me.
There is a perception that you learn more from losses?
Any loss is painful and takes a while to get out of your system. When people remark that I am a well-behaved loser they don't realise that inside I am dying! I am just waiting to get into my room and bang my head against the wall or something. But yes, there is a shock effect too which makes you question your assumptions. But believe me, losses don't become less painful with experience.
What made you decide to play for Mumbai Movers in ProChess League 2018?
It is great to be part of Mumbai Movers — totally an Indian team and I am extremely proud of that! Rishi Gupta and his family have supported chess for many years and I know them personally so it helped to take the decision. I had a few offers from other teams. Moreover, the team is very well balanced.