With Wimbledon 2015 starting on Monday, let's take a look a look at some interesting facts, figures, history and trivia of the oldest Grand Slam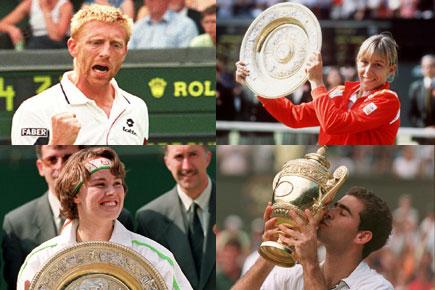 Wimbledon 2015: Interesting facts, stats and a little bit of history
With Wimbledon 2015 starting on Monday, let's take a look a look at some interesting facts, figures, history and trivia of the oldest Grand Slam.
ORIGIN
ADVERTISEMENT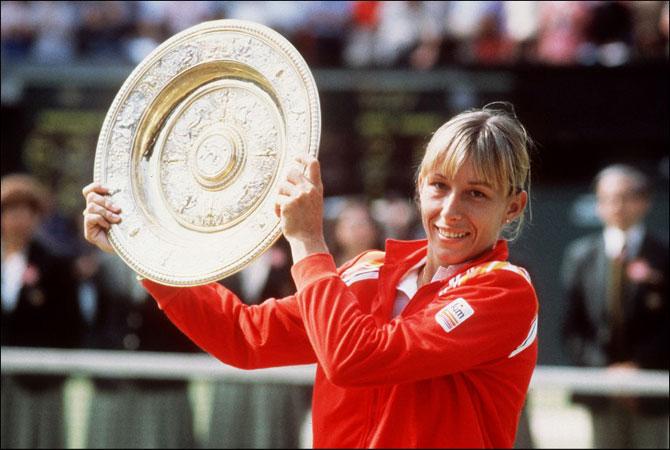 US tennis champion, born Czech, Martina Navratilova holds the trophy after winning 1982 Ladies' Singles at Wimbledon for the third time, beating her country fellow Chris Lloyd in the final. Pic/AFP
Wimbledon began in the year 1877, at the All England Club, in the London suburb of Wimbledon. Wimbledon started as only Gentlemen's Single Championship, in which only 22 players participated. There were only 200 spectators in the first Wimbledon tournament and the tickets were sold for one shilling each, in the final match. The winner of first Wimbledon Gentlemen's Single was Spencer Gore, an old Harrovian rackets player.
Women's Singles tennis events were started in 1884. Initially, 13 players entered the tournament. The first win of the tournament was registered by Maud Watson.
Ladies Single Championship and Gentlemen's Double were introduced in Wimbledon in 1884.
ONLY GRASSCOURT GRAND SLAM
Wimbledon is the only major tennis tournament still played on grass. Both the Australian Open and US Open were once played on grass.
PRIZE MONEY
Players at The Championships 2015 will receive a total of £26.75m – that means the total prize money has risen by a whopping 7% from 2014. 1.88m pound is on offer for each of the singles champions – the highest ever in professional tennis.
DEFENDING CHAMPIONS
Novak Djokovic (Men's Singles)
Petra Kvitova (Women's Singles)
LONGEST MATCH
The longest match played at SW19 was in 2010 on Court 18. It was played over three days.
'Marathon Man' John Isner (USA) beat Nicolas Mahut (FRA) 6-4, 3-6, 6-7 (7), 7-6 (3), 70-68 in a match that lasted 11 hours and five minutes, with their final set lasted 8hrs 11mins. It lasted so long that it was suspended because of darkness two nights in a row.
MOST ACES IN ONE TOURNAMENT
In 2001, Croatian Goran Ivanisevic netted 212 aces, while Americans Alexandra Stevenson (1999) and Serena Williams (2008) both hit 57 aces.
FASTEST EVER SERVE
American Taylor Dent holds the record for the fastest ever serve at SW19 with a 148mph ace against Novak Djokovic in 2010.
Venus Williams represents the women, having hit a 129mph serve in 2008.
RAINY DAYS
Only seven Wimbledon tournaments have been played without rain interruptions since 1922. Those were 1931, 1976, 1977, 1993, 1995, 2009 and 2010.
HAWK
Rufus the Hawk is a Harris Hawk used by the All England Lawn Tennis and Croquet Club to keep pigeons away from their venue. Described as an "important member of the Wimbledon family", Rufus has been scaring away the birds for five years,[2] taking over from the previous hawk, Hamish.
BALL BOYS AND GIRLS
There are more than 200 ball boys and ball girls used to collect tennis balls during Wimbledon.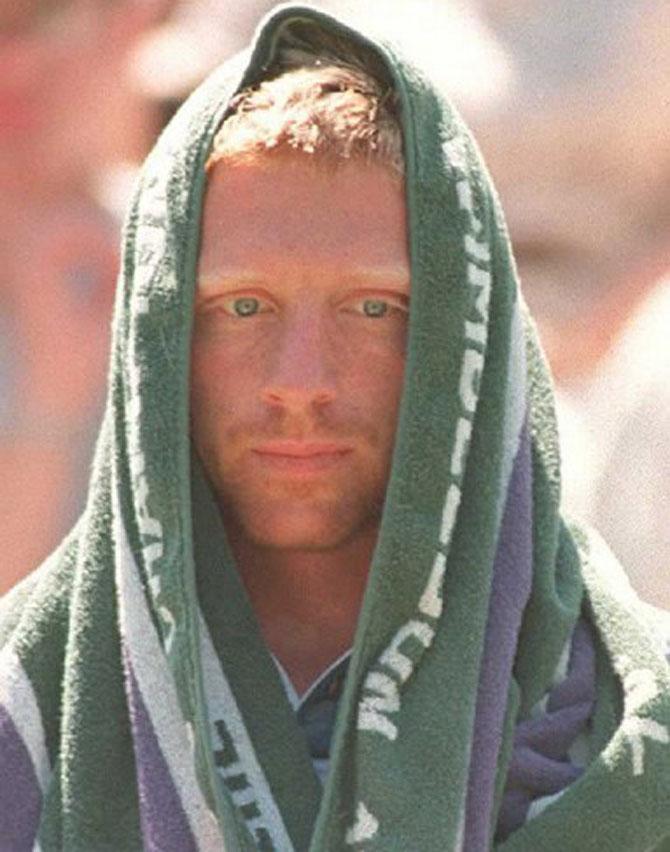 Boris Becker of Germany in 1996 during a Wimbledon Lawn Tennis Championships tie. Pic/AFP
BALLS USED
Approximately 54,250 are used during The Championships.
ROYAL BOX
The Royal Box has 74 seats. In 2003, a long-standing tradition of Centre Court players bowing or curtseying to the Royal Box was discontinued by order of the Duke of Kent, President of the Club since 1969, who deemed it an anachronism in modern times. The only exception would be if the Queen or the Prince of Wales were to attend.[31] Andy Murray and Jarkko Nieminen elected to bow when the Queen visited The Championships for their 2010 2nd Round match, as did Roger Federer and Fabio Fognini at their 2nd round match, watched by the Prince of Wales, in 2012.
REFRESHMENTS
Around 350,000 cups of tea and coffee are sipped during the fortnight, while viewers drink 230,000 glasses of Pimm's and around 100,000 pints of draught beer and lager, Also 142,000 portions of English strawberries are eaten.
SHORTEST PLAYER
The shortest tennis player to participate at Wimbledon was Miss C.G. Hoahing who was just 4 feet 9 inches.
FIRST OVERSEAS WINNER
The first overseas winner was American May Sutton who was the ladies' champion in 1905. Australian Norman Brookes was the first foreign gentlemen's champion when he won it in 1907.
FIRST PLAYER DISQUALIFIED FROM WIMBLEDON
The first-ever player to be disqualified from Wimbledon was Britain's Tim Henman in 1995 during a men's double match when he hit a ball girl.
LONGEST WIMBLEDON CAREER
French Jean Borotra, who was born on August 13, 1898, entered in the men's singles event 35 times between 1922 and 1964 -- a 55 years span. His last title came at the age of 41. In 1977, he appeared in the Veterans' Doubles aged 78.
YOUNGEST MALE WINNER
The youngest male champion is Boris Becker (West Germany) who won the men's singles title in 1985, aged 17 yr 227 days.
SHORTEST MATCH IN WIMBLEDON HISTORY
The 1881 Wimbledon final saw William Renshaw defeat John Hartley, 6–0, 6–1, 6–1, in a match that lasted just 37 minutes.
MAXIMUM TITLES
Martina Navratilova has won Wimbledon Women Singles maximum numbers of time i.e. 9 times. She also shares a record of winning 20 Wimbledon titles, an all-time record, with Billie Jean King.
MAXIMUM TITLES IN MEN'S SINGLES
Willie Renshaw and Pete Sampras hold the record of winning the Wimbledon Men Singles a maximum of 7 times.
In the Amateur Era, Renshaw (1881–1886, 1889) holds the record for most titles in the Gentlemen's Singles, with seven victories. Renshaw's wins, however, came within the challenge round format, and he won the event only twice after going through a complete draw. Renshaw also holds the record for most consecutive titles with six from (1881 to 1886). The record for most consecutive and most wins post challenge round during the Amateur Era is Fred Perry (1934–1936).
In the Open Era, since the inclusion of professional tennis players in 1968, Pete Sampras (1993–1995, 1997–2000) and Roger Federer (2003–2007, 2009, 2012) co-hold the record for most victories with seven. Björn Borg (1976–1980) and Roger Federer (2003–2007) co-hold the record for most consecutive victories with five.
YOUNGEST WINNER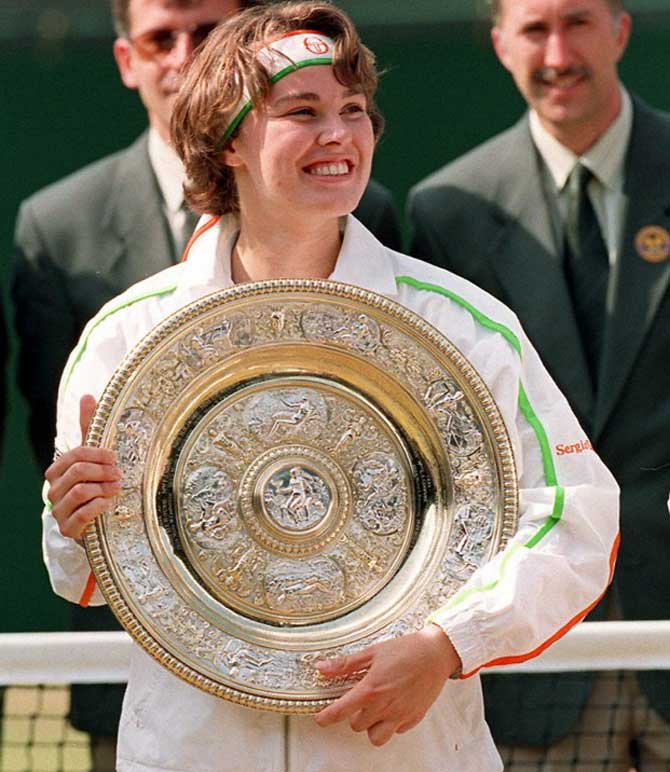 Swiss Martina Hingis beams with delight as she holds the Women's Singles Trophy in1996 after beating Czech Jana Novotna at the Wimbledon Championships. Hingis won the match 2-6, 6-3, 6-3 becoming the youngest champion this century. Pic/AFP
Martina Hingis became the youngest player to win a Wimbledon title, at the age of 15 years, 282 days, by winning doubles championship in 1996.
SOME OBSCURE TRIVIA
Champions who wore headgear in a singles final
33 players, including John McEnroe ("Broad Red Headband") in 1981, Martina Navratilova ("Thin Purple Ribbon Headband") in 1990, and Conchita Martinez ("Broad Navy Blue Headband") in 1994, have worn a headgear in the singles final.
MOST
The Compendium does not record how a Miss M.H. de Amorim of Brazil felt about entering the record book for having served 17 consecutive double faults to begin her match at Wimbledon in 1957. She lost. As did Miss L. Anderson of Great Britain, who served 11 consecutive double faults in a 1946 match.
Goose Eggs
16 men have lost 6-0, 6-0, 6-0 from 1878 to 1987. 125 women have been eliminated 6-0, 6-0.
Winners who have climbed into the stands at Wimbledon
Five men and six women have climbed into the stands after winning the tournament: Pat Cash (1987), Martina Navratilova (1990), Steffi Graf (1993, 1995), Jana Novotna (1998), Venus Williams (2000), Pete Sampras (2000), Goran Ivanisevic (2001), Lleyton Hewitt (2002), Maria Sharapova (2004), Amelie Mauresmo (2006) and Rafael Nadal (2008).
According to the Wimbledon Compendium, "immediately" after winning a title on Centre Court, these players "scaled the terraces to the Players' Match Seats Box to embrace their kin or supporters."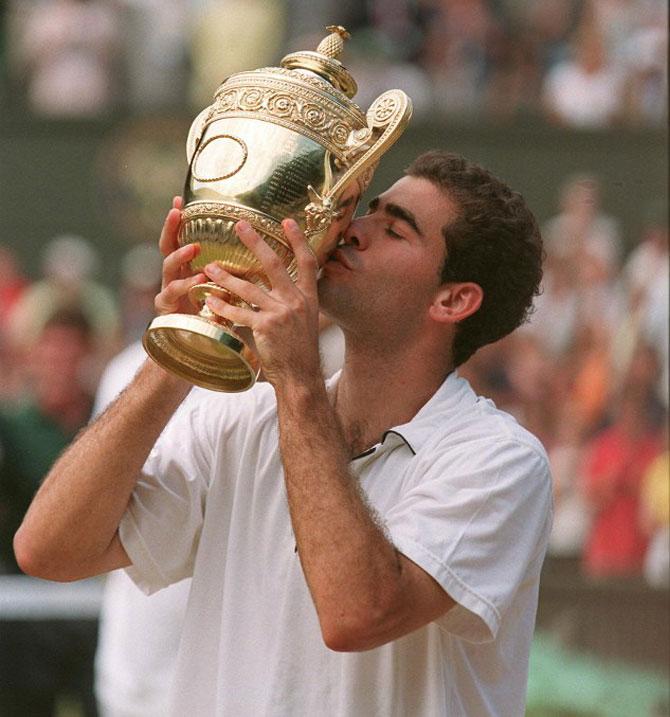 US' Pete Sampras kisses the cup after winning the men's singles final at the Wimbledon Championships in 1997 against French Cedric Pioline . The final was won by Sampras 6-4, 6-2, 6-4. Pic/AFP
Important Dates
Wimbledon championship celebrated its centenary in 1977.
The roof of the Center Court was increased by a height of one meter, in 1979, thereby providing room for another 1088 seats.
The centenary of the Ladies' Singles championship was held in 1984.
The year 1986 is one of the significant years in the history of Wimbledon, because its 100th championship was celebrated with great fanfare.
The 100th Ladies' Championship was commemorated in 1993.
"Exciting news! Mid-day is now on WhatsApp Channels

Subscribe today by clicking the link and stay updated with the latest news!"
Click here!