Timbuktoo Publishing, a one-of-its-kind firm set up exclusively to publish young authors, launched its first book this month. And there's a lot more in store for readers over the coming months, Bangalore-based founder Aparna Raman tells Moeena Halim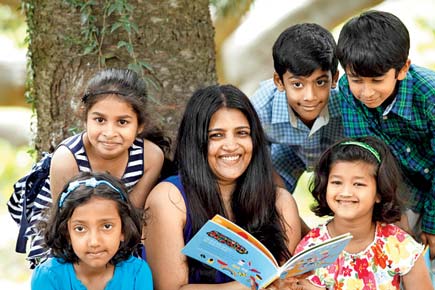 Quirky rhymes about a pizza passing off as Mona Lisa and a noodle that twirls into the shape of a woolly poodle fill the pages of the latest children's book in the market. My Book of Me, as it is titled, is adorned by a wonderful set of illustrations. But the book's most endearing trait is that it was written not only for children, but by children too.
The book is the first of its kind launched by Bangalore-based Timbuktoo Publishing, which was set up last year with the specific aim of publishing stories written by young authors between the age of six and 14. Founder Aparna Raman, who has been conducting creative writing workshops for children in Bangalore for about two years, had her light-bulb moment when she received a tremendously encouraging response for the children's work she'd shared on social networking sites.

Aparna Raman, founder of Timbuktoo Publishing
"I find that this particular generation is really bright. We need to motivate them to read and write more," says Raman, who says her biggest inspiration is her 11-year-old son Rohan. "He's been scribbling and doodling since he was about three years old. I found his intuitive creativity amazing, and was convinced that there were a lot of other children out there doing the same thing. These kids don't need adults to be the storyteller. Besides, no matter how great an adult writer is, she or he'd have to put themselves in the shoes of a child before penning a children's story. But it just flows naturally for children," she adds.
The seven children whose rhymes feature in My Book of Me were part of a workshop Raman conducted last year. "I mentor them through the course of the workshop, which includes a host of interesting sessions not limited to writing exercises. In fact, to get the ball rolling, I often play imaginative games with the children, getting them to role play or asking them to jot down the similarities between two very disparate things such as a bear and a volcano," reveals Raman.

A page from a book published and written by a child
While Raman admits it's not easy to get children to begin the actual process of writing, Inaara Nanjappa, one of the seven authors of My Book of Me, seems to find writing stories a piece of cake. "It was not difficult because Aparna helped and made it fun. We tasted and smelt and touched things when we were blindfolded. We made mind maps of our favourite food, favourite holidays and wrote words which described them best. Then, slowly, the funny poems came," recalls the nine-year-old Geronimo Stilton fan, who wrote a poem about pasta made really fasta in the middle of a rasta. "It feels amazing to be a published author, just like my aunt Sarita Mandanna. I might write more stories," adds the young author, already learning to be non-committal about her future writing plans.
Explaining why she will not accept manuscripts from adults, Raman says there are more than enough publishers willing to print stories written by adults. "But I wanted to value-add; make a difference to the kids by giving them a valuable platform," says Raman, also a children's book author.
Expecting three more books out by May — one of which is an interactive travelogue written by Rohan — Raman is currently mentoring a 12-year-old author who approached her with a story idea. "I liked the idea she pitched to me, but I've to work with her and guide her bring her story up to a certain standard," explains Raman, who also takes on the role of the editor.
The next step for Timbuktoo, believes Raman, has to be an entry into the world of technology. In the process of a tie-up, Timbuktoo will soon have a dedicated app and their books will be made available online.