'From among us, he is the better judge of people' | 'Beneath the snob value, lies somebody pavam'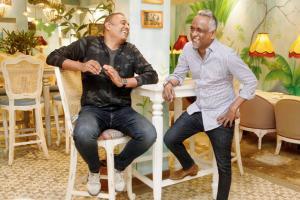 Sumessh Menon and Kishore DF, friends of 20 years, are top names in hospitality but have never given each other work. And that's hardly ever a problem. Pic/ Ashish Raje
Sumessh Menon
Sumessh Menon is an interior designer who specialises in high-end and bespoke restaurants. In Mumbai, he has helmed Foo, KOKO, Mustard, Mizu, Talli Turmeric, Keiba and 145
Kishore and I are Bandra boys, and, if my memory serves me right, we first met at a party 22 years ago. At the time, I used to host frequent parties at home and all the catering orders would go to him. I was not where I am today. My growth has come only in the last 12 years. He, on the other hand, was already an established name in hospitality, with successful restaurants like Lemon Grass and Pot Pourri in Bandra [to his credit]. So, he had the bandwidth and resources to handle a huge catering order, even if it was last minute, by sending a chef and bartender over. I would be assured that there wouldn't be a mess the next morning. When my mother would step into the living room, she'd have no inkling of what had transpired the previous night.

We have never needed an occasion or reason to meet. There are times when we have simply sat in the car, talked and downed a drink. Earlier, we'd meet every other day. Now, it's once a week because of both of us travel a lot. When we meet, we discuss everything, except work. We talk about the new restaurant launches, and analyse why some of them failed. Failure is a big concern these days, because it's only getting tougher [to keep eateries running]. Everybody wants to create a legendary bar, but legendary bars don't happen overnight. Out of 10 establishments that open, eight shut down.
What keeps the friendship going is that we are alike. Both of us are shy South Indian guys, who love to eat. We are self made, with no backing or inheritance. But, he is more intuitive and a better judge of people. I make it a point to take him along on my projects. He is my sounding board. There was a time when I was embroiled in a legal soup. The first person I called up was Kishore, who took me to the best lawyer in town. I could think of no one else to bail me out. It's not often that a big name from the industry backs you. I know I can keep a confidential file at his place, and it'll be safe. At 46, if you have one such friend, you are rich.
Kishore Df
Kishore DF has launched a series of successful hospitality ventures, including Pot Pourri, Seijo & The Soul Dish, WTF, Big Nasty, The Butler and The Bay Leaf. The latest addition to the array is Tanjore Tiffin Room in Bandra
Sumessh has always been the trendy, hipster Pali Hill boy. Although we are similar in a fundamental way, we are different on the outside. He's a Gucci and Ferrari guy. I'm the one-watch guy. Last month, when I was in Soho, he texted me every day to check on whether I had picked up a pair of Burberry shoes he wanted. His cars are squeaky clean, almost brand new. He won't even let you dust your nose there. I, on the other hand, will let you eat a buffet in my car. But, beneath the snob value, lies somebody pavam, passive and generous. I'm the one watching over him. The truth is, people in his business get shafted a lot. So, I make it a point to advice him not to get into a project if I smell a rat. I think we've moved from being friends to becoming family. In fact, his daughter gets along fabulously with my girlfriend. The friendship has lasted because there's no bullsh*t in it. We might bitch about the world, but between us, it's about keeping it unpretentious. While we often chill at my bachelor pad, our favourite place is the Den at Linking Road. Our ritual is to have one drink at Olive [Bar & Kitchen] and end [the evening] at The Den. We love Chivas Regal with soda and tons of ice.

Funnily, we have never worked with each other. Our styles are radically different. I'm earthy; he has ultra-modern and Italian chic tastes. That's his identity. But I'm lazy; I've been working with the same team of architects and designers for 10 years. I believe 'don't fix what's not broke'. Will I ever work with Sumessh? In a heartbeat. He might even do it for me for free. But, that he hasn't doesn't weigh on us. That's what a great relationship is about. There are no expectations —just honesty.
Catch up on all the latest Mumbai news, crime news, current affairs, and also a complete guide on Mumbai from food to things to do and events across the city here. Also download the new mid-day Android and iOS apps to get latest updates