In a first, St Thomas Cathedral opens up its archive by joining hands with CSMVS to present an exhibition that chronicles the growth of Bombay from a fort-town to a mercantile city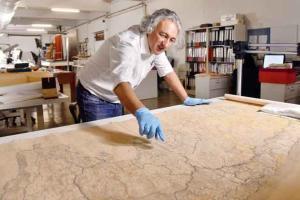 Anupam Sah surveys a map from 1800s, outlining the extent of the Diocese of Bombay. It stretched from Palanpur in the north to Badami in the south and Jalgaon in the east. Pics: Pradeep Dhivar
It's time to write an archival report of the city, and this repository of information that has been lying quiet for long is going to be useful," says Anupam Sah, head of art conservation, research and training at Chhatrapati Shivaji Maharaj Vastu Sangrahalaya's (CSMVS's), quickly adding, "I haven't come across anything like this before."
He is referring to the treasure that Mumbai's famous cathedral, St Thomas Cathedral, has held in its collection for hundreds of years. We are with Sah in the inner sanctuary of the museum, the lab where artefacts are given a new lease of life and made exhibition-ready.
ADVERTISEMENT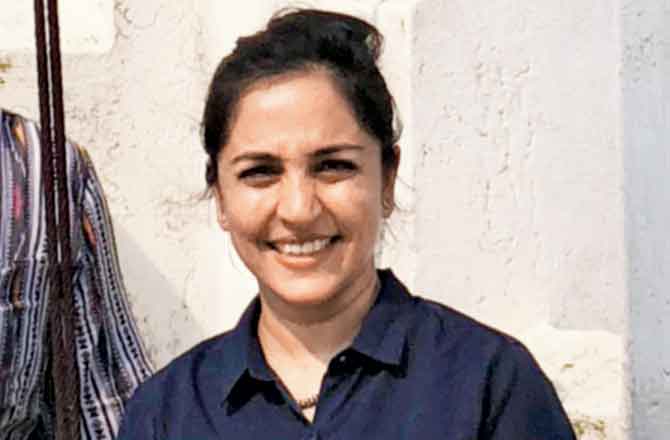 Nandini Sampat, curator of the exhibition. Pics: Pradeep Dhivar
Today, the staff is working on objects of religious and historic significance including silverware, seals, royal decrees, maps, birth and death registers, and photographs from the cathedral's archive, before they make their debut before the public at Living Cathedral, a month-long exhibition that kicks off on December 15. The display of nearly 50 exhibits is being as part of the cathedral's tercentenary celebrations.
Sah is studying the health of a detailed map outlining the Diocese of Bombay. In front of us is a fine example of Great Britain's obsession with cartography. We discover locations in western India that Geography textbooks never came close to. One of his assistants is gently cleaning the map's surface with cotton tissue while a second sizes up its edges for any obvious damage. At another table, an assistant turns the pages of a baptism records register from the late 1860s with a pincer-like device. "Rudyard Kipling's birth record should be in here," he says to us. "It's going to be a crowd-puller at the exhibition."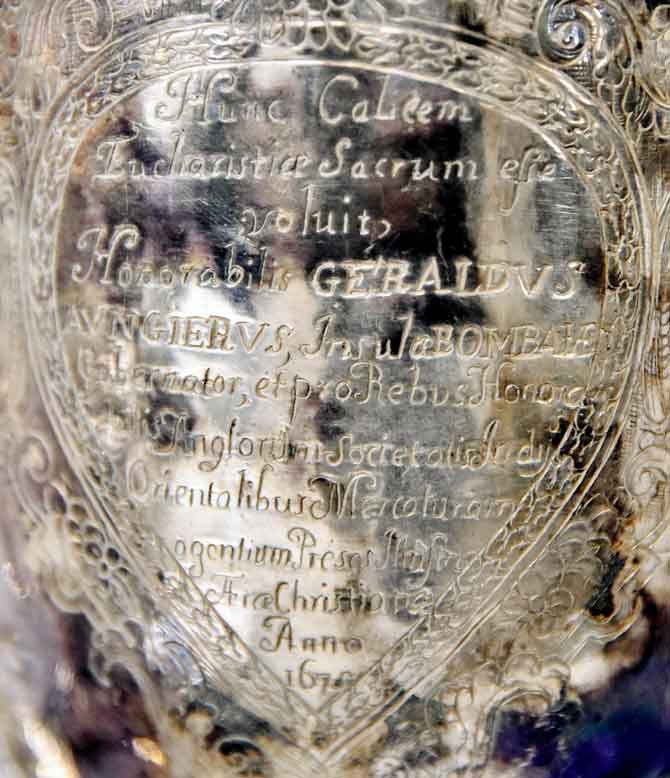 A silver cup from 1675 mentions Governor Gerald Aungier's name. Pics: Pradeep Dhivar
Not too far away, at the office of Somaya & Kalappa Consultants in Ballard Estate, another cog in this mammoth collaboration is working in full steam. Veteran architect Brinda Somaya's daughter and the firm's director, Nandini Somaya Sampat is curactor and designer of the exhibition. "It was Ms Meera Isaacs who approached us," she says of the principal of Cathedral & John Connon school.
The insitution and St Thomas Cathedral have a long, historic association. "We [the family] are all Cathedralites, and were honoured to be associated with this project. We pored over archival material at the cathedral with Reverend Rangayya, its presbyter-in-charge. In the process, it struck us that what if we found a famous person or historic milestone? It was an 'ah-ha' moment," Sampat recalls.
As they began to weave a story around the city, they realised that this wasn't just about the history of a cathedral, but of Bombay as a whole. "We wanted to explore this strong link," she adds, reminding us how the early plan for St Thomas included just a church in 1676. Work was stalled due to lack of funds. Years later, the efforts of Chaplain Richard Cobbe witnessed a surge in funding; spires were added to the plan, and it was opened as a cathedral in 1718, becoming the seat of the Anglican Church in western India.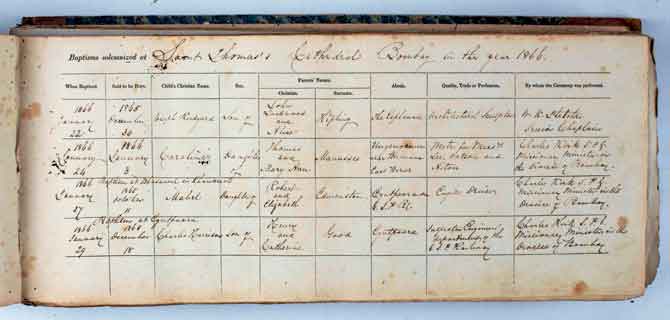 A close-up of the register showing Rudyard Kipling's birth records (Born: December 30, 1865; Baptised : January 22, 1866). It also reveals details, like his parents' names: John Lockwood and Alice, his father's profession: Architectural Sculptor; Abode: Esplanade. This page will be on display at the exhibition. Pic: Pradeep Dhivar
"This evolution is symbolic of Bombay's rise from a small town to a large city," she adds. The exhibition will go beyond objects to graphics, quotes and photos. In the final section, the 'sanctum sanatorium', the zero marker of the cathedral will be introduced to the public.
Back in the 'lab', Sah takes us to the centre of the activity — the piece-de-resistance. We are staring at a silver cup with Governor Gerald Aungier's name inscribed on it. "Isn't it gorgeous? Look at the craftsmanship," he remarks. Once open, the exhibition will include guided tours conducted by students of Cathedral, and other programmes by CSMVS's Education team.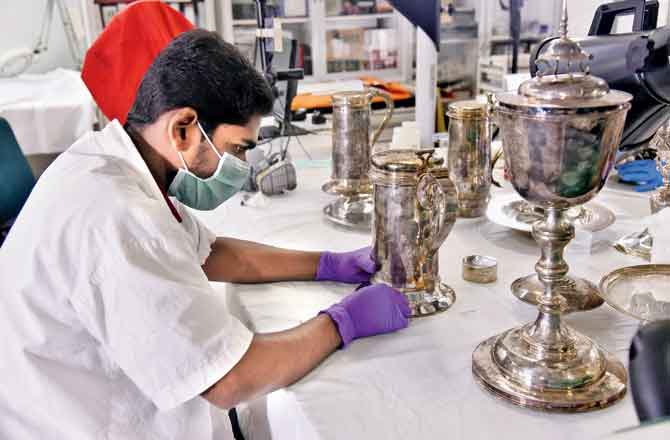 The conservation team polishes silverware including chalices, cups and flagons by using basic mild solvents to remove the tarnish. Pic: Pradeep Dhivar
People behind the exhibition
Meera Isaacs, Principal, Cathedral and John Connon School
'The exhibition has taken shape because of countless people. Brinda [Somaya] suggested that we present it as an exhibition. Mr Mukherjee was enthusiastic about organising it at CSMVS, while historian Dr Vijaya Gupchup was a guiding force. For us, it has been tremendous to work closely on an exhibition of this scale.'
Dr Sabyasachi Mukherjee, Director-General, CSMVS
'Being a part of the tercentenary celebrations of St Thomas' Cathedral was organic for us, as the museum has been built by the people of Mumbai for the people of Mumbai. Just like the museum, the cathedral is an important landmark, and this exhibition provides a glimpse into the city's historic past, and its citizens, several of whom changed its face from a small fort-town into a vibrant hub of cultural and economic growth.'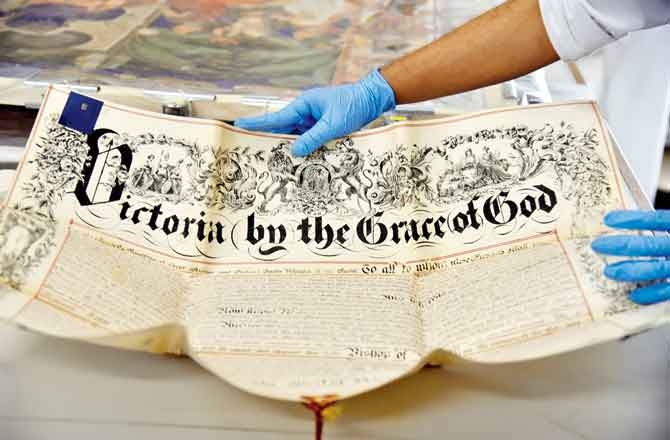 This parchment paper mentions the appointment of John Harding as the Bishop of Bombay. Pic: Pradeep Dhivar
Rev Avinash Rangayya, Presbyter in charge, St Thomas Cathedral
'We felt these relics and objects should be shared with the city. Ms Isaacs and Mr Mukherjee played a key role in ensuring that the association reached an ideal conclusion.'
Dr Kamal Jadhav, Head, Tercentenary Celebrations, St Thomas Cathedral
'As a congregation, we are eagerly awaiting the exhibition, since it will be the first time that we'll see tangible evidence of the history of our beloved cathedral.'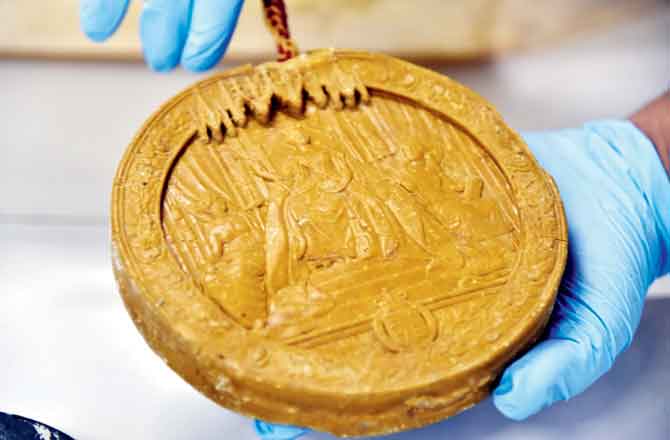 The wax seal reveals a mould outlining the reigning Queen Victoria in whose name this royal decree was issued. Pic: Pradeep Dhivar
Catch up on all the latest Mumbai news, crime news, current affairs, and also a complete guide on Mumbai from food to things to do and events across the city here. Also download the new mid-day Android and iOS apps to get latest updates
"Exciting news! Mid-day is now on WhatsApp Channels

Subscribe today by clicking the link and stay updated with the latest news!"
Click here!