In Lucrece, actor Kalki Koechlin takes on one of the few great roles Shakespeare wrote for a woman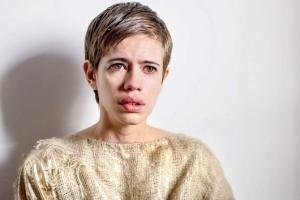 Actor Kalki Koechlin as Lucrece. Pic courtesy Chitrangada Chakraborty
A Prince never learns to take no for an answer. In 510 BC, Roman caesar Tarquin hears of a beautiful noblewoman, Lucrece. He gatecrashes her house, enters her bedchamber, and forces himself upon her. Lucrece eventually commits suicide, inspires a rebellion and becomes the stuff of historical legend. If you didn't know it was a story already, you'd think these characters were dreamed up by William Shakespeare.
In 1594, when England was touched by a bubonic plague, and public spaces such as theatres were closed for business, Shakespeare wrote a 1,855-line narrative poem called The Rape of Lucrece. It's one of his lesser-known works, and only true believers have engaged with it. Like British theatre director Paul Goodwin, artistic director of The Shakespeare Edit, who's been a devotee for more than 50 years. This month, he brings his adaptation to the NCPA, about which he says, "To call it a play is not quite right; to call it a poem is not quite right. It's a piece of theatre." His Lucrece stars actors Kalki Koechlin in the lead, Deepal Doshi as the rapist-prince, and Suruchi Aulakh as the narrator.

Paul Goodwin
Koechlin, who hasn't read the original, says, "Our version is 750 lines, [and even] that was hard enough to read." Doshi says, "The first time I read the play, I didn't understand it." To get into the skin of the characters, the cast had to do multiple readings, add things, subtract things: Goodwin's playground. "I love editing Shakespeare, trimming it down," he says. "In its entire form, The Rape of Lucrece is so long and complex. Somebody described it as Shakespeare doing five-finger exercises. He's so clever and deft, but somewhere in it, I thought there was a really strong narrative. It is quite interesting because he never wrote poetry after this. And his great plays were ahead of him. From a Shakespearean, scholarly point of view, this poem is kind of a Petri dish for all those great tragedies that would come."
The Rape of Lucrece "was written to be read, not to be acted." But, Goodwin was keen to stage it because "it's mostly the men who are very well cared for by Shakespeare, and not the women. And this was a fabulous, undiscovered female lead character." Koechlin says that during the course of the narrative, "[Lucrece] finds her voice. Even in the [rape] scene, there is a lot of argument. Physically, she's helpless, weaker, but in terms of her mental space, she's very much arguing for her case." After she leaves the room, Goodwin adds, "Kalki hasn't always realised that, but she's always been attached to it. [When I was casting], I looked up her work, her performance poetry, and I thought, 'Wow, this girl has skills.' You can't just give the role of Lucrece to anybody. It is such a difficult part. So, I started to wear her down and it took me two years."
A bare-bones production, the props include a bed, three boxes, a knife and a torch. According to Goodwin, the text has enough drama, such as the rape scene, two-and-a-half minutes long, and Lucrece's death. "There's no slapping and thrusting or that kind of violent, unhooking the trousers," says Goodwin. "But, nevertheless, there is a moment of silence, [and] it's quite shocking. So, we're not making it pretty, but we're also not making it too [grisly]. We wanted to be very, very careful to make sure we didn't say she felt full of shame and her solution was to kill herself. So, we're very conscious of making her death an empowering act. There's a line that says, 'Thy wretched wife mistook the matter so/To slay herself that should have slain her foe.' That's a really important line, all in the text. I didn't make up any lines."
This is the ninth version of Goodwin's original draft because Shakespeare takes time to break down. "People think Shakespeare is just 'thou, thy, thine.' To make Shakespeare accessible now is the trigger. But, he helps you so much, because he writes believable, logical, psychological characters."
When: November 28 to December 9
Where: The National Centre for the Performing Arts, Nariman Point
Entry: Rs 650-Rs 750
To book: www.bookmyshow.com
Catch up on all the latest Mumbai news, crime news, current affairs, and also a complete guide on Mumbai from food to things to do and events across the city here. Also download the new mid-day Android and iOS apps to get latest updates