No time to service electrical and medical equipment, makeshift centres set up in a hurry and huge concentration of oxygen make patients in COVID wards sitting ducks for tragedy. What do Indian hospitals need to do differently?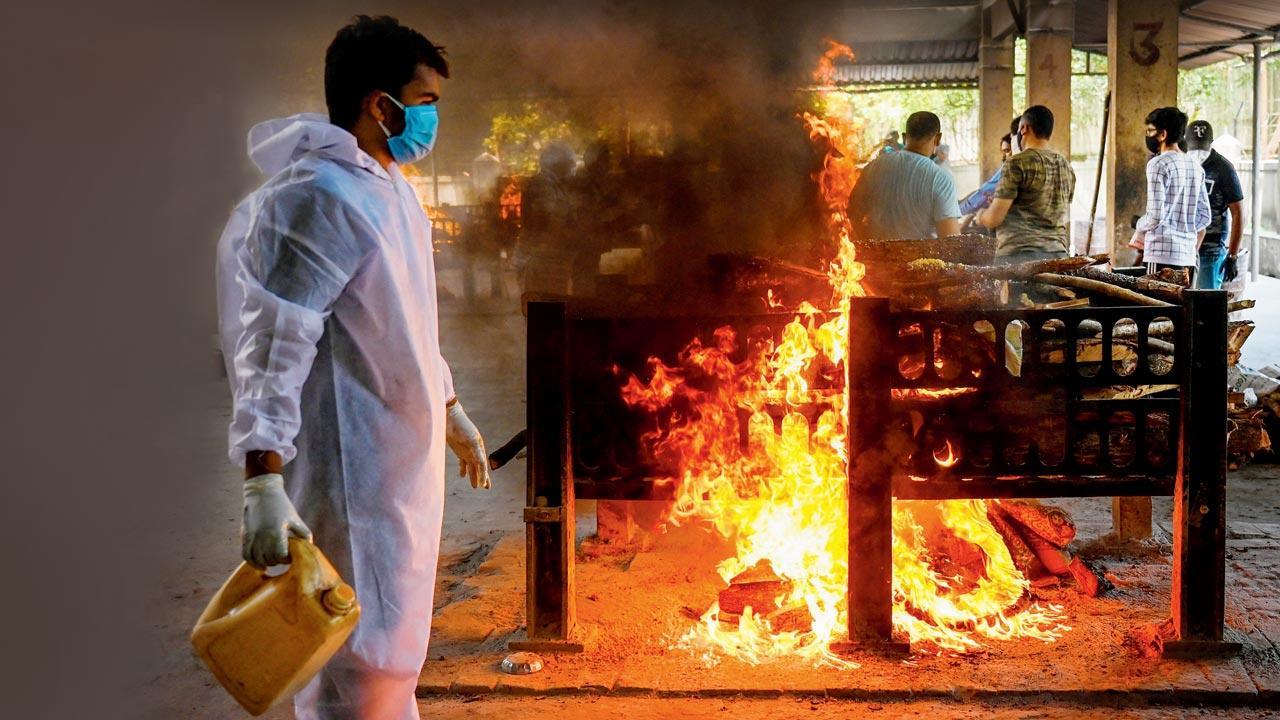 A crematorium staffer lights a pyre of a COVID-19 patient, who died from a fire incident that killed 15 COVID patients at the Vijay Vallabh Hospital in Virar on April 23, 2021. Pic/Getty Images
It's been nearly seven months since a pre-dawn fire at the 17-bed COVID Intensive Care Unit (ICU) of Vijay Vallabh Hospital in Virar killed 15 people, but Vishal Janardan Shirke, station officer, at the Virar West Fire Department, A Ward, says he can recall the April 23 incident minute by minute. Because time, he tells us, was most crucial and could have made all the difference.
"The fire broke out at 2.45 am, and we got a call at 3.13 am. Had we been informed earlier, more lives would have been saved. Since our fire station is just 1.5 km away from the hospital, we reached the hospital within four minutes." By then, the fire had gutted the second floor, and was still raging. "Since the epicentre was the ICU ward, the windows, though openable, were still tightly shut. One of the first things we did was to break them open with whatever we found, so that the smoke could escape." By 3.45, they had doused the flames, and evacuated most of patients and staff on the floor above. But, the second floor had turned into a hellhole. "The ward was covered in thick soot, we couldn't even make out the bodies," he says. "While entering in, we even accidentally stepped onto some. These were people who were probably attempting to escape, but may have died due to suffocation." Those on ventilators were most unlucky, as they struggled to leave their beds. Melted plastic oxygen masks were found on their faces and necks, he recalls.
ADVERTISEMENT
A patient on oxygen support is hastily shifted
At the time of the incident, Dilip Shah, CEO and director, Vijay Vallabh Hospital, had told mid-day that of the 17 people in the ward, 13 had died of asphyxiation caused by smoke inhalation. Shah, along with another director, Dr Shailesh Pathak, were later arrested by the Crime Branch for negligence, after investigations revealed that the hospital had not renewed its NOC from the fire department.
While the investigation in the case has been completed, the officer says that the exact source of the fire is still unknown, as all the wires and electrical units were charred. "But one of the staff told us that they saw sparks below the centralised AC unit. Just two days before the incident, the AC had been repaired. So, it's likely that a short circuit had taken place," he says. In hindsight, he also reveals what possibly may have aggravated the flames. "Most of the patients were on oxygen, when the fire broke out. In order to escape, some of them had even started removing their masks," says Shirke. "When they dropped their masks, it may have increased the oxygen concentration in the air, and this is likely to have caused the flames to flare up."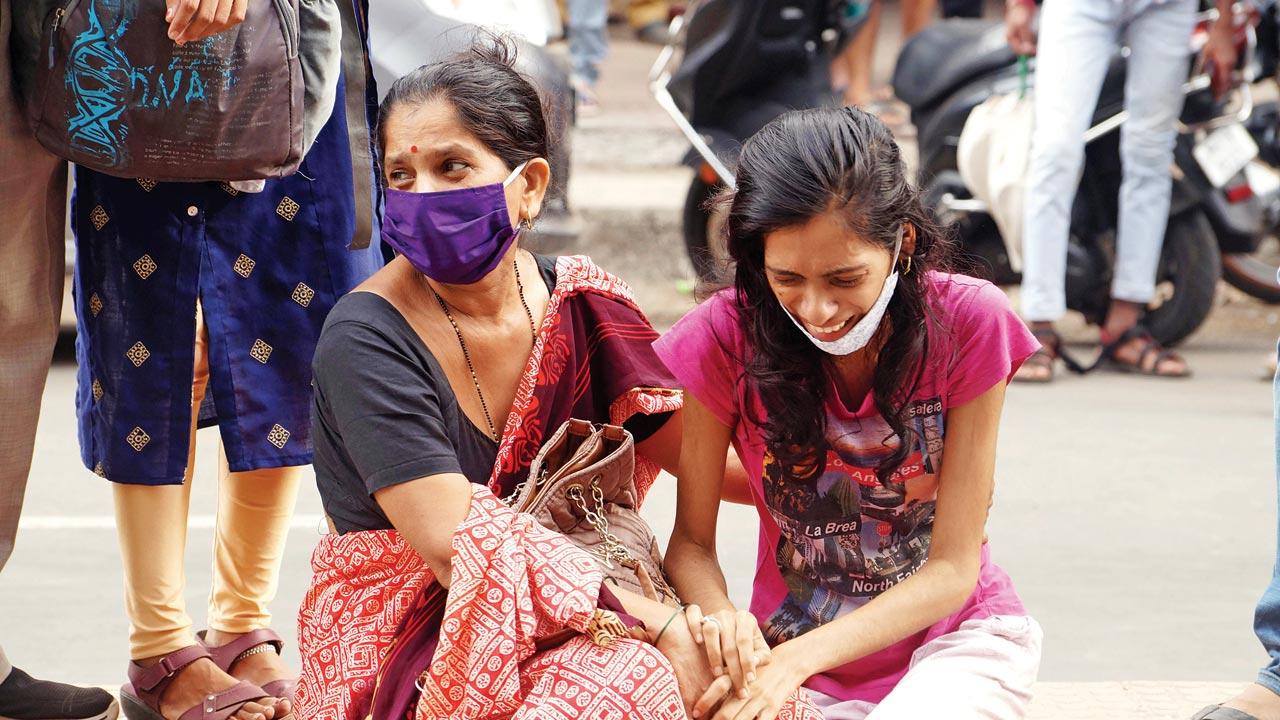 Relatives grieve outside Vijay Vallabh Hospital in Virar, where a fire broke out at 2.45 am on April 23. Pic/Hanif Patel
With another fire breaking out in the COVID ICU of the Civil Hospital in Ahmednagar district last Saturday, killing 10 people, state authorities are learning the hard way that COVID hospitals and wards, which are home to patients requiring oxygen treatment, have become tinder boxes.
A new research paper titled, Reducing the Risk of Oxygen-related Fires and Explosions in Hospitals Treating COVID-19 Patients, published in the Process Safety and Environmental Protection, revealed how oxygen, which generally makes up about 21 per cent of the gases in the air, can be most dangerous in a hospital environment. "A leaking valve or hose, and openings at interfaces of masks and tubes, when in a confined space or where air circulation is low, can quickly increase the oxygen concentration to a dangerous level. Even a small increase in the oxygen level in the air to 24 per cent can create a fire hazard. In an oxygen-enriched environment, materials become easier to ignite and fires will burn hotter and more fiercely than in normal air. There is also a potentially heightened risk of using ethanol-based and organic solvents as cleaning agents in an oxygen-rich atmospheres," wrote the authors, Maureen Heraty Wood (European Commission Joint Research Centre, Major Accident Hazards Bureau), Mark Hailwood (State Institute for Environment Baden-Württemberg) and Konstantinos Koutelos, an independent consultant.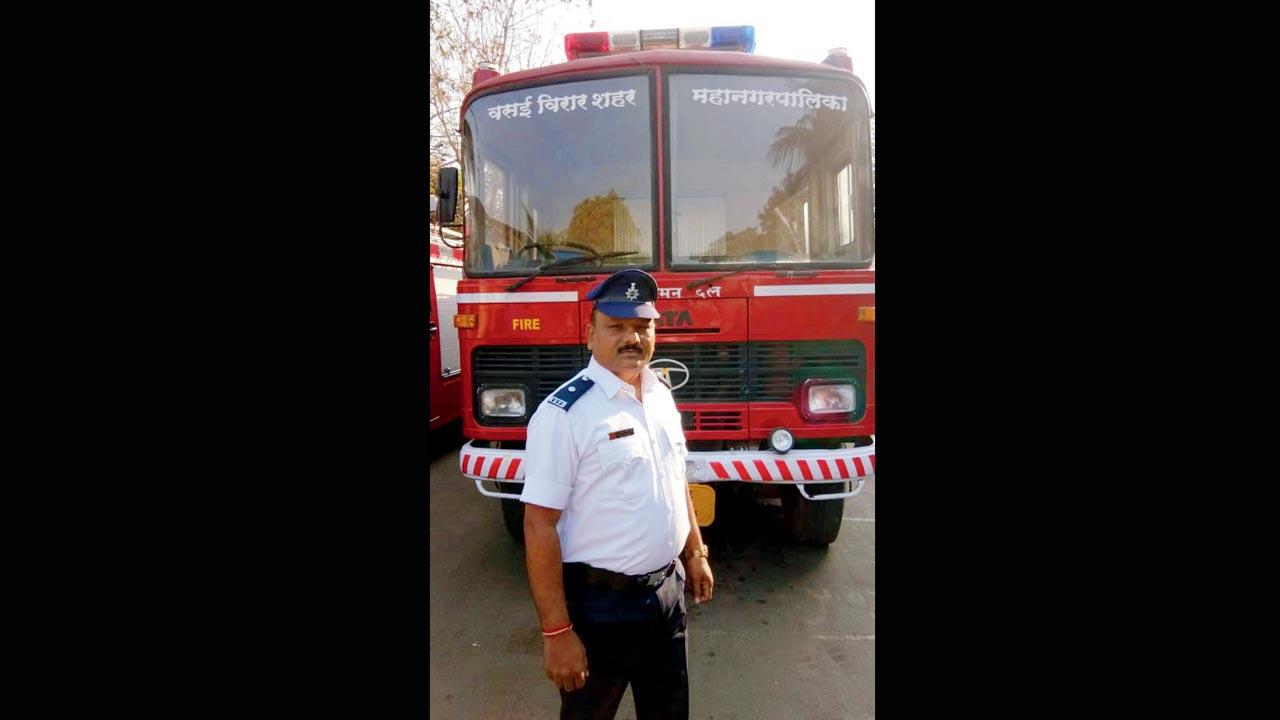 Vishal Janardan Shirke, station officer, Virar West Fire Department, A Ward, who was part of the fire-fighting team at Vijay Vallabh Hospital says that increased oxygen in the air, may have aggravated the flames
In an email interview with mid-day, the authors said that "hospital fires [during COVID-19] have been particularly significant in the number of fires and the extent of the consequences". The involvement of oxygen in these fires, however, has been most concerning. "We [the authors] work within the field of Chemical Accident Prevention and Response and felt compelled to highlight the issue, which had not had widespread attention, except for the UK NHS, which worked together with the UK Health and Safety Executive to address the inherent safety issues."  
According to their paper, since the start of the pandemic till May 2021, 38 non-surgical oxygen-related fires, had occurred all over the world, as compared to 25 reported or suspected cases that occurred between 1988 and 2019—the most disastrous fire occurred in an Iraqi hospital on April 24, 2021, which took the lives of 82 people. A closer analysis, however, reveals that of the 38 incidents, 10 occurred in India. Maharashtra alone has recorded several episodes of hospital fires since August 2020, resulting in over 50 deaths.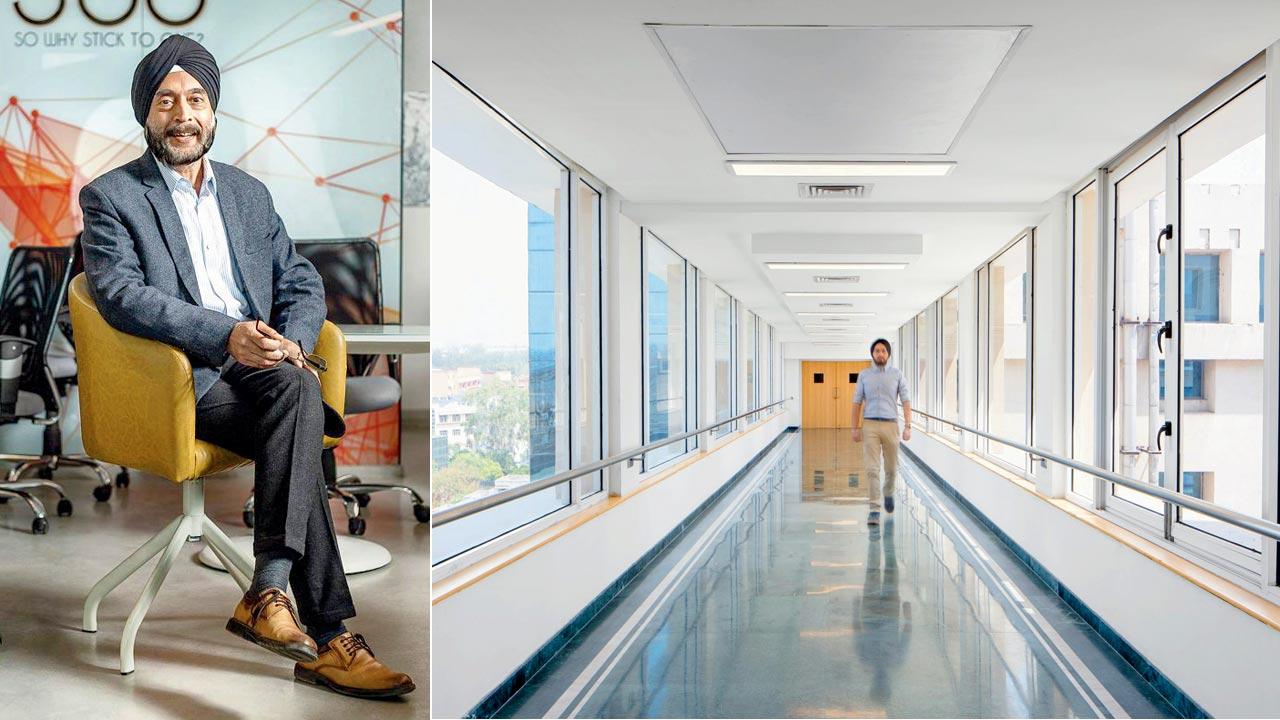 Mohanbir Singh, founder and director of New Delhi-based architecture firm Creative Design Architects, who has the experience of helming more than 50 healthcare facilities pan Asia, says that guidelines stipulated by regulatory bodies state that all hospital corridors should have a width of 2.4 metres, while doors that open into the corridors should be 2 metres wide; the corridor of Max Super Speciality Hospital, Vaishali, Uttar Pradesh designed by Singh and his team
The slew of cases, including the most recent one in Ahmednagar, led the Maharashtra COVID-19 Task Force to organise an emergency meeting with CM Uddhav Thackeray on November 14 to discuss suggestions on forming guidelines to prevent such episodes. Dr Kedar Toraskar, Director Critical Care, Wockhardt Hospital, and a member of the state COVID-19 Task Force, says three elements are required to produce a fire or explosion. "One is a combustible material, second oxygen, and third, an ignition source. It's called the fire triad. These three elements are abundantly present in COVID ICUs and wards." He says that while hospitals have always been equipped to provide oxygen treatment, it is only during the last two Coronavirus waves that cases of people needing medical oxygen increased exponentially. Hospitals were far from prepared to handle the load, he thinks. "Most ICUs were running 24/7. Everything from the AC to the ventilators and electrical equipment were on continuously. The work load had increased to such an extent that hospital authorities didn't even find room to service their equipment," he says.
Irrespective of COVID-19, fire safety has been neglected in most hospitals, both private and public, feels Dr Toraskar. It's one of the reasons why the state task force members listed recommendations for all COVID care facilities in the state (see box). "It's practically impossible for hospitals with a small setup to implement some of the measures. But, at least they can get their basics right, like ensuring regular maintenance of electricity units and conducting fire drills," he says.    


The charred 17-bed COVID ICU ward at Vijay Vallabh Hospital in Virar, before and after the fire. A suspected short circuit occurred in a faulty AC unit. Pic/Hanif Patel
Nearly a month before the Virar tragedy, on March 25, a fire had broken out in another COVID-19 centre, Sunrise Hospital, located inside Dreams Mall in Bhandup, killing 11 people and injuring 10 others. Around 76 COVID-19 patients were admitted to the hospital, when the Level-4 fire broke out on the first floor of a mall at 11.15 pm.
A hospital statement, post the incident, said that the centre was started "under exceptional circumstances" due to COVID-19 in 2020, and that it was functioning with all due compliances. The statement also went on to mention that the hospital staff had evacuated the patients on wheelchairs and beds to the fire refuge areas. A fire brigade report in May, however, pointed to a delay in calling the fire station—they were called only at 11.57 pm, nearly 45 minutes after the incident—which cost many lives. The fire-fighting equipment, including alarms and sprinklers in the mall, were also not operational.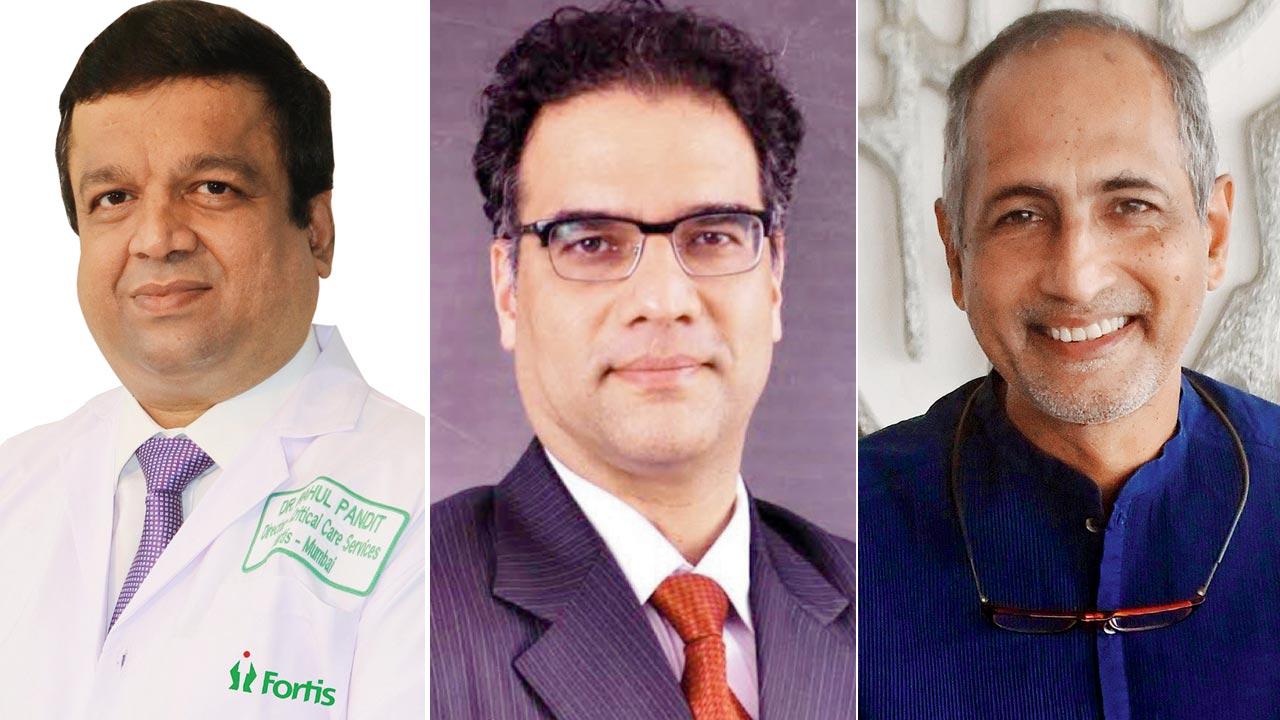 Dr Rahul Pandit, Dr Kedar Toraskar and Rahul Kadri
"Makeshift COVID centres and hospitals have been a cause for concern," admits Dr Rahul Pandit, Director-Critical Care, Fortis Hospitals Mumbai and member of the State Task Force, as well as the Supreme Court-appointed National COVID-19 Task Force. "While they were the need of the hour [in the pandemic], many did not have the adequate safety precautions in terms of electrical wiring or circuit breakers, and were not even fully equipped to handle the load of high-performing equipment. When you setup a makeshift ICU, and that too, at such short notice, it's not possible to erect a robust structure. This is not a criticism, but our reality." But this, he says, has increased the risk of short circuits.
In their study, Wood, Hailwood and Koutelos also found that the suspected cause for over one-third of the incidents was attributed to short circuits in various electrical subcomponents, such as air conditioning units, heaters, and ventilators. "All these subcomponents could introduce additional load to the electrical system, rendering the supply and the subcomponents prone to electrical faults, thus 'qualified consideration of the needs of a safe electrical supply, and assessment of the current situation' is necessary. Electrical supply and integral subcomponents should be maintained regularly and properly by competent service providers, acknowledging that more frequent use of those [necessitated by the surge of patients' admissions to ICUs during the pandemic] could require shorter inspection and maintenance intervals," they told mid-day.
Mohanbir Singh, founder and director of New Delhi-based architecture firm Creative Design Architects, who has the experience of helming more than 50 healthcare facilities pan Asia, believes that globally, hospital protocols and designs need to adapt and change quickly, as and when new infectious diseases are encountered. Having said that, he says that the National Building Code of India (NBC), which offers a set of standardised rules for authorities and construction firms, to provide a safe experience for those inhabiting these structures, quite adequately mentions what should be done to fire-protect buildings. "[In India], we also have the NABH [National Accreditation Board for Hospitals and Healthcare Providers], which has an exhaustive checklist, including obtaining of NOC from the state fire department, creation of a multi-disciplinary safety commission by the hospital, having effective fire equipment, and prevention measures in case of a fire. It's not easy to get the accreditation, but it's a must for all the hospitals to ensure quality control," says Singh.   
The architect says that present guidelines also stipulate that all hospital corridors should have a width of 2.4 metres, while doors that open into the corridors should be 2 metres wide. This helps wheel out patients, during an emergency situation. From the design point of view, hospitals are supposed to be designed into segments with doors, which automatically shut during a fire, to ensure that the fire is only confined to one space, and doesn't spread. There have to be adequate emergency exits through the building. He says that while most buildings avoid having openable windows from a safety point of view and to create a regulated atmosphere inside, the smoke extraction fans installed in the buildings, which get self-activated when there is a fire, prevents the smoke from accumulating in the area. "The extraction grills of these fans are usually on the façade of the building, and if they are operational and have been designed keeping the engineering criteria in mind, they are very capable of extracting any kind of smoke within the premises. Unfortunately, many hospitals don't have them installed, and if they do, the sensors or the fans don't seem to be working." 
Rahul Kadri, who is the partner and principal architect at IMK Architects, which has headed many healthcare projects across the country, including PD Hinduja Hospital (Mumbai), Sastur Hospital (Sastur), and Owaisi Teaching Hospital (Hyderabad), says that hospitals should avoid using inflammable materials. "It's always advisable to use fire retardant materials, so, even if a spark occurs [due to a short circuit], it doesn't spread quickly. For instance, it's a better option to use cotton curtains over nylon. The same applies to linen used in the premises." Kadri also feels that the upkeep of civic and government hospitals should be on top of the state's agenda. "These hospitals are built keeping all the right principles in mind, but they are very poorly funded due to which, overtime, they cannot be maintained."
The Maharashtra health minister Rajesh Tope on Sunday said that the state government will be allocating funds for fire safety audits in all district hospitals. But, the task doesn't end with auditing. "Regular fire audits only make a difference if there is a commitment by the senior management of the hospital to address any concerns and deficiencies, which may arise from the audits. There is a need for leadership to ensure a safe hospital for all," say Wood and team.
In the case of the hospital in Ahmednagar, an audit was carried out in March, but repeated reminders to install a fire-fighting system were ignored.
When contacted, Chief Fire Officer (CFO) of the Mumbai fire brigade Hemant Dattatray Parab, said that as of now, all the major COVID centres in the city have a quick response team and a vehicle, equipped with the necessary fire-fighting system, on standby. "We have also trained floor marshals to offer additional help to firemen. Every COVID centre is directly connected to the main fire brigade control room." Apart from this, the nursing and medical staff is given a refresher course every 15 days, so that they are prepared in case of a fire.  
The question to be asked is whether these measures will guarantee fire protection. Not really, say experts. But, as Dr Toraskar puts it, "The bottom line is prevention." "…Because once there's a fire, everything is only about damage control. And in an oxygen-rich environment, nothing is really spared."
38 
Number of non-surgical oxygen-related fires that occurred all over the world since COVID 
Nine
No. of hospital fires reported in Maharashtra alone since August 2020, resulting in over 50 deaths
Key recommendations of the State Task Force
. Regular periodic (quarterly) audits of fire safety, oxygen safety and use, Electrical maintenance and supply checks (quality control) and major ICU equipment maintenance (AC/ventilators/monitors)
. Continuous Real Time Audit of ICUs
. Periodic (quarterly) training of all the hospital staff 
. Ensuring inflammable material, including oxygen cylinders, disinfectants and sanitisers not to be stored in ICUs
. Having a separate mobile charging station in ICU
. Separate entry and exit points in the ICU
. Wheels of beds, ventilator trolleys to be regularly serviced
. Exit plan and evacuation protocol to be decided, drilled and exhibited in the ICU
. Doing away with concealed wiring and false ceilings
. In a multi-storeyed building, install fire doors at staircase exits and seal the ducts on each floor to avoid escape of fumes and noxious gases upwards
. Have glass panels to the ICU walls, which can be broken in case of fire
. Revisit the tendering process and carefully draft the specifications of electrical wires which should be hazard proof. Switches must trip in time and the load of the electrical inputs needs to be monitored
. Internal water sprinklers and smoke detection alarm systems must be installed
. No cluttering of equipment on the floor of ICUs and in the staircases meant for exit. Slopes to be provided for beds and stretchers to be wheeled out
. Prevention of rodents in the ICU as these can nibble the wires leading to short circuit and this menace is particularly observed in AC ducts