A Bengaluru-based canine behaviourist and myotherapist who lost two of her most prized partners in the last one year, writes a book that helps us understand dogs as peace ambassadors and effective communicators, and through them, ourselves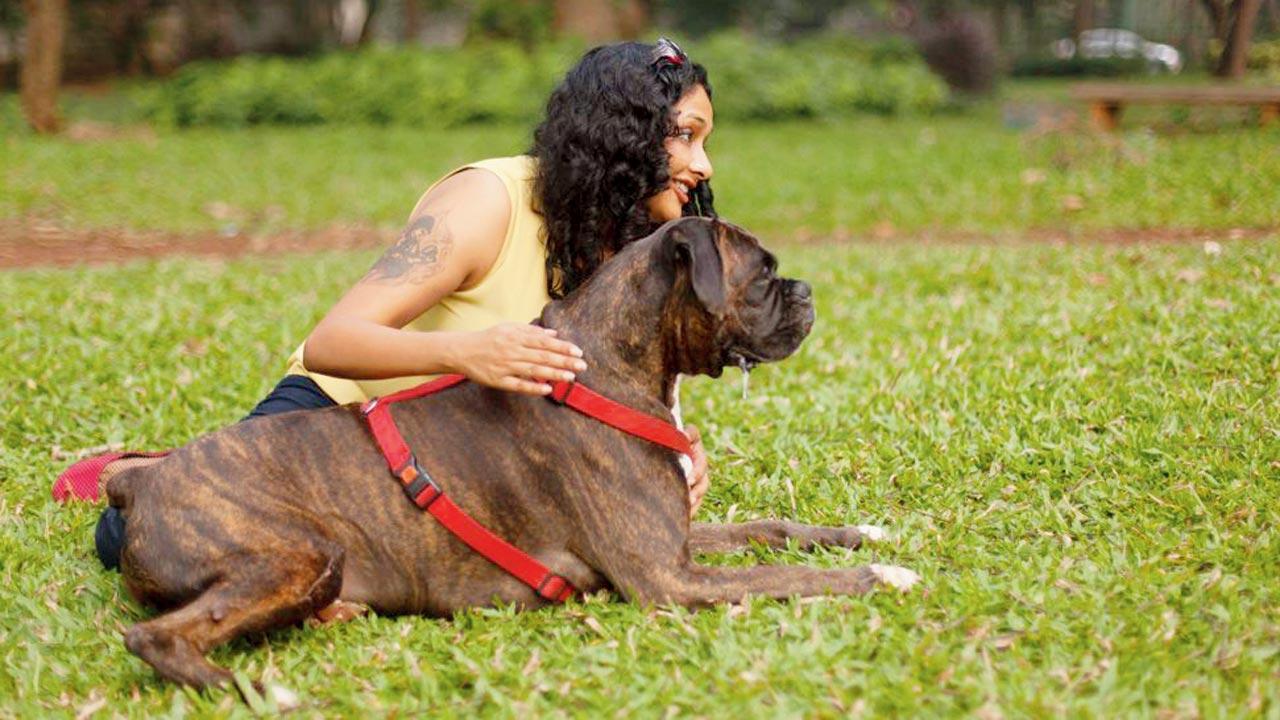 Sindhoor Pangal with her late dog Nishi
Love and loss are both matters of the heart. Canine behaviourist and myotherapist Sindhoor Pangal, who has had to see herself through these emotional upheavals while writing a book about dogs—an animal whose mind she is still trying to unravel—says if there was someone who saved her from drowning it was her pet, Cheeru.
When Bengaluru-based Pangal, who is the director at BHARCS, a premier canine behaviour education academy in India, began work on the book five years ago, her family was full—Pangal and her husband Uttam were proud pet parents of boxer, Nishi, and Cheeru, a rescued dog. Not too long after she had completed her manuscript in 2020, Nishi passed on. In February this year, Pangal lost her husband. These immeasurable losses may have shattered the image of the happy family, but Cheeru, otherwise, shy and wary of people, has taken on the role of her protector, Pangal realised.  
  
Her forthcoming book, Dog Knows: Learning How to Learn From Dogs (HarperCollins India), feels like a timely reminder of why animals play such an instrumental role in our lives, and how understanding them, helps us understand ourselves.
ADVERTISEMENT
Pangal's career as a canine expert began sometime after Nishi met with an accident. That incident, she says, led her on an exploration, where she started researching more about dogs. "A part of me wanted to tell the story of my dogs, but I wanted to also step in as a professional, and talk about things, which I didn't know when I first became a pet parent, and I wished I had known," she says.
One of her earliest projects, which she started, as a dog researcher, was Lives of Streeties. The first phase of the ongoing project,  spanned three years and involved observations of 700 street dogs. "I began the project with a simple agenda, which was to understand how much time a dog spends doing different things. What I learnt is that dogs spend a bulk of their time sleeping," she says, adding, "I also discovered their fascinating social structure—their secret lives, how they co-exist much like a human joint family, the politics [involved in living with other dogs], their social call, and the verbal and vocal negotiations they make. That was a big learning for me." 
But, this also makes street dogs very different from their domestic counterparts. "Street dogs express behaviours that are part of a dog's ethogram, or rather, behaviours that are natural to the animal. The truth of the matter is that pets are captive animals, and we control every aspect of their life—right from what they eat, when they poop, and whom they meet." This, Pangal says, makes pets, unlike free-ranging dogs, unable to exercise choice and free will.
A part of her work, and that's also one of the many efforts of this book, is to try and bring back some of those natural behaviours into a domestic dog's life. There are small changes that pet parents can make to ensure that their dog retains at least some aspects of their ethogram. "Many incorrectly assume that dogs are extremely active animals, but study after study, has pointed out that dogs are lazy, for want of a better word. They need almost 18 hours of sleep. So, parents need to check if they are getting enough of that, or if their dog is being overworked, or is being made to be part of high-energy activities."
Pangal feels that dogs should also be given the freedom of choice. "For instance, if you are giving a treat to a dog, place two treats and get him or her to decide which one to pick. You could also allow them to decide where they'd like to sleep."
Through her own experience, she has been able to conclude that dogs probably understand human beings better than any other species. "Research has shown that human beings emote more on the right side of their face, and hence, we have a left-gaze bias. This means that when you look at me, you are more likely to look at the right side of my face to get a sense of my emotional state. Interestingly, the only other animal that looks at human beings this way is the dog. So, they are actually reading us very carefully."  
Her late husband Uttam, she says, played an important role in helping her see dogs in a different light. "Uttam and I were not always on the same page, when it came to parenting our dogs. He didn't believe in intimidating them to [train them].  When I met Turid [Rugaas, dog behaviourist and president of Pet Dog Trainers of Europe], he shared the same philosophy. Uttam was already in that mind space. He believed in treating everyone with kindness and empathy, especially dogs."  
Good to know
. Unlike what most think, dogs are lazy animals and need a lot of sleep. Check if yours is getting it 
. Allow them to exercise freedom which domestic pets tend to be robbed off. When you offer a treat, offer two varieties, let them pick 
. Pet dogs seem to have rather poor judgement in general. Strays, on the other hand, are very intuitive, and know whom to approach or not. This decision-making skill can be improved by focusing on calming dogs down. A dog that is not hyperactive is likely to walk slow and explore more, thus making the animal good at predicting things
. Dogs, like human beings, are going through a lot of stress during the pandemic. The only difference is that they don't know why they are feeling this way. Engage them in a lot of mentally-stimulating activities—like DIY puzzles, or activities that involve sniffing, chewing and searching. This will also help compensate for 
not being able to take them out for walks  
"Exciting news! Mid-day is now on WhatsApp Channels

Subscribe today by clicking the link and stay updated with the latest news!"
Click here!