Post Shiv Sena's split, the Andheri East Assembly bypoll is a litmus test for Uddhav. The woman on whom he has hedged his bets is a rank novice to politics who "fears no one" and has a muse in her late husband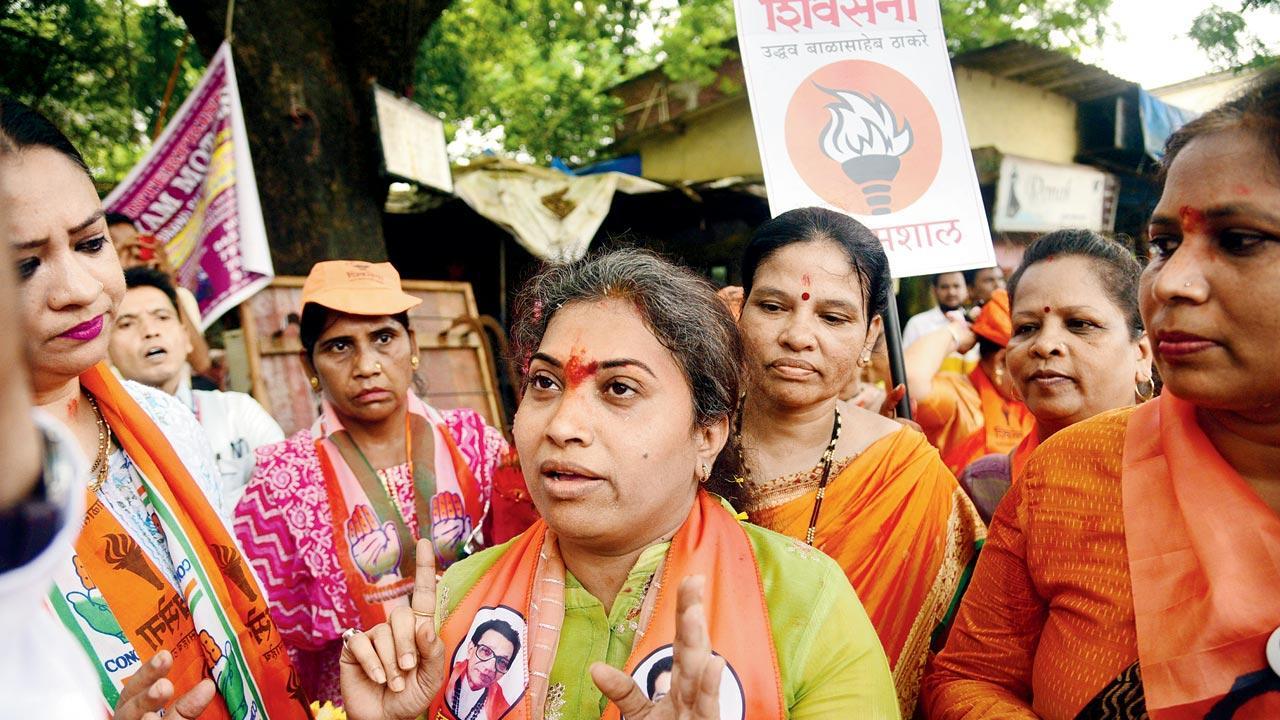 Rutuja Latke, who is contesting the upcoming Andheri East bypolls seen during a door-to-door campaign at Filter Pada, Powai. Pics/Pradeep Dhivar
The harsh summer has made an unwelcome comeback this October. At Filter Pada in Powai, more so. Rutuja Latke, who is making her way through an overzealous crowd of women flaunting saffron caps and sashes, is reeling under the strain of the hot afternoon sun. She halts briefly to sip some water, while a female party worker wipes off the smudged red tikka that's bleeding in her sweat. In a matter of minutes, a large group encircles her. Standing on the periphery is a Congress karyakarta who has the palm of a hand printed on her sash. She holds up a flaming torch, crying out: "Mashaal, mashaal, mashaal. Garibo ki nishaani mashaal." The Maha Vikas Aghadi (MVA) alliance is playing out on field.
Latke takes a moment to get her bearings together, before turning back to face the crowd. She straightens her dupatta, folds her hands, and smiles. "Don't let [Ramesh] Latke sahebachi good work go waste. Give your blessings to his wife, Rutuja tai… Remember you have to come out and vote on November 3. Your support is important," a party worker appeals in Marathi, the loudspeaker carrying his voice to a distance. 
ADVERTISEMENT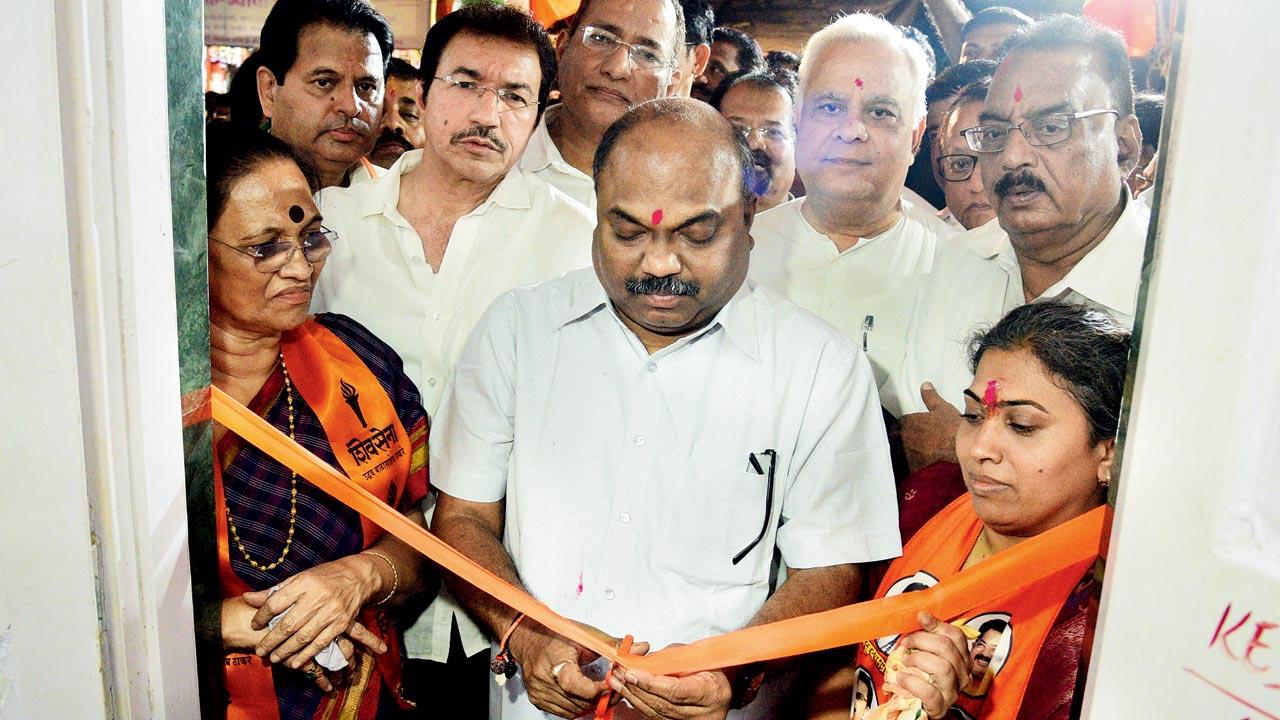 Latke inaugurating a new Shiv Sena shakha in Andheri East. Pic/Ashish Rane
Latke stands quietly besides him—it's the last leg of this morning's campaign. The 45-year-old has been in the slum pocket for two hours, reaching out to the residents, many of whom voted for her late husband and Shiv Sena leader Ramesh Latke in the 2019 Assembly elections. The senior leader died in May this year, while on holiday in Dubai. The door-to-door campaign began in full measure on October 14, right after Latke, a clerk in the K East Ward of the Brihanmumbai Municipal Corporation (BMC), filed her nomination papers for the November 3 Andheri East Assembly byelection, amidst much fanfare and sloganeering.
Earlier in the week, the Bharatiya Janata Party (BJP) backed out from contesting, barely 72 hours after their candidate Murji Patel had filed his nomination. Their ally, CM Eknath Shinde of Balasahebanchi Shiv Sena had said that they had withdrawn, despite being assured of a win, due to "requests" made by leaders from across the spectrum to smoothen the path ahead for Ramesh Latke's widow. Political pundits called this claim an eyewash; a face-saving exercise in light of the close election battle that lay ahead. The tide of sympathy for Latke would mean an unopposed victory, they felt. Latke has heard the word "sympathy" being thrown at her once too many times since she began campaigning.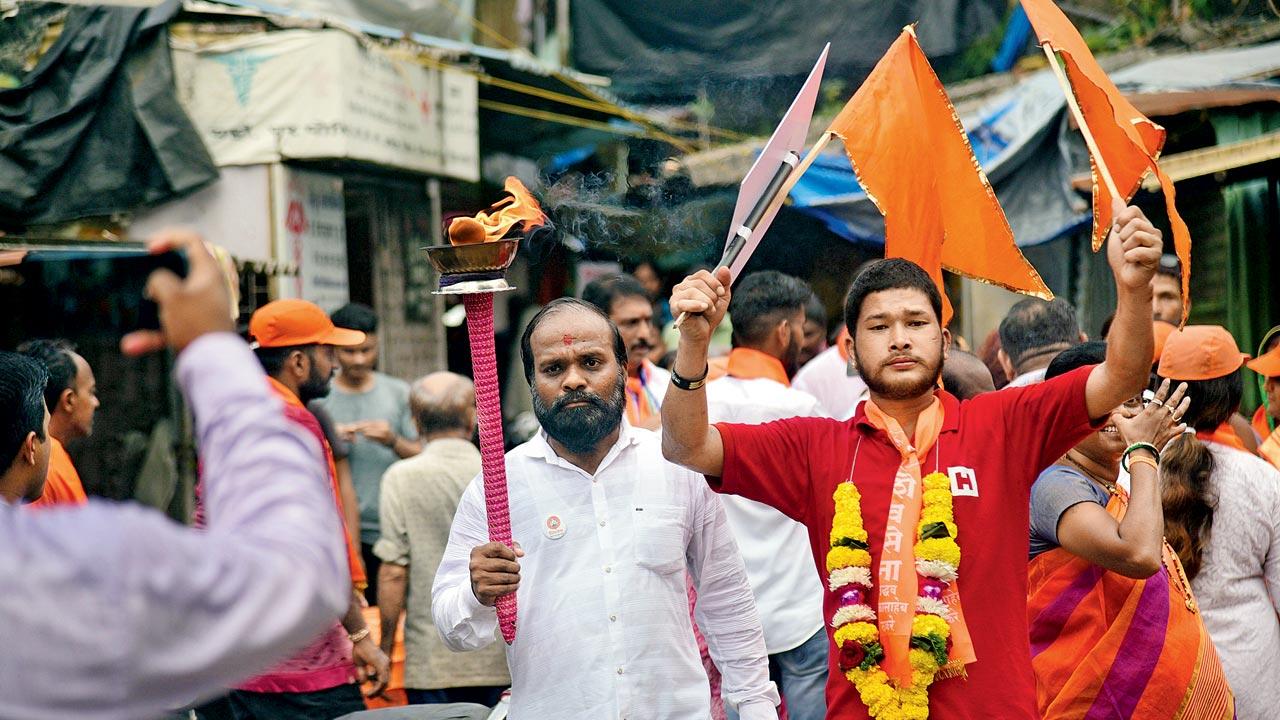 Supporters from the Maha Vikas Aghadi (MVA) alliance join Latke's campaign trail, wielding the mashaal, which is the new Shiv Sena symbol of Uddhav Thackeray's faction 
When we join her in the car, she is still attending to her supporters. "I will see you soon," she tells them, rolling up her window gently, careful enough to continue the exchange of words, even though brief and consolatory. She takes another sip of water from her bottle, visibly perturbed about us having broached the "sympathy factor". She refuses to comment, but says matter-of-factly: "My husband has done a lot of good work in this constituency."   
  
We are still a 25-minute ride away from her husband's office in Gundavali, where she is now heading to complete paperwork before going home for lunch. A day prior, Latke had inaugurated a new Shiv Sena shakha in Andheri East . Latke admits that being interviewed, "is all very new for me." The initial discomfort, one that this writer suspects also came from the language barrier—Latke is comfortable in Marathi, while we struggle with it—soon thwarted. "You know, my husband was a good observer," she tells us, manoeuvring the conversation back to him. "He would take one look at you, and be able to gauge, why you are here, and what's your purpose. That's something I wish to learn, even if slowly." She smiles and continues, "Saheb also knew how to speak with people, and did so, with great respect. He treated everyone equally, irrespective of their religion or caste. Filter Pada has a huge Muslim population that respects him. He could speak their language. He'd never talk down to people. It was a rare gift. He was not a politician in that sense... he didn't play politics."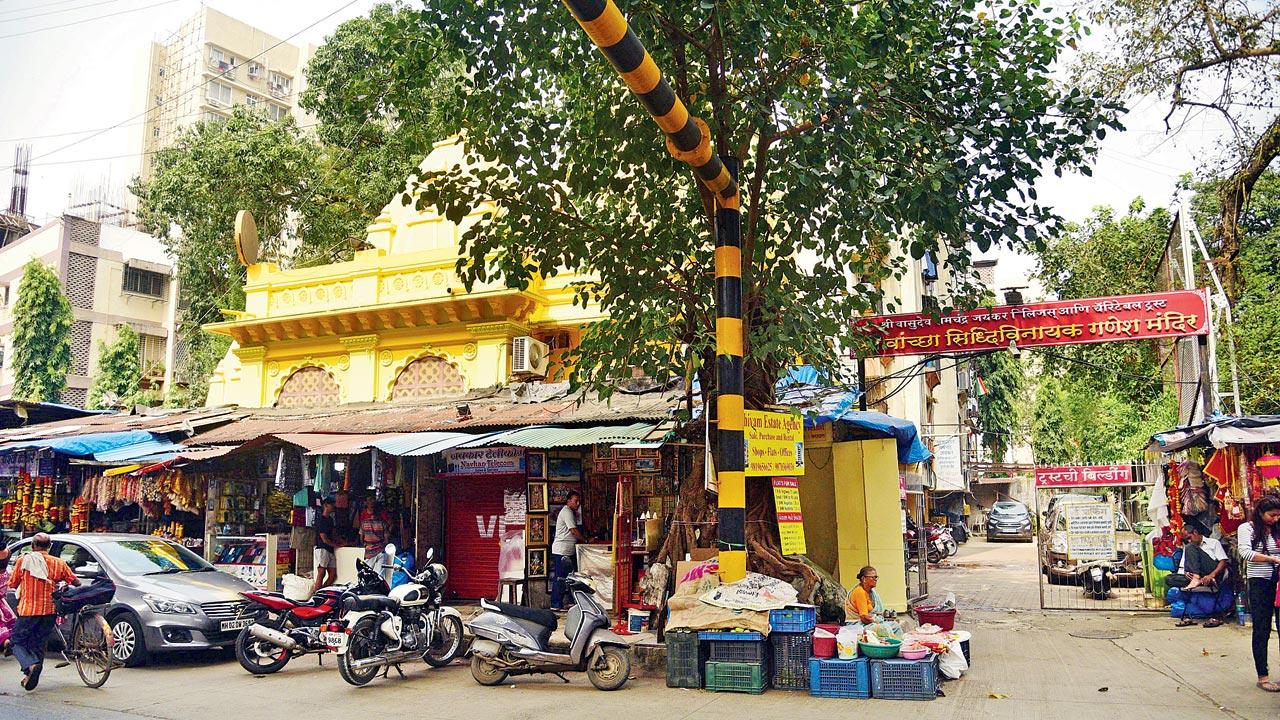 The Shree Vanchha Siddhivinayak Ganesh Mandir near Andheri East station is patronised by the Latke family
Ramesh Latke, a three-time corporator in the BMC, was elected twice as MLA from the Andheri East constituency (2014 and 2019)—his last tenure remained incomplete, following his untimely passing on May 11 this year, at the age of 52. With the seat vacant, there had been murmurs about his wife contesting. "It was my life's biggest conundrum," she confesses. "I never imagined a day without him, and perhaps, that's why, I never saw a life in politics. My husband didn't mix his personal and professional lives, so his work was always out of bounds. To be honest, politics never interested me." 
 
If there's one thing that Latke was determined about, it was to become financially independent. Born into a family that hailed from Chiplun, Latke grew up in Thane, with four other siblings. Her father had a job with the Reserve Bank of India, where he looked after the lodging of senior banking staff, while her mother was a homemaker. "Because my father worked in the RBI, I wished to become a banker," she recalls. After graduating in commerce from at NG Bedekar College of Commerce in Thane, she took up odd jobs, first as a typist earning R700, and then with Natraj Pencils, working as an accountant near Haj House in CSMT, making a monthly sum of Rs 1,500. This was in 1998. A year later, her marriage was fixed with Ramesh Latke, who was then a young corporator. The couple was married on April 25, 1999. She tells us how her husband rejected 22 women, before he agreed to marry her. "He had only one expectation from his future wife—he wanted her to have a degree. I wanted the same in a husband. We both gave a lot of importance to education. Today, a degree has no real worth; back then, it did." 
The birth of her son, Ameya, soon after, compelled Latke to focus homewards. "But somehow, I had this urge to go back and work." In 2004, she happened to chance on a newspaper advertisement for an accountant in the BMC, where her husband was now serving as corporator for the second term. But the candidate needed to have a Maharashtra State Certificate in Information Technology (MS-CIT), an IT literacy course started by the Maharashtra Knowledge Corporation. "I didn't have the bandwidth to do the course, so I applied for a clerk's position," she says, adding that it was done clandestinely, without keeping her husband in the loop. The call for the written test came many months later, when she was expecting her second child, daughter Bhargavi. "My parents didn't understand why I wanted to work, when my husband was doing well. But, I had received an education, and wanted to make use of it."
When she was finally shortlisted for the interview in March 2005, her daughter was already a few months old. "That's when I told my husband. He said, 'Now, if you've gone and done it, what do you expect me to say? Go ahead.'" Latke remembers taking her daughter for the BMC job interview, where hundred other applications had arrived. It was only many months later that she was told that she had got the job. "The process took nearly 1.5 years, but I was happy it worked out, because I really wanted to get back to work," she says, adding, "See, my husband was not opposed to my working, but he wanted to me to take up something worth my salt." She, however, insists that he didn't see any job as inferior. His own parents, Kondiram and Savitri Latke, lived modestly. Savitri used to sell vegetables outside Shree Vanchha Siddhivinayak Ganesh Mandir near Andheri East station, while her father-in-law, a flower vendor, would also sweep and clean the temple premises. "They did this until before COVID," she says, adding, "Many people would tell him, 'Saheb, you are an MLA now… tell your mother to stop selling vegetables on the street'. But, he never interfered. He respected what his parents did, and knew it brought them happiness, gave them a purpose."   
Having worked with the BMC for nearly 17 years, dispatching birth and death certificate and handling clerical tasks with the storm water department, Latke has come a long way. She didn't get a promotion, because she didn't clear the test. "But I couldn't be bothered, because I had too many responsibilities at home." After getting done with work post 6 pm, she'd go home and cook every day, making fresh rotis for the family who would join the late MLA for dinner. "He loved my cooking, and wouldn't eat anything else." Latke's ward office was in Chakala, until they moved to Gundavali in 2019, a stone's throw away from her late husband's workplace. "Initially, when I joined work, people were cautious around me, because they thought she is Saheb's wife. But when they realised that I didn't carry the weight of my husband's status, they dropped their guard. I've had the most fulfilling career with the BMC."
The most gruelling phase of her career, she remembers, was during COVID-19. "Both my husband and I were working throughout the pandemic. We would isolate in separate rooms, so that we wouldn't pass on the infection." Despite taking enough care and precaution, Ramesh Latke, she says, contracted the virus in September 2020. "While the infection was mild, the viral slowly started taking a toll on his health," she feels, adding, that he developed thyroid sometime later, and started losing weight drastically. From 99 kg, his weight had dropped to 82 kg. "This had never happened before… But there were some positives. We had just moved into our new flat last year, which we had purchased after taking a home loan with his salary."
 
Life took a 360 degree turn for the Latkes in May. Ameya, who was pursuing a Masters degree in the UK, had a seminar in Dubai. The family decided to go visit him. "This was our first trip abroad as a family. My husband wasn't too keen, because for some reason, Dubai didn't appeal to him. But, we went anyway." The family had been in the Emirates for barely a day. The following morning, Latke, her husband, and children met for breakfast at the hotel's restaurant. "My children were busy discussing plans for the day. Saheb wasn't feeling too well, so he left his breakfast and went to freshen up in the room. He said he'd join us in a bit. Meanwhile, my kids decided to go shopping. Now that I look back, I feel I should have followed him to the room. But there was no way, I'd have known." When Latke returned to the room after her kids had left, she realised the door was locked from inside. Worried, she got the hotel staff to intervene. By then, Ramesh Latke had passed on due to a heart attack.
Latke breaks down while narrating the incident. We do not to discuss this again.
We are outside the K East Ward office, which was where she spent nearly eight hours daily until last week, when she resigned and left office. The security staff takes one look at her, and gets up from his seat. She tells him that she'll be returning a while later, as she needs to complete some paperwork. 
Her decision to quit her job had stirred up a hornet's nest when the BMC had refused to accept her resignation. The Uddhav Thackeray-led Shiv Sena, which blamed the Eknath Shinde government for "using the civic body for their own political gain", moved the Bombay high court, which directed the municipal body to relieve Latke. She clears the air: "The thing is that I was in two minds about contesting the elections. We've taken a home loan, and that needs clearing. I am now the sole breadwinner; I was conscious about how not having a job would play out." She says that the Thackeray family was considerate. "Uddhavji asked me to take my time, and mull over it. He also told me that only if I wasn't ready, would he consider having another senior party worker contest the elections."  
In an affidavit submitted to the Election Commission, Latke had stated that she has Rs 43.89 lakh in cash, bank deposits, FDs, mutual funds, jewellery, etc. and the process of transferring her husband's assets of Rs 22.58 lakh is still under process. She also owns a house in Chiplun worth R51 lakh and the real estate on her husband's name is worth Rs 8.03 crore. She and her husband have a loan of Rs 2.20 crore.
Interestingly, it was Latke's superior in the BMC who motivated her to take on the challenge. "She told me that I shouldn't let my husband's work go down the drain. He would have wanted me to continue what he started."
In the first week of September, Latke wrote to BMC chief Iqbal Singh Chahal requesting if she could contest the polls, while in office. And if she could have her job back, if she didn't win. The response came late in September, and as per BMC protocol, she was told that this wasn't possible. "So, I had to submit my resignation in October. But with the last date for filing nominations inching closer, and me not receiving any response, we had to move court. I don't have any problem with my seniors in the BMC; all of them have been very supportive, and stood by me through my ups and downs."
While BJP's Murji Patel has withdrawn from the fight, Latke still has a few Independents—Milind Kamble and Neena Khedekar—and candidates from smaller parties, to fight. "The future is still not certain. We will only know post November 3."  
 
Latke is well aware of the responsibility that comes with power. "The Assembly is a different ball game. When I was in the BMC, I was coordinating with one corporator; now I will have nine others, all from different parties. I want to take them along with me, to ensure the development of our constituency, which my husband has so carefully nurtured."
Her mother, she says, moved in with her recently. She tears up again. "Aai is in her late 60s, but she has stood by me like a rock. She knows that it's becoming difficult for me to juggle home and the campaign. My in-laws are also doing everything possible to help me through this."  
If she wins the elections, she has her work set out. "I will first complete the tasks that my husband started and remains unfinished. As a woman, I also want to help other women. I want them to come to me, and tell me about their problems, so that we can address them together. Getting an education saved me; I want that for all women."
Latke tells us that she has never been comfortable about being in the limelight. "Many didn't even know who Ramesh Latke's wife was. Even now... this media attention is unsettling. But the one quality I have, is that I don't fear anyone. My husband used to tease me, call me, 'khatarnaak'. This year has been tough on us. There have been transitions personally and politically. But it has made me stronger. In the last few days, my confidence has increased. I will see this through."