Why does Brahmastra's proclaimed collection not match the scene in theatres? Is it inflated ticket prices or bravado, we ask stakeholders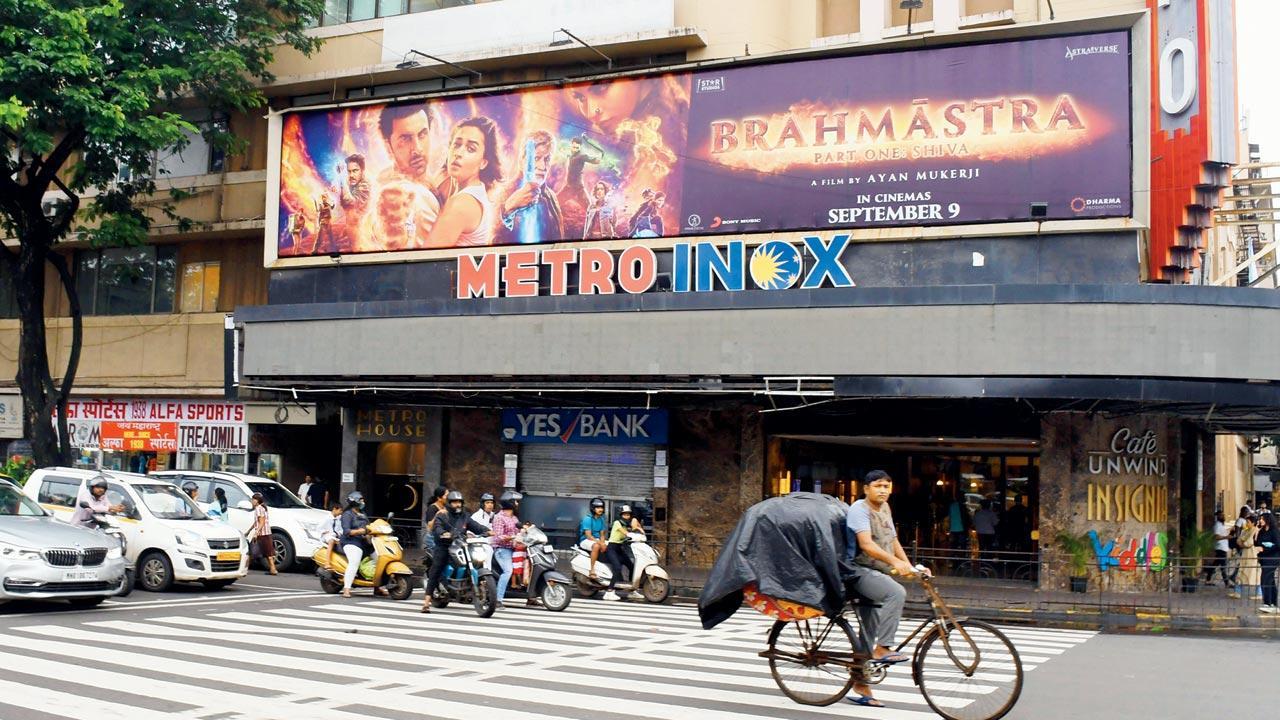 Made at a budget of Rs 410 crore—a major chunk of which was spent on VFX—Brahmastra opened to promising box office numbers, say film distributors and producers. As per film's producer Karan Johar, it made a gross collection of Rs 300 crore worldwide in the first week. Pic/Ashish Raje
It is important that Brahmāstra: Part One–Shiva do well not only for the people directly associated with it, but for everyone in the Hindi film business. Film exhibitors and distributors pointed this out in mid-day's report 'Content is the problem, not #boycott calls' (dated September 4, 2022).  After Aamir Khan's Laal Singh Chaddha and Akshay Kumar's Raksha Bandhan's lacklustre show at the box office, everyone was desperate to resuscitate Bollywood. The Ayan Mukerji film saw the light of day after eight long years. Made at a budget of R410 crore—a major chunk of which was spent on VFX—it opened to promising box office numbers, with a gross collection of Rs 300 crore worldwide in the first week, as pointed out by its producer Karan Johar.
But is the audience paying for this shot-in-the-arm? On Monday, a colleague bought a ticket for Rs 650 for a 2D show at a theatre in Malad; stubs for 3D versions in premium theatres crossed Rs 1,000.  "Ticket prices have inflated," says Kolkata-based film critic and trade analyst Sumit Kadel. "Producers have increased ticket prices by 30 to 40 per cent for weekend shows." This raised box office numbers, echoes Mumbai-based entertainment analyst Karan Taurani. "Prices were hiked by 35 to 45 per cent. This film has been adapted for 3D and IMAX 3D, which comes at an additional cost." Taurani adds the technology demands budgets of Rs 500 crore and more. "To make it profitable for producers, ticket pricing has to be higher," he explains. "The audience is also willing to pay because they want to watch compelling content that is larger than life." 
Speaking for multiplex chains, Sanjeev Kumar Bijli, joint managing director of PVR Limited, said that just like airlines, cinema halls also have different ticket price slabs for the same film. Rajender Singh Jyala, chief programming officer of INOX Leisure Ltd, adds that price varies from theatre to theatre and area to area within a city. "A theatre in Nariman Point would charge R400, while a theatre in the same multiplex chain in Ghatkopar would charge Rs 200."  He elaborates on the ticketing policy: INOX has four pricing categories—regular, popular, blockbuster and mega-blockbuster.  "If a film looks promising, it is considered popular," he says. "It is a blockbuster when it has a strong star cast and is made on a good scale. Only a few films—such as K.G.F: Chapter 2 and RRR—make it to the block-buster category. Brahmāstra was put in the blockbuster category. If a regular ticket is priced R100, tickets for a popular film would fall between Rs 115-120, for a blockbuster it would be Rs 130-35, and a mega-blockbuster would be Rs 145-150." However, he dismisses reports that say ticket prices for Brahmāstra have been hiked. "In fact, the rates for Brahmāstra are lower than those for K.G.F: Chapter 2 and RRR," he says.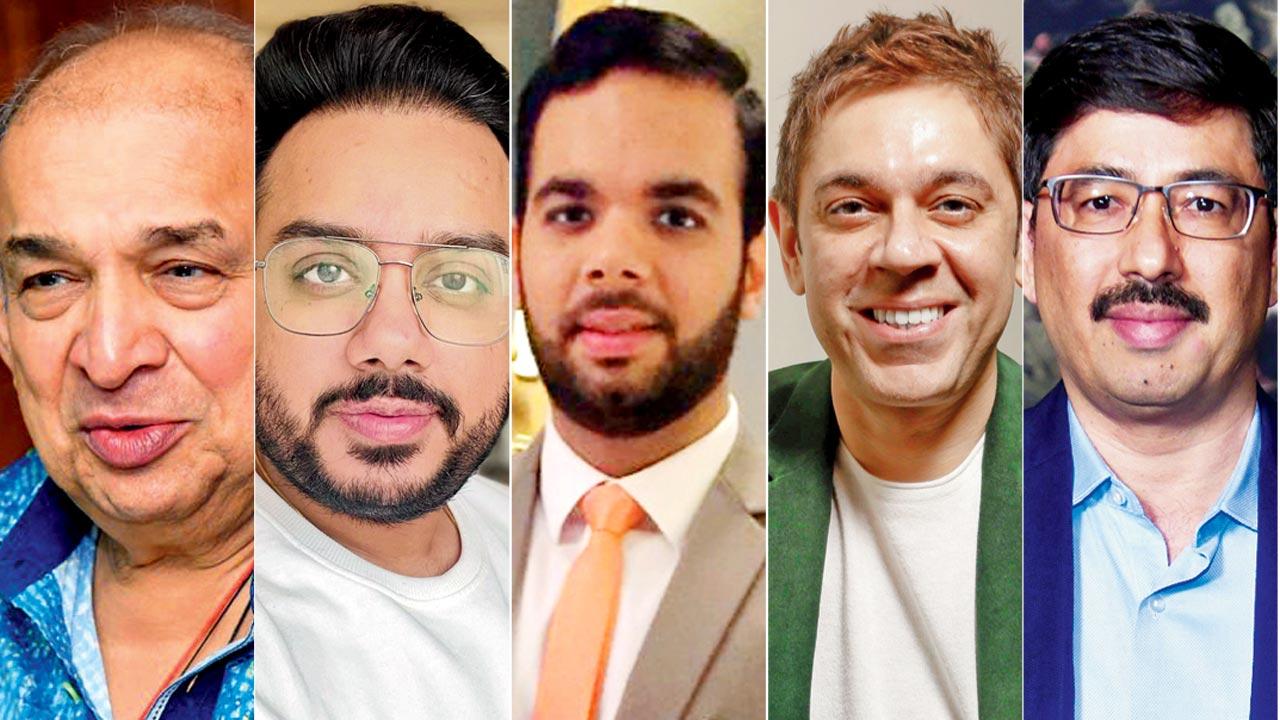 Manoj Desai, Sumit Kadel, Karan Taurani, Sanjeev Kumar Bijli and Rajender Singh Jyala 
A report in an online portal pointed out how stocks for PVR and INOX were gaining steam after Brahmāstra's release. "We are in the business of movies," says Jyala. "If films do well, our stock prices gain momentum, and if they don't, that too affects us."
 
Much has been made about the box office collection. Mukerji puts it at a gross business of Rs 75 crore worldwide on opening day, and Rs 300 crore in the first week. Domestically, according to Bollywood Hungama, the film opened to Rs 36 crore on the first day, did a business of Rs 120 crore over the weekend and Rs 170 crore in its first week.
"The exhibitors are very happy," says PVR's Bijli, adding, "PVR saw 12 lakh admissions over the weekend across the country; it testifies that people do come to theatres. We feel that the movie has potential to run another week." Seconding him, INOX's Jyala says the film has had a sizable box office collection considering the environment around it, including the call for boycott. "All big films are released around the holidays, but Brahmāstra is the second highest non-holiday weekend film of all time; the first was Baahubali 2: The Conclusion," says Jyala. 
The scenes on ground contradict this confidence. Social media was filled with pictures of empty theatres, and soon there were memes, one of which said, 'Brahmāstra box office collections surpass GDP of India, Dharma Productions become world's fifth biggest economy."
Taurani has an explanation: "The weekday drop has been very high. Generally, if you compare weekday business to that of a weekend, the drop is usually 45 to 50 per cent; Brahmāstra dropped 60 per cent." Could word-of-mouth be blamed? "Yes," says Taurani.
When asked if footfall and revenue have touched pre-COVID levels,  Taurani says, "Yes, it happened last quarter when K.G.F: Chapter 2 and RRR had released. We saw a growth of 13 per cent  even as the footfall was down by 10 per cent. [But] this quarter we are expecting a  decline of  45 per cent when it comes to revenue and 50 per cent when it comes to footfall because none of the films has done well."
Usually, traders call out fudged numbers. "But this time," says film journalist and trade analyst Amod Mehra, "the outcry is from the public; and it is because the figures don't match what they saw in theatres." Mehra says the situation is dismal in non-metro cities. "Mumbai and Delhi have prominent theatre areas, where many people go to multiplexes," he says. "Places such as Lucknow, Jammu and the interior parts of Maharashtra are seeing empty theatres. The film performed well on Friday, Saturday, and Sunday, but the collection dropped Monday onwards. By Tuesday , shows were being cancelled."
Then why does the box office say otherwise? And can the claim be verified? "In the good old days, trade papers and magazines would collate figures from every theatre," says Mehra. "Then one could judge whether figures announced by film producers were inflated. There was also a fear of being exposed, so even if producers fudged numbers, it was only marginally. Today, if a film makes Rs 70 crore, you can exaggerate to Rs 100 crore, and it will be published without verification. Besides, earlier producers would manipulate box office collection by buying tickets and sending them to friends. Today, you can book tickets online, and cancel them one day or a few hours prior. So it may seem that seats are filling up fast, but in a theatre you'd find them empty."
All this effort to raise hype pays off, says Mehra, because it becomes the benchmark to determine digital rights. "Whether it is satellite or OTT, these rights are swayed by box office collection. If a film is declared a hit, the producer can sell it for, say, Rs 150 crore," he says. "But if declared a flop, the OTT rights could come down to R100 crore. Besides, every filmmaker wants to declare their film a hit, as do the actors. It decides their future [in the industry]. So everybody chimes in." 
Will Brahmāstra register a profit? Unlikely, say distributors. While they recognise and acknowledge that the scale of the film brought audiences back to theatres, and proved that a Hindi film can have a huge opening, it would be far-fetched to say it will be a hit. 
Manoj Desai, executive director of G7 multiplex and Maratha Mandir cinema, says the film did well over the weekend, but dropped in appeal Monday onwards. "Instead of running it at both Galaxy and Gaiety [theatres], we decided to run it only at Gaiety, keeping Galaxy free for other movies. Maratha Mandir is running only two shows instead of three," he says, betting that the film won't recover the cost of making. "The expectations were high," he sighs, but blames the poor plot. "Brahmāstra was an astra used in the Mahabharata, but here, they turned it into a love story."  Though every action film has a kernel of a love story within, this one couldn't do it justice, he thinks.
Breaking it down to how profit for a film is calculated, Mehra says, "From a ticket priced at Rs 100, Rs 18 goes to GST. From the remaining Rs 82, Rs 41 goes to the producer/distributor, and Rs 41 remains with the multiplex. So, if a film does Rs 100 crore at the box office, it is bringing the producer's home only Rs 41 crore." Brahmāstra was made on a budget of Rs 450 crore, including promotion cost; so it will have to do a business of at least Rs 500 crore at the domestic box office to break even. This excludes money from digital rights and overseas release. "Say it gets Rs 150 crore from digital rights and Rs 50 crore from overseas [collection]," calculates Mehra, "it will still have to do a business of Rs 500 crore to earn the remaining money. This seems like a very distant dream."
However, Mukerji has already confirmed that the second installment in the trilogy will be released in December 2025. "What Dharma did right is that they sold all rights to Disney," says trade analyst Kadel. "Disney has been making films worth Rs 3,000 crore in Hollywood, [so] spending Rs 400 crore isn't a deal breaker. Besides, they are looking at creating an intellectual property."
The moving forward of National Cinema Day, so that it doesn't interrupt the film's collection, can be seen as a hefty vote of confidence. The Multiplex Association of India had announced it on September 16, which would be marked by all multiplexes selling tickets at Rs 75.  However, it was postponed to September 23. When asked why, a source close to the development said that distributors thought it would be best that the movie continues to gather momentum at the box office. "Cinema day was pushed by a week so that it doesn't affect any major film's chances," he said.