The excitement here about an Indian-origin PM heading Britain is all very well, but the decisions Rishi Sunak takes on FTA, right wing support to culture wars, and post-study work allowance to desi students will decide if he's good for India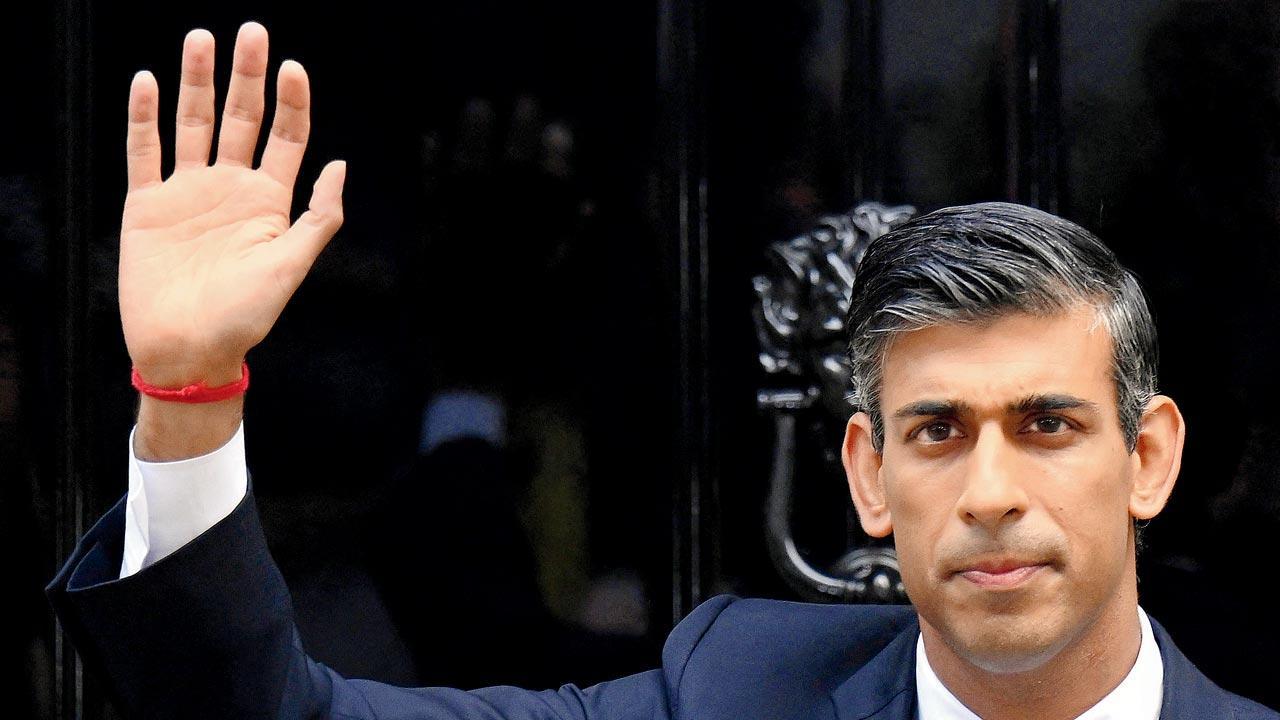 British PM Rishi Sunak poses for the media after taking office outside Number 10 in Downing Street on October 25, 2022, in London. Pic/Getty Images
History has come full circle. Or at least, that's what many felt last week, when investment banker-turned-politician Rishi Sunak, who formerly served as the Chancellor of the Exchequer (2020-22) in the UK government, was appointed Britain's 57th Prime Minister, inheriting a country buried neck-deep in a post-Brexit crisis. The third prime minister this year to take on the daunting task of keeping the economy afloat, Sunak may have a lot on his shoulders, but his new role has brought some cheer to Indians world over, who are finding it tough to not gloat about an Indian origin leader helming affairs in the UK.
And that's reason enough, feels London-based journalist, historian and author Shrabani Basu. "Given the history of British colonialism, this [development] is hugely significant. India celebrated 75 years of Independence this year.  Independence and Partition are still living memories for Indians. There was a time when you could be sent to jail and tortured for protesting and calling for India's independence. They were banned from entering white-only clubs in their own country," she says over a  telephone call.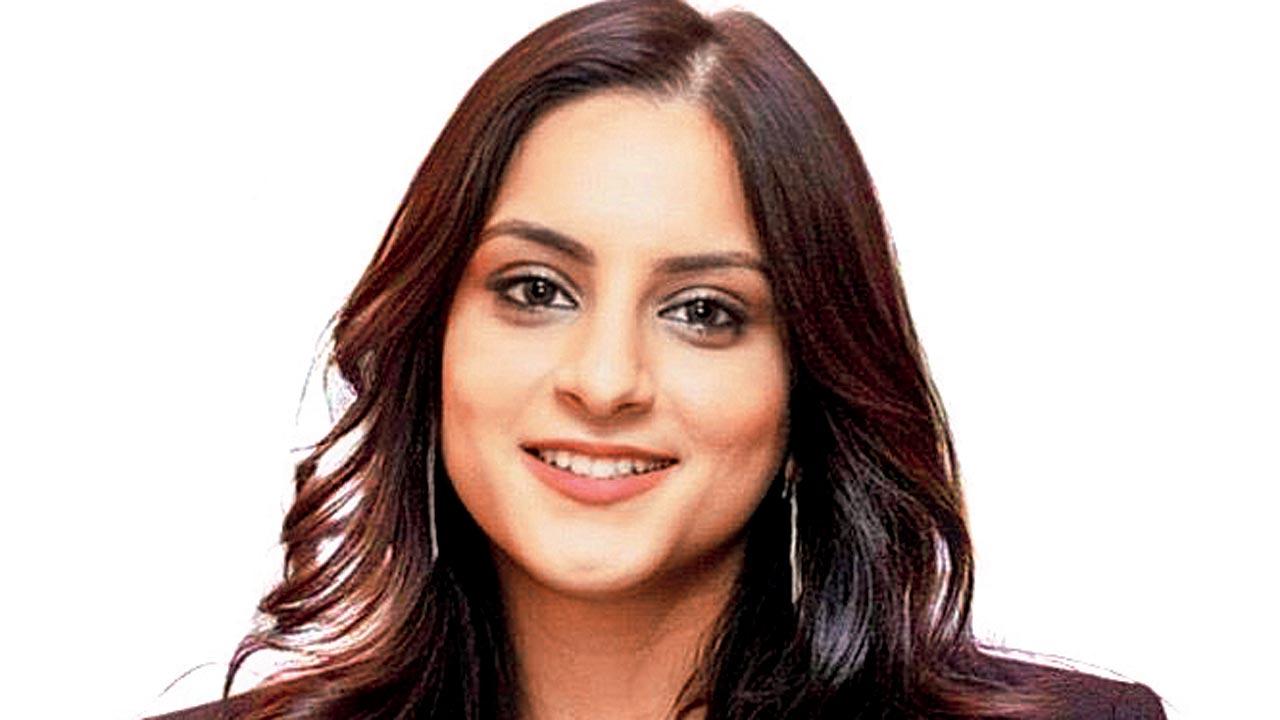 Sanam Arora, founder, National Indian Students and Alumni Union UK
Basu notes that it has also been 50 years since Indians were expelled from Uganda, and arrived in the UK, facing a surge of racism. "In April 1968, [British Member of Parliament] Enoch Powell made his famous Rivers of Blood speech [to a meeting of the Conservative Political Centre in Birmingham] warning against the tide of immigrants. For South Asians in Britain, to see a person who looks like them, take over the highest job in the country, is remarkable."
Sunak, 42, the youngest British PM in nearly two centuries to take office, is the son of immigrants. His grandparents who were Punjabi Khatris, hailed from the town of Gujranwala in undivided Punjab—now in present-day Pakistan. According to media reports, Sunak's grandfather, Ramdas Sunak, migrated to Nairobi in 1935, where he took up a clerk's job. His wife travelled to Kenya two years later in 1937. Sunak's father Yashvir moved to Liverpool as a teenager in 1966, working as a general practitioner. He married Usha Berry, the daughter of Punjabis from Tanganyika (today, Tanzania), who was a pharmacist. Sunak was born in Southampton, UK, in 1980, and went to Winchester College, before studying Philosophy, Politics and Economics at Oxford, and business at Stanford in America. It's here that he met his now wife Akshata Murthy, daughter of Infosys co-founder Narayana Murthy and leading children's author Sudha Murthy.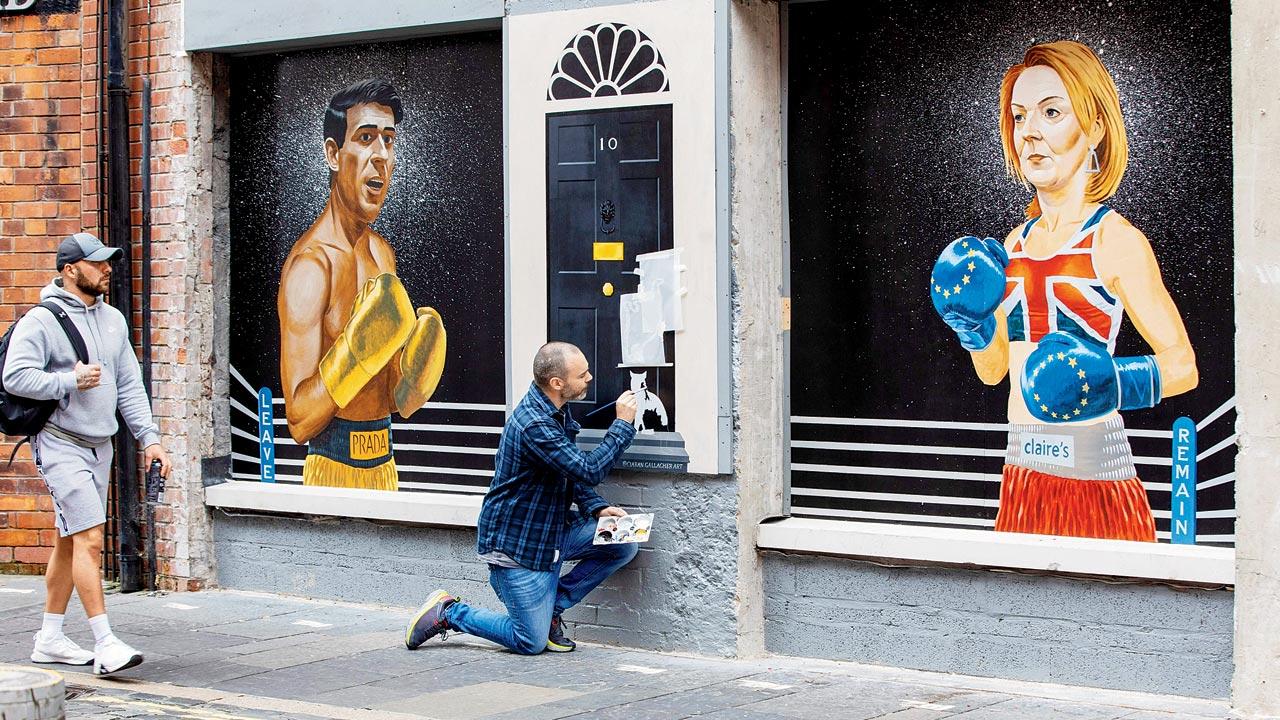 In this picture taken in September, artist Ciaran Gallagher is seen giving finishing touches to a mural in Belfast city centre, depicting contenders to Britain's prime ministerial post, former Chancellor to the Exchequer Rishi Sunak  and British Foreign Secretary Liz Truss. While Truss won the election, she resigned 44 days later in the midst of political and economic turmoil, making her the shortest-serving PM in British history. Sunak, who amassed public nominations from nearly all the top Tory lawmakers, was appointed prime minister by King Charles on Tuesday. Pics/Getty Images
A practising Hindu, the Conservative Party leader has not shied away from wearing his religious identity on his sleeve—he was seen sporting the sacred red thread on his wrist during his first speech outside his official residence, 10 Downing Street, last Tuesday.
Though Sunak's appointment is drawing headlines thanks to his race and religion, Andrew Whitehead, senior journalist and former BBC India correspondent, tells mid-day that it's "very notable that Rishi Sunak himself hasn't attached any of these labels to his name. When he addressed the nation as he was about to enter 10 Downing Street as PM for the first time, he made no mention of being the first person of colour to take the top job." Irrespective, says Whitehead, it's a "big moment when a former imperial power has for the first time a PM whose family heritage rests with the colonised rather than the colonisers. In Parliament, the Labour opposition leader, Keir Starmer, described the appointment of the first British Asian PM as a 'significant moment in our national story'. It doesn't mean that the stain of the Empire and racism has been completely banished, but it's an important step."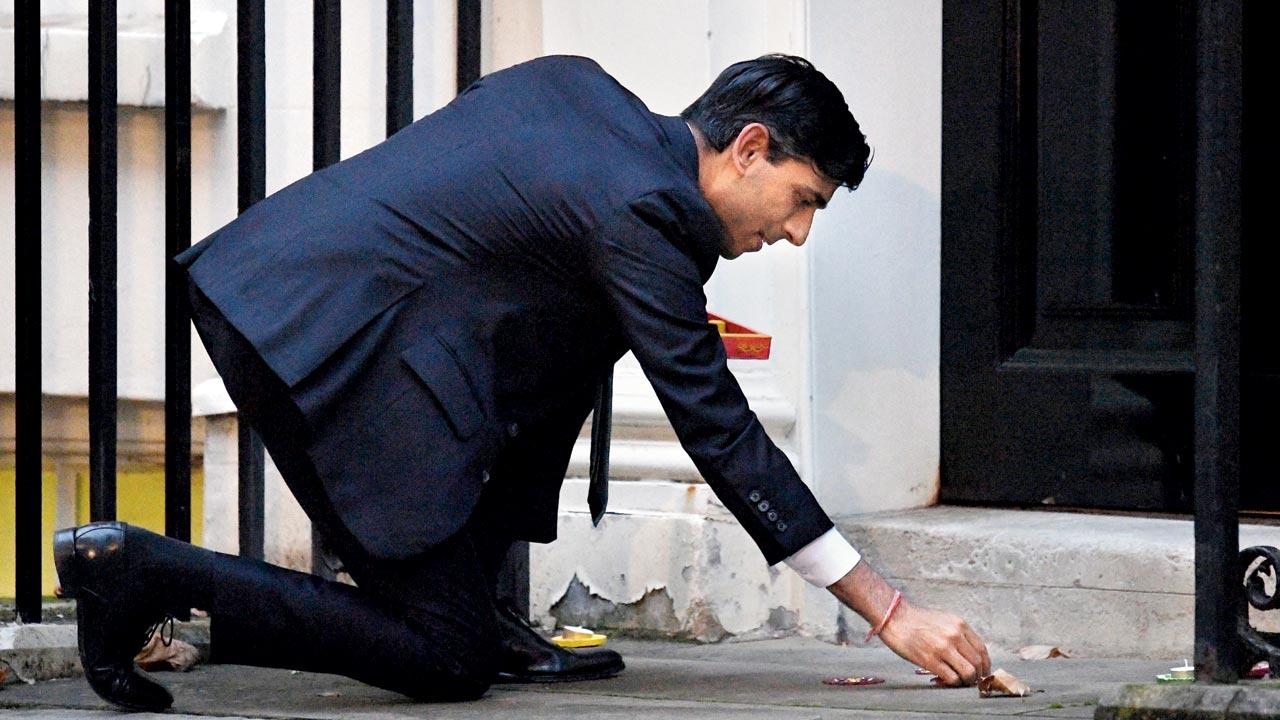 Rishi Sunak seen lighting a candle for Diwali in Downing Street on November 12, 2020 in London, England, when he was serving as Chancellor of the Exchequer. A practising Hindu, the Conservative Party leader has not shied away from wearing his religious identity on his sleeve—he was seen sporting the sacred red thread on his wrist during his first speech as PM outside his official residence
When it comes to inclusivity, Whitehead believes that Britain has come a long way: "When I first started covering British politics in 1988, there were four non-white Members of Parliament. There are now 65."  
Leading British economist and former Labour politician Meghnad Desai, credits former British PM David Cameron for encouraging diversity. "The Left has always wanted the immigrants, Black or Brown, to be poor and starving. I had my own difficulty in the Labour Party being a middle-class, literate academic," Desai says. "Cameron saw the opportunity for the Conservative Party to recruit highly motivated  and skilled middle-class members of the immigrant population, especially those from South Asia and the Caribbean, way back in 2015. Rishi Sunak is not the first South Asian-origin Cabinet member. Sajid Javed, whom I got to know while running the charity for the Gandhi statue in Parliament Square, was Minister for Culture, Sports and Media in the Cameron Cabinet; he is of Pakistani origin. His father was a bus driver. Sajid ended up as a Deutsche Bank employee."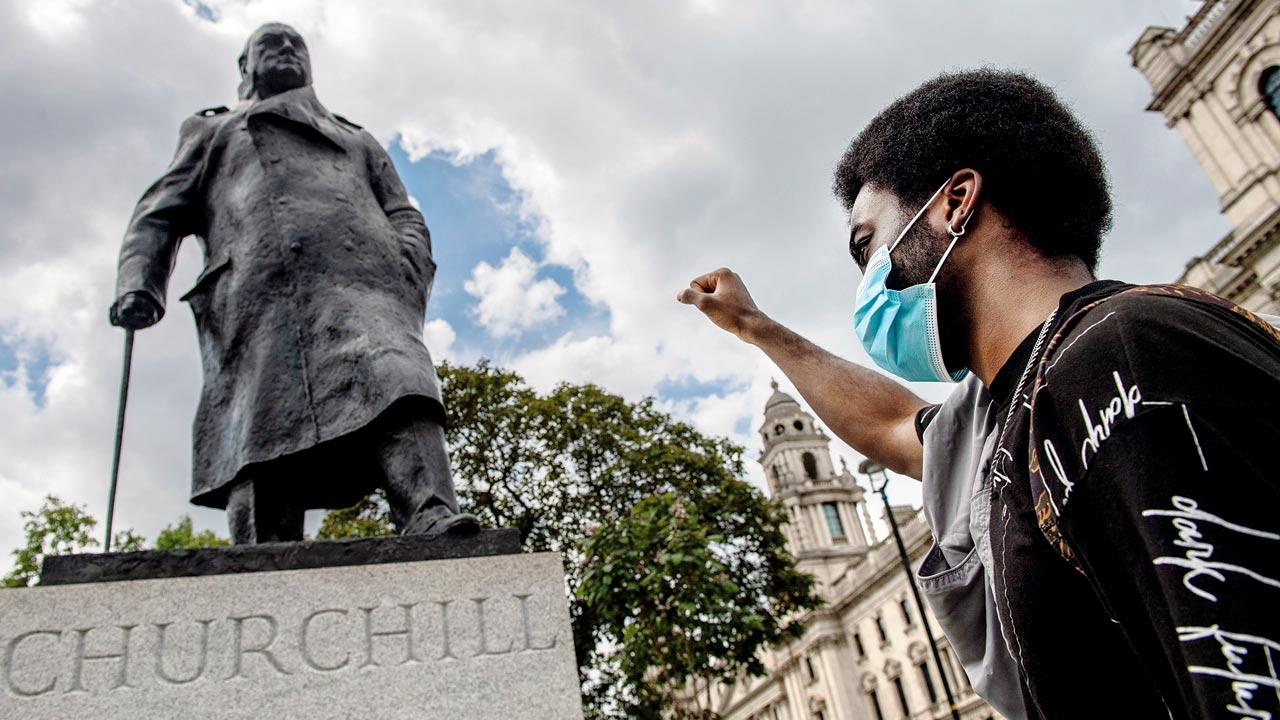 A protester raises his fist next to a statue of Winston Churchill in Parliament Square during a Black Lives Matter demonstration on June 20, 2020 in London. Journalist Shrabani Basu feels Sunak's biggest challenge would be not to pander to right wingers. "[In the last two years] there has been an unfortunate move towards 'culture wars' rather than cultural unity. The Black Lives Matter movement brought these issues to the fore. A criticism of the legacy of [former PM Winston] Churchill, led to right-wing protesters marching to London to defend the statue of Churchill, when no one had even threatened it... many of the right wing in the Conservative Party who fuelled the 'culture wars'"
The question that many are, however, asking is whether the euphoria around Sunak and his desi origin is going to translate on paper. Can his roots bolster India-UK ties? Unfortunately, disappointments came in quite early.  
Within hours of his premiership, PM Sunak who had warned of taking "tough decisions", reappointed Suella Braverman, known to be a leading right-winger, to his Cabinet as the Home Secretary of the UK. "That has provoked the largest criticism," says Basu, adding, "Braverman was sacked just days ago from the Liz Truss government for breaching the ministerial code [she sent an official document from her personal email to a fellow MP]. She had also criticised Indians for overstaying their visas. It led to a huge diplomatic row with India at a time when both, India and the UK are keen to sign a Free Trade Agreement (FTA)."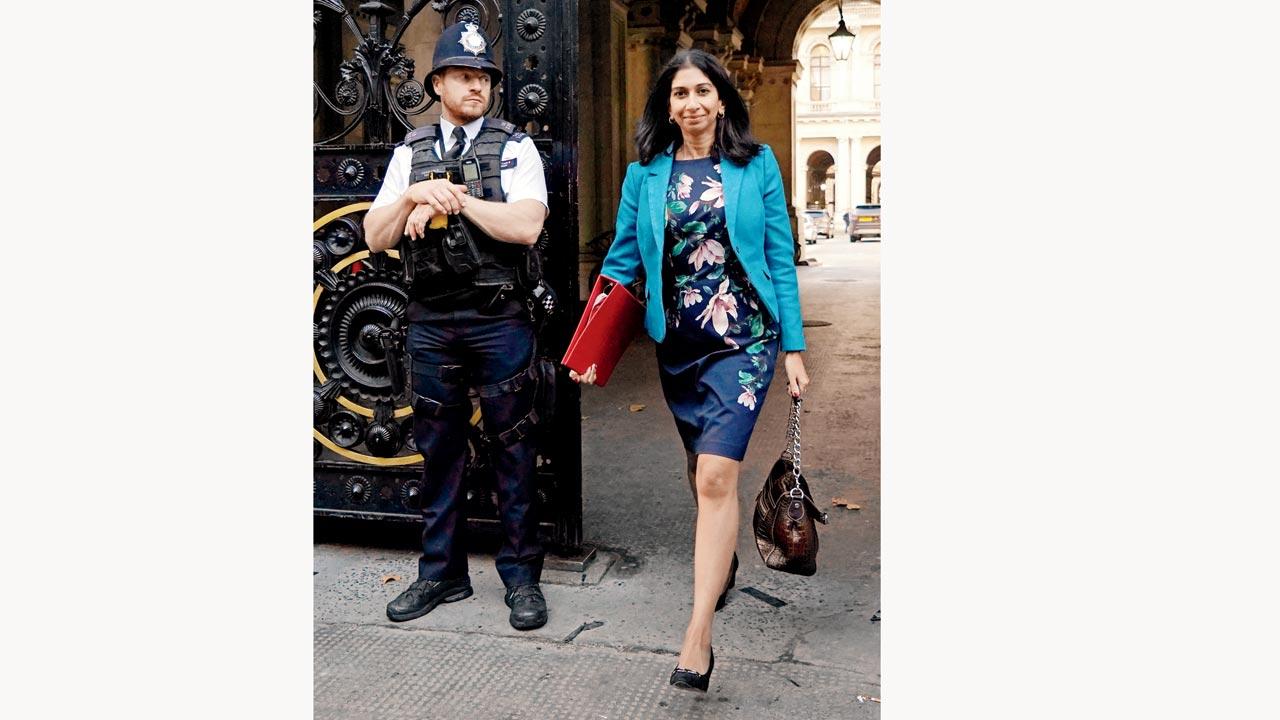 Britain's Home Secretary Suella Braverman seen arriving for the first cabinet meeting under the new Prime Minister, Rishi Sunak at 10 Downing Street on October 26. Braverman, who was sacked just days ago from the Liz Truss government for breaching the ministerial code, had also criticised Indians for overstaying their visas. It led to a huge diplomatic row with India
The British economy, Desai explains, "like the global economy, is currently going through a severe case of stagflation, [an economic cycle characterised by slow growth and a high unemployment rate accompanied by inflation] driven by higher energy prices due to Russia's war on Ukraine and the shock of having had to cope with the pandemic when GDP fell very sharply. So it will be a difficult five years for all economies, not excluding UK."
Sunak, the veteran economist says, is aware of this, having been Chancellor till last July. "He was successful in spending money, which was needed to keep demand going when people could not go to work via furlough payments. But there was a lot of extra spending due to people defrauding the government and he was not able to do much about it."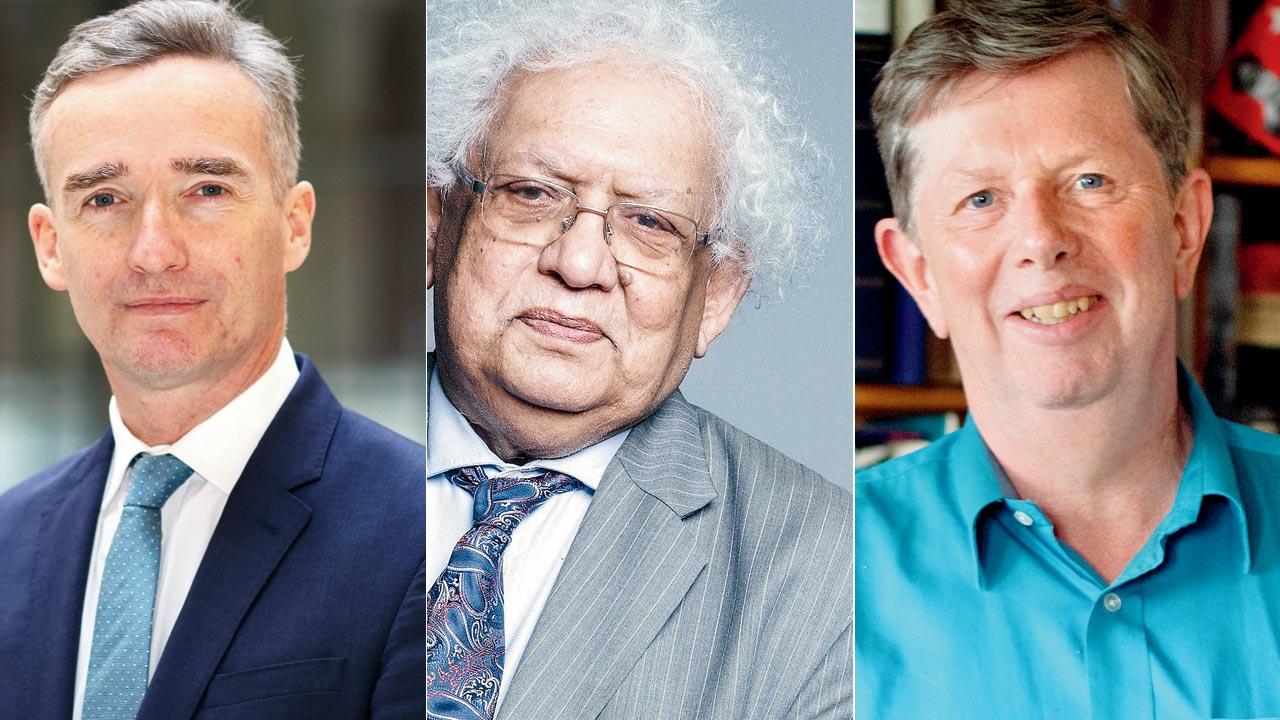 Alex Ellis, Meghnad Desai and Andrew Whitehead
The Free Trade Agreement between India and UK, which aims to provide economic gains for both countries, hence, comes at an important time. Negotiations began as early as January 13 this year, and the two countries were expected to sign on the FTA by Diwali, but the transition in the UK leadership has delayed matters.
The FTA encompasses a wide range of areas, including tariffs, product and service standards, SMEs, government procurement, and intellectual property, and is aimed at boosting bilateral trade and investments.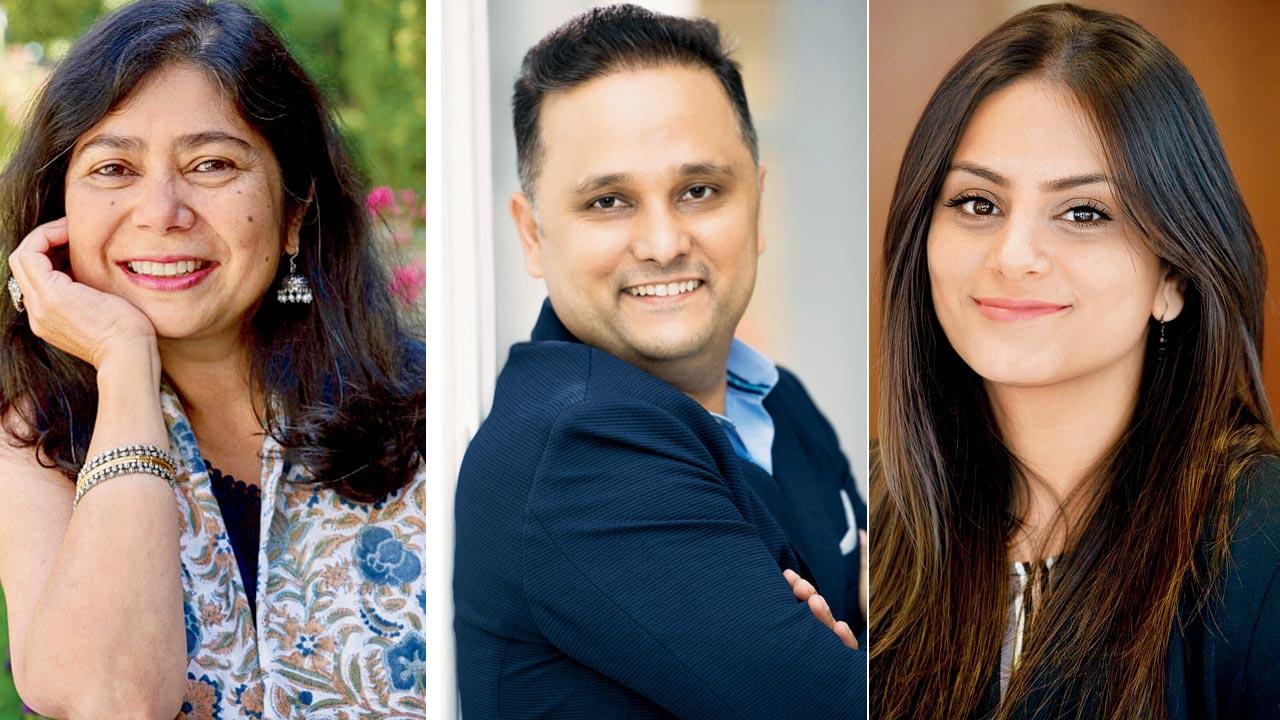 Shrabani Basu, Amish Tripathi and Sanam Arora 
According to a report in a national daily, "the interim (early harvest agreement) pact aims to achieve up to 65 per cent of coverage for goods and up to 40 per cent coverage for services. By the time the final agreement is inked, the coverage for goods is expected to go up to 90 plus percentage of goods". With this, both countries aim to increase their bilateral trade to US $100 billion by the end of the decade.
Indian Prime Minister Narendra Modi, in a Twitter post, while congratulating the new PM, highlighted, "the importance of early conclusion of a comprehensive and balanced FTA."
Speaking with mid-day, Alex Ellis, British High Commissioner to India, indicated that the FTA is going to be top on Sunak's list of priorities. "In his inaugural speech, the Prime Minister made it clear that the economy will be a priority. There are different ways to grow the economy, including through trade and investment and that is what we hope to achieve through a Free Trade Agreement with India. We want to double the bilateral trade between the two countries by 2030. UK-India relations have been a priority for successive British prime ministers. The course was set by Boris Johnson and Prime Minister Modi through the comprehensive strategic partnership. I expect it to be the same under Prime Minister Rishi Sunak," he said, in an email response.
Whitehead echoes this sentiment: "Britain still wants and needs a trade agreement with India and Sunak will be determined to get talks back on track."
 
Sanam Arora is the founder and chairperson of the National Indian Students and Alumni Union UK.  The organisation, which turns 10 this year, has been fighting for the welfare of Indian students in the UK. According to her, the UK "has been struggling with populist right wing sentiment for the last many years, which eventually led to Brexit [withdrawal of the UK from the European Union]. International students were largely suffering due to this overall policy-making in the wrong direction."
One of their biggest concerns has been, around the future of the Graduate Route, especially in the wake of Braverman being reappointed as home secretary—this has now sparked fears of visa restrictions for international students. "This graduate route, which gives a two- to three-year post study work allowance to international graduates is something we campaigned for more than seven years. It is the No. 1 demand of Indian students. We are concerned about the impact of any change to this offer," says Arora in an email interview. "Secondly, there has been a significant issue this year around accommodation supply in the UK, which has not kept pace with the numbers coming to the country. It has been a real issue for many students in the September intake. I am also concerned about the behaviour of unscrupulous agents in India, an issue we have been raising for the longest time. Since the industry is unregulated in both countries it means that many a time, a student's future is negatively impacted by agents who mislead them about future prospects." 
 
Arora is, however, hopeful that Sunak as PM will takes decisions that are both, restorative as well as transformative. "What I mean by that is that he has a very difficult economic situation on his hands, and given that higher education is one of the largest exports that the UK offers to India and the world, I would imagine that rationality would dictate that he ensures that there is no degradation in the post study offer that the UK makes to Indian students. At a time when Australia has extended its 'post'-study working offer and Canada its 'in'-study offer, I hope that at base minimum, he won't let populist pressure from the far right impact the economic benefits the UK receives from its international students, of which India is one of the largest groups." This, she says, would be restorative. "I think what would be transformative is if Sunak were to firstly, remove international students from the net migration statistics in the UK. Many experts believe that this would unleash the power of higher education in the UK economically and knowledge-wise." Arora also feels that if he sets an ambitious target of two million instead of the current 6,00,000 international students by 2030, and ensures that the infrastructure to accommodate these numbers in the UK is created, it would boost Britain's place in the world through higher education in a hugely significant way".
Basu, who has previously edited the book, Re-Imagine: India-UK Cultural Relations in the 21st Century (2013), says that Sunak's biggest challenge would be not to pander to right wingers. "[In the last two to three years] there has been an unfortunate move towards 'culture wars' rather than cultural unity. The Black Lives Matter movement brought these issues to the fore. It saw the toppling of statues and the questioning of colonial legacy. As the discussions became more intense, the backlash also increased. Historians who questioned the legacy of colonialism were attacked on social media. A criticism of the legacy of [former PM Winston] Churchill, led to right-wing protesters marching to London to defend the statue of Churchill, when no one had even threatened it. When the National Trust [the organisation that looks after many stately homes in Britain] published a report saying that many of the riches in country homes were obtained from slave trade and the colonies, it led to a backlash, and an attempt to take over the board of the National Trust." She says that the 'culture wars' were fuelled by many of the right wing in the Conservative Party, "so it will remain to be seen what stand Rishi Sunak takes". "While on the leadership campaign trail, he said that he was opposed to people criticising Britain and even suggested that they be sent to Prevent, an association that works to de-radicalise potential terrorists. Hopefully, he will focus on the economy and not the divisive 'culture wars'."
Last month, Britain also witnessed riots in Leicester between Hindus and Muslims. "Both communities were affected, and it was for the first time that south Asian communal politics spilled over into Britain," says Basu. "It will be up to the Home Office to control this, stop the spread of misinformation and crack down on rioters and those who provoke violence."
Bestselling author Amish Tripathi, who took over as the Minister (Culture) of the High Commission of India in the UK and the Director of The Nehru Centre (London), the cultural wing of the High Commission of India in the UK, in 2019, feels that having a Hindu PM in a Western country, might be an advantage in disguise. "Firstly, Hinduism is the oldest surviving living religion; pejoratively called Pagan by many Westerners. Practically all pagans have been wiped out in the West, most of them violently. There are a lot of misconceptions about Hinduism in the West, and such a visible Hindu face will certainly help many Westerners explore Hinduism in a wiser light."
But, Indians calling Sunak one of their own might be a stretch, he feels. "By all accounts, he is intelligent, focussed, hard-working, disciplined, proud of his roots and dedicated to his family. But Indian citizens must understand that, while Prime Minister Sunak may be of Indian origin, he is a British citizen who was born in the UK. His loyalty and patriotism is to his own country—the UK—as it should be. I am an Indian citizen, who is living in the UK temporarily for diplomatic work; my loyalty and patriotism is towards India, as it should be."