Musician Anirudh Deshmukh, who has become the face of the audio-only app, says his room has been a great equaliser, allowing artistes to jam with the stars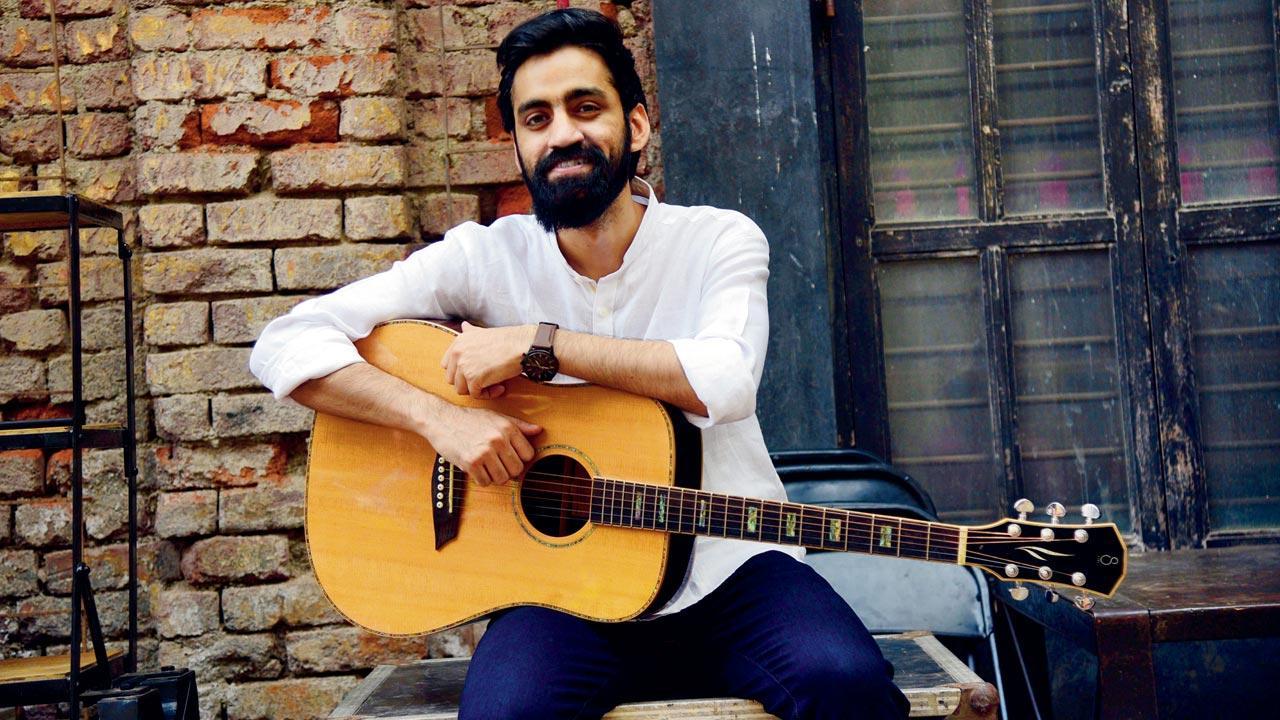 Anirudh Deshmukh joined Clubhouse in February, and launched Late Night Jam on May 22. Pic/Pradeep Dhivar
This writer first interacted with Anirudh Deshmukh on social media, where we'd like and comment on each other's Instagram posts and stories. But, that was before the audio-only app Clubhouse roped him as its icon, making him the first Indian to receive the coveted title. This new-found fame is yet to sink in, says Deshmukh. "I still haven't realised how big a deal it is; every day it is hitting me, little by little," shares the musician.
Deshmukh, a self-taught musician, hosts Late Night Jam, a 72,000-member club, every day. In this room, people can share their poetry and songs, or just jam together.
ADVERTISEMENT
Deshmukh joined Clubhouse in February, purely out of curiosity. "I'm always on my phone and I have this keeda of downloading any app and testing it." He says that the app's audio-only feature got his attention, because he is camera shy. He soon came to prefer it over Instagram. "I sometimes get worried because it [Instagram] is not in the moment, and the conversion in terms of feedback isn't real-time, unlike Clubhouse. You can edit, shoot and make everything look a certain way, which Clubhouse doesn't let you do." He finds Clubhouse more genuine, and a platform that has a wider reach. He talks about how, due to his habit of staying awake till late at night, he was exposed to rooms from different parts of the world, "I was in every other room possible."
In the initial few months, he was just exploring with no agenda of hosting a room, until he realised the potential and the need to use this audio feature to his benefit. Then one day, on the spur, he started singing in a room.  
"I clearly remember the day; it was May 22. I was feeling low after my first vaccine dose, and I just decided to start singing."
Around the same time, Clubhouse had opened its doors to Android users, which garnered a lot of followers. "People started sending me requests and a few musicians also joined and we started jamming along. It [the room] went on till almost 5 am," says the 29-year-old architect turned musician. "Clubhouse is where I found my stage," he shares, adding that it gave him a new purpose after all his live shows were impacted due to the pandemic. "All I had to do was set up my mic, unmute and start singing! It didn't matter what I wore, what I looked like as long as I sounded good."
He believes that Clubhouse treats everyone in the room equally. "We've had Mohan Kanan and Shilpa Rao, but even they had to wait for their turn to sing." For an upcoming musician like him, sharing space with Prateek Kuhad, Rao or Ankur Tewari, and singing their covers, would have seemed daunting, but Clubhouse, he says, has broken these barriers. 
"They [the artistes] also offer real-time feedback."
The community that he has established on the app is a close-knit one. "There were days where I wasn't feeling well and I would have people checking up on me, giving home remedies and ensuring I rest and not host the room." On a few occasions, he has also had someone else lead the room.
He admits that as a creator, not every day is a good one. "Many renowned musicians would enter my room and if I was having a bad day where I didn't sound good, I feared being judged." But, putting that aside, what helped Deshmukh was that he was never the focus of his room. "It was never about me; it is about everyone together."