Shivaji Park Crematorium staff member Nitin Nagothkar makes it to our list of 20 faces who defied fear and disease to follow their heart or duty and emerge 'the first'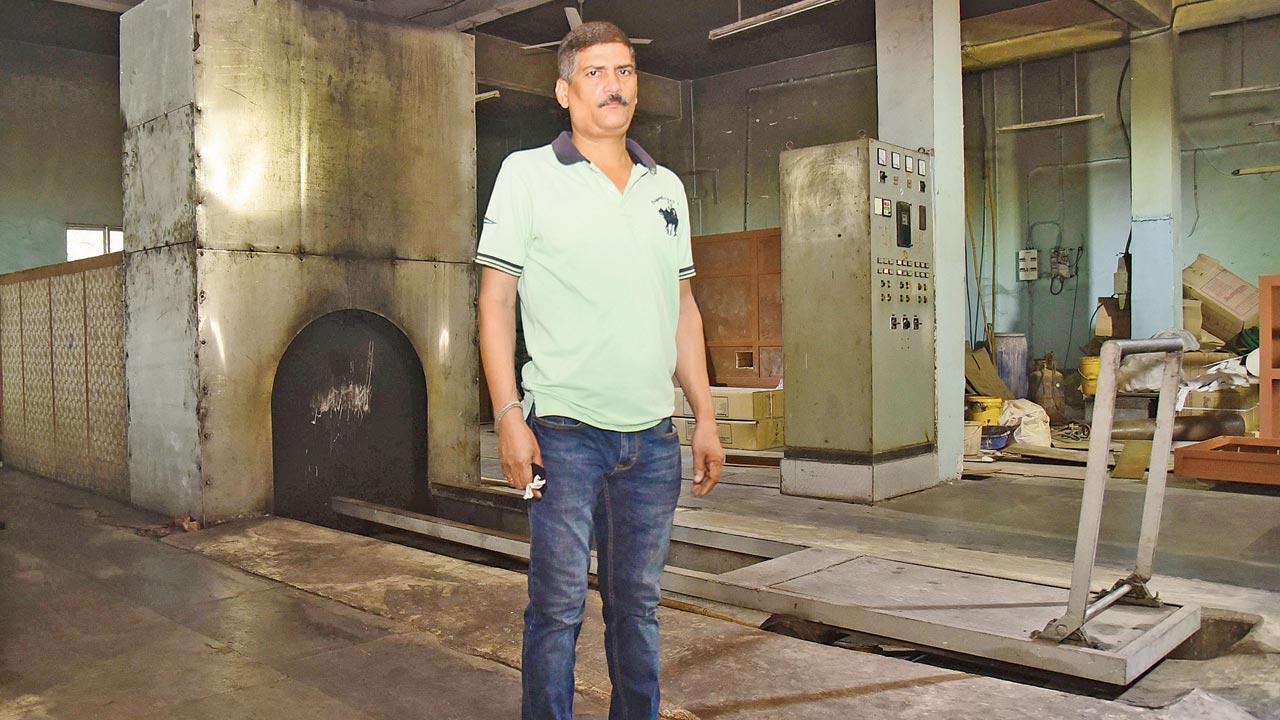 Nitin Nagothkar tested positive for COVID-19 last year and quarantined at home. Pic/Shadab Khan
Furnace Operator At City's First Covid-19 Crematorium
Nitin Hiraman Nagothkar, 49, Mumbai 
Staff, Shivaji Park Crematorium
ADVERTISEMENT
THE first mortal remains of a person who had succumbed to COVID-19 came on March 17, 2020. Until then, we had only heard of the pandemic from news stories around the world. We were not really worried about it in Mumbai. 
When the body arrived that day, our only safety precautions were the mask and hand sanitiser. PPE kits, gloves and goggles became the norm for day-to-day work later. But that day, all we knew was that COVID-19 would spread by touching people and metal. Plastic was safe.
I have been working with crematoriums for 19 years. Before that, I was working at a BMC hospital and getting a promotion here. I first joined the Bhoiwada crematorium, then Worli, and finally came to Shivaji Park four years ago. I didn't think much at the time about joining a crematorium. I'd have to work somewhere. I was fine with this.
But, the last year has been unlike any other for me at work. Within three months, we witnessed an entire year's average. The daily average in April, May and June was nearly 22 bodies. One ambulance, bringing in the body of a COVID-19 victim, would be chased by another. There was no break. Our situation was as bad as that of other crematoriums in the city, and we have two furnaces. There'd be a long line of bodies waiting to be cremated. And, diseased bodies i.e. those that had COVID, TB, etc, and have been pumped with medicines, take longer to cremate than regular ones. It was only in August that numbers started reducing.
Of course, we were scared. For ourselves and our families. I have two children and my colleagues have one child each. But, I couldn't sit at home afraid. It would add to the pressure for everyone else. So, we'd take as many precautions as we could—changing clothes before leaving for home, washing ourselves at home before interacting with family, and wearing a PPE kit at the crematorium.
Once I got myself tested simply because I felt I had been around so many COVID-19 cases. I wasn't showing any symptoms. But, when the reports came back, a week later, I had tested positive. And so, I quarantined at home for 15 days and then joined work again.
The good thing is that our safety supplies never stopped. Whether we wanted PPE kits or sanitisers, we got what we needed.
I also live in Shivaji Park and have heard of concerns of other residents that the cremation of COVID-19 bodies here will put them at risk. But, a body is burnt at temperatures of 600 degree Celcius and above. At that temperature, not an ounce of any infection is left behind. We, as workers, didn't and perhaps couldn't fear for our lives while handling the body.
The bodies came wrapped in plastic and cloth. But eventually, we'd have to touch them, pick them up. There was no point getting frightened. It's in fact, the relatives were feared more since we didn't know who they had mingled with. Life is more normal now. We have gone into a routine and the pressure that we faced at the peak last year is no longer there. While we still take precautions, the anxiety has waned.
 
"Exciting news! Mid-day is now on WhatsApp Channels

Subscribe today by clicking the link and stay updated with the latest news!"
Click here!