A fever that was called mysterious until identified as scrub typhus has been causing panic and death in Uttar Pradesh and Assam. The last time it hit Maharashtra violently was in 2018. With symptoms that overlap with Covid, experts warn that awareness and early diagnosis are the only saviours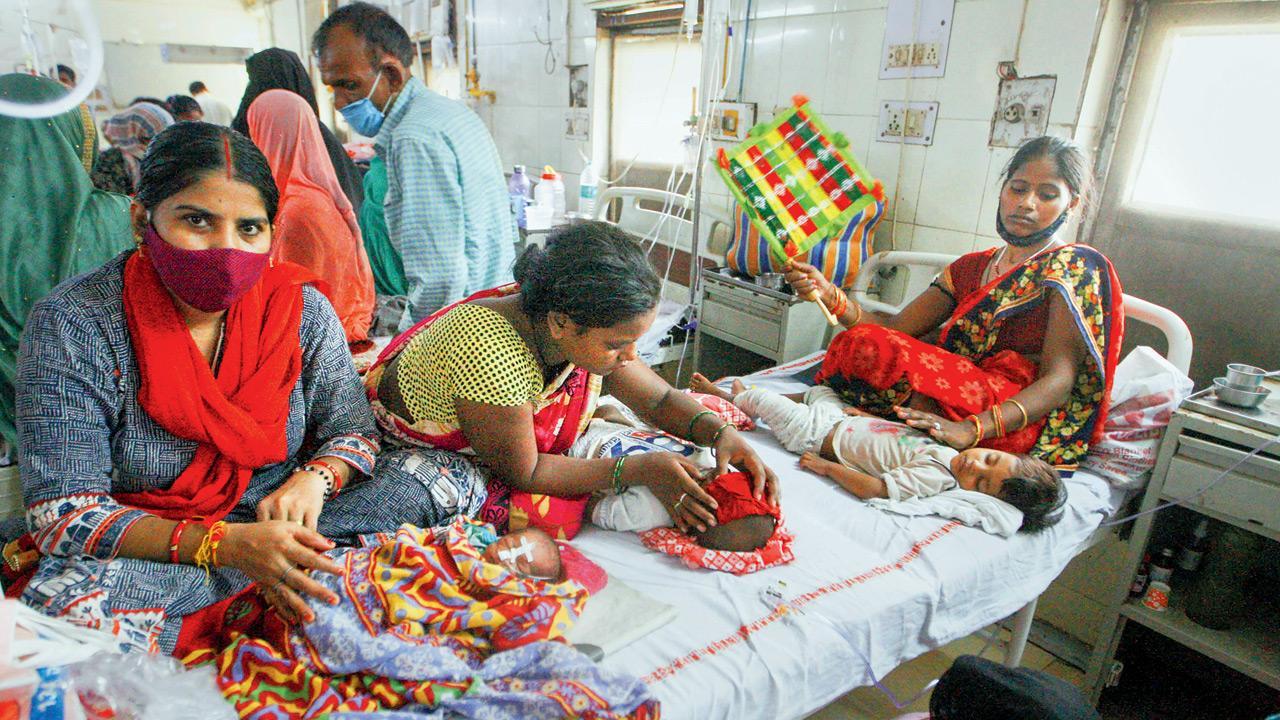 Children undergo treatment for fever inside the emergency ward of a government hospital in Prayagraj, Uttar Pradesh on September 6, 2021. Pic/PTI
When there is an epidemic in a state, an expert team from the Union Health Ministry visits the region. The protocol is to go to the affected areas and examine the reasons for the outbreak. Samples are collected from infected patients and sent for testing.
On August 18, four children complained of fever in Jhalkari Nagar of Firozabad, Uttar Pradesh, and were brought to a hospital. The doctor started treatment believing it to be  a regular fever. Soon, more sick people streamed in from neighbouring areas, and some succumbed to the illness. On August 30, UP Chief Minister Yogi Adityanath told the media that 39 people had lost their lives due to "viral fever", out of which 32 were children. On September 1, a six-member team of the government camped in Firozabad district. And until test results from microbiologists at King George's Medical University, Lucknow, came in, everybody called the infection that was reigning terror in the state a "mysterious fever".
ADVERTISEMENT
Medical researchers and public health specialists have raised a red flag since. "There are two types of fevers—first are the kind where they are not limited to any season, and are associated with symptoms like cough or diarrhoea or urinary symptoms which indicate respiratory, gastrointestinal, or urinary infections, and which except for influenza and now Covid-19, do not occur as outbreaks. The second type of fevers are those which occur as seasonal outbreaks, usually in or after the rainy season. These initially start only as fever and non-specific symptoms like headache, muscle aches , but later can cause life-threatening complications  from unconsciousness, to breathlessness, from bleeding to kidney failure. These are  called acute undifferentiated fevers, because their symptoms do not point to any particular site of origin at the onset," says Dr Anurag Bhargava, Professor of Medicine at Yenepoya Medical College, Mangalore and Adjunct Professor of Medicine, McGill University in Canada. Dr Bhargava is also a member of the World Health Organisation's Strategic Advisory Group of Experts in In-vitro diagnostics (SAGE-IVD). "Gorakhpur area in UP was always  synonymous with outbreaks of  Japanese encephalitis in children. Since 2014, several investigations by the  Indian Council of Medical Research (ICMR) teams have established that a major proportion of these children suspected to be having Japanese encephalitis [a viral infection with no effective treatment] in fact had evidence of scrub typhus, which is a bacterial disease with an effective treatment. With heightened awareness in the public health system and the community with initiatives like the Dastak Abhiyan, there have been improvements in mortality. Unfortunately, in many parts of country the awareness about scrub typhus as a cause of pneumonia, acute encephalopathy for example  is still not widespread. And every time scrub typhus strikes a new city or state, it becomes national news as an outbreak of a mystery fever, which it definitely isn't," Dr Bhargava informs.

Residents board a boat to leave their home in a flooded neighbourhood in Kareli Gaus Nagar area of Allahabad on August 12, 2021, following heavy rainfall that caused the overflowing of the Ganga and Yamuna. Experts say that cases of dengue and scrub typhus have increased after floods in the region. The rain tends to flood and disrupt rat burrows. The vector on these rats could come in contact with domestic rats, leading to the infection spreading even in urban areas. Pic/AFP
On September 6, the cause of the fever that has claimed nearly 100 lives in the last few weeks, mostly children, in Firozabad and adjoining districts, was identified as a combination of dengue, scrub typhus and leptospirosis—all spread through vectors, the Union Health Ministry said. Dr Ved Singh, director general medical and health, Uttar Pradesh, confirms, "We are a populous state. Uttar Pradesh has seen flood-like situations this monsoon season, and therefore, vector-borne diseases have increased. We are trying our best to reduce the source. The Central government and our team have camped in Firozabad and Mathura. But we still don't know why more kids are getting infected than adults."
Scrub typhus is a bacterial infection caused by a bacterium called Orientia tsutsugamushi. This lives inside the cells of other organisms, such as ticks, mites, fleas, or lice. Scrub typhus is transmitted to people through bites of infected chiggers (larval mites) and is common in South-East Asian countries such as China, Japan, India, and Indonesia. It does not spread through human contact. "Data published in 2021 suggests about 18,781 confirmed scrub typhus cases in India over the past 10 years, with an overall case-fatality rate of 6.3 per cent. Symptoms of this infection are similar to that of dengue and malaria, most commonly fever, headache, body pain, rashes, and enlarged lymph nodes. This poses a challenge for doctors to establish an early diagnosis. It may be fatal if left untreated. In India, several patients suffer multiple organ dysfunction syndrome and require ICU admission and ventilation due to late diagnosis and treatment. Although the death rate of scrub typhus is much lower  than Covid-19 and Nipah virus infection, the mortality rates among those with multi-organ dysfunction syndrome are as high as 38.9 per cent in India," says Dr Pramod V Satya, Consultant, Internal Medicine, Vikram Hospital, Bengaluru, a unit of Manipal Hospitals. 
YS Parmar of Janchetna Sewa Samiti Society, a non-profit with presence in Firozabad, Agra, Mathura and Gwalior, says, "When there is no clear-cut diagnosis, you take the patient to a local doctor. When a patient becomes unconscious, he is taken to a district or private hospital. By then, it's too late. This is why kids are getting weaker and their immune system is depressed. Expert doctors are not available in many cities. Also, Firozabad is a dirty city. It faces a challenge with narrow lanes, a faulty drainage system. Virological test facilities are not easily available."

Dr Anurag Bhargava, Col MP Cariappa and Dr Sai Kishore

The disease is not restricted to any particular group of population but those working in the forest and hilly areas are most vulnerable. Poor household sanitation and sitting directly on the floors are other risk factors. "Although research on developing an effective vaccine against the infection dates back to World War II, there has been no success reported to date. However, the good thing is that it does not spread via contact between humans and can be treated if diagnosed early with common antibiotics," Dr Satya adds. Experts say suspected cases are currently being treated with doxycycline. 
But things weren't the same until a few years ago. "Scrub typhus has been reported in India in 1930s, but its symptoms can be mistaken for those of typhoid fever. Since the '50s and '60s, if tests don't point to malaria or dengue, patients were empirically treated for typhoid fever, which was considered the next most probable cause. The drug of choice then was chloramphenicol, which is also effective for treatment of scrub typhus. So patients with scrub typhus got cured with a drug prescribed with a mistaken notion. After the 1990s, typhoid fever in India turned resistant to chloramphenicol and physicians switched to ciprofloxacin  which lacks efficacy for scrub typhus," Dr Bhargava tells us, adding that this is a seasonal disease. "It occurs as outbreaks from July to December with a peak in August and September.  We detected a large outbreak of scrub typhus in Uttarakhand and adjoining UP in 2012 where two in five cases presented with a severe pneumonia after few days of fever with headache."
With the advent of large-scale jungle warfare in WWII, scrub typhus became a critical challenge for militaries across the world. It is known to have affected troops in Assam and West Bengal and in 1965 during Indo-Pak war in Jammu. Col (Dr) MP Cariappa, military veteran, public health specialist and former director of medical services to the Government of India, says, "In the military, we have been dealing with scrub typhus for decades. But not so much outside primarily due to the fragmented state of service delivery in most of rural India. When a child with fever is taken to a doctor, the parents are more interested in getting the child better rather than finding out why it took ill. About 30 years ago, doctors would observe patterns of fever and manage cases through a clinical protocol for Pyrexia of Unknown Origin and provide treatment accordingly. The medical system nowadays relies mostly on laboratory diagnostics to manage cases, with senior doctors often chiding their juniors to 'treat the patient and not the reports'." Among the myriad causes for fevers, scrub typhus is just one. And it requires a high index of suspicion with detailed history-taking from a patient's relatives, based on the geographic prevalence of disease patterns. Since antibodies are not created in the body immediately, it is difficult to diagnose with conventional tests and PCR, he explains. 
And so, in endemic areas, informed doctors search for chigger bite (eschar) on the patient's body. The threat of a third Covid-19 wave looms large over the country. And the news of children dying in Uttar Pradesh has only added to the worries. Dr Sai Kishore, senior consultant neonatologist, Medicover Women and Child Hospitals in Vizag, says that the infection has already started to terrorise other states. "In the last two months, we have treated 18 children with scrub typhus within the ages of one to eight years. Most of them have presented with fever, chills, rash, body ache, loss of appetite, vomiting and stomach pain. Some of them, who were admitted late during the course of illness [after one week of onset of fever], had thrombocytopenia, bleeding manifestations, pneumonia, and myocarditis. They required platelet transfusion and ventilator support," Dr Kishore informs.
So how can Maharashtra prepare itself ahead of a possible outbreak given that in 2020 more than 35 people died in the state alone, with farmers being particularly vulnerable when they ventured into the fields during harvest season? Dr Piyush Shah, consultant paediatrician, Cloudnine Group of Hospitals, Malad, says that covering the skin entirely is the best solution. "When travelling to an endemic region, it is best to cover yourself with full sleeved and legged clothes, socks and gloves."