Even as state considers no-homework proposal for kids, schools that have long been practising it tell us how this could make learning effortless and fun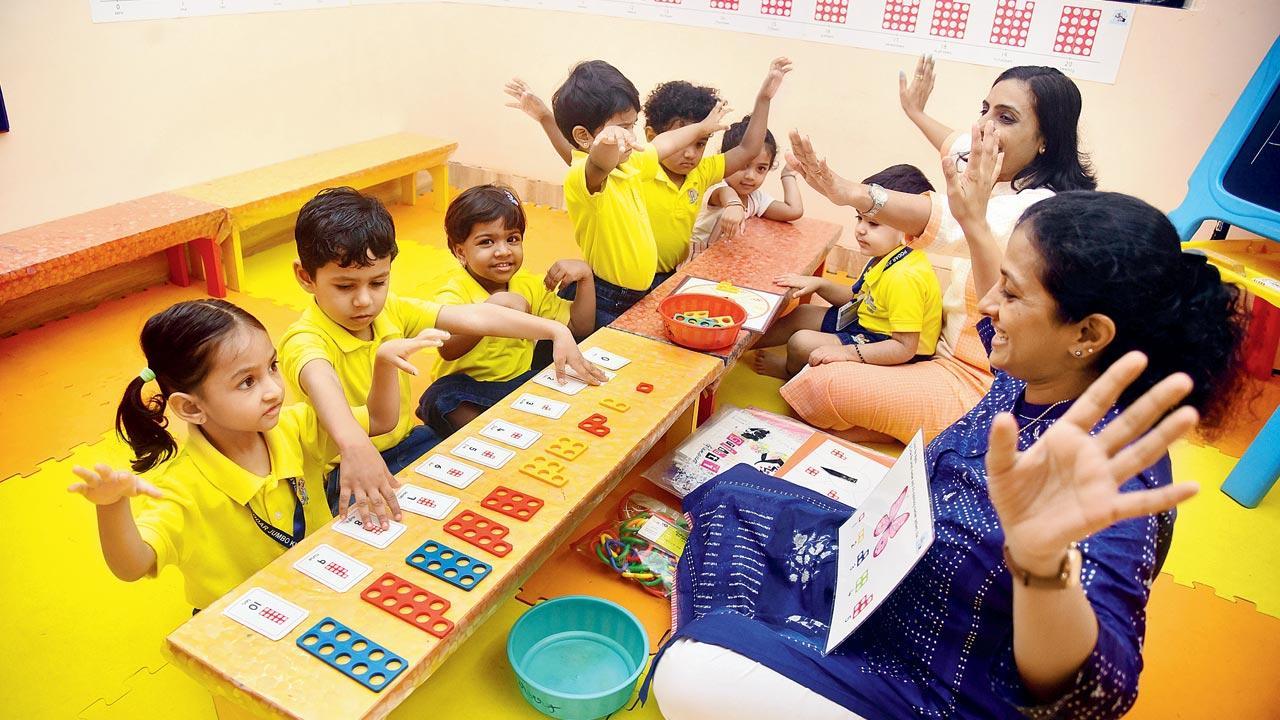 Podar Jumbo Kids' Kiducation method doesn't believe in revision through filling pages at home. Pic/Shadab Khan
Last week, Maharashtra School Education Minister Deepak Kesarkar said that the state is contemplating doing away with homework for Classes I to IV. "Students should not be overburdened," he said in Pune. "It is critical for brain development. Furthermore, homework shouldn't be an easy way out for teachers. Instead, a teacher should focus [on teaching] in class such that students don't need to rely on homework [to learn]."
The discussion is in the initial stages at the state level, but the debate has been sparked in the education sector and most decision-makers either favour it, or already implement it in some form.
ADVERTISEMENT
Swati Popat Vats, founder and director of Podar Jumbo Kids and Podar Prep, believes in learning through play, projects and activities. "The National Education Policy [NEP] 2020 focuses on experiential learning by linking everyday activities," Vats says. "It's posing a challenge for teachers, but sometimes a hard proposal is required for us to change." She also believes that it's the parents who will need to change their mindset since it's they who request for homework.
Already, research has shown that homework is a great source of stress to everyone involved. A study by a PhD candidate at the British University in Dubai found that most grievances shared by parents are either regarding the amount of homework or its difficulty level. In the Effects of Homework on Student Academic Achievement: A Descriptive Study, Heba Chaya also wrote that most teachers complain about the absence or irregularity of parental support for home assignments. The 2021 study further stated that as homework increases, so does the collective stress of the family.
Many city schools have been following the no-homework policy before it was brought up in the state education ministry. Without exception, all of them stressed that if it had to be assigned, it should be in a form and scale that does not need parental help.
The idea is to motivate the child to pick up something and start working on it on their own, but not grudgingly. "Though there is no homework for the lower grades, parents say that their children automatically turn to studying in their free time," says Bijal Singh, head of grade school at Bodhi Vidyalaya in Mulund. "Learning seeps in through this self-elected work, which is not a burden." mid-day looks at how some city schools are restricting studying to the classroom.
'Numbers are traced on semolina'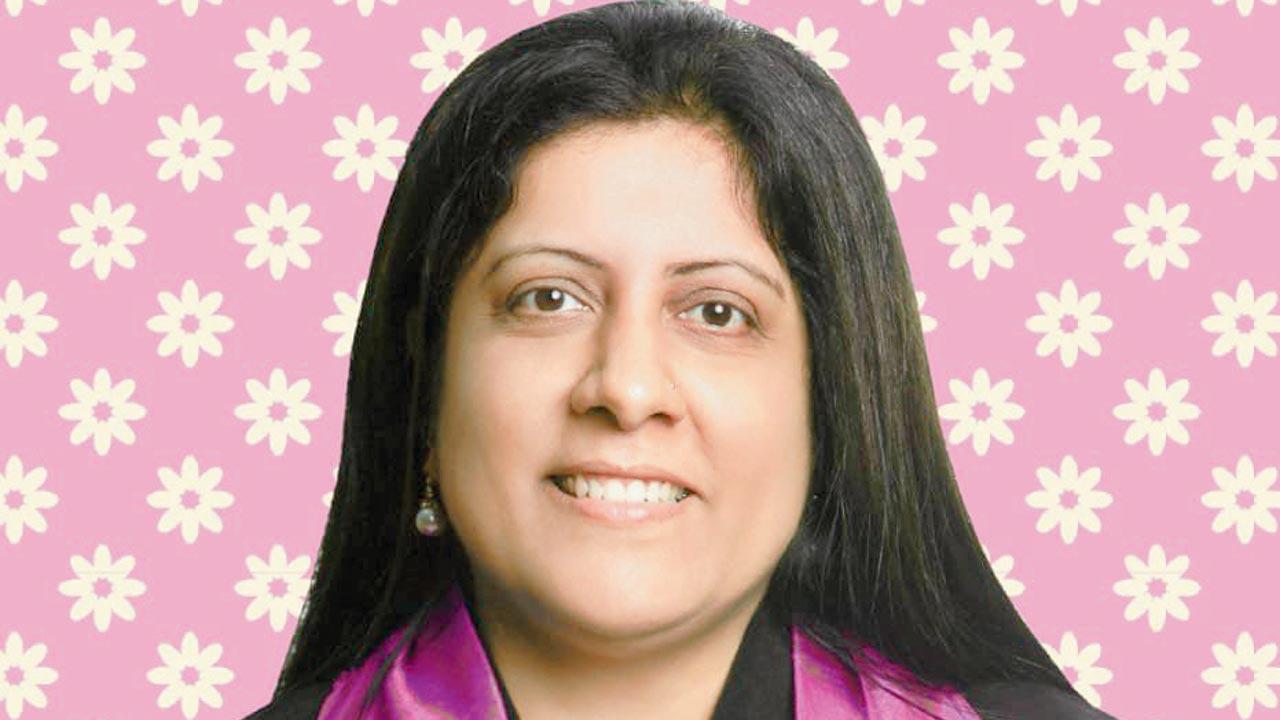 Swati Popat Vats 
Kiducation, as Podar Jumbo Kids calls it, is applied to students up to the age of six. It involves paying minute attention even to terms, and seeing them from the point of view of children. "The word 'work' traditionally denotes something heavy and laborious," says Vats, who has been running the school for 21 years. "What we have is home play, where children do projects or play a game. This helps them apply what they learnt at school in daily life." Getting autographs from the watchman, milkman and house help is one such activity to understand community workers. Numbers and letters are traced on semolina, sand or flour at home after they are taught in class. This replaces the tedious process of filling up pages with words as revision. "We revise through repetition in class, not through worksheets," says Hasti Gada, who heads the Chembur franchise. "That's how we know whether a child has absorbed it."
Expressing what they feel when they see a picture is another activity. "This develops language and also builds a rapport between the child and the adult in understanding what the child is trying to communicate," explains Vats. The terrifying red pen has also been expelled; only blue or green pens are used.
'Head, heart and hand should all play'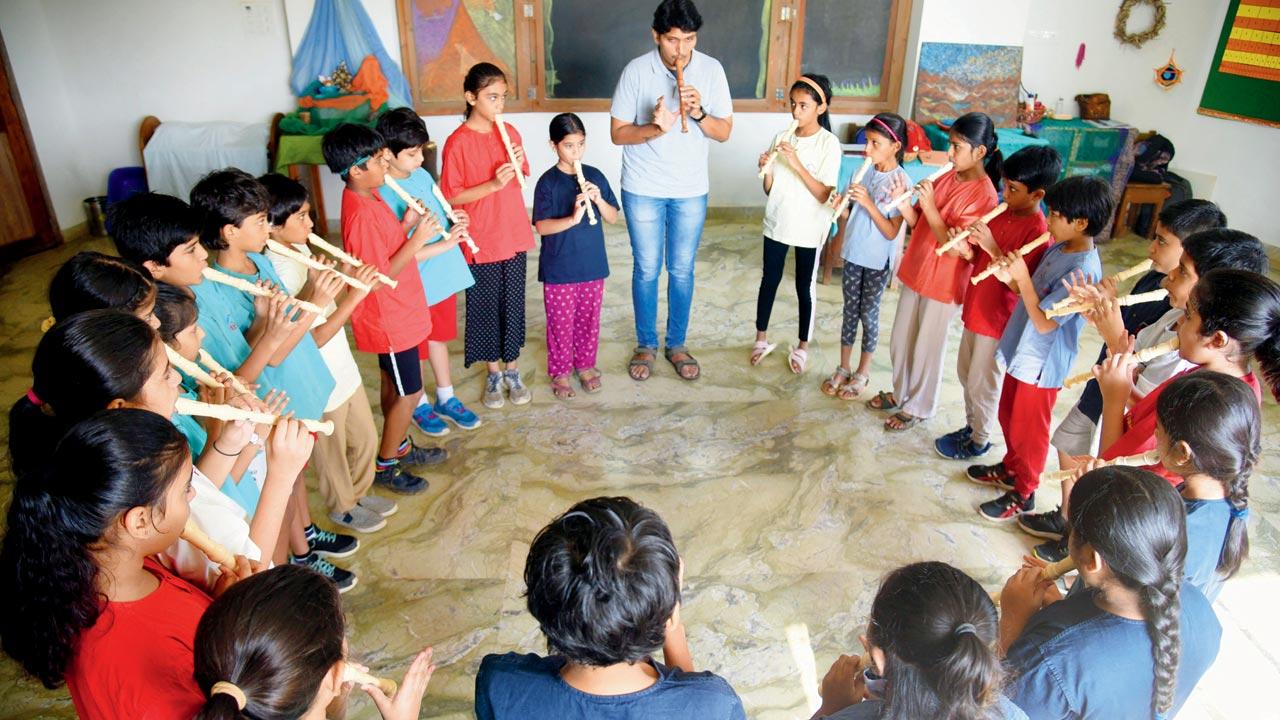 Class I students at Tridha School are taught the recorder and have to practice it at home daily, for a few minutes. Pic/Sameer Markande
Tridha School in Andheri East follows the Rudolf Steiner approach of experiential learning through making, doing, creating and producing what is relevant and appropriate to a child's developmental stage. The school doesn't have textbooks and exams till Class VI. "Upto the age of nine [Class III]" explains Navjyoti Brillant, who heads the school's primary section, "academics need not be revisited at home after seven hours at school." Class IV onwards, light academic study at home is tossed in with project-based experiences such as a tour of the city.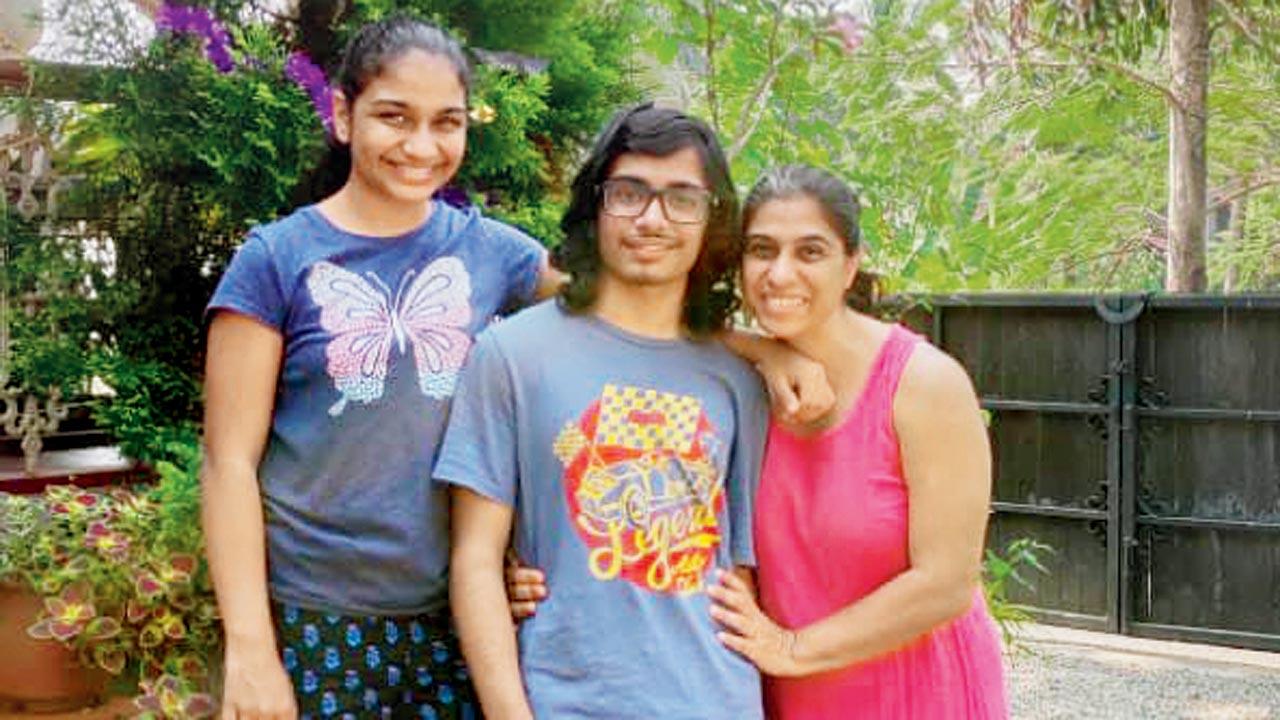 Dilshad Akali with her children Aarav and Aakanksha Akali
Parents often question Brillant about the absence of homework. "The teacher takes responsibility for the entire learning," is her explanation. "What we want them to do at home is to ensure that the students follow a wholesome discipline of bedtime, wake-up on time, outdoor play and healthy meals. That's the best way parents can support learning," she says.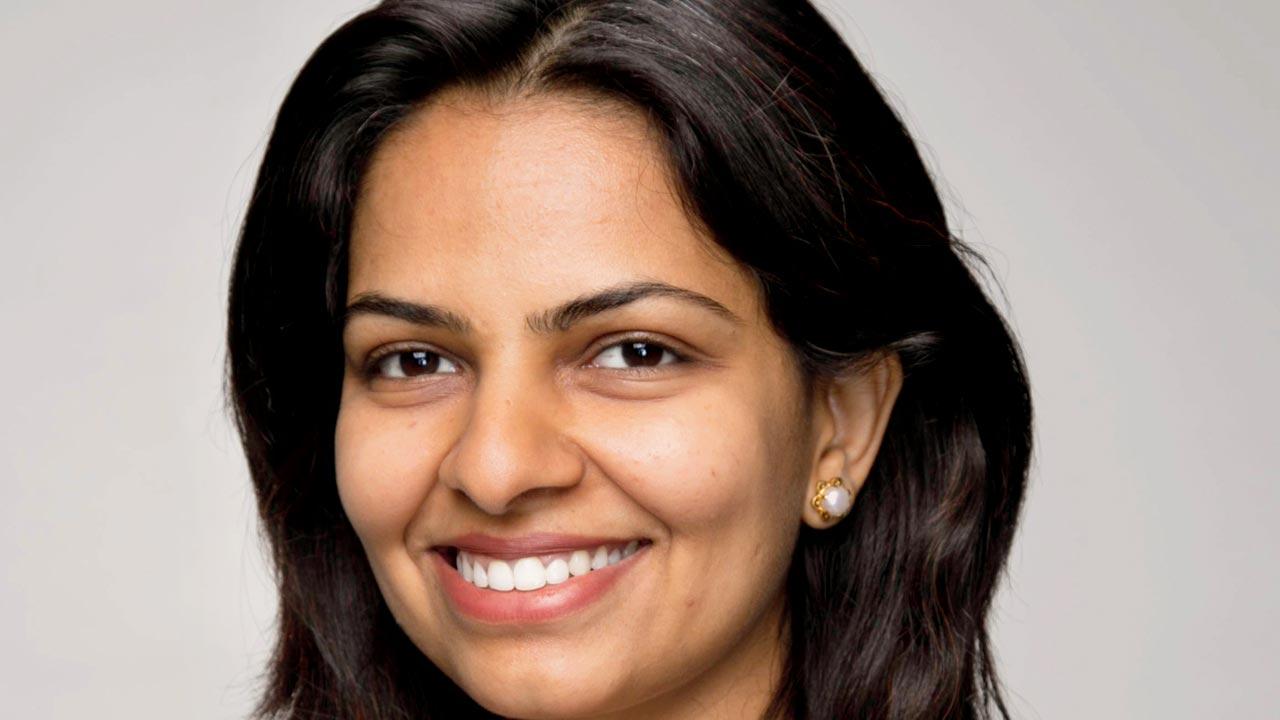 Navjyoti Brillant
Instead of numbers, the progress report is an essay about the child. Dilshad Akali, whose children studied at Tridha from kindergarten to Class X and XII, says, "Initially the concept sounds difficult, but the experience was interesting. It was fun to revise class work through riddles, games and dance, instead of just writing it again." 
'It is healthy for the child to be bored'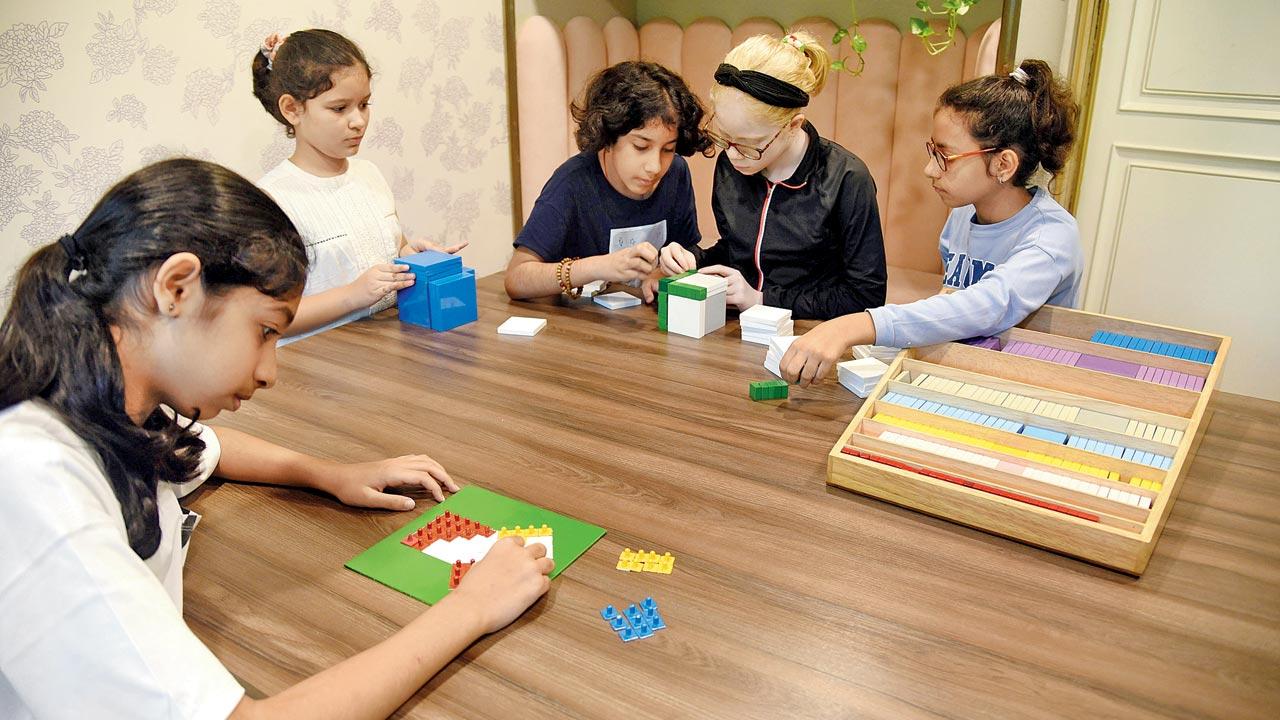 Harmony Montessori takes a holistic approach to develop a child's social and intellectual skills. Pics/Sameer Markande
Harmony Montessori, in the western suburbs, is based on the principles of Dr Maria Montessori, and has been in existence for nine years. It teaches students between the ages of six and 12. It is a holistic approach that emphasises learning through independence and choice, and nurtures social skills, emotional resilience and the overall personality.
"Education must be an aid to life and not preparation for college," says the founder, Sonali Parekh, quoting Montessori. "We can't isolate the academic and intellectual part of a child and ignore other aspects. What about their social, moral and emotional development and psychological needs?" She believes that homework doesn't work because schools have to acknowledge that they are dealing with holistic beings. "At home, they should be able to address and develop other aspects of their personality through helping out with household chores or extracurricular activities," she says. "There is so much more children must be exposed to and can learn if they are not buried under homework." She is confident that given the freedom, children can utilise their time efficiently, and that six hours in school is more than enough to complete the academic curriculum.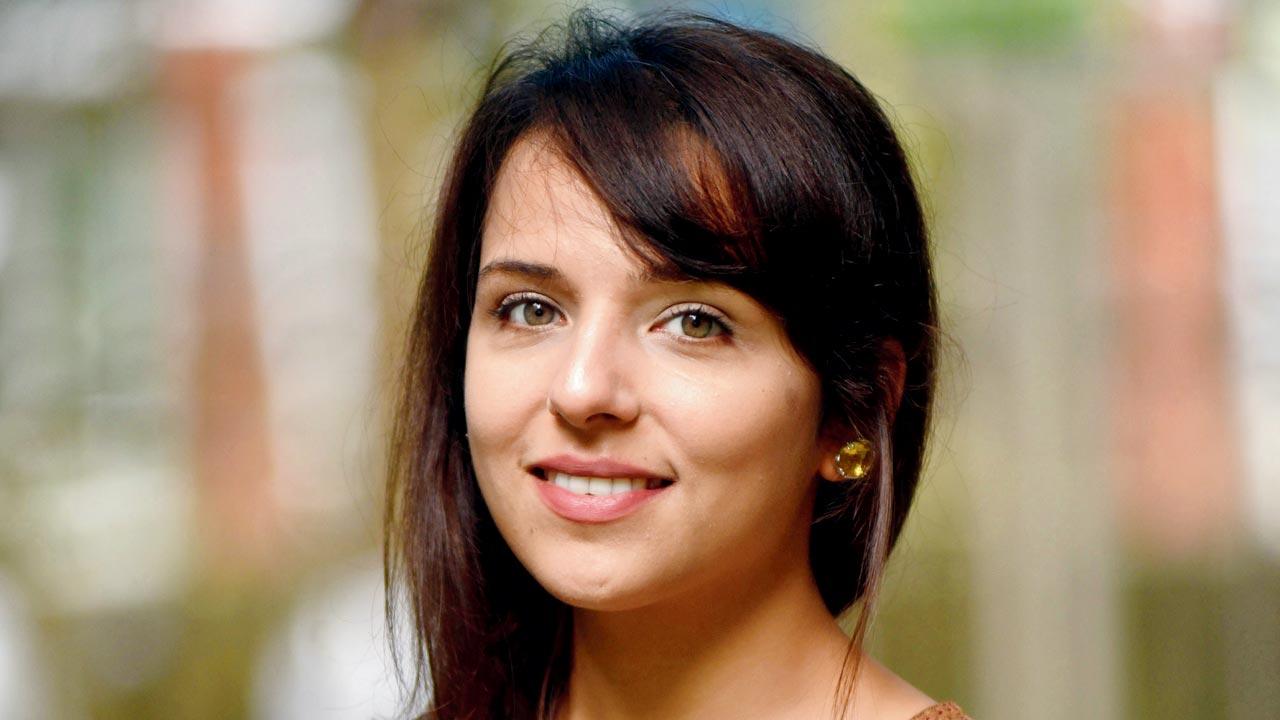 Sonali Parekh
Shubra Swarup's daughters, aged 10 and 12, study at Harmony Montessori, and homework takes the form of book clubs where they read a certain number of pages per week, and then discuss them. Weekly tests and conferences map their progress, but through art and research. "Learning is joyful and not a punishment," she says.
Parekh believes that since most parents hold jobs, their evenings with their child should be spent enjoyably, rather than stressing about homework. "It is healthy for the child to be bored," she says. "It is not the responsibility of the parent to entertain the child and keep them busy. Do we need to keep the child busy all the time?"
"Exciting news! Mid-day is now on WhatsApp Channels

Subscribe today by clicking the link and stay updated with the latest news!"
Click here!