How we meet and make new friends in a world shuttered and shattered by a pandemic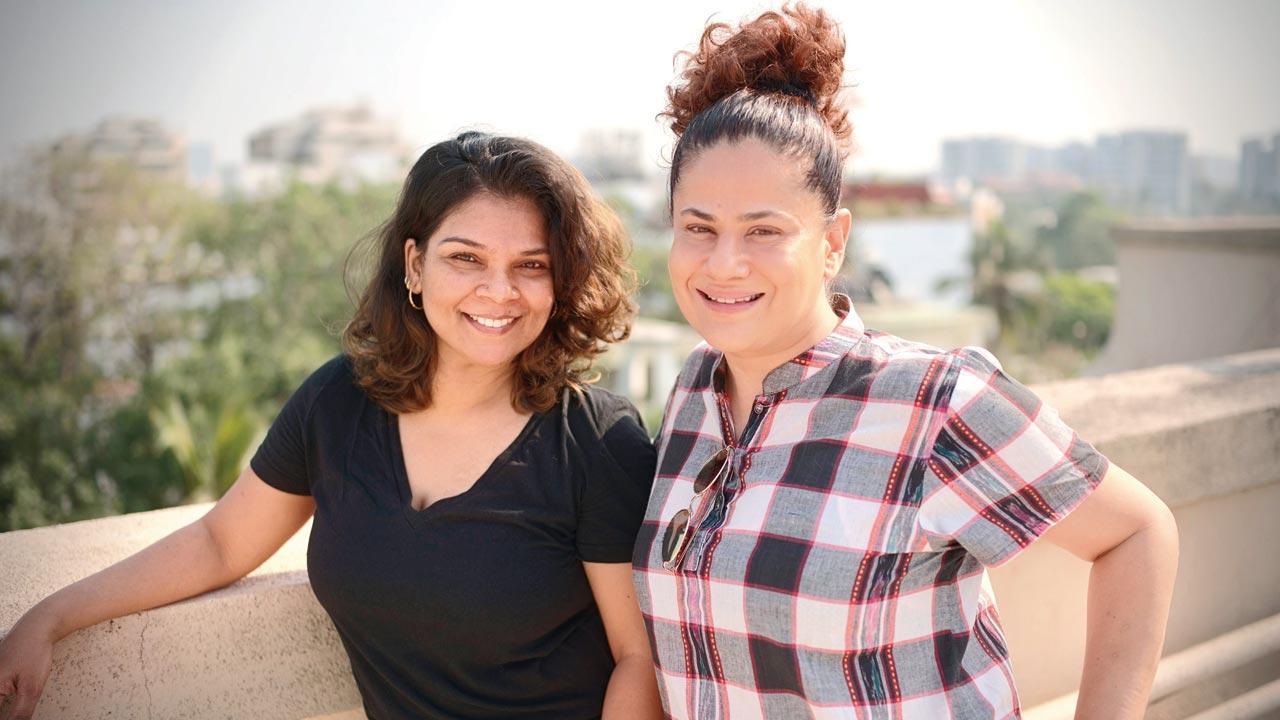 Juhu residents Ekta Sheth-Balyan and Shonali Sabherwal live on different floors of the same building. It was during last year's lockdown, however, that their friendship deepened
Having graduated in May 2019, and joined a job soon after, 2020 would have been the year 23-year-old Aathira Nair had newer experiences to look forward to. "I used to go to work every day. That was my primary space of socialising and it was immediately cut off [when the pandemic hit]. My weekend plans were cancelled. I worked in Mumbai through the week and on weekends, I would go to Palghar, where my family lives. The lockdown meant that I couldn't do that either," says Nair, a marketing associate at a media production company.
What helped her get through the year, she says, is a Facebook group started by a friend. Simply called No, the group with 300 people on it, across the ages of 18 to 35, and from all over the world, had only one friend in common. "But we would use the space to talk about bands, promote our bands. We'd have a Zoom call every Saturday that started at 9 pm, where we'd talk and jam, discuss our struggles or what we were going through in life. Sometimes, the call continues till nearly 7 am the next day. Through this I have made six friends, whom I had never met, but we have been there for each other through this year," says Nair.
ADVERTISEMENT
Aathira Nair and Hvovi Bhagwagar
In a world that's been upended by the COVID-19 pandemic, with most locked in their homes or restricted to a tiny radius of their previous, normal life, the 
one thing that we took for granted—meeting new people and making new friends—came to a sudden halt.
Realising this, and having felt the need to connect with more people, 26-year-old Rajvi Chheda, a PR professional, turned to apps such as Hinge and Bumble to meet new people and make platonic friends. "I am chatty and I love meeting new people. I picked the profession because I find that people have so many new stories to tell. I find it easier to make friends and go out of my way to socialise. In a normal year, I would meet 10-15 people outside of work and have a meaningful conversation with them, even if we didn't exchange numbers and stayed in touch later. But, last year in April, while I did catch up with old friends I was not content."
Having found people who were swiping in from other cities, the Girgaum resident says she met six people, most of whom were not from Mumbai. "There is a guy from Delhi who is bedridden due to an autoimmune disorder and meeting people online is the only way he can socialise. We now call each other every week and talk. It's bloomed into a lovely friendship. Sometimes, it's easier to be vulnerable with someone who doesn't know too much about you," she adds.
Pic courtesy/Jessica Barthel; (right) Rajvi Chheda
Lydia Denworth, the author of Friendship: The Evolution, Biology and Extraordinary Power of Life's Fundamental Bond, says over an email interview, "One of the primary purposes of friendship is to provide support in times of stress and trouble. Usually, we do this by coming together in person. In the pandemic, of course, that's exactly what we couldn't do. But, people have proven somewhat resilient and come up with creative ways to connect via technology and outdoor activities. Those connections have been literal lifelines. They may not always equal our ways of interacting pre-pandemic, but it's better to connect in new ways than not to connect at all."
And, while deep bonds are important, making new friends is also a part of social evolution. "Having a wider circle of friends, on the other hand, can keep life from getting stale, it can keep us plugged into the wider world, and gives us more variety. And, regular casual connections with people we know only slightly [the kind that have suffered the most during the pandemic] can provide a surprising amount of joy. When a neighbour smiles and waves, or you share a joke in line at a coffee shop, it has a positive effect on your mood," writes Denworth.
"The lockdown was easier because of new people to talk to. The conversations were engaging. I have seen friends who had a terrible time during this period, and so for me, the new friends helped make the experience less claustrophobic," adds Chheda.
Sometimes, a new friend could be someone you already know, waiting for the right shared experience for a better connect. It's what Juhu resident Ekta Sheth-Balyan experienced last year. The 46-year-old who works for a non-profit says that when her domestic help couldn't come home, her neighbour on the fifth floor, nutritionist Shonali Sabherwal, reached out by sending over food every other day.
"We knew each other as we lived in the same building. And now, when we couldn't get out, we would meet each other for a drink or chai or even to do yoga on the terrace. The friendship blossomed into something deeper and now she is one of my closest friends. Like any other friendship we started by talking about our backgrounds, childhood experiences and what we want to do with our life," says Sheth-Balyan. On the luxury of having a new friend to hang out with during the lockdown, she says, "My husband's birthday was during lockdown and the three of us had an [in-person] party, instead of doing a Zoom call. Shonali baked and cooked and we all drank. It was great."
Powai-based psychologist and psychotherapist Hvovi Bhagwagar says the need to meet someone new changes with both, personality types and age groups. "When you are in your early 20s, you are looking to create a huge circle of friends. This is also important for brain development and for a work network. Teenagers tend to be choosy, they have a tight circle and don't let others in. People who move into middle ages prefer a mix of new and old and are more accepting. However, an extrovert may not always be comfortable with the 12 friends they have and want to seek something more, whereas an introvert may be happy with the two friends they have had since childhood and it'll never cross their mind to reach out to newer people."
The pandemic, however, has changed many equations. "It's like everyone aboard the Titanic is sinking and so, reaching out. Previously shy people will be more active on social media and forging new connections. It's like joining a large conversation in the virtual world."
While Sheth-Balyan made another friend—yoga instructor Camelia Oberoi who helped her with asanas to relieve her body of stiffness—she says there were some relationships that also came to an end. "The lockdown was not the reason. I would say the friendships were already lost. The lockdown became an excuse not to carry on with the burden of those friendships. While we'd continue to meet other friends, we didn't meet each other. Safety protocols as an excuse also allow you to keep a toe-hold in  the relationship, to come back to it when times are better and you want to get back in touch."
As with romantic relationships, many platonic friendships too, have taken a hit in the past year.
Bhagwagar says that the stress of the pandemic and living in it is a primary reason. "You expect a lot from your relationships and want the person to be there for you. But, during the pandemic, they probably were going through something tough, too. Everyone is stressed and there's a difficulty in dredging up the empathy required," she says. Other issues such as lack of COVID-appropriate behaviour, difficulty in meeting in person or financial strain could drive a wedge between two people, who may have bonded over common experiences.
Denworth adds to this, "Some relationships may not recover, but I think it's important to try to recognise the strain we are all under. If a friendship feels like one you'd like to repair, say so. Be honest and respectful. If it doesn't work, at least you've tried."
"Exciting news! Mid-day is now on WhatsApp Channels

Subscribe today by clicking the link and stay updated with the latest news!"
Click here!