How did India lose the advantage it had gained in January with a sharp drop in COVID caseload? Are we on the brink of a second wave? And why is Maharashtra always the worse hit? Mid-day looks for the answers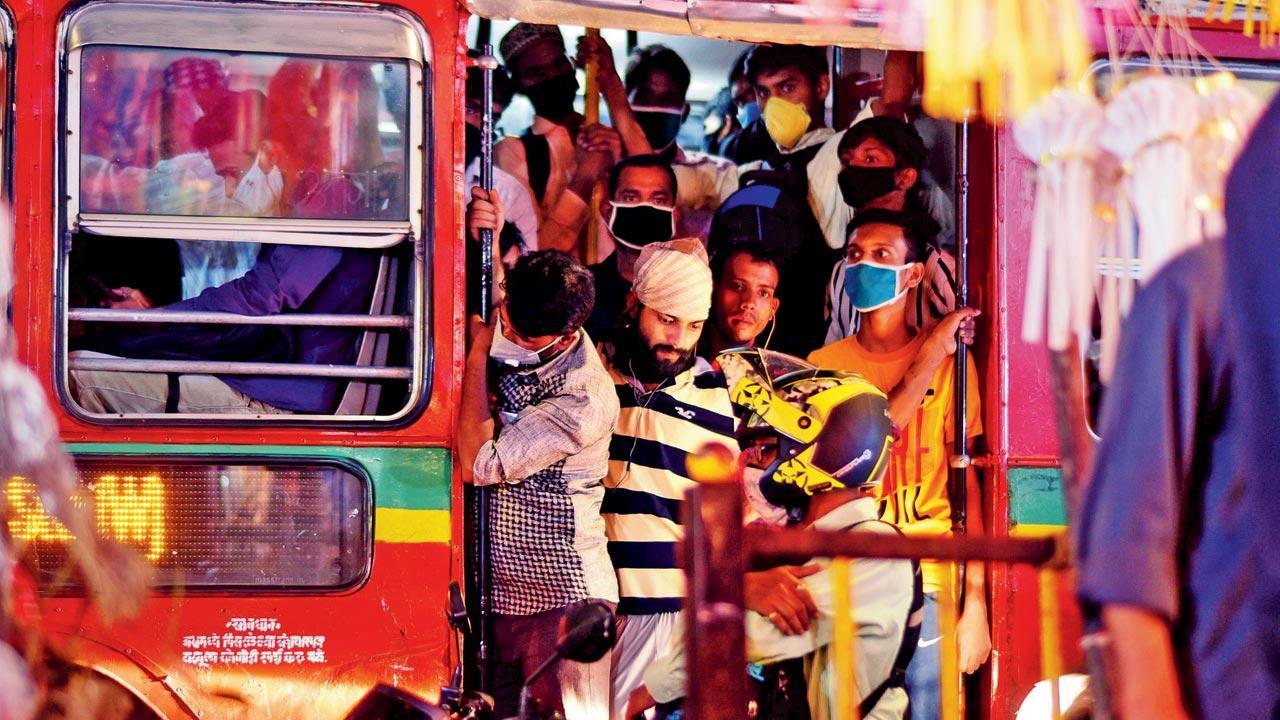 Despite the 'no mask, no entry' rule, commuters continue to flout COVID-19 guidelines while taking public transport in Mumbai; (top inset) receipt of fine issued by the BMC officials. Pics/Suresh Karkera
Viruses like to play games. They also behave like boomerangs, coming back at you with consistency and force after a lull. One look at the history of the deadly 1918 Spanish Flu and 2019's Coronavirus pandemic and you know the above is true. 
The Spanish Flu first appeared in early March of 1918, and had all the hallmarks of a seasonal flu. But by April that same year, it had spread through Italy, Spain, England and France. From September through November, cases skyrocketed. Lasting two years, it saw three distinct waves, infecting 500 million and killing 20 to 50 million. Experts believe that the fatal severity of the Spanish Flu's second wave was caused by a mutated virus. 
Receipt of fine issued by the BMC officials
With the COVID-19 pandemic, India fared pretty well, with a comfortable January and February 2021 after peaking in September 2020, recording more than a million active cases. By the first week of February, India was barely counting an average of 10,000 COVID-19 cases per day. More than half of India's states were not reporting even a single COVID-related death. In a drastic turn of events, a week later, India saw a spike of nearly 87,000 cases. Maharashtra, which has accounted for the bulk of India's COVID-19 cases, is now contributing more than 50 per cent of the new cases. The fear of a second wave looms—are we in its grip already? Is this the work of a mutant virus? 
 
It is difficult to say, thinks Dr Jay Mullerpattan, consultant pulmonologist, PD Hinduja Hospital and MRC. "Different parts of our country have had their own set of waves. Delhi has already seen three waves; in Mumbai, this is probably the beginning of the second wave. We have observed that India has trailed a few months behind in comparison to what's unfolded in Western countries. Even in the first wave, our peak came two or three months after the US and UK. Different parts of the country will experience varied dynamics."

Graphic/Uday Mohite
The average per million testing for COVID-19 in India is 1,62,697, which means the country is on an average conducting 1.62 lakh tests for every 10 lakh people. Is the surge due to an increase in testing then? Dr Lancelot Pinto, consultant respirologist, PD Hinduja Hospital and MRC, says, "Our hope that this isn't a second wave comes from seroprevalence studies that suggest a significant population across the country has been already infected, and the fact that we did not see second waves post-Diwali, or after New Year's Eve [when people met and gathered in large numbers]. However, we must remember that seroprevalence studies have not shown a uniform prevalence. For example, slums tend to have a higher prevalence than private apartments, and the virtual end of the lockdown may cause new infections, leading to a second wave. The city of Manaus, Brazil, is a case in point: they proclaimed a level of immunity that was being equated to 'herd immunity' last year, but experienced a shortage of oxygen during a second wave this year. It is good to be optimistic, not complacent."
The percentage of individuals in a population that has antibodies to an infectious agent is called seroprevalence. According to a survey conducted by a team of researchers at the Banaras Hindu University (BHU), the seroprevalence frequency in 14 Indian districts, encompassing five states, varied between 0.01 and 0.48. "This suggests a high level of variability among the regions. The minimum antibody positive people were observed in Raipur district of Chhattisgarh, whereas maximum antibody positive individuals were found in Ghazipur district of Uttar Pradesh. The high prevalence of antibodies in many of the districts suggests that the soft herd immunity in India is underway," reports the BHU paper titled, Estimation of real-infection and immunity against SARS-CoV-2 in Indian populations.
Gyaneshwar Chaubey and Dr Jay Mullerpattan
India is, therefore, not suffering from a second wave, argues the paper, which is submitted to medrxiv.org and is yet to be peer-reviewed.
Gyaneshwar Chaubey is a professor of genetics at BHU, and one of the main authors of this study. A study conducted by him and a team of top genetic experts last year revealed that the Indian genes have protected the population against the Coronavirus. In the recent study, published on February 8, Chaubey again reassures India that all is well. "At the moment, there is a rise in the number of cases in some parts of the country. However, if you look closely, it is not an exponential rise. 
Dr Lancelot Pinto
Outbreaks are being reported in places where less people have got immunity against the virus. Let's take the example of Kerala and a couple of countries that were deemed 'model' regions. Like Kerala, New Zealand, southern Australian or European countries like Estonia managed well in the beginning. People followed all the lockdown rules, and therefore, a majority of the population did not get infected by the virus. Immunity in the population was very low. These populations are now stepping out of homes, and therefore, most vulnerable to COVID-19. They are the ones causing the resurgence of the infection," Chaubey explains.
The infection and death rate per million and the case fatality ratio in India remain substantially lower than many of the developed nations. Several factors have been proposed, including genetics. One important factor is that a large chunk of Indian population is asymptomatic when carrying the SARS-CoV-2 infection. Thus, the real infection in India is much higher than the reported number of cases. Therefore, the majority of people is likely to be already immune in the country, Chaubey writes in the paper.
People, not adhering to social distancing norms despite surge in COVID-19 cases, buy vegetables at an APMC market, in Solapur, in February 2021. Pic/PTI
To understand the dynamics of real infection as well as levels of immunity against SARS-CoV-2, his team performed antibody testing (serosurveillance). "The aim was to estimate the level of immunity against COVID-19 among urban street vendors. We picked vendors for our study since they tend to be the biggest carriers of the virus. They come in contact with the home-quarantined population, and therefore, we wanted to see if they have antibodies in them," he adds.
During the months of September 2020 to December 2020, they surveyed such vendors and found out that all the participants in this study were asymptomatic; they did not know that they ever had COVID-19. "They all had antibodies in them. This suggests that the number of real infections in India is several fold higher than the 
government reported cases. So, we may need to reconsider the case fatality ratio. The present case fatality ratio of India (1.44) is significantly lower than the global average (2.15). Considering our result which shows a far greater number of real infected people, the actual case fatality ratio of India could in fact be at least 17 times lower. It is therefore likely that most of the hotspots are saturated with the immune people. The chance of a second wave is highly unlikely," the BHU paper concludes.