A Mumbai-based creative head behind a new line of fragrances named after Bachchan's year of birth, traces the journey of the scent right back to the farmer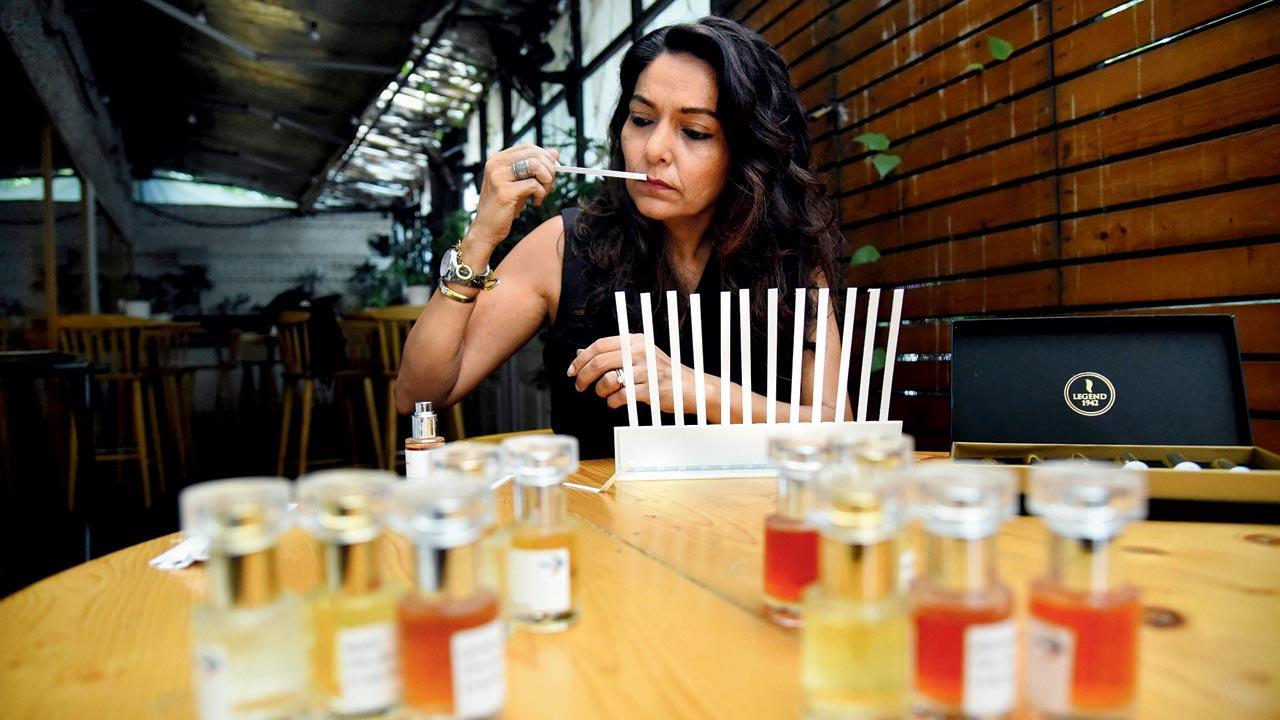 Anuradha Sansar says she was looking for a change in career when a chance visit to a perfumery in Chennai led her into the world of fragrances. Location Courtesy/Perch Wine and Coffee Bar, Mumbai
Anuradha Sansar sprays from a bottle on a paper blotter and hands it to us, nudging us to take a whiff. It's a fruity, honeyed fragrance. "What colours does it remind you of?" Warm orange, honey peach and bright pink, we say. Something in there brings back a memory 
from college.
She seems pleased. Mumbai-based Sansar thinks that to create a good fragrance, you must have a grip on the human psyche, have the patience to dive into people's memories and be open to cultures. "My work involves knowing people and understanding their world. A perfumer must learn how to smell and identify the possibilities. Someone will say they want a scent that smells like the beaches of Goa, but everyone has a different aroma and memory they associate with a Goa beach. My job is to recognise the boundaries and know how to push them."
The former innovation head for Keva Fragrances is fronting the launch of fragrance 1942. Sansar, interestingly, started her career as a paramedic at GS Medical Hospital, before she marketed medical testing innovations in a hospital's product department for bone joints. The stress and disappointment of not seeing patients survive despite the best efforts saw her long for a change.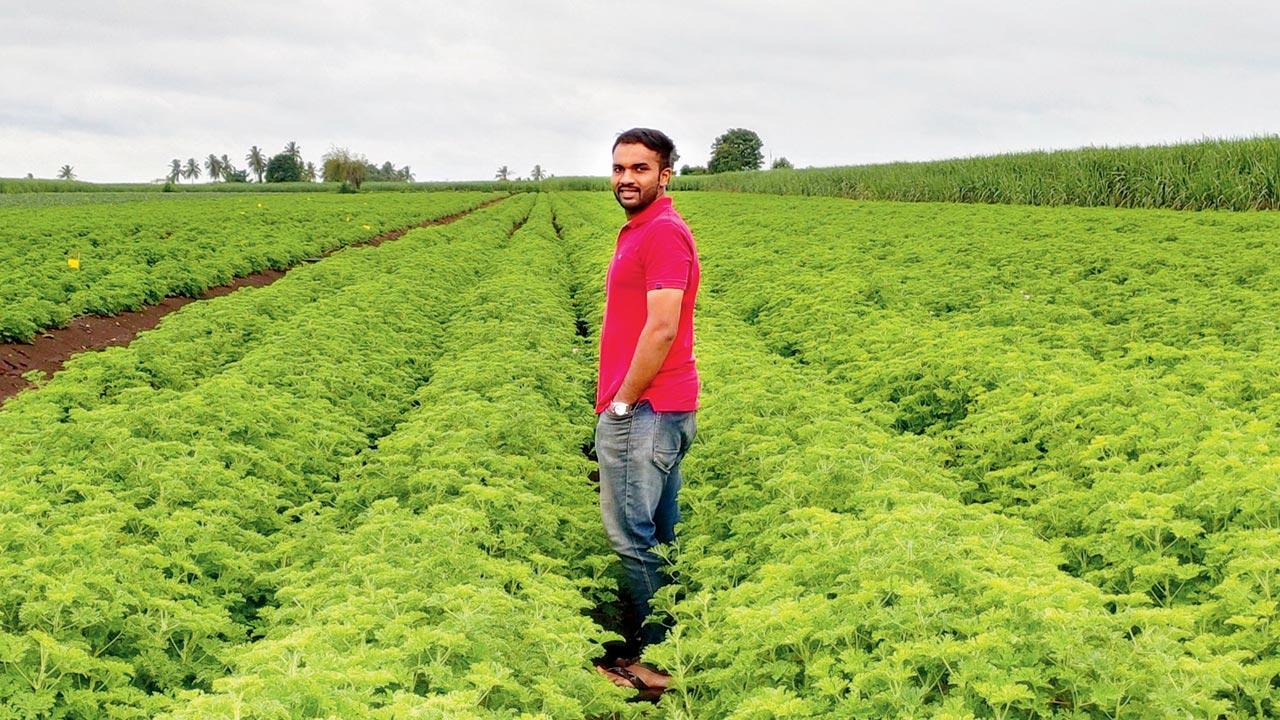 Sansar and team say they have worked with several generations of farmers; seen here is one of their collaborators from Baramati in Maharashtra where he grows geranium, a bushy herbaceous plant. Its leaves are distilled for what's seen as a gender-neutral, subtle, rosy-lemony aromatic undertone, and geranium essential oil is said to reduce feelings of stress and fatigue. Pic Courtesy/Anuradha Sansar
In 1997, when a chance encounter landed her in Bush Boake Allen perfumery, she gave an olfactory test that involved identifying odours and grading their intensities. Her experience in the kitchen came handy. "I have been cooking since I was eight; I know aromas and flavours," says Sansar, who was 30 by the time she joined the perfumery's evaluation department. "Life is osmosis. Let it happen, take it in."
Launched in collaboration with the 100-year-old Keva Fragrances, 1942, she says, is inspired by superstar Amitabh Bachchan's birth year. "He is also the curator of the perfume line. It is also the year of the Quit India Movement," says Sansar, sharing that she first presented the idea to the cinema icon in 2017.
Bachchan resonated with Sansar's Indian approach of creating a perfume line. He agreed to come on board as curator and use his global aesthetic and deep understanding of his fellow Indians.
Three eau de parfum fragrances come in two versions, a white and black bottle named Heritage, Flamboyance and In-DNA (Rs 3,000/30 ml; 100 ml bottle/Rs 6,000; Discovery pack of six/Rs 6,500). While the heritage black has notes of Assam oud and Mysore sandalwood, the white is characteristically reminiscent of rose and saffron.
Keva, run by third generation perfumers, started in 1922 as a manufacturer of industrial perfumes. Working closely with farmers, the leadership, says Sansar, is particular about protecting bio-diversity. "Lesser known plants, even the non-odiferous ones, seem to be disappearing. Remember the shoe-flower, the original hibiscus with spikes? We don't see them anymore. The bell-like jhumkas are nowhere to be seen. I did spot them in the wilds in Goa a while back," says Sansar, adding that the same is the case with pink champaka. "We only see the white and yellow ones. This is as good as killing our memories and history. In North India, khus [vertiver] roots used to be put out in summers to cool the surrounding air. Now, all people do is spray essence on synthetic grass. Nature is sacrosanct; we have to care for it."
One of her favourite flowers is the rajnigandha from Coimbatore. "Did you know that they are picked only at dawn, and need the gentlest plucking hands, so it's usually done by women. They fill sacks full of them. One tight pinch at the blossom and you could end up killing its fragrance," says Sansar, proud that almost every international fragrance house uses Indian ingredients. "We are known for our sambac jasmine, and rose centifolia or the pushkar gulab. The global brands weave stories around this: how our fields inspired them, how they pay fair price. What's important is that we recognise the significance of local ingredients too, protect our own plants and farmers."
Sansar explains that the starting point of creating a perfume is to understand how it will be used: as soap, detergent, body spray? And every product has technical restrictions. Some fragrances will not hold on a detergent because of the presence of ash and soda.
And then, there is imagination that enters the arithmetic. "If my consumer is using an organic soap like Hamam, who is she really? She might be ritualistic; may light an agarbatti, use sandalwood, prefers natural products. Neem and tulsi are likely to be familiar ingredients for her, and she may enjoy the freshness of lemon, too. But, does she want to experience neem and tulsi in a luxury scent? Perhaps not. She may enjoy these naturals, but with a floral hint like say, jasmine." This is how a vision board for the brand is created before she decides on the triangle perfume structure: top, middle and base notes.
Post this, it's time to jam with the "chef", or the perfumer who will craft the scent. "I set the germ of an idea in their mind, and have them come back with a rendition. I continue to give them food for thought; without my feedback, a perfumer could go helter skelter," she smiles. "It's team work."
4
No. of years she has worked with Keva and its perfumers on this fragrance line
The Neem Project
As part of a CSR activity, Keva has collaborated with Sukruta Rural Empowerment Foundation to employ and educate drought-affected women to pluck and dry neem seeds which is further cold-pressed to manufacture neem oil.