City lanes have welcomed Ma Durga with love and devotion. Here are a few pandals eager to welcome you too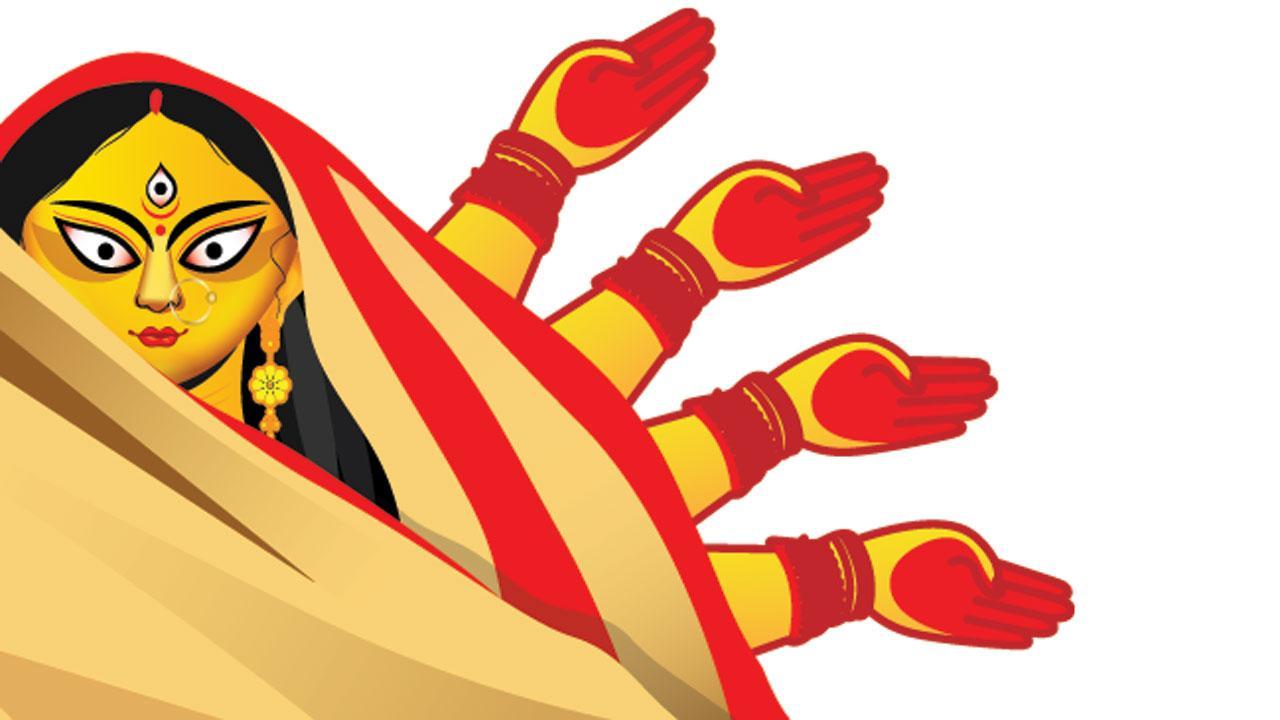 Representative Image
With an end to pandemic restrictions, countless Bengali associations across the metropolis are ready for Ma Durga's homecoming. Pandal-hopping is a legit activity to sample Bengali eats and buy handicrafts. Here are a few you shouldn't miss.
The one with stars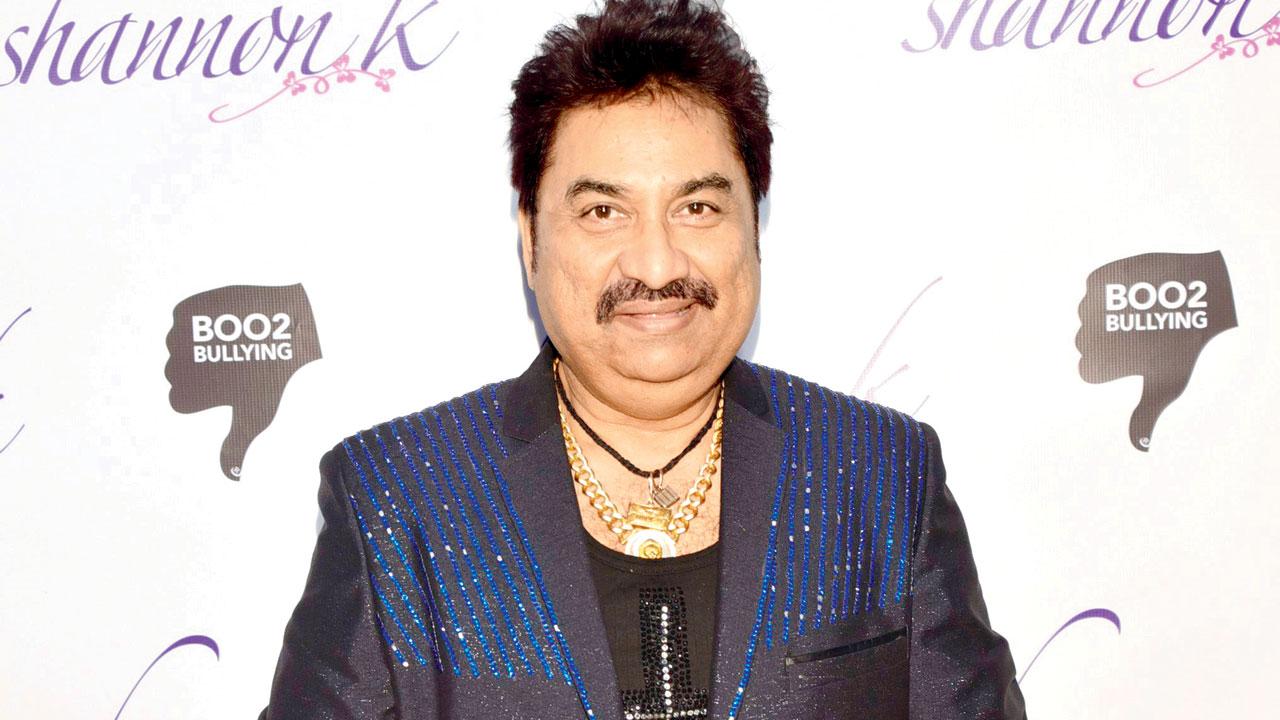 Bollywood legend Kumar Sanu is back to hosting Durgoutsav after 36 years with the Mumbai Bengali Cultural Association (MBCA). Along with the traditional performances, aartis and stalls, the association has organised three concerts with performances by megastars like Udit Narayan, Shaan, Alka Yagnik and Sanu himself, amalgamating music, culture, and charity. The proceeds of the concerts will be utilised for the education of underprivileged children.
>>>
WHAT: Andheri Sarvojanik Durgoutsav
WHERE: Versova Welfare School Ground, Andheri West
WHEN: October 2 to 4
PRICE: Rs 999 onwards
Chilling in the 40s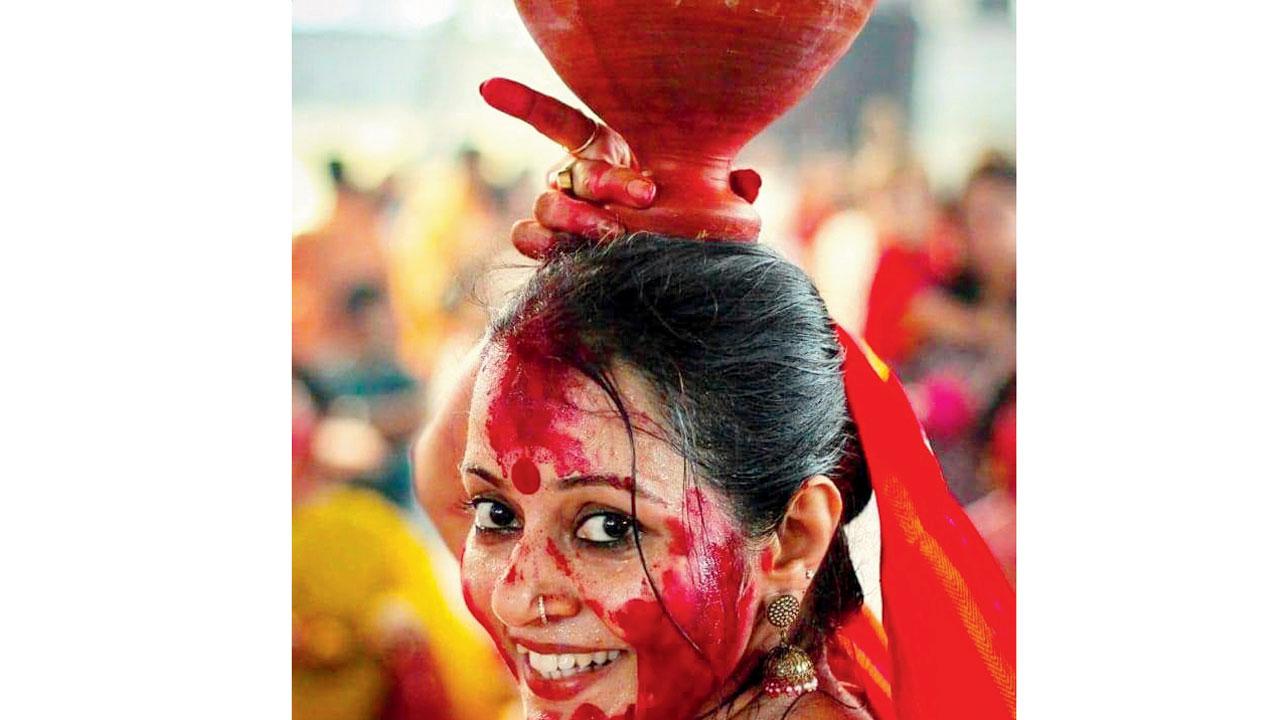 In their 43rd Durgoutsav, the Navi Mumbai Bengali Association (NMBA) is all set to celebrate in the air-conditioned CIDCO Exhibition Centre in Vashi. This year's theme revolves around nurturing humanity by celebrating life.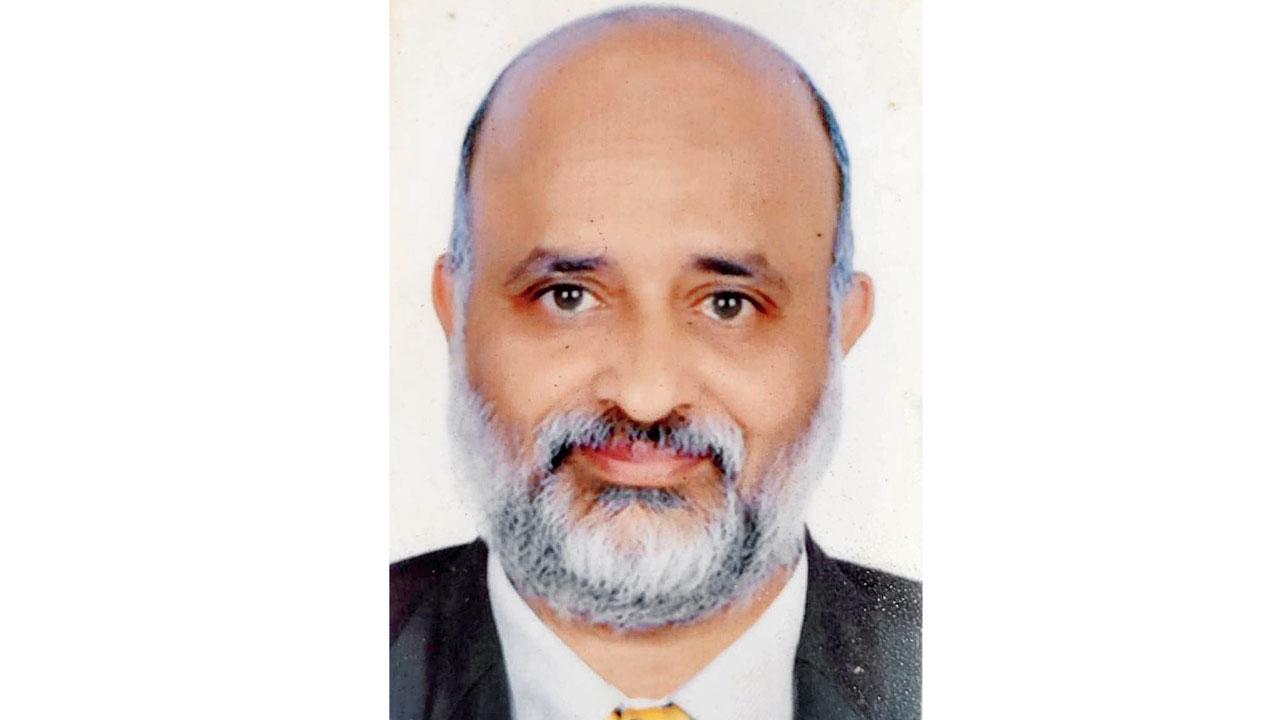 Ashim Dey
All the traditional rituals from Sashti pujo to Sindoor Khela will be performed here. Besides the authentic Bengali goodies, the highlight is a performance by singer and composer Shaan scheduled on Maha Navami (October 4). "Ma's 16-feet-tall idol will look at us all from above, and the outer space has 50 food and 40 non-food stalls," says spokesperson Ashim Dey.
>>>
What: Sharodotsav Durga Pujo
Where: CIDCO Exhibition centre, Vashi, Navi Mumbai
When: October 2 to  5
The OG pandal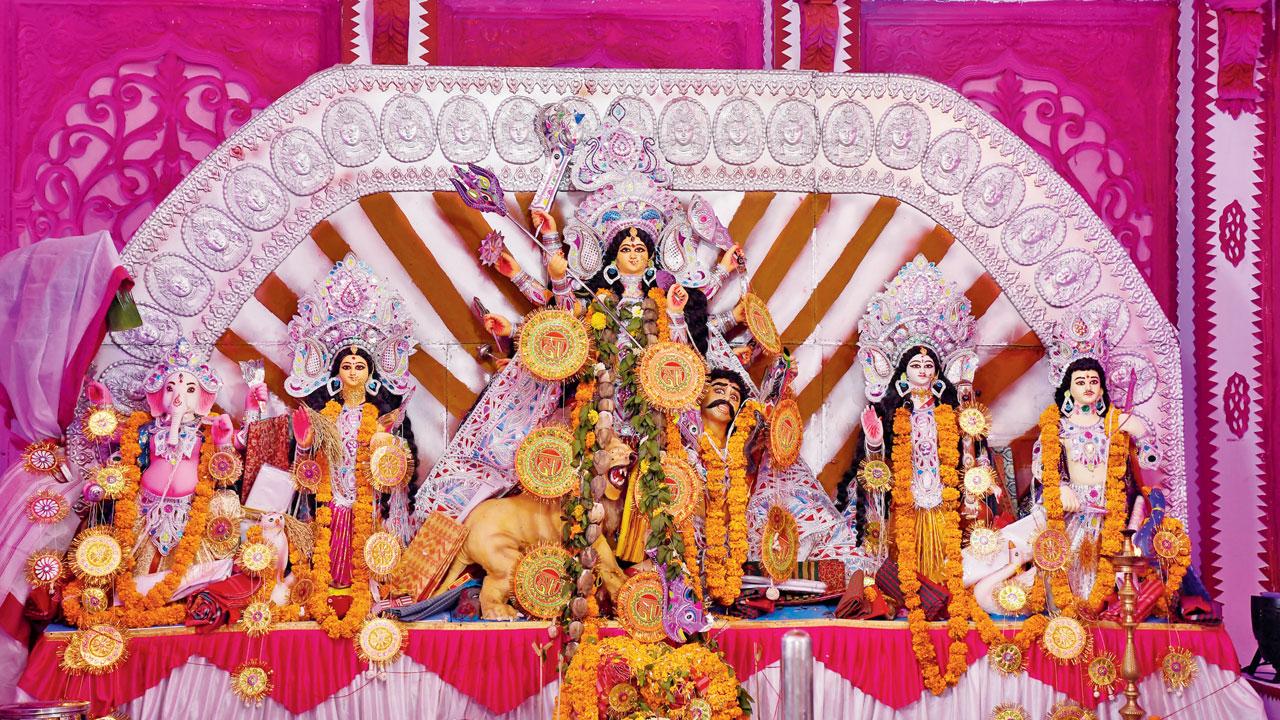 Shivaji Park's Bengal Club completes a century of its existence this year. Their 87th annual pandal gives a glimpse of every charitable, social, and cultural event they have been a part of over the past 100 years. The theme this year is ancient Indian temples, executed by Bollywood art director Nitin Chadrakant Desai, who designed the sets for Devdas, Hum Dil De Chuke Sanam and Jodhaa Akbar. Joy Chakraborty, chief spokesperson and advisor of the club, shares that the idol is 17-feet-tall and eco-friendly.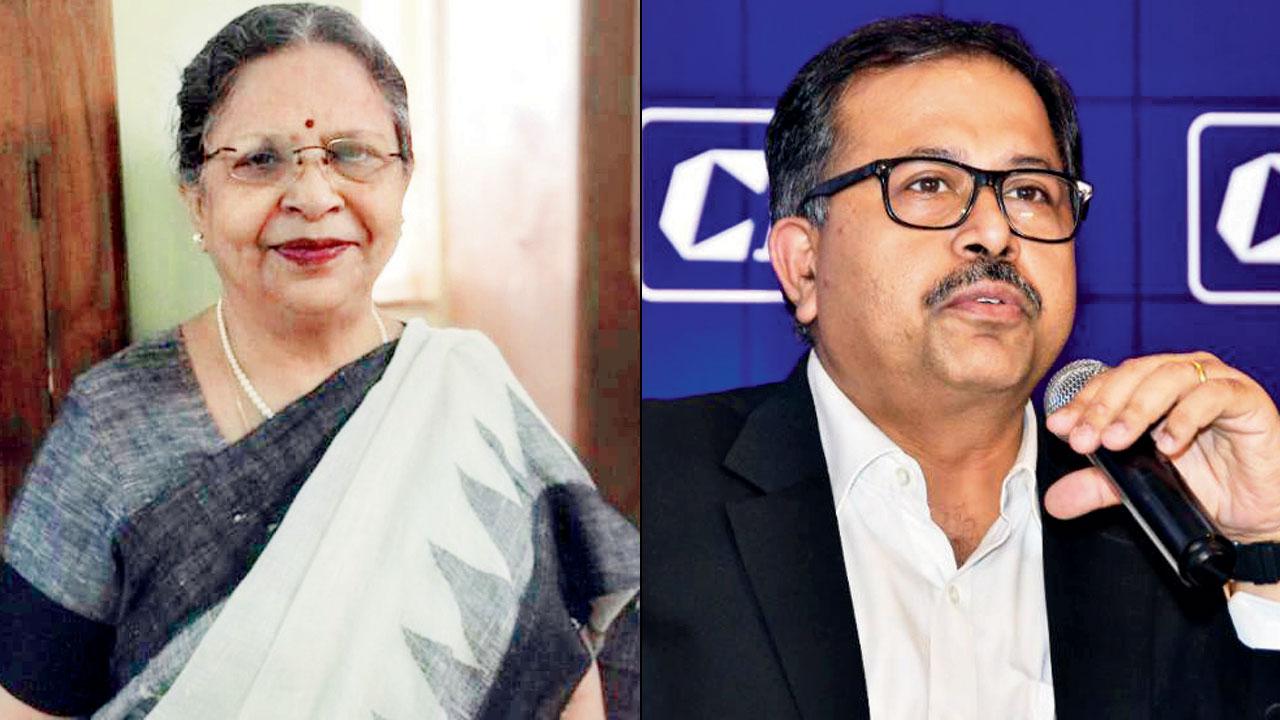 Sheela Roy and Joy Chakraborty
"We will start and conclude every single elaborate ritual and aarti till Dashami [October 5] over there." Around 35 stalls selling food and handicrafts surround it, and accompanying programmes include a presentation by the dhakis (drummers) of Kolkata, and the fiercely contested smoke-dance display, dhunuchi. "During Durga pujo days, this place [Shivaji Park] becomes my second home," says Sheela Roy, a 75-year-old Prabhadevi resident, who has been an active participant in most activities conducted by the club. "I have been visiting this pujo since my childhood, and I can never get enough of it."
>>>
What: Bengal Club's Sri Sri Durga Puja
Where: Shivaji Park, Veer Savarkar Marg, Dadar
When: October 2 to 5
Bengal, and others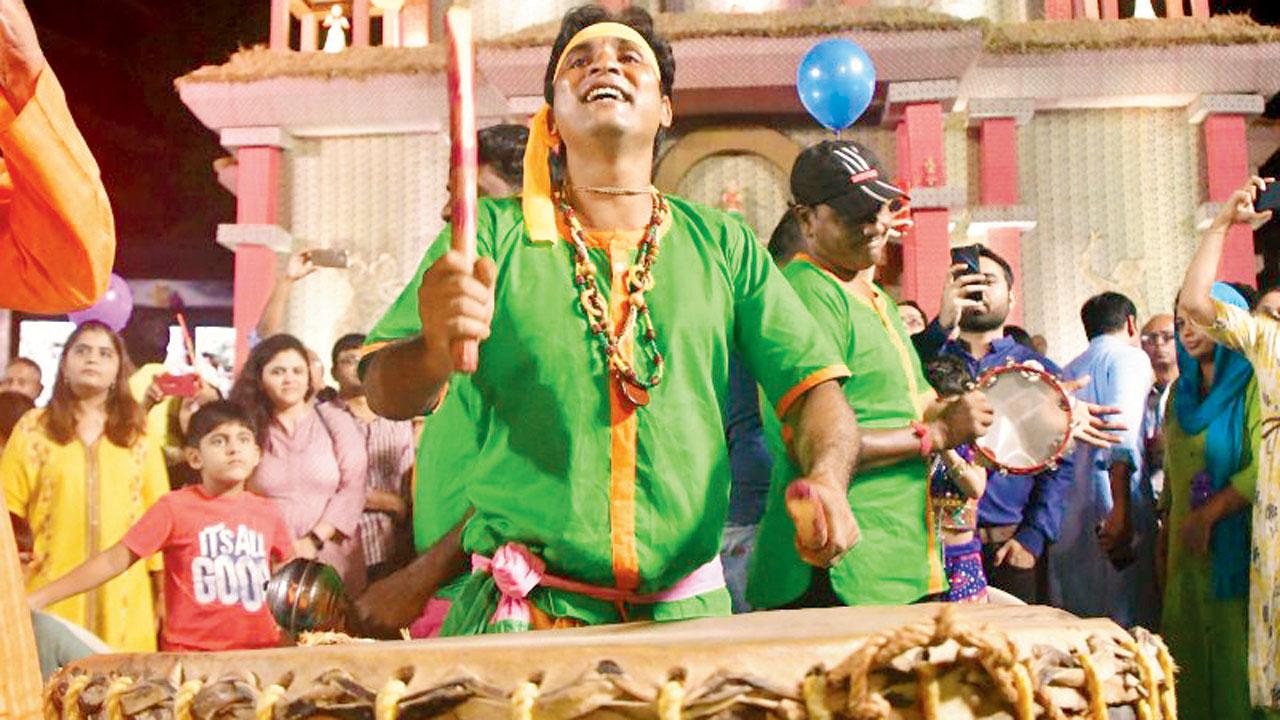 The Powai Bengali Welfare Association (PBWA) marks the 17th year of celebrating Durgoutsav. As with all previous years, they have been heavy on representing the country's diverse culture in their pandal setup this year too. The Goddess is to stand 20-feet-high, and in keeping with their history of replicating ancient temples, this year's pandal is based on Kolkata's Itachuna Rajbari.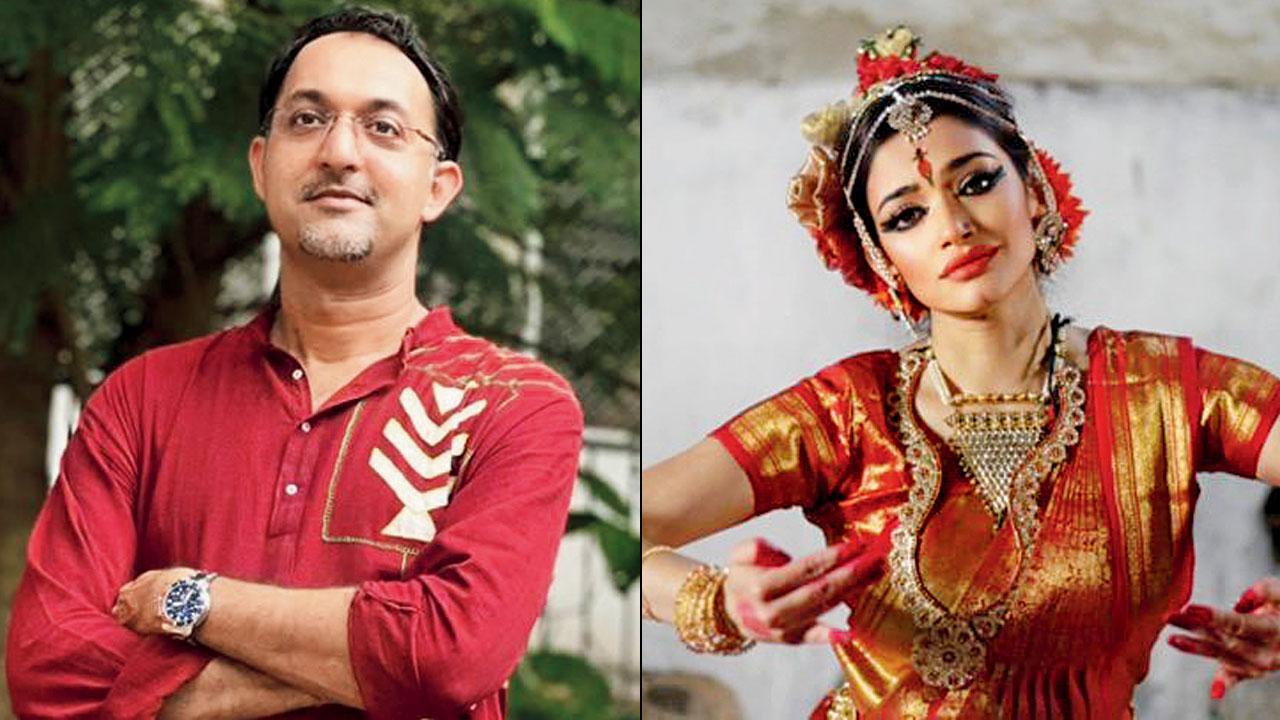 Devraj Brahmachari and Sohini Roy Chowdhury
"Our pujo is very inclusive and has a social message," says Devraj Bhramachari, a member of the pandal committee. "We have ensured that everything about it reflects elements of culture, art, tradition, food-bhog, inclusivity, women empowerment, community betterment and literature." Cultural performances include Durga Dance Opera by Sohinimoksha World Dance and Communications on Maha Navami. Sohinimoksha has performed in many nations through UNESCO. "I believe Durga is the inner voice of all women around the world," says Bharatnatyam exponent Sohini Roychowdhury, who leads the troupe. "Our dance opera focuses on empowering women, leaving a message for everyone that she can be kind, and a warrior too."
>>>
WHAT: Powai Sarvajanin Durgoutsav
WHERE: Hiranandani Gardens, Powai
WHEN: October 2 to 5
On its own steam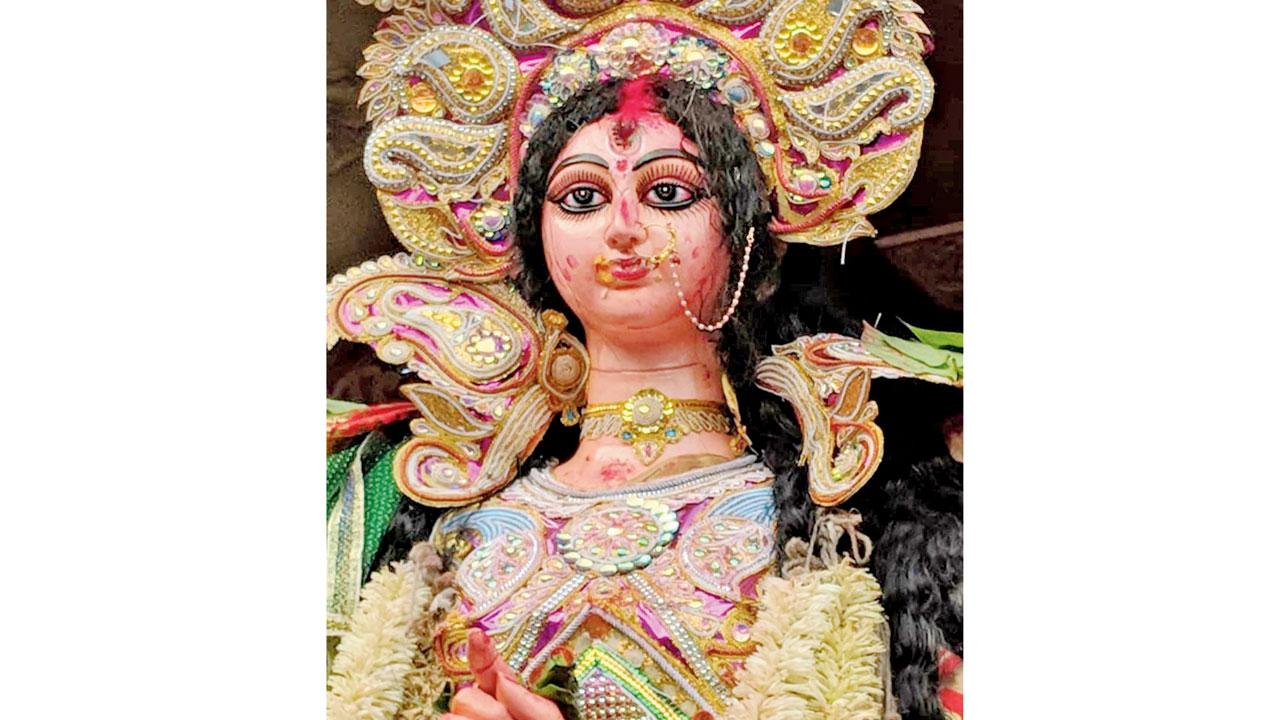 "We have no theme this year as we want people to experience Durga pujo without any kind of a push or artificial layering," states Surojit Lodh, president of the Chembur Durga Puja Association (CDPA). That said, the pandal does not lack effort. It is fully covered and a 3D projection recreates the ambience of a Naatmandir (main hall). "People usually use Plaster of Paris [POP], thermacol, and all sorts of things for constructing the entire pandal setup.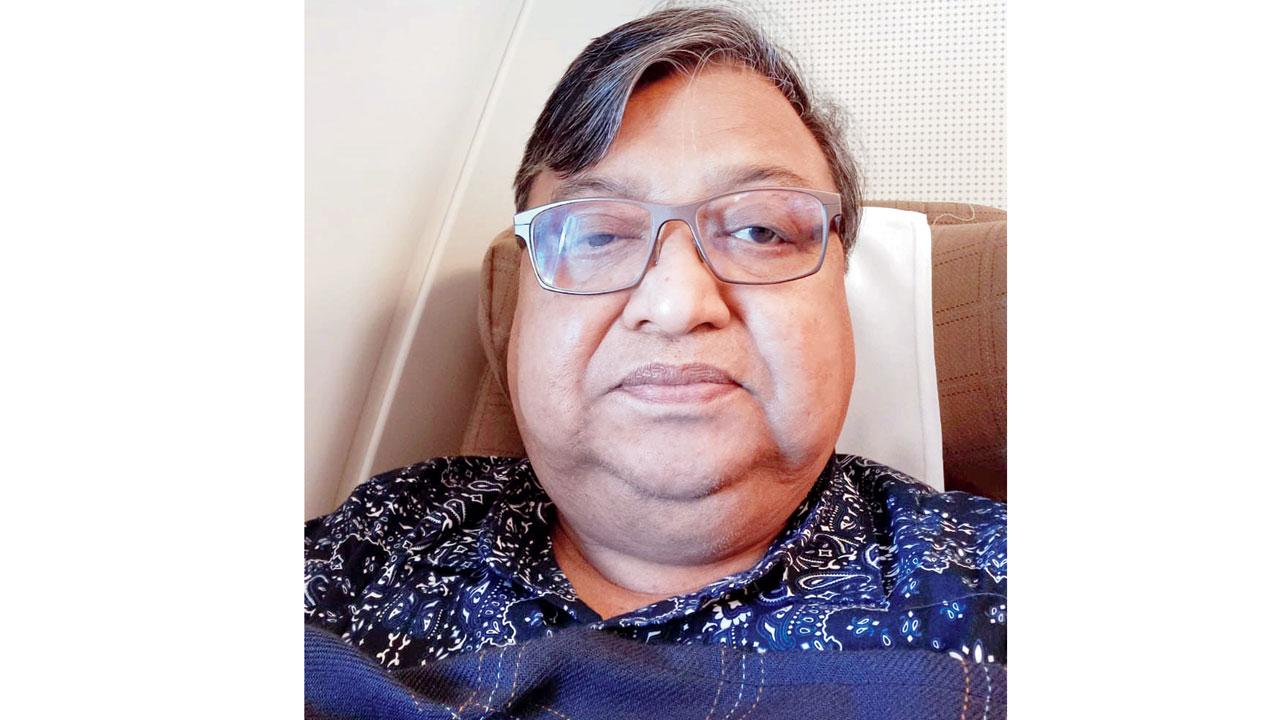 Surojit Lodh
But CDPA was really firm on a big no for all this," declares Lodh. It's traditional idol, the Ek Chaalar Thakur (Durga, her two sons and two daughters composed in a semi-circular 'ek chaal' formation) is adorned with daak'er saaj, ornaments made using the shola flower. 
>>>
WHAT: Chembur Durga Puja Association's 68th durgoutsav
WHERE: Chandan Lawns, Deonar
WHEN: October 2 to 5
Partner in independence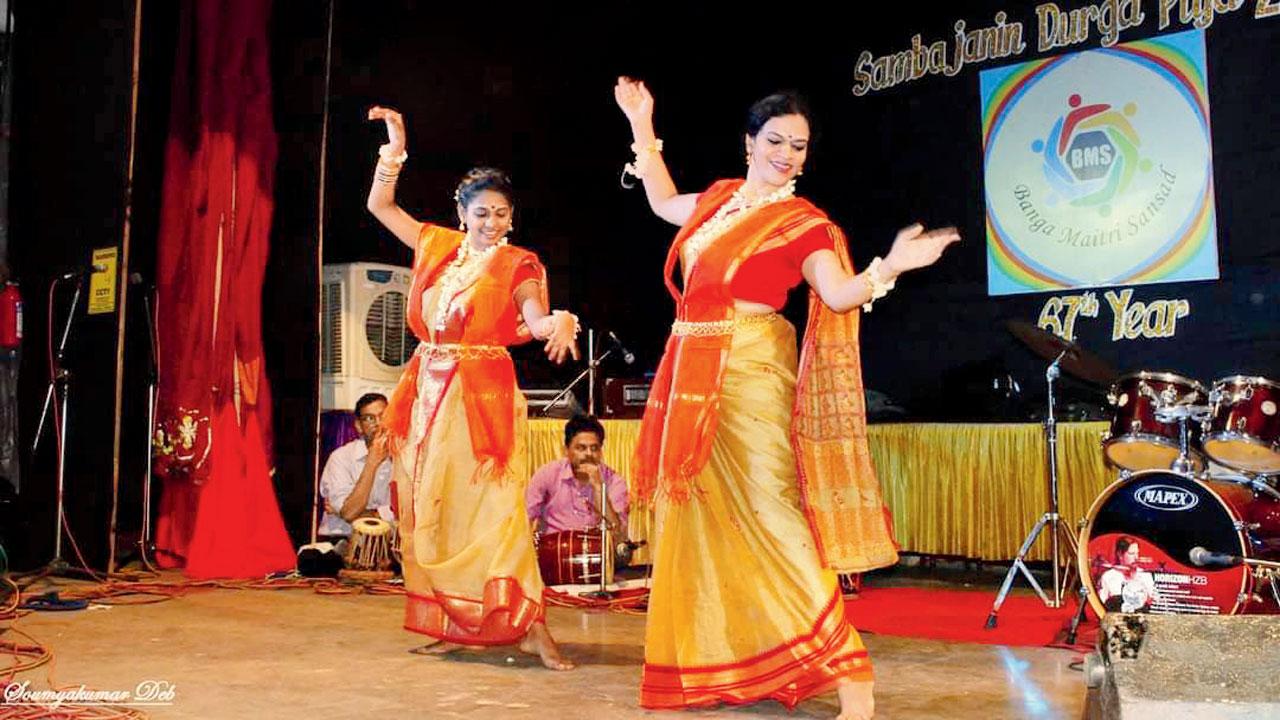 Banga Maitri Sansad was founded in 1947, and the sansad has a history of collaborating with NGOs such as Goonj and SEWA during Durgoutsav celebrations. On their 75th Durgoutsav, the sansad has chosen "Tryst with destiny" as their theme, completing the nationwide Azadi ka Mahotsav. On Maha Navami, the Governor of Maharashtra Bhagat Singh Koshyari will be the guest of honour. Apart from filling the bellies and the hearts of each visitor to the brim, the association has also organised three cultural dance performances: One by an in-house team, and two by troupes from Bengal. "I only became a part of this organisation in 2013," says Bivas Chakraborty, general secretary, "but this organisation and everything it has been into, not to forget Durgoutsav celebrations, has bonded me to it so tightly. I feel like I found a slice of Bengal in Mumbai." 
>>>
WHAT: North Bombay Sarbajanin Durgotsav
WHERE: Senior Railway Institute, Prabhat Colony, SantaCruz East
WHEN: October 2 to 5
A probashi affair served by children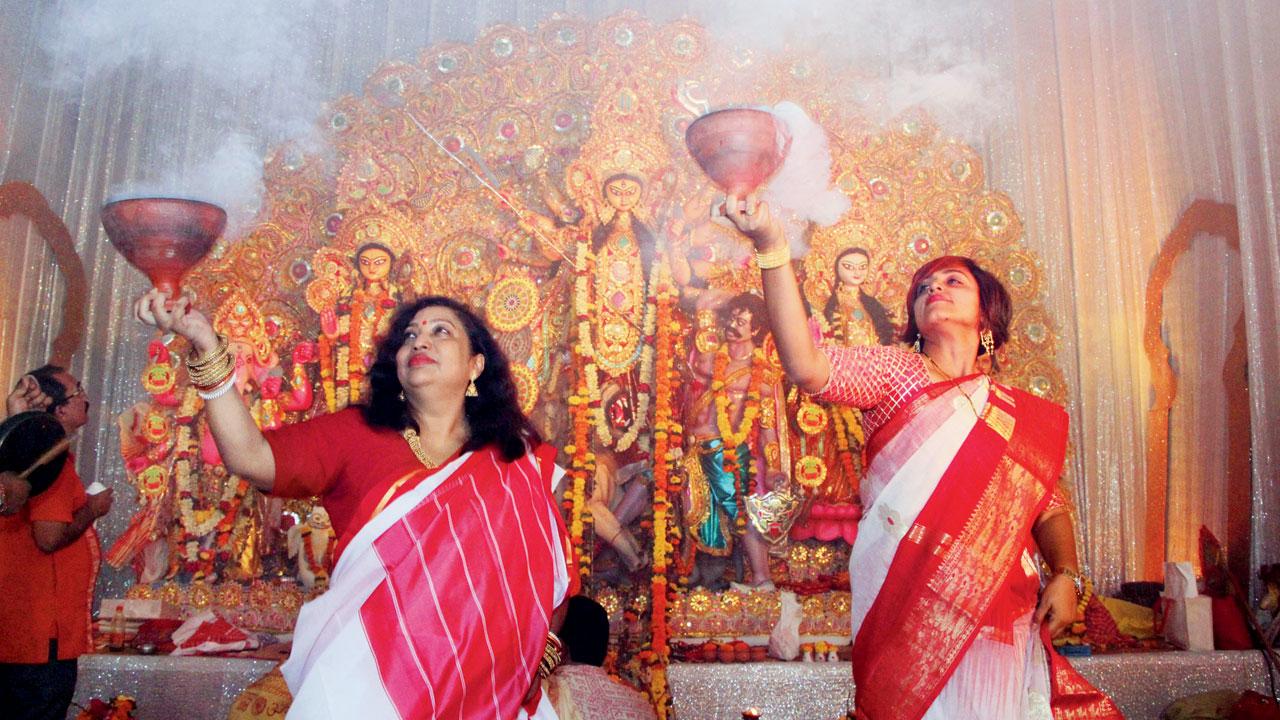 "Whenever I state that none of the members of the association are born and brought up in Mumbai, they assume we all come from West Bengal. But we hail from different states such as Assam, Jharkhand, Odisha, the list goes on," states Rupa Roy, general secretary of Maitree Cultural Association (MCA) of Malad West. "That is why there's no 'Bengali' in our association's name. In their ninth pujo, the pandal has it all—theatrical performances, dance presentations, stalls for foodies, and shopaholics. But what makes MCA stand out from the lot is the enthusiasm and involvement of the young. Children serve the sit-down bhog, guide visitors, answer their queries all days of the pujo. The elders just guide them. "We do not want them to be 'rootless'. In some or the other way, they should know about where they belong," explains Roy. 
>>>
WHAT: Malad West Sarbojonin Durgoutsav
WHERE: Rajora Banquet Hall, Near Mindspace, Malad
WHEN: October 2 to 5