A new, fascinating volume of essays explores how people make sense of their religions in the fast-changing city of Mumbai, whether in a chawl, high-rise or kaali-peeli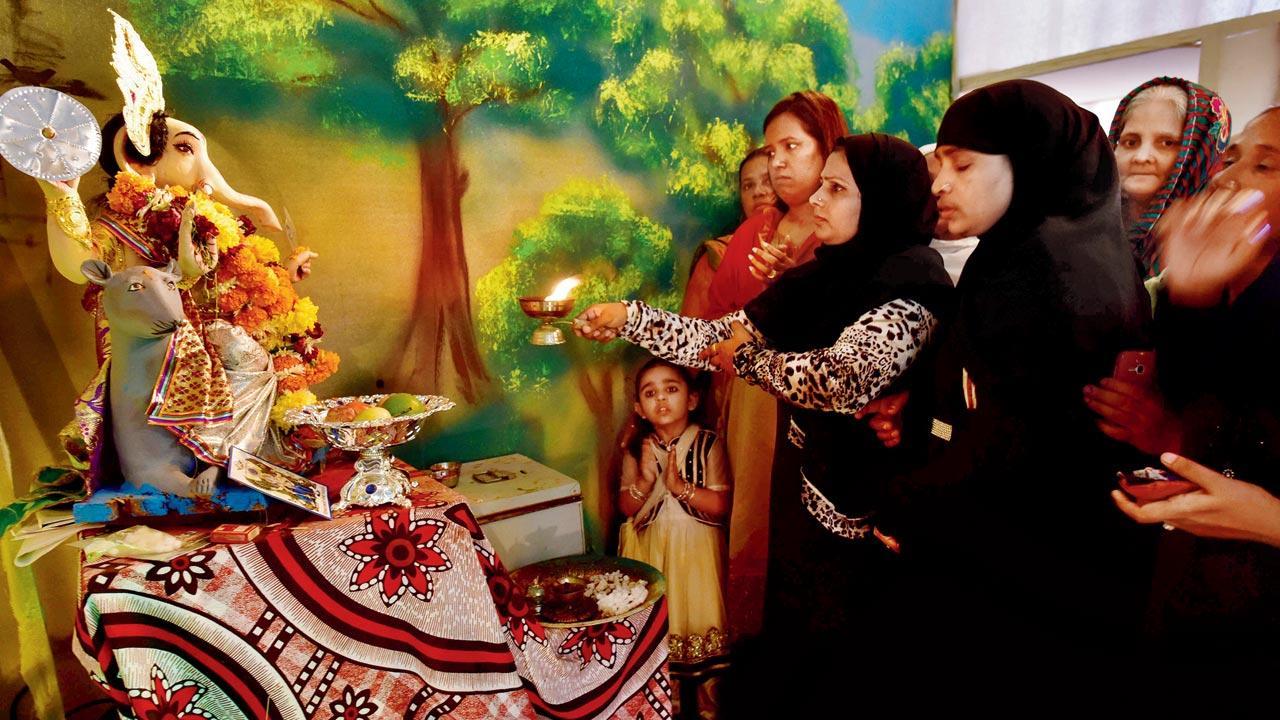 While it is widely known that Muslims participate in Ganpati utsav, a chapter in the book compares how the engagement is different in Bhendi Bazaar and Govandi. "In Govandi, the lower-class are forced to forge social and political connections, to engage with the festival in some ways. New high-rise buildings and gated communities in Bhendi Bazaar detach higher-class residents from the hustle and bustle of the festivities," Michael Stausberg says. Pic/Getty Images
Michael Stausberg's relationship with Mumbai has been evolving. The scholar, who teaches at the University of Bergen, first came to Mumbai, then Bombay, in 1991, as a graduate to study the Parsi community. It became his ticket to the city and its history, one that he says he immediately fell in love with. "I was here when Rajiv Gandhi was assassinated near Madras [Chennai]. Mumbai was put on hold for several days." In retrospect, he says, 1991 was the year when major changes began to stir, transforming both, India and its financial capital. "Many more trips would follow. The religious environment of the city beyond the microcosmos of the Parsi community held a vague fascination for me ever since my first visit, and the Parsis made me interested in Shirdi's Sai Baba, who is something like a signature saint of the city. Eventually, I came to know academics who were researching other communities."
Stausberg's new book, Religions, Mumbai Style: Events-Media-Spaces (Oxford University Press), is a result of this cooperation with over 10 experts from India and abroad, illustrating how people make sense of their religions, and create a religious identity while engaging with the challenging urban environment of their city.
"The most intuitive way of portraying the religious life of any city is to sketch different communities. In fact, several chapters in this volume show that groups that look homogenous on the outside are far more contradictory from the inside. Ganapati Utsav and Muharram are examples of 'events'. Mumbra and the Sai Baba shrines are examples of 'spaces'. In the 'media' segment, a piece analyses the activities of the World Islamic Network, which broadcasts content addressed to the Twelver Shia Muslim audience, but also reaches out to wider non-Muslim audiences."    
ADVERTISEMENT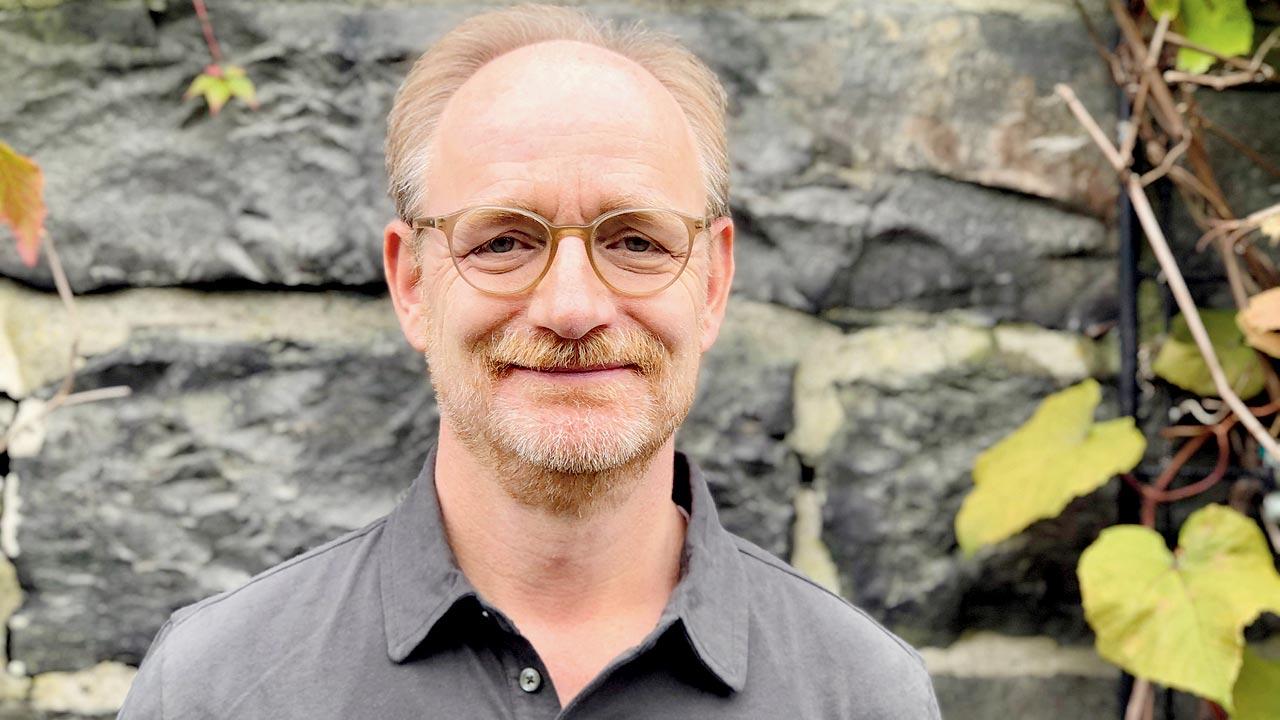 Michael Stausberg
Edited excerpts from the interview.
In the introduction, you say that while "Mumbai is not known as a site of sacrality or pilgrimage, religion plays an important role for many of its inhabitants". How would you compare its religious side with another Indian metro?
Some decades ago, scholarship was convinced that big modern cities were forces of secularisation, but world over, research has shown that urbanity has in fact, been conducive to religiosity.
Yet, it has taken time for scholars to systematically investigate the presence of religion in the fabric of urban life worlds. This book is indicative of this tendency. As far as I can see, ours is the first volume of this kind published on an Indian megapolis. This is also why I am unable to give a proper answer to your question; it would be great if there were comparative research. But from my limited impression, no other Indian city offers the same degree of visible religious diversity. The economic importance of Mumbai has attracted many religious entrepreneurs, but other metros have been important environments for religious innovation. Consider Calcutta in the late 19th and early 20th century; think of figures like [Swami] Vivekananda and [Rabindranath] Tagore. Mumbai may not be important in terms of religious education or learning, but Bollywood casts a special glamour over the city. We have already mentioned the Sai Baba, but we must not forget Dr Ambedkar and Buddhism; as maximal different as they are, both Shirdi Sai Baba and Babasaheb Ambedkar are signature features of religion in the city.
We should also consider feasts and festivals. In earlier days, Mumbai was famous for Muharram. In the 20th century, Ganapati Utsav has risen to prominence, to the extent that it has become a kind of visual icon of Mumbai.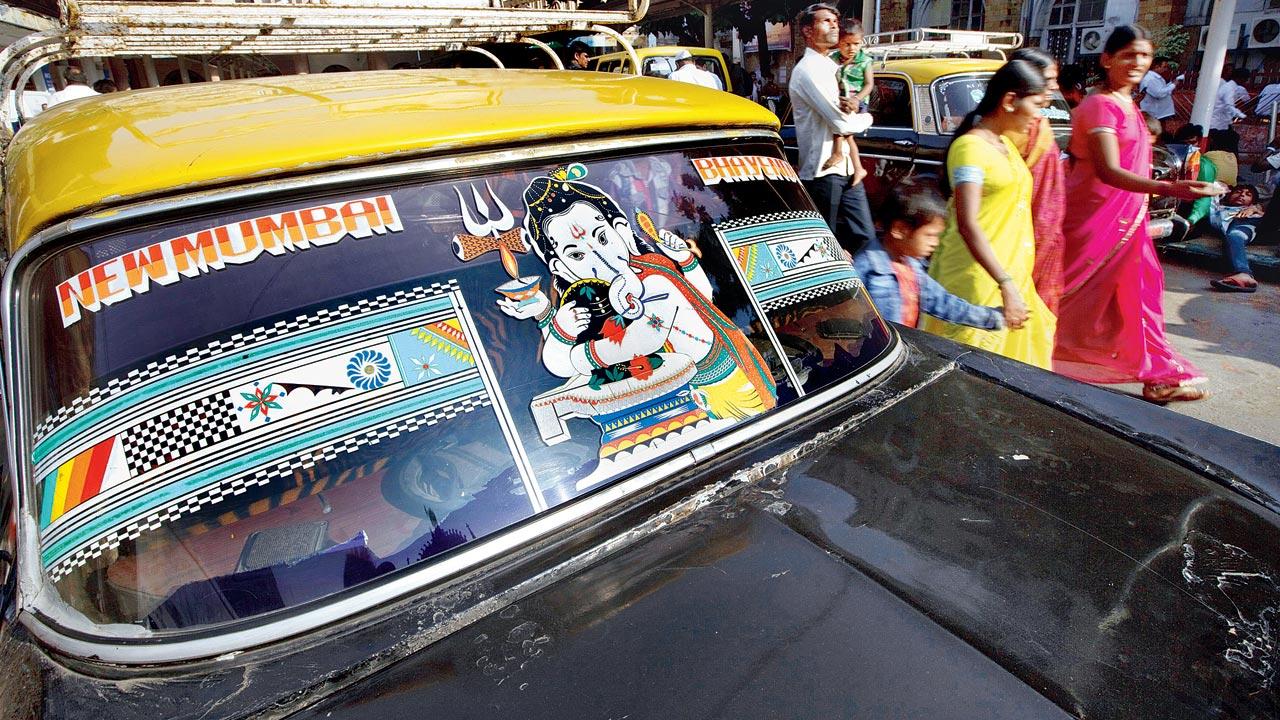 Many kaali-peeli cabs, says Stausberg, carry visible religious markers, making them micro-sites of religion and religious communication
Mumbai, as you point out in the book, is often described as being very cosmopolitan. Is it really so?
We have already spoken about the visibility of religious diversity. This is very real. But cosmopolitanism gives it a celebratory twist. It is an ideal and a narrative, full of nostalgia for a peaceful world of harmony between religions. The idea resonates with one telling of the early history of the city, which attracted enterprising communities like the Parsis and Jews, who once were not only far more numerous, but also far more important economic, social, and political factors than they are today. The ideal of cosmopolitanism is effective in environments that require trust and cooperation; trading cultures thrive when sailing under the banner of cosmopolitanism. And this ideal was cultivated in other international port cities as well; for example, think of Odessa, which is now shelled by 
Putin's bombs.
Are there some communities that are more cosmopolitan than others?
There have been some new movements that have in their ways enshrined the ideal of cosmopolitanism. From the later 19th century, take the Theosophical Society. Closer to our times, the Sathya Sai Baba has propagated this ideal in his way. Have you ever visited the Sai Baba centre in Andheri? There you find it enshrined in the architectural set-up. And ISKCON is a form of cosmopolitanism in that it seeks to attract people from different castes, regions, countries, and natal religious backgrounds. But once they become members, devotees are expected to leave their former religions behind and dedicate themselves to a new form of orthodoxy.
We also must distinguish between different versions of cosmopolitanism, from the ideals of the affluent to cosmopolitanism from below as vernacular appreciation of diversity. Class is a crucial factor here. Recall Ganapati utsav. It is widely known that Muslims participate in the festivities. But the exact forms vary a lot. This clearly emerges in a chapter in a book that compares Muslim engagement with Ganapati utsav in Bhendi Bazaar and Govandi. In Govandi, the lower-class are forced to forge social and political connections, to engage with the festival in some ways. New high-rise buildings and gated communities in Bhendi Bazaar detach higher-class residents from the hustle and bustle of the festivities.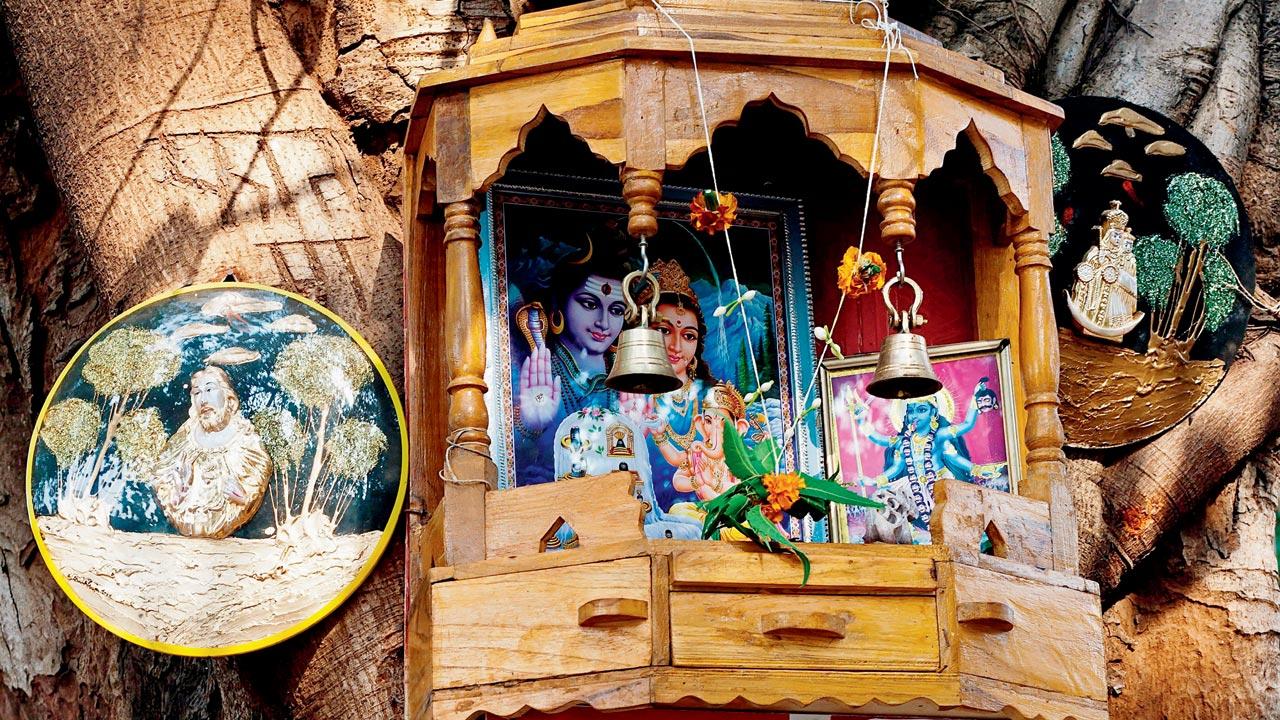 Shirdi Sai Baba is a significant feature of religion in the metropolitan city of Mumbai 
Is cosmopolitanism then in decline?
Well, other research conducted in the city has shown that behind the façade of cosmopolitanism there is a great deal of indifference. People can send sweets to their neighbours during festivals, but do not really care, nor do they express an interest in other peoples' religions. People can in one sentence praise cosmopolitanism, but in the next sentence dismiss the idea of their children marrying "out". In fact, such marriages are often actively contested, often with tragic consequences. Our book has a chapter on the work of a civil society organisation that works on family disputes and acts of violence against women often committed in the name of religion.
Cosmopolitanism is something like the sunny side of religious diversity. But there are also the shadow sides to it, like prejudice, resentment, tension, riots, discrimination, fear, and violence. Since the 19th century, the city has been tormented by recurrent riots, the first even involving the Parsis. Historically, the rise of Shiv Sena and its regionalism has been a denial of the ideal of cosmopolitanism. The terrible riots of 1992/93 unmasked talk of cosmopolitanism as empty rhetoric and illusory nostalgia. Mumbai has this paradoxical quality of creativity and destruction, light and darkness, affluence and death.
  
Considering the socio-cultural fabric of this city today, is it more resilient to violence in the name of religion?
Let's hope so! During my visits to Mumbai, there have been instances every 10 years or so when the fabric of relative calm threatened to dissolve. The pandemic was an important stress test. It has certainly caused deaths and suffering and brought to light inequality, but as far as I can tell, people have not reverted to hatred in the name of religion to deal with this unprecedented crisis. We should also not forget that not only has the city has continued to grow, but there have been processes of resettlements along communal lines as a result of the traumas of the riots. This is sometimes described 
as ghettoisation.
I was most curious about your choice of looking into taxis as public micro-spaces of religion. What drew you to research the kaali-peelis?
Besides libraries and Irani cafés, trains and taxis are the places where I, over the years, have spent much time when in Mumbai. So, that was an obvious choice. And I am interested in streets as religious sites. Consider shrines on pavements or altars in shops. Even though I was told that Mumbai taxis, compared to many other South Asian cities, are decorated rather modestly, many kaali-peeli cabs carry visible religious markers. I was always interested in the cab drivers, in the relationships they shared with their cars, and taxis as micro-sites of religion and religious communication. I was fortunate to be able to team up with professional semioticians and anthropologists from Quantum in Mumbai who conducted most of the fieldwork in South Mumbai.
Cab drivers conduct a risky business and have transient anonymous encounters with complete strangers. In this way, they embody a central experience of urban life, and taxis in turn are omnipresent in modern cities.
It turned out that some 60 per cent of taxis carried at least one religious item or symbol, often placed top centre on the dashboard. Hindu and Muslim-owned taxis showed marked differences reflecting the difference in visual cultures across these religions. Muslim-run cabs have a preference for either 'KGN' (for Khaja Garib Nawaz), '786' (for the bismillah), or a star within a circle displayed on top of the front windscreen. Almost 40 per cent of Muslim-operated taxis had an item fixed in the rear-view mirror, which is a rare sight in Hindu-run cabs. These were often prayer beads, a material form rarely used in Hindu-operated taxis.
Opinions were divided whether the presence of such religious items would have a measurable effect on wellbeing or safety. I should also add that many decided not to have any religious objects, partly because this was not in line with their personal "secular" beliefs. Non-religion is a growing phenomenon in many countries and may also become more common in Mumbai.
   
You write about how Ganesh and Sai Baba were the most common dashboard-deities. Even more interesting is that these Hindu Gods and saints were also found in Christian taxis. Does keeping and displaying these deities have a significance beyond religion?
I have a rather expansive notion of religion, meaning that religion is more than individual piety and devotion, more than belonging to a community and difficult to neatly separate from non-religion. Acts can be described as religious or as routine. For example, many cab drivers said that they, literally, "worship" their taxis, and indeed many perform pujas on them every morning. Indeed, their livelihood depends on their vehicle and performing a puja creates a kind of blessing, which involves religion but also the economic, into health, safety, you name it. Is this religion? It is, as I see it, but it is not religion in isolation.
Now, turning to your question, many Catholics share with Hindus a certain expansive visual indiscriminateness. A case described in my chapter resonates with the kind of vernacular cosmopolitanism we touched upon earlier, a kind of folk-theology proclaiming that religions are different, but God is the same everywhere, or that blessing comes in many forms. We found these ideas among drivers from different religions, and in some cabs this idea was represented by the mingling of visual emblems.
60 per cent
Percentage of black-and-yellow taxis that displayed a religious symbol according to Stausberg's research, conducted in association with Quantum
"Exciting news! Mid-day is now on WhatsApp Channels

Subscribe today by clicking the link and stay updated with the latest news!"
Click here!