The first batch of post-pandemic school and high school graduates is coping with a hybrid offline-online teaching model to prepare for the biggest challenge of their early life.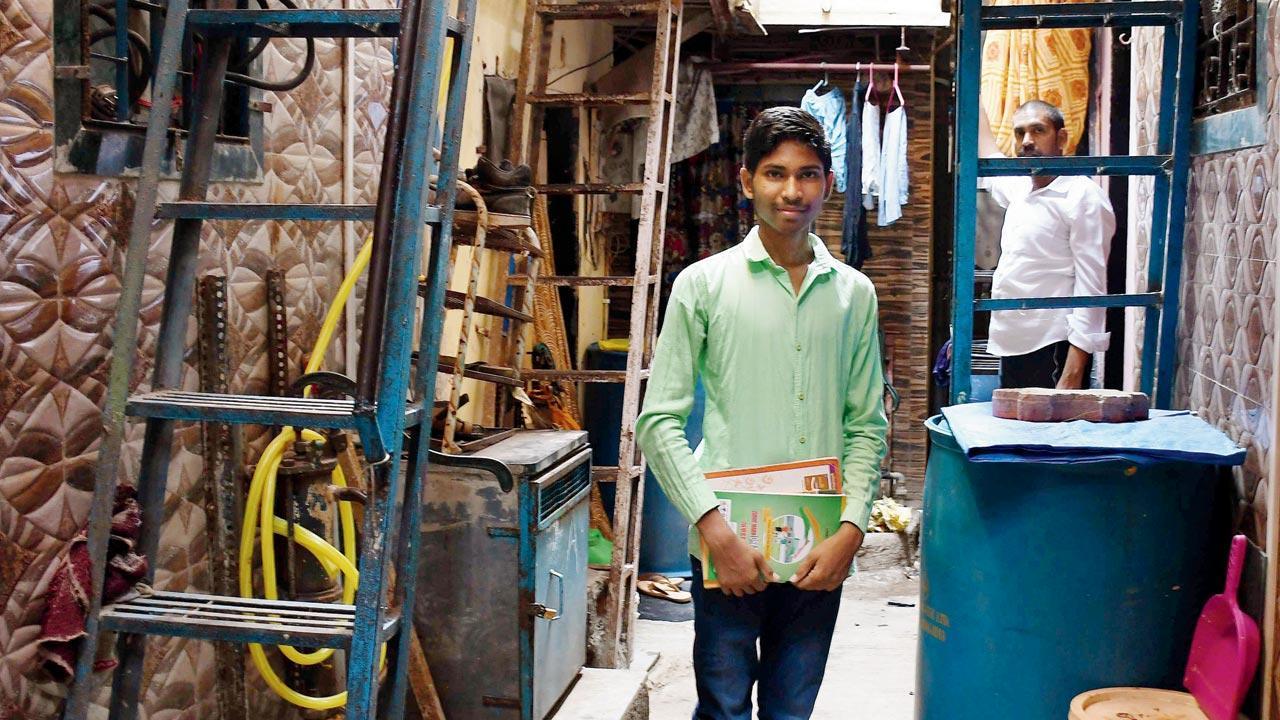 Sumit Kushwaha and his parents shifted from Wadala to their village in Uttar Pradesh early in the lockdown. A Class X student and consistent topper, he wants to give the UPSC exams. Pic/Ashish Raje
I missed a whole month of online lectures," says Sumit Kushwaha, a Class X Hindi medium student of Guru Nanak Higher Secondary School, Sion. A few weeks after the Coronavirus-induced lockdown was announced on March 23 last year, Kushwaha's family vacated their one-room home in Wadala. There were talks that Mumbai schools would remain shut for a short while. His father, who is employed as a driver at a cab aggregator company, decided they would head back to their village in Uttar Pradesh. By June last year, the new academic year had begun. "The unplanned move to online learning caught me off guard. There was little or no Internet connectivity in the village. I ended up losing more than one month of learning," adds Kushwaha, who has consistently been a topper. 
Dahisar resident Aarush Bhosle would understand Kushwaha's predicament because some of his classmates have been struggling with online learning, too. "My parents are engineers, so, they offered me necessary tech help needed, but I have seen batchmates who could barely keep up. About 35 per cent of the syllabus had been reduced, so I was relieved, and for the longest time I was hoping that board exams aren't held," says the Class X student of Poorna Prajna School, who had a laptop and smartphone to navigate the new style of education. However, the 15-year-old admits that subjects he has proclivity for—science, mathematics—were challenging to crack online. "When a teacher writes differential equations, applied statistics and diagrams on the board, the intricate concepts become easy to understand. This, however, is not possible in a Google classroom. I began to worry that even a topper like myself might flunk."
Madhavi Naik, principal of Guru Nanak Higher Secondary School, thinks the government should consider offering this batch of students counselling before they move to the next stage of their lives. Pic/Pradeep Dhivar
In April 2020, a survey of 5,500 students (undergraduate and postgraduate) conducted by St Xavier's College's economics department revealed that 93 per cent of them did not want exams to be held during the pandemic. A majority of the students cited concerns about safety in public transport (96.1 per cent), parents' unwillingness to send them to exam centres (92.9 per cent) and not being in the right frame of mind to appear for exams (87.1 per cent). Another 2.4 per cent do not use smartphones, while 76 per cent said they are not trained to appear for online examinations.
After some back and forth, the Maharashtra State Board of Secondary and Higher Secondary Education (MSBSHSE) announced last month that it will conduct the HSC (Class XII) examinations between April 23 and May 29, and SSC (Class X) examinations between April 29 and May 31. The CBSE board will hold its exams between May 4 and June 10. For the Council for Indian School Certificate Examinations (CISCE) board students, ICSE (Class X) exams will be held between May 5 and June 7, and ISC (Class XII) exams will be held between May 5 and June 16.

Ingur Shefalika, head of curriculum, secondary section, DY Patil International School, Worli
The year 2020, according to Saurabh Taneja, CEO of the Akanksha Foundation, was brutal but with an underlying ray of hope. The non-profit organisation equips students from low-income communities with education, skills and character they need to lead empowered lives. Taneja says, "It has been disappointing to see schools closed for a whole year, and very little done to bring the most vulnerable children back. We need to comprehend the huge digital divide even in cities where children in low-income communities have struggled to continue to have data recharge to stay connected. But having said that, last year, we have also seen an incredible tenacity of educators (teachers, principals, social workers), who've moved mountains to keep the children engaged virtually."
But, how does one deal with the existential crisis most children have faced? Some have lost family to the infection, others are aware that their parents have lost their jobs, and some have survived food scarcity, Taneja explains. "Board exams are synonymous with stress, and this year, more so. Their mental health is the biggest worry as we enter these high pressure months. On campus learning provides an opportunity to engage in community service experiences, collaborative projects, school events and clubs like theatre, public speaking, sports, and most importantly peer relationships that adolescents really value. They have missed out on this."
Class XII student Amanpreet Kaur wants to prepare for Chartered Accountancy. She lives with her mother Jaswinder, father, younger brother and uncle in a one-room house in Sion Koliwada, and says she's aware that her batch cannot expect a normal college life. Pic/Ashish Raje
Madhavi Naik, principal of Guru Nanak Higher Secondary School, agrees. "The 2019-2020 batch had a great escape last year, missing the lockdown by a few days while writing their exams. When it came to assessing their tests, those who performed badly in history and geography were promoted to the next class on sympathy grounds. But our worry was different back then—what about the next batch? Will the government not hold exams? Will they end up losing one whole year of their academic career?" Naik recollects. 
The school teaches a majority of students from low-income backgrounds. And so, when the education system moved online by June, Naik was anxious. "For them, having a mobile phone is a luxury. Most of them were also moving to their hometowns, so getting hold of them and convincing them to attend online lectures was a struggle. We have about 425 students appearing for Class X exams and 280 for Class XII. Till date, the overall attendance continues to be 25 per cent lower than pre-COVID," Naik shares. 

Staffers have been sanitising rooms of DY Patil International School in Worli since last November, when the government was mulling reopening schools in the state. The school has hired an agency to conduct a sanitisation check before it welcomes students appearing for board exams next month. Pic/Ashish Raje
For Amanpreet Kaur, who is a self-confessed extracurricular girl, it's execution and out-of-class activities that she missed. As Kaur preps to give the Class XII exam, she worries that the future is uncertain. "I don't believe we will have a normal college life or make the memories that past generations did on campus. This is a way of life now. And for underprivileged students like myself, it's getting tougher by the day."
Taneja thinks three factors have made it tough for underrepresented students. "Greater household responsibilities, especially for adolescent girls. Constant virtual engagement requires a safe and quieter learning environment. Most of our children live in single-room houses with siblings/relatives. Lastly, online learning does require great self-drive, especially when parents aren't around to supervise, and we have learnt in today's age of distraction that some of our children are yet to master that."
Shivnath Darade, general secretary of Mumbai Shikshak Parishad, says that about 30 to 40 per cent students across Maharashtra have been unable to attend online lectures this past year. "Initially, we told the education minister Varsha Gaikwad to reduce their syllabus to 50 per cent. I am a teacher, but I cannot afford to provide a gadget for my son who is studying in Class VIII. When I am home, he attends class using my smartphone. But when I am not around, he ends up missing lectures. What about the children of daily-wage workers and labourers? They have no option but to skip the board exams this year. One whole year is going to be wasted, and the state government is not willing to consider their situation," Darade argues.

Engineer Esha Bhosle says the family was keen that son Aarush follow her profession, but the pandemic impressed upon them the significance of medics. She will be happy if he embraces medicine and can save lives. Pic/Satej Shinde
Former education minister Ashish Shelar explains why cancelling the exams this year is a bad idea, and instead roots for providing home centres to the students. "Either offline or online, boards will take place regardless. Students will be most comfortable writing papers from their respective schools, rather than alien exam centres issued via hall tickets. This way, they don't have to worry about travelling to far-off locations amid the pandemic." He also adds that assessment should be fairly done, with those who perform well set to get promoted, and those who don't, compelled to reappear next year. 
Darade wonders how this will reflect on the performance of teachers, who will be held responsible if students fare poorly. He says, "They have tried their best to adapt to online teaching, without any training for an overhaul of the education system."
 
Ingur Shefalika, head of curriculum, secondary section, DY Patil International School, Worli, says that the pandemic has proved more than before why schools are necessary. She recounts how a discussion had gained ground a few years ago about whether schools were needed at a time when Google made learning possible at the click of a mouse. Schools are more than addresses to impart knowledge—they offer opportunity for peer interaction and learning life skills. "We are not preparing them to graduate to the next class, we are preparing them for life itself. I know that we constantly talk about frontline workers, but I think teachers have been at the forefront as well. They have adapted to a new form of teaching, and I think it is quite incredible," Shefalika believes.
 
She shares that the International Baccalaureate Diploma Programme (IBDP) has, after assessment, decided to reduce a few components of the syllabus and will be giving some levy to students appearing for board exams. "As far as Cambridge is concerned, which we follow for the International General Certificate of Secondary Education (IGCSE) students at DY Patil, there are a few exemptions. For instance, if the school is unable to conduct practical exams, they can write to the board and ask to be exempted. This will take off some of the burden." 
DY Patil has even hired an agency to conduct an audit on campus, if offline board exams take place next month. "We sanitise all rooms, hallways on a daily basis. So, we are prepared if the government announces offline exams. If they announce virtual exams, we are prepared for that too. Most parents, however, are willing to send their kids to school to write the papers."
Crisis bring with it the ability to survive. Taneja says it's possible that the last year has made the students more resilient, with some more focused to realise their goals. "Financial security features as a concurrent theme in the post-pandemic world. This means that students will need to balance their aspirations with the immediate needs of their family. We believe, as a society, we underestimate the grit that children from low-income communities show to overcome the obstacles."
He may be right. Kushwaha was a UPSC (Union Public Service Commission) aspirant before the pandemic struck. The lockdown hasn't changed his dream. "I may have fallen back in terms of preparing for the boards, but I still have a month to go, and I will work very hard to top the exams."
Kaur wants to be a chartered accountant. She hopes to choose the Commerce stream, and sets aside close to eight hours every day to study. 
Bhosle, on the other hand, has seen his dream experience a slight tweak. Esha Bhosle, his mother, says, "We are a family of engineers, and wanted the same career for our son. But the pandemic has changed that for us. There are so many people dying and helpless, and my husband and I feel Aarush should practice medicine. We want him to save lives. He is more or less on board with us on this."
Bhosle is juggling prelims being held by the school with prelim exams his coaching class is conducting. Question papers come to him via PDF, he answers them on sheets and sends across the hard copies. "Preparation is on in full swing, it's a new learning method, but we are all managing somehow."
Naik thinks that this batch of pass outs will do with some counselling when the exam fever has subsided. "It's the least we can offer them. The government should do its bit to offer them advice before they move to the next stage of their lives. Among these children are future doctors, engineers, teachers, techies. Losing a mark or two can mean sliding thousands of ranks down the pecking order. The competition is real."