A visually impaired triathlete is attempting what no blind man from India before him has—the full Ironman. His sighted pro-athlete guiding partner and their coach talk of what it means to work together towards the finish line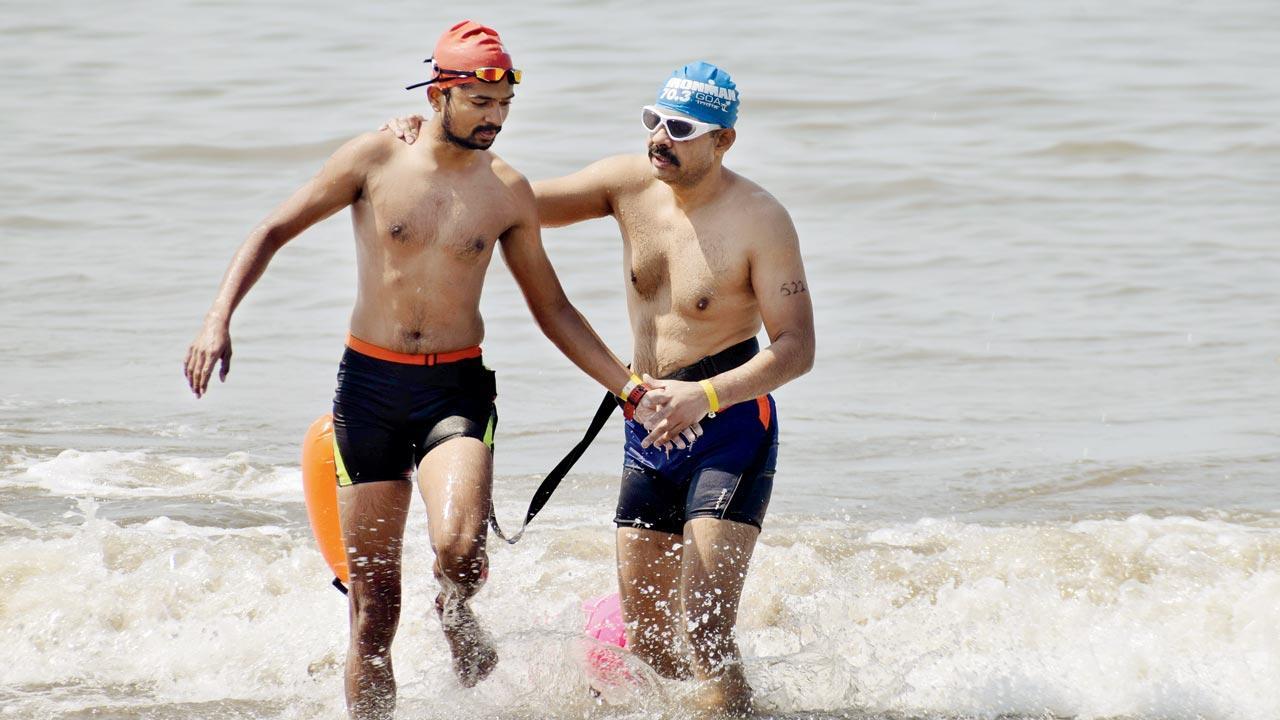 Omkar Jokar and Niket Dalal after completing their 5 km swim at Mumbai's Silver Beach in February 2021. Dalal, who is visually impaired, is tethered to Jokar who is his guiding partner. Pic/Chetan Gusani
The distance we had to cover in Mumbai, off Silver Beach, was 5 km. Now, we can do that distance easily in four hours. And, that was our strategy," says Omkar Jokar, 26, speaking of the swimathon he participated in, in February 2021, along with partner Niket Dalal.
Dalal, 38, is visually impaired, having lost his eyesight entirely at the age of five to glaucoma. And so, participating in the swimathon with Jokar means that the two are tethered together, with Jokar acting as the guiding partner.
ADVERTISEMENT
"But, the actual distance of the swim ended up being 6.5 km. So, our pacing strategy had to change. Just as we thought we were nearing the end of the swim, we were told that we had to do two more loops. We'd lost time sticking to our original plan," says Jokar. Being tethered and acting as one person, when you are in fact two individuals, comes with its own challenges. For instance, Jokar says he can swim faster with freestyle, but Dalal is more comfortable with the breaststroke. Had they adopted different strokes, they would have have got entangled in the tether. And so, strategy—afterall, they had to complete the swim in the designated four hours—required quick last minute thinking. While Jokar moved to freestyle, Dalal opted for a modified version of the breaststroke, which allowed him to pull in the water.
They completed their swim in time.
The Co-Motion bike that Dalal bought cost him Rs 12 lakh and requires special permission before being shipped to a country for an event. Dalal's coach Chaitanya Velhal says that even finding spare parts of the US cycle poses difficulties
Jokar, a resident of Pune, is one of the fastest triathletes in India, having completed multiple triathlons and his personal best for 70.3 is 5.46 hours and for full distance it's 14.48 minutes (Herculean Triathlon). He started running in 2018, quickly graduating to triathlons—learning to swim only later in life—and joined Pune's Power Peaks Academy, run by Ironman certified coach Chaitanya Velhal.
Velhal, 32, who himself is a pro athlete—having finished three Ironmans—and is one of the fastest cyclists in the country, has been coaching others for the last eight years. It was in 2019 that he started training Dalal for Ironman in Pune, during weekend camps. In fact, Dalal finished his first Dubai Triathlon last year with buddy Arham Shaikh, also from Velhal's academy, becoming the first visually impaired person from India to do so.
On why he started training, Dalal says, that like most people it was the search of weight loss that led him to forms of exercise. Having learnt swimming as a child, before losing his sight, this was something he picked up. "I started swimming again and I also learnt that I can cycle if I find a tandem cycle and someone to cycle with. And so, started this journey," he says in a conference call from Aurangabad, with Jokar and Velhal joining in from Pune.
Jokhar is one of the fastest cyclists in India
His weekly training works in the same way as any triathlete's would with Velhal, who has also done a masters in biomechanics from Australia, sending over daily targets along with a nutrition plan. Aurangabad, he says, is home to several national level swimming coaches, and houses the regional centre for the Sports Authority of India (SAI) and also a good track where he can run. So, training outside of his group is not a problem.
But, the pandemic and lockdowns made an impossible task harder. Dalal would earlier come to Pune every weekend to attend Velhal's training camps for budding triathletes. Now, Dalal and Jokar who are targeting the full Ironman distance—3.9k swim, 180.2 k cycling and 42.2k running—in Kazakashtan in August, are taking as much time together as is possible.
Jokar is the faster athlete. Velhal says he has been training for longer. So, when the two work together the focus is on strengthening the weakest areas. "We need to improve Niket's fitness and his speeds in running, swimming and cycling," he adds.
Niket Dalal and Omkar Jokar
That the two people weigh differently, also poses a challenge says Dalal, adding that this is especially a problem during tandem cycling. Where Dalal weighs 77 kg, Jokar is 67 kg. And, the lighter you are, the faster you will be. Being the faster athlete also means that Jokar has to adjust his time to Dalal's pace. This isn't always easy.
"On my own, I can swim five kilometres in one and a half hours. But, with Niket, it takes twice that time. This means I have to survive in water longer and more energy is spent, so it's tough. Even in running, slowing the pace isn't a piece of cake.
Then, race day brings its own challenges and surprises.
Says Dalal, "When training, there are just a few people around us. May be five or seven. But, during events there are hundreds or thousands of participants, plus a crowd cheering them on. Now, the crowd doesn't know that I am differently abled and they don't know how to treat me, but the noise can be unnerving." The other issue, he says, surrounds traffic rules.
"In India when we are running, my partner is on my right side, and the traffic is on his side, whereas when we went to Dubai,  we realised that the traffic was on my side. But, we had to figure how to make do."
In simply being tethered to someone, a great trust is being offered and a great responsibility is being undertaken. Dalal says when running, the tether is made of a cycle tube. A certain tension is kept on the rope so that the slightest change is felt. "When Omkar is turning right, I get a sense and when he wants to go left, he will tell me. He also warns me if there are stones ahead. I have learnt that non-verbal communication is sometimes more effective than verbal communication. Sometimes, for instance, Omkar will push me if there is a speedbreaker ahead," he adds.
But, while performing together comes with its own challenges, there are advantages too. For instance, says Dalal, had it not been for Jokar's quick change of strategy and pushing him, he may not have finished the Mumbai event.
For Jokar, Dalal serves as an inspiration. "Recently I was doing a tri at Odisha and in the swimming event, the water current was strong. Out of 150 participants, only around five completed the swim. While a regular 3.8 km swim would take me an hour to complete, I took twice that much time. When I got done, I was low on energy and depressed and felt I should quit. But then I thought of Niket and how, despite the challenges he faces, he manages his events. So, how could I give up? It took me more time to finish my event, but by the end of it, I was happy."
For Velhal, training Dalal has taught him an inclusive approach to the sport. "You realise that sight isn't important. It's certainly not a barrier to doing an Ironman. But, yes there are a lot of things we'd take for granted that we learnt with Dalal. Teaching with body language, for instance. Sometimes you point with the hand, but you can't do that with Niket. I have learnt to empathise and understand what he needs rather than what I think he needs. This relationship has helped me grow too. In fact, I have just spoken to a guy with a dustonia on his right side who wants to do the Ironman," he adds.
There are certain logistical challenges.
 
For instance, Dalal's bike is a R12 lakh Co-Motion bike imported from the US. Every time it's used, its spokes need replacements, says Velhal, adding that finding a replacement is tough in India as Dalal is the only user here. The other problem is transport for events. "The bike is as big as a car, and so we have to explain to the airlines and event managers that such a bike is coming in. We don't want them to reject it or charge large amounts at the last minute." For their Kazakhasthan event in August, Velhal and team have already started speaking to the airlines.
There will always be hiccups. But for this trio, they appear to be writing a new chapter in inclusive sports in India.
"This is a trial and error [exercise] in a sense. This has not been done before in India. And so, for me and others, we are seeing what works and what doesn't; what's truly effective."
Ironman Triathlon 
The Ironman Triathlon is one of a series of long-distance races consisting of a 2.4-mile (3.86 km) swim, a 112-mile (180.25 km) bicycle ride, and a marathon 26.22-mile (42.20 km) run, raced in that order. It's believed to be one of the toughest one-day sporting events in the world, and typically takes 16 to 17 hours to complete.
"Exciting news! Mid-day is now on WhatsApp Channels

Subscribe today by clicking the link and stay updated with the latest news!"
Click here!