While some Western countries have declared this to be the last generation of Down Syndrome individuals, India is far from achieving the milestone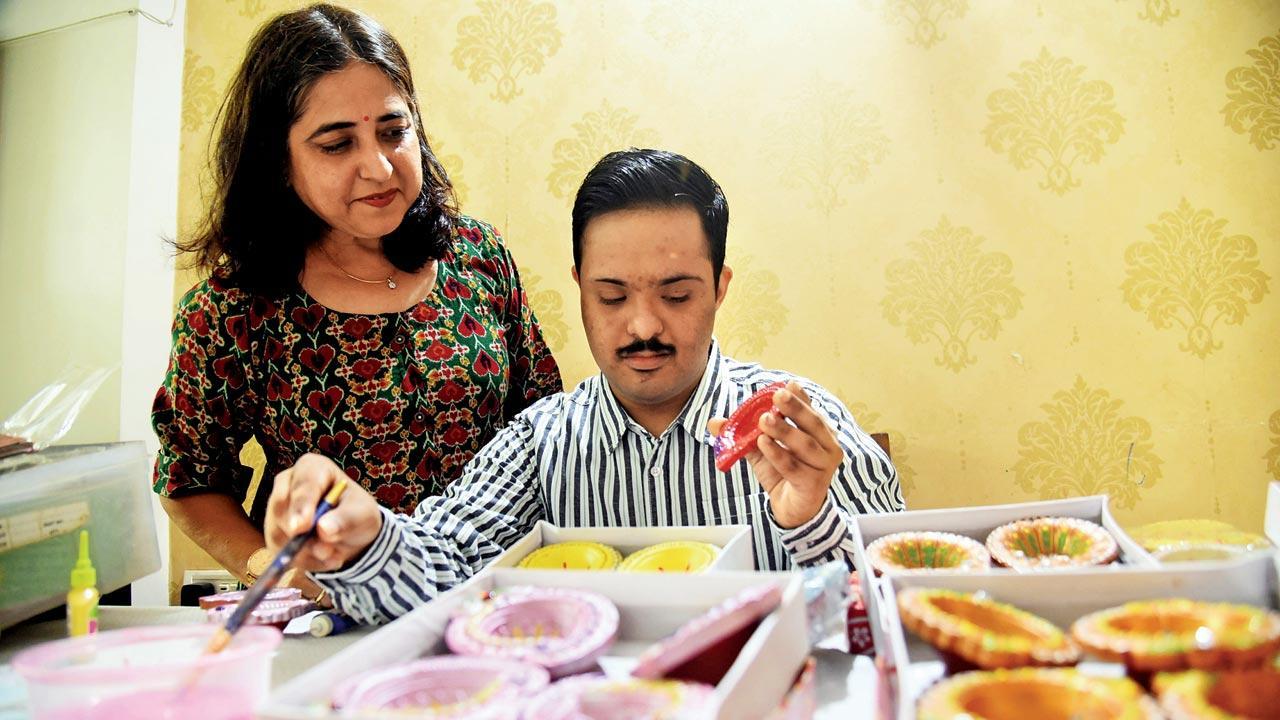 Sachit, 25, is independent, says his mother Saanika Matreja and runs a from-home business of artworks which he sells online. Pic/Sameer Markande
If I could go back in time and relive one moment, without a doubt, I would choose the day 25 years ago when I gave birth to Sachit," Andheri-based mum Saanika Matreja admits. Ten days after he was born, she learnt that he had Down Syndrome (DS). "I slumped on the couch. My world had just imploded. Sachit had been unwell just after he was born. What did I do wrong?" Her husband Rajesh stepped in to make her see the bright side. "In just over a week, I was convinced that this was a blessing and promised myself to love Sachit unconditionally," 54-year-old Saanika says.
Sachit is anything but ordinary. The 25-year-old works part-time at a grocery store near his Shastri Nagar home. Back home, he helps Saanika in the kitchen. He even runs a little business of handmade craft items that he sells online. "He is independent and handles everything from taking orders to seeing they are delivered in time to his clients. He is a grateful boy. Every time he arranges a get together for friends and family, he delivers a thank you speech. If any of us are sick at home, he is the most caring," Saanika smiles. Sachit's younger brother Krish, 23, runs a newly-launched startup called Eatabl. The brothers share an unbreakable bond. "Growing up, they played together and had common friends too. I couldn't have asked for better children."
ADVERTISEMENT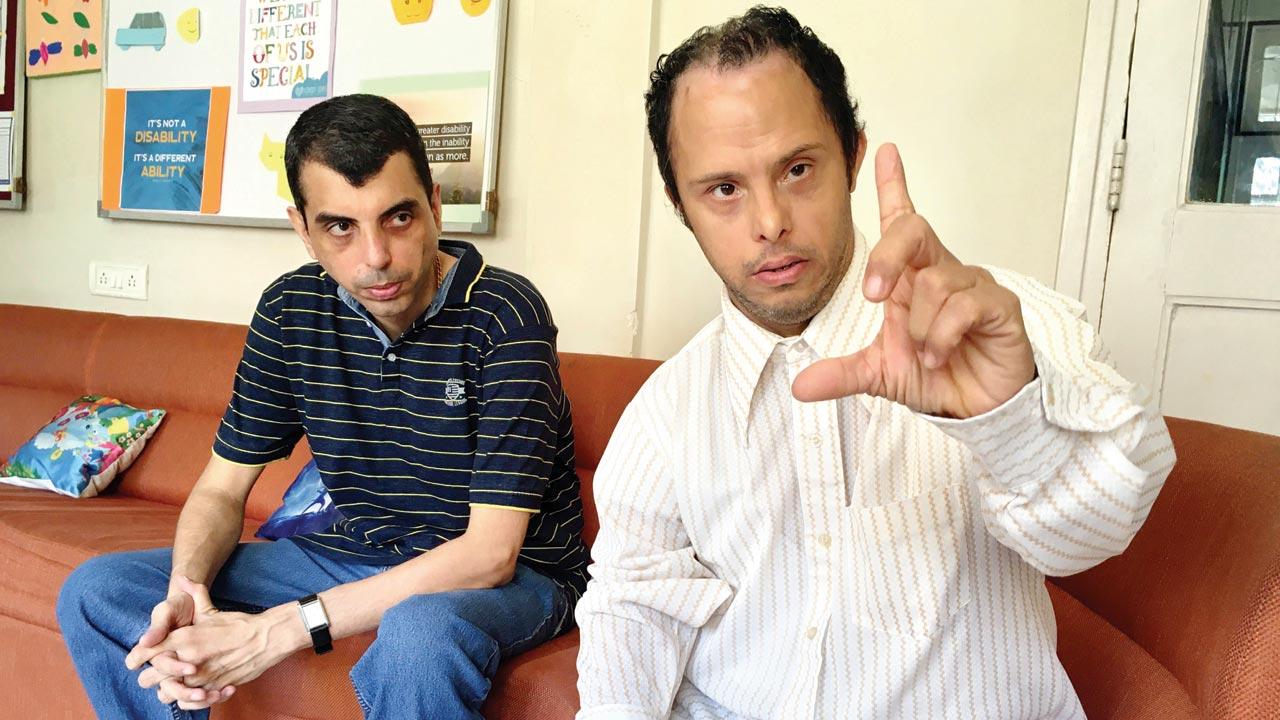 Adil, 42, is his older brother (in white) Dinyar Driver's caregiver. At a very early age, Adil had to be the responsible one and look after his sibling who was born with Down Syndrome. Pic/Atul Kamble
Twenty-five years ago, Saanika didn't have the awareness or advantage that mothers carrying kids with DS have today. Running a diagnostic test like chorionic villus sampling (CVS) or amniocentesis is an easy way to detect the genetic disorder. Dr Pradeep Mahajan, regenerative medicine researcher with Adigos Stem Cells, explains that two tests are performed between nine and 22 weeks of gestation, which can also distinguish between types of DS. In recent years, certain non-invasive prenatal screening tests have also been introduced in which a blood test is run on the expectant mother as early as 10 weeks of gestation. The test detects cell-free DNA that circulates between the foetus and the mother and can detect DS in the foetus 98.6 per cent of the time. 
"In India though, lack of awareness and differences in the economic status and variability in medical services available at urban and rural levels pose challenges in following a standard screening protocol," Dr Mahajan says. That probably explains why India is way behind the West in arresting the numbers.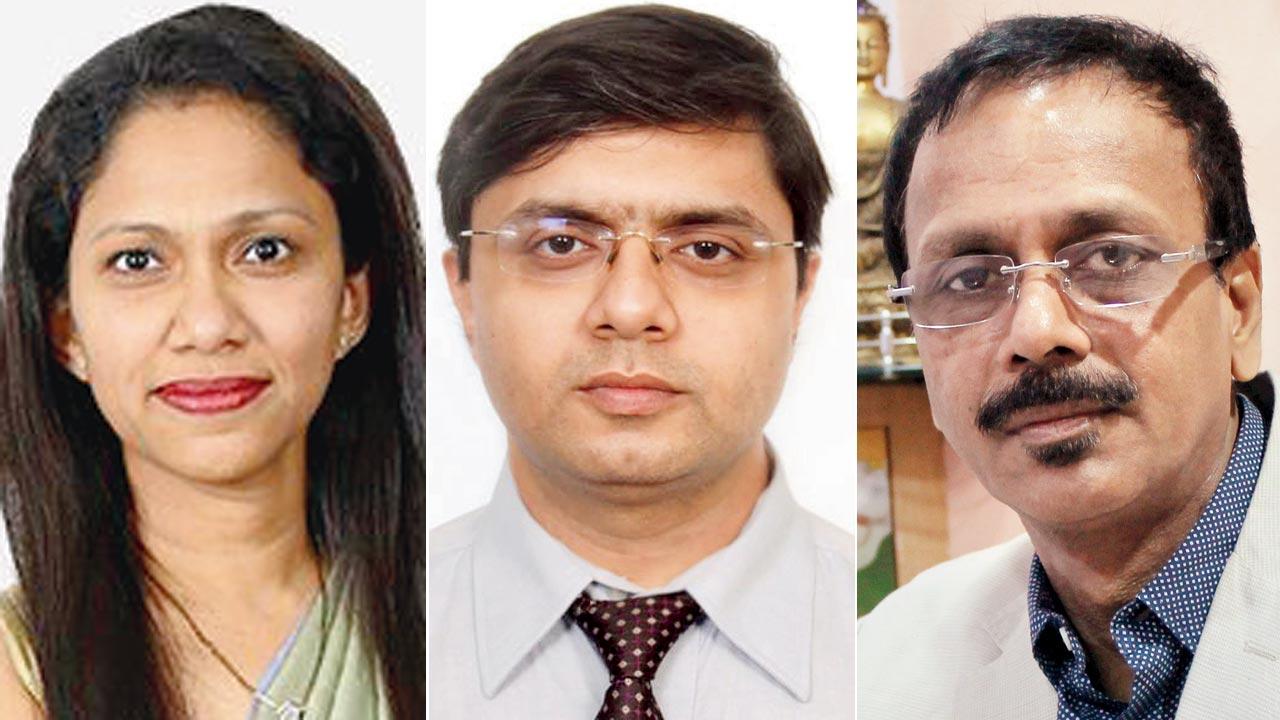 Dr Anagha Chhatrapati, Dr Amin Kaba and Dr Pradeep Mahajan
Fifty years ago, Down Syndrome was considered a serious health condition. Today, globally at least, the numbers are plummeting. While some countries are reporting a decline in individuals with DS, others have "eradicated" the number of babies born with the condition. According to the World Health Organization (WHO), the estimated incidence of Down Syndrome is between 1 in 1,000 to 1 in 1,100 live births worldwide.
This is because of rising awareness on prenatal testing followed by the parent exercising his or her choice, opting for an abortion. Denmark seems to be leading the way. Nearly all expecting mothers choose to take the test; of those who get a positive DS diagnosis, more than 95 per cent choose to abort. In 2019 in Denmark, only 18 children with DS were born in the  country, thus making this the last generation of people with DS.
 
Experts argue however, that to suggest that only prenatal screening will reduce the number of cases is misleading. Dr Mahajan adds, "The decision to have a child is influenced by several factors. In our country, even today, apart from the couple, their parents and relatives play a significant part. Abortion is considered a taboo in several households, irrespective of the prenatally diagnosed condition. On the other hand, educated couples are now more aware of genetic conditions and understand that prompt intervention post delivery can help make the child independent, to the maximum possible extent. Other issues like the inability to abort the foetus due to delay in diagnosis or medical complications play a role too." 
The most recent statistics show that the incidence of DS in India is 1 per 850-900 live births, he adds, saying that the Down Syndrome Federation of India states that 80 per cent of the children with DS are born to mothers less than 35 years of age. Dr Mahajan says sundry factors are contributing to this high number. "The population of India is high and the number of babies born each day is higher than several countries. Combine this with increased awareness of genetic diseases and prenatal screening, and the fact that DS is the most common chromosomal condition, it is obvious that the number of cases being diagnosed is seeing an increase—at least in urban areas."
Dr Priya Deshpande, consultant—maternal foetal medicine, Motherhood Hospital, Kharghar, says that in India, even though pregnant women are advised to opt for certain tests during prenatal counseling, they don't necessarily heed advice. "There is still no seriousness in India regarding DS, and people with the condition are looked down upon or ridiculed. Each and every couple planning pregnancy, and coming for regular follow-ups need to be educated and informed regarding this genetic condition by doctors," she says. 
Of the many health issues Down Syndrome persons experience, heart ailments is top of the charts. Dr Amin Kaba, consultant paediatrician at Masina Hospital, says, "Many may even require surgery. They have higher chances of thyroid issues and are prone to repeated respiratory infections due to poor immunity. They may also have an obstructed gastrointestinal tract and speech and hearing difficulty. Studies have also shown that these kids are more prone to leukaemia, the early onset of Alzheimer's and joint pain. Having said that, none of these are unique to people with DS; they also occur in the general population."
There is a global movement on for the right to live for children with disabilities. This includes parents who believe that despite genetic conditions, these kids are worthy of being born. "But the family needs to understand the implications if they go ahead with the pregnancy after learning about the problems associated with DS or any other anomaly that may be detected," Dr Kaba adds.
Tardeo-based mutual funds advisor Adil Driver agrees. His older brother, Dinyar Driver, 46, was born with Down Syndrome. Despite being the younger sibling, all his life, Adil, 42, had to play the role of caregiver. "I am not complaining. I love him. But when my wife was pregnant, we ensured we ran the screening tests. We were very clear that we'd abort the pregnancy had our child been diagnosed with Down Syndrome. I have seen my parents struggle with Dinyar. There are no facilities available for emotionally disabled persons in India. When I went to New York, I learnt that Down Syndrome persons operate their own bank accounts."
Dinyar lives at Masina Hospital's Aura Support Centre in Byculla. "When he was born, his growth was stunted. He was six when he was taken to school, but they did not admit him as he looked like a two-year-old. Eventually, he went to SPJ Sadhana School for special children and studied there from 1980 to 1995," Adil adds. Dr Anagha Chhatrapati, consultant, obstetrics and gynecology, Global Hospital, feels that the implications of having a baby with Down Syndrome in a developing country like India can be grave. Not everyone grows up to be as independent  as Dinyar and Sachit. "They have a subnormal IQ, which means that they need to be cared for in a special manner and trained to be economically independent after the parents' demise. They also need special schooling, the cost of which is very high. Many times, one parent has to leave their job to be able to attend to the child for the entire day. This leads to a financial drain," she says. 
 
Can India then dream of being DS free? Navi Mumbai-based Lilac Insights is a leading Genetic Health Assessment & Diagnostic Centre. Subhamoy Dastidar, its co-founder and director, replies in the affirmative. "In India, the biggest challenge of having a DS child, is when the child crosses the age of 30. The parents are also older and worry what will happen to the child when they are no more. This is a burden they carry. The public, clinicians, healthcare service providers and also the government need work together to achieve the zero-DS kids goal," Dastidar advises. " Routine sonography screening and biochemistry (blood test) screening has to be mandated by the health care system. Every pregnant woman has to be offered these tests. Till today, these are offered selectively based on criteria like high maternal age and previous family history of DS. On the contrary, over the last 10 years, we have screened pregnancies with high risk for DS or confirmed DS, where the maternal age was below 30 years. So, the screening tests should be offered universally although the choice to take them is the couple's." Dastidar thinks that if the government were to work on this challenge and create awareness about DS with the same focus it does on TB or polio, it would be a different story. 
1 in 850/900
Incidence of DS in children in India
What is Down Syndrome?
Down Syndrome (DS) is the most commonly occurring chromosomal condition, wherein the affected individual has an extra copy of chromosome number 21. Sometimes, DS can be caused by chromosomal translocation as well. Whatever the cause, clinically, children tend to have different physical features such as slanting eyes, protruding tongue, short neck etc., and cognitive delay and mild-moderate intellectual disability, among other features. The key is to promptly identify the condition and initiate quality educational programmes, speech, and occupational therapy (along with positive support from family and friends).