While some first world countries have placed the homeless population right after health workers on priority for the COVID vaccine, India is yet to wake up to an over two million strong group that could become the centre of community transmission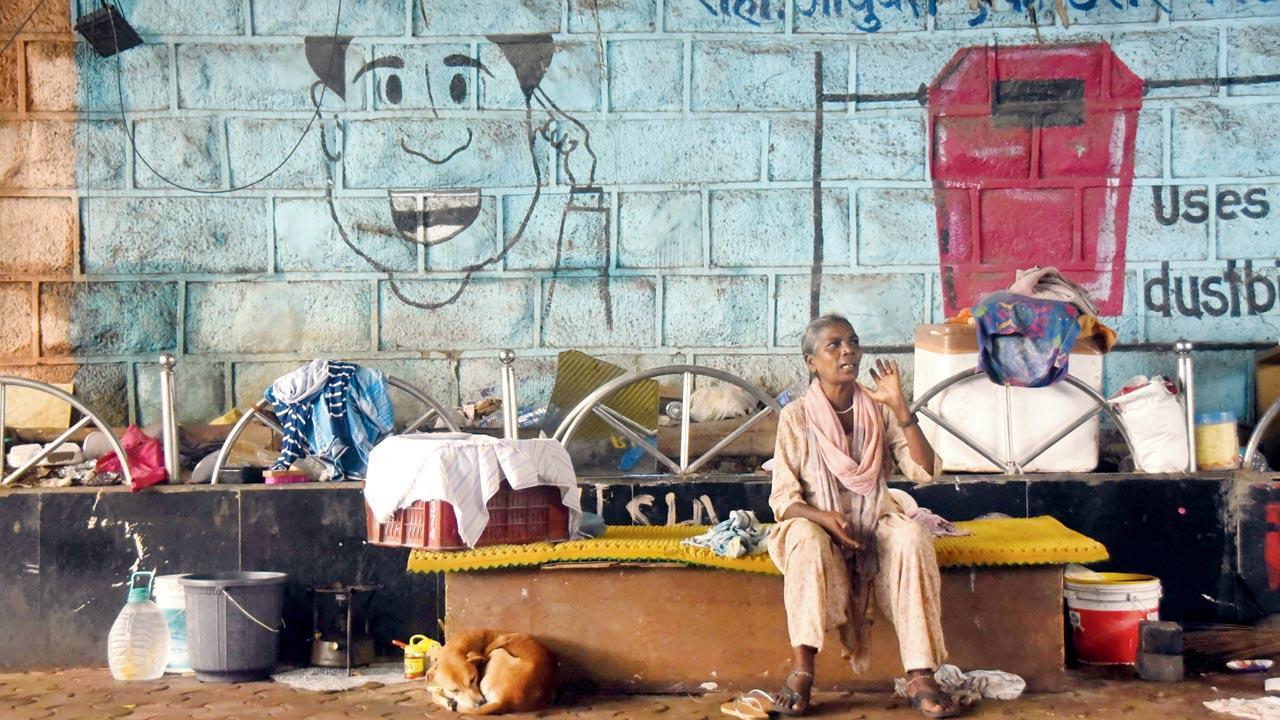 Geeta Shyamsundar Singh has been living on a footpath under Tilak Bridge in Dadar for 40 years. She suffers from high blood pressure and kidney ailment. After losing her job in the pandemic, she is left with no source of income. Pic/Pradeep Dhivar
When the country-wide lockdown was imposed in March 2020, everyone was locked up at home, obeying the government's orders. Everyone, but us. Before the pandemic, I used to do odd jobs and even worked as a househelp near Swami Narayan Police Chowky in Dadar. When I lost my job, I had no option but to beg. I lost my husband in 2011, and my only son, who is 35, is handicapped." 
For Geeta Shyamsundar Singh, 56, stay home, stay safe, means little. She has been living on the footpath under the Tilak Bridge flyover at Dadar for four decades. Although she grumbles about uncontrolled blood pressure and a nagging kidney ailment, she says with confidence, "I have not contracted COVID."
ADVERTISEMENT
Sheela Pawar
Last week, a petition filed by lawyer Kush Kalra, through advocate Mohit Paul was heard by the Supreme Court. The first prayer in the petition asked for restraining beggars, vagabonds and homeless people from asking for money at traffic junctions, markets and public places in all states and Union territories across India to avoid the spread of COVID-19. The apex court refused to "entertain" it. The bench of justices Dhananjaya Y Chandrachud and MR Shah noted, "Why do people beg? Because they have no choice. They are deprived of sufficient means of livelihood. Nobody wants to beg otherwise. If we issue a notice on this petition in the way it has been drafted, people will think the Supreme Court of India wants beggars removed from their eyes. The Supreme Court would never take an elitist view." Calling it a socio-economic problem, the bench added that the Centre and states "must address it as a wider issue of social welfare policy".
Manish Jha, professor at the School of Social Work at Tata Institute of Social Sciences, Mumbai, hails the Supreme Court's decision. "It was a preposterous petition. The bench has now agreed to issue notices to both Centre and the Delhi government, seeking their response on how to deal with this sensitive situation and prepare a plan to vaccinate beggars, vagabonds and homeless people and provide them with basic amenities during the pandemic. Until now, inoculating this community was not on anybody's agenda."

Barbara Dipietro and Bobby Watts
Social distancing among the homeless is close to impossible in dorm-style shelters as well as on streets. A single case in this community can spark an outbreak with devastating results. According to a study led by the MSF (Médecins sans frontières—rendered in English as Doctors Without Borders), almost half of the homeless people in emergency accommodation had been infected by the virus by July 2020 in the greater Paris region.
According to FEANTSA, the European Federation of National Organisations working with this community, people experiencing homelessness tend to be in worse health than others the same age. "In France, according to estimates from the Abbé Pierre Foundation, 1.06 million people are deprived of their own home. In Poland, 80 per cent of the 30,330 people counted on a given night in 2019 were living in temporary or emergency accommodation, with 6,007 people still sleeping rough. In Sweden, 18 per cent of the 33,269 homeless people counted were experiencing a severe form of homelessness, of whom 647 were sleeping rough. In Portugal, of the 6,044 homeless people counted in December 2018, 40 per cent (2,428 people) were without shelter—either sleeping rough or in night shelters," reveals data recorded in a FEANTSA study titled, Sixth Overview of Housing Exclusion in Europe 2021.
Sheela Pawar, 60, lives on a footpath outside JJ Hospital. She does not want to take a vaccine. "I have no fever or cough," she reasons. Pics/Ashish Raje
The situation is equally, if not more, alarming in India. According to the 2011 census, there are 1.77 million homeless people in India, which is 0.15 per cent of the country's total population. And yet, we haven't heard from the central or the state governments about a plan to protect or vaccinate this community. Brijesh Arya, convenor of Homeless Collective, a forum of concerned individuals, NGOs and advocates to guide the homeless, says, "Maharashtra has 2,10,908 homeless persons 
and Mumbai has 57,416. Despite being India's most populous city, the BMC has not prioritised vaccination of Mumbai's homeless population. With the ongoing destruction caused on the streets due to incessant rains, and the fear of an impending third COVID wave, we want the government to take up their inoculation on priority."
Arya works with 10,000 homeless people in Mumbai, of which he is directly in touch with 5,000. "We have been monitoring their health since the start of the pandemic. There were people in the administration claiming that beggars might prove to be big transmitters of the Coronavirus infection. However, our work so far has proven that none of the homeless people we are in touch with have been infected by the virus even once. It is quite incredible, given the uninhabitable conditions they are in. Having said that, this shouldn't be the reason to ignore this population. They need to be vaccinated to prevent community transmission," Arya warns.

Manish Jha and Brijesh Arya
In France, people in precarious situations are in the fourth or fifth phases of the national vaccine rollout plan. Meanwhile, Hungary included homeless people in the second priority group, after health workers. Thankfully, the Navi Mumbai Municipal Corporation (NMMC) has shown the lead and began vaccinating beggars and homeless persons in the township last month. Since homeless people do not possess identity proof, they were being registered on the government portal for vaccination using their biometric data. "But it's not enough," adds Arya, saying, "Many civic bodies in Maharashtra have held such vaccination camps for beggars, including in Dhule, Amrawati, Jalgaon, Udgir and even Nagpur. However, BMC is yet to join the bandwagon. So far, SOPs have come in for shelters where some homeless people stay. But not a word is being said about inoculating those living on the streets of Mumbai. This is a big failure."
Deepali Vandana of Urja Trust agrees. Started in 2011 with its first centre in Dadar, Vandana works to rehabilitate young women who find themselves homeless. "The problem with our country is that we haven't done a census recently on our homeless. If we haven't counted them, how will we roll out vaccines for them? The last census was done in 2011. As of now, we are trying to connect with the healthcare system. But every time we do, we are told about a vaccine shortage in the city. Since most of them do not have documents like Aadhaar card for registration, we write letters to government hospitals like KEM to include them on their vaccine list. As an NGO, we are playing the role of mediator. But what about those who have nobody to fight for them?" Vandana wonders.
 
In a column published in BMJ Opinion, part of a weekly peer-reviewed medical trade journal, authors Margot Kushel, Barbara DiPietro and Bobby Watts have highlighted a tailored approach to bring COVID-19 vaccines to high risk populations like homeless persons. DiPietro, who directs policy and advocacy for the National Health Care for the Homeless Council, shares the suggestions made to the US government.
"The US did a complex set of priority categories for when different populations could get the vaccine. Unfortunately, this was a state-by-state process—we have 50 states so there were 50 state plans. Additionally, the distribution was often different between communities in the same state. So it was very complex. Some states recognised the vulnerability of people who are homeless and included them in Priority #2 [after healthcare workers] so they could be grouped with other populations that live in congregate settings [like nursing homes]. Other states put homeless populations in lower categories, and then others didn't mention them at all. 
Regrettably, some states initially prioritised homeless populations, but then there was a public backlash and the political leaders removed them from the priority list," DiPietro informs.
Watts, who is the CEO of National Health Care for the Homeless Council, says, "Most people experiencing homelessness (PEH) are not able to practice basic measures to reduce the risk of being infected—social distancing and hand-washing. If you are staying in a shelter, you have little power to maintain social distancing—it is up to the shelter to make that possible, and there is great variation among the practices of shelters.  If you are unsheltered and living on the streets or an encampment, you have little access to running water. The Centre for Disease Control (CDC) emphasises the importance of washing one's hands with running water for 20 seconds frequently to keep oneself safe. And, these same measures help keep those in your community safe. So if you are unable to practice them because of the conditions associated with experiencing homelessness, you aren't safe, and you are more likely to transmit contagious illnesses to those near you."
DiPietro agrees that there is ample evidence that shows how vulnerable the homeless people are to contracting the virus. "I believe India—and all governments—should be prioritising people who are homeless, for the vaccine. But this is bigger than COVID-19. The reason this population is at such high risk for COVID-19 is because they don't have stable housing. Providing stable housing is really the answer—beyond simply giving a vaccine. There is nothing good that comes from homelessness. Every community should be acknowledging the violation of human rights this represents, and taking concrete steps to provide housing so they are able to live healthy, productive, dignified lives."
 
Lack of awareness, little or no access to smartphones to register for vaccines, and vaccine hesitancy have come in the way of efforts made by various non-profits to get the homeless people inoculated against COVID-19.
Sheela Pawar, 60, lives on a footpath outside JJ Hospital in South Mumbai. As far as she can remember, this place has been her home since she was 10. "I have children, but they are married and live with their families. I live here," Pawar tells us. We ask her if she is aware of the safety measures. "When the lockdown began last year, some civic authorities came by and asked us to wear masks and use sanitizers. But we knew nothing about the vaccine until recently, when members of Homeless Collective told us to get the shot. But if I don't have fever or cough, why should I fall into this trap? I don't want the vaccine."
Singh shows similar hesitancy towards the vaccine. "I have heard that after taking the dose, a person can fall sick and get fever. I cannot afford that. Who will cook for us?" Singh protests.
Arya says that a lot of men in the homeless community believe the vaccine has side effects. "They think the dose will make them infertile. Some fear the rich get a better quality vaccine, and the poor get a diluted dose. We have been trying to raise awareness, but it is the governing authorities that must communicate with this population," Arya explains.
Jha suggests that the BMC connect with NGOs and other community groups that work with the homeless so that their identification can be fast-tracked. "Specific locations can be earmarked with the help of organisations and a dedicated camp organised for their vaccination. In the absence of adequate knowledge, information, technical know-how, along with lack of resources and vaccine hesitancy, they need to be engaged by the BMC via community groups who can spread awareness and convince them to take the vaccine," Jha adds. He challenges the 57,000 figure, arguing that their experience and on field work suggests the number is far higher in Mumbai. "With the recent fury of the monsoon, the worries of the homeless have increased manifold during the pandemic. With strict lockdowns and prolonged restriction, most of them have lost odd jobs and other means of livelihood, living in penury. It is the state's responsibility to put a system in place to vaccinate them."
1.77 M
Number of homeless people in India, which amounts to 0.15 per cent  of the country's population, according to the 2011 census