In a candid conversation, Padma Bhushan Sudha Murty talks philanthropy, books, having fans across age groups and what it is like to be saasu ma to the British PM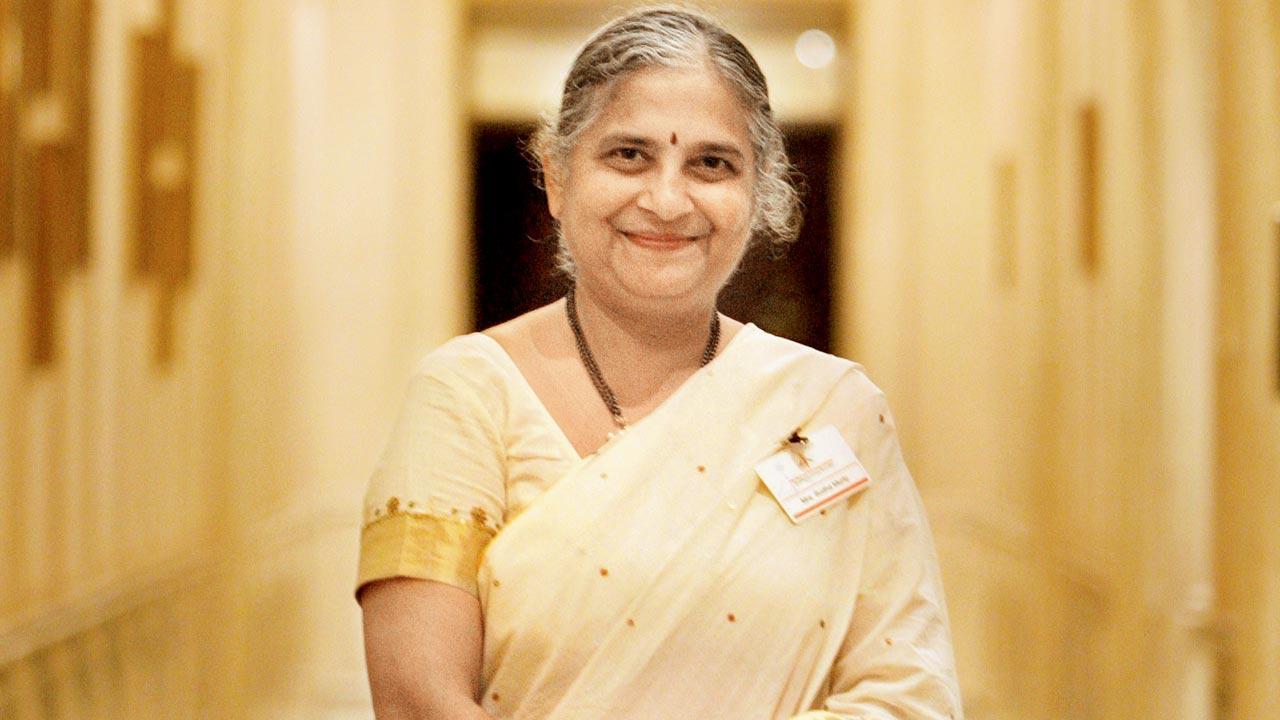 Murty established Infosys Foundation in 1996 and through this, she has worked towards making education and healthcare accessible to all. On the eve of Republic's Day this year, she was bestowed with the Padma Bhushan. Pics/Getty Images
A phone call interview with Sudha Murty, 72, author, philanthropist and recipient of the Padma Bhushan, which she was awarded last week on Republic Day, makes this writer smile. Not just because Murty is a storyteller, who's a joy to listen to, but also because she surprises us with, "I was very fond of mid-day!" As a development engineer at Tata Engineering and Locomotive Company (TELCO) between 1979 and 1982 in Mumbai, she'd wrap up her lunch with a trip to the newspaper vendor downstairs to pick up her copy of this paper.  
Her time at Tata, she says, sharpened her desire to work for the larger social good. The rest of the credit she hands to her grandfather, a teacher, and her father, a doctor, both of whom worked to improve the lives of those around them.
But when her daughter Akshata at 15 years enquired with Murty about her duty, the mother says she was nudged to think more seriously about her purpose and eventually establish Infosys Foundation, the non-profit wing of the legendary company her husband NR Narayana Murthy set up, in 1996. Through this, Murty has worked towards making education and healthcare accessible to all, focussing on development in rural areas and the upliftment of the poor. During the pandemic, Murty found her calling, working towards providing masks, oxygen cylinders, PPE and ration kits to those in need.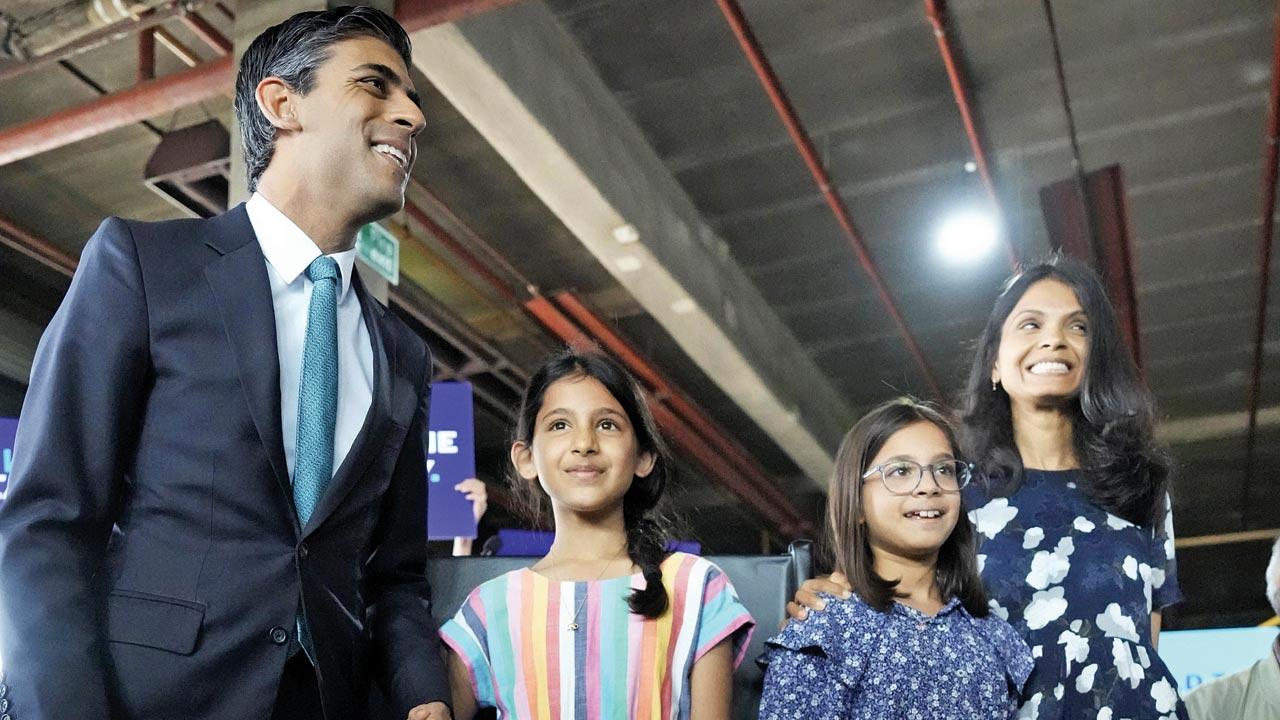 Britain's Prime Minister Rishi Sunak with wife Akshata Murty and daughters Krisna and Anoushka. Life, admits Sudha Murty, has changed for her daughter in the last couple of months who has always been a low-key person, but is now in the public eye with more scrutiny over everything she does. The granddaughters, she says, are being protected from public glare
"It is really touching," she says of the latest award, the third highest civilian honour of the country, "because it comes from the central government, from your country. I never expected it. It was an absolute surprise, but it doesn't change anything for me; my work will continue."
The accomplished writer who has over three dozen books to her credit in Kannada and English, hails from one of India's most celebrated families. But neither her social status nor her age have had a bearing on her audience—she has readers and followers across ages. "Because I am a common person," she asserts. "I can relate to them and they can relate to me." Infosys chairman Narayana Murthy's wife reportedly has a net worth of Rs 775 crore, but for her, money is simply an enabler. "Surely, it can buy you comfort. But not happiness. [Living] A simple life is better and has so many more advantages. Even when I didn't have any of this, I was happy."
She's not off the mark. It's the reason the world sees her as a positive inspiration and her marriage as ideal. When this writer tells her that every other week, a Reel about her life and marriage goes viral, she laughs. "A little patience in life goes a long way. That's my advice to youngsters [in relationships]. Human relations take time to build, so we should be patient. When you are confronted with a difficult situation or are unhappy about something, instead of reacting then and there, sleep over it. Think it over the next morning. It helps," she suggests.
Murty isn't a stranger to life throwing in a curveball, especially with a high profile husband. And now, a high profile son-in-law. British Prime Minister Rishi Sunak is married to her daughter Akshata. "It [his appointment in October 2022] hasn't changed anything. My relationship with Rishi is the same. Positions come and go, I am not concerned by them," she says, adding that as a rule, the family doesn't discuss politics at home, even if it concerns another country. "It [Britain] is his country, he is involved with his politics and in no way are we connected to it. We don't interfere in his work," she says, adding that she hasn't gone to England since he took over as PM and is planning to make a visit after the winter. The dinner table conversation at the Murty home, in fact, revolves around the person who initiates it. "If it's my husband, it's usually a discussion about the country, because that's all he thinks about and how work ethic can improve or how technology can create more jobs or improve lives. My son is more like me and likes talking about both, technology and literature." 
When asked about her daughter, Murty says, "Daughters are great assets for their parents. When they are young, you may find that you don't gel with them, but once they grow up, especially after they are married and have children, they reach out. Akshata is away from me ,but whenever she comes over, it is usually me asking her about her life. I enjoy her company. I pamper her and give her a head oil massage. We talk life, films and books."  
But, life, she admits, has changed for her daughter in the last couple of months. "She is a low-key person and now she is in the public eye. There is more scrutiny over what she does. It must be uncomfortable for her but it is part of the job, right?"
When it comes to the grandchildren, Murty maintains that they are being protected from public glare. "We don't encourage it [kids attending public functions]. Children should be treated like children. When they grow up, they can learn about politics."