As thermal plants run out of coal stock, experts explain why this could be the best time to bid farewell to old ways and adopt greener practices to fulfil our energy needs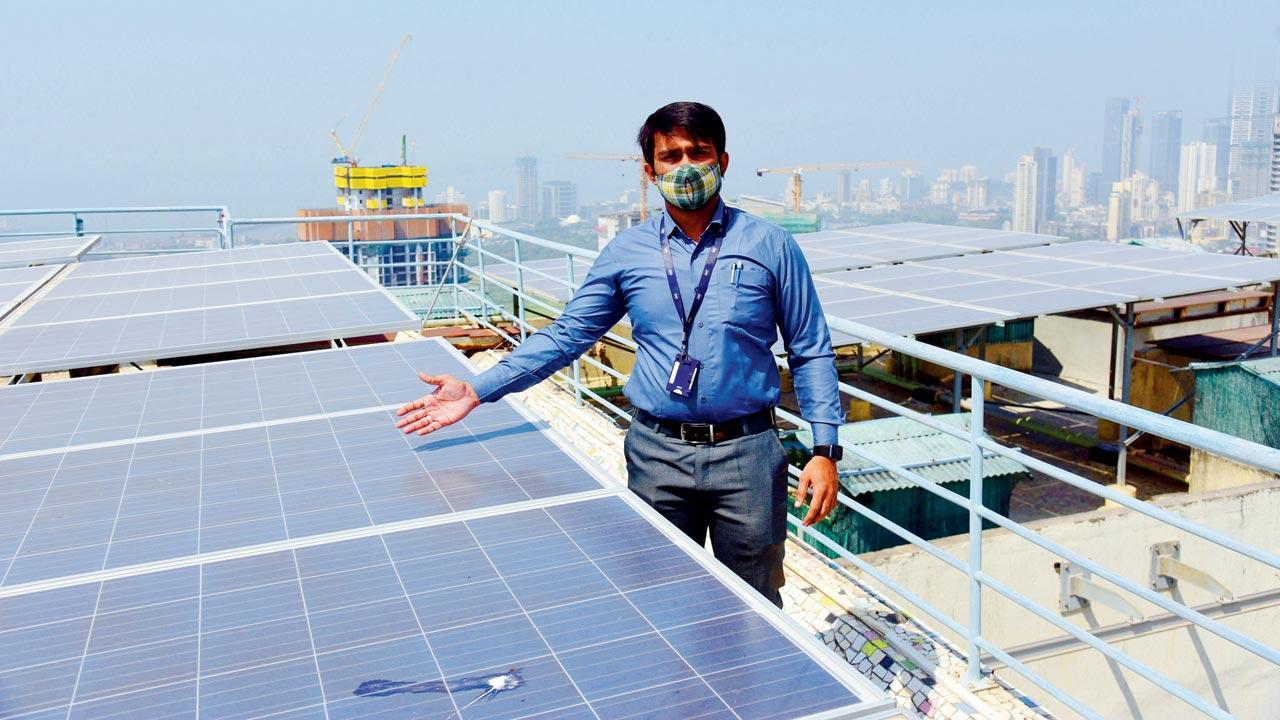 In 2018, residents of Planet Godrej, a five-tower skyscraper in Byculla, decided to install a solar rooftop plant to meet their energy needs in the common areas, which includes the lobby, staircase and elevators. Pic/Pradeep Dhivar
When the first instalment of the Intergovernmental Panel on Climate Change (IPCC) report was released in August this year, the bugle call for countries to "act now" was written all over it. The report by the United Nation's body, which blamed "human-induced climate change for affecting many weather and climate extremes in every region across the globe", pointed out the need for immediate and large-scale reductions in greenhouse gas emissions to limit the disastrous effects of global warming. In the wake of no action, the report, offering a definitive timeline, stated that temperatures would reach (or exceed) the 1.5 degree Celsius threshold of warming by 2040.
The Maharashtra government, which over the last couple of years has been at the receiving end of shifty and cataclysmic weather changes, didn't ignore the signs, shares Manisha Patankar-Mhaiskar, principal secretary, Department of Environment and Climate Change, in a telephone interview with mid-day.
ADVERTISEMENT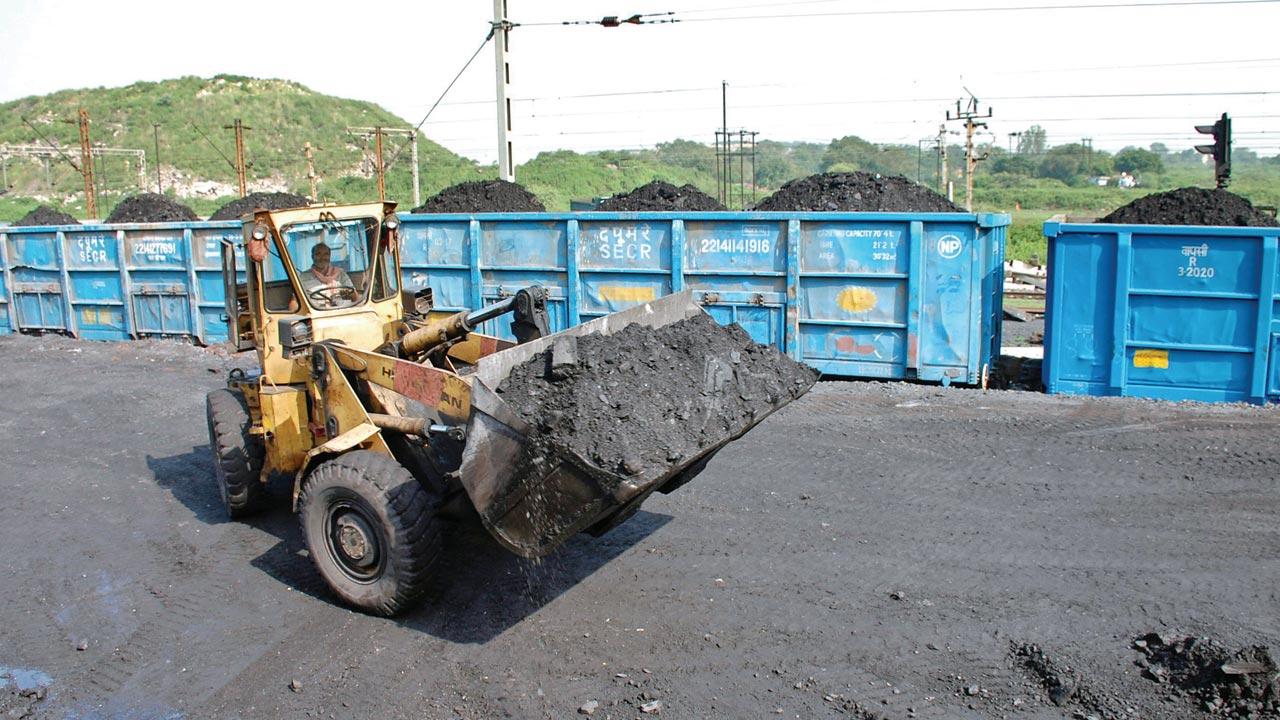 A bulldozer loads coal onto railway wagons at the Jharia coalfield in Dhanbad, Jharkhand. Several thermal power plants in the country are currently facing a shortage of coal. Pic/Getty Images
Right after the report got published, her department made a detailed presentation before the cabinet, discussing the far-reaching impact of climate change. "During the same meeting [held in September], the cabinet approved the formation of the Maharashtra Council for Climate Change," she shares. The MCCC will now be overseeing two main verticals. "First, is to ensure reduction of carbon and greenhouse gases, and second will be to increase the green area/cover for carbon sequestration. In the vertical involving reduction of greenhouse gases, the focus will be on five key sectors—power, industry, agriculture, transport and urban development. Of these, the most important is power. The cabinet has already asked the energy department in Maharashtra to work out a road map for decarbonising power, that is reducing the dependence on thermal power, and ensuring more solar, and renewable energy. These details are currently being worked out by the power department," she adds.
With India currently staring at a power crisis—as of October 17, the Central Electricity Authority (CEA) data showed that 61 thermal power plants had just four days of coal stock—the decision could not have come at a more appropriate time. In Maharashtra, where, as per mid-day's October 13 report, four state-run power units are shut because of coal shortage and three under planned maintenance, the daily deficit of 3,000-3,500 Megawatts (MW) is being met by buying power from other producers, and increasing the hydroelectric output. The goal now is to rely more heavily on the latter, along with other green energy sources, in the near future.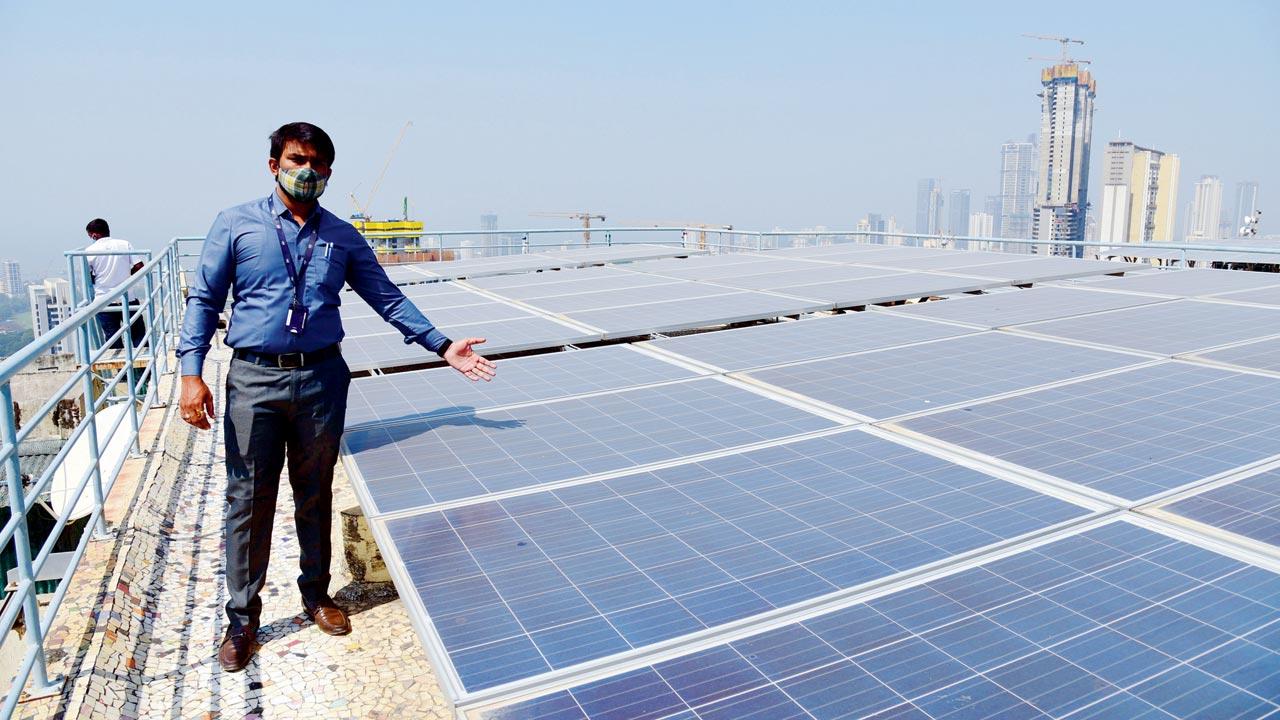 Planet Godrej, a 50-storeyed, five-tower skyscraper in Byculla, installed a solar rooftop plant in 2018. The energy needs of the skyscraper have gone down by half, says Mushtaque Ansari, technical manager at the residential complex. Pic/Pradeep Dhivar
Last month, the Climate Risk Horizons, an Indian research group that identifies and analyses the impact on investment value that the climate crisis is exerting, released a report titled, India's Zombie Threat, where it highlighted how the 27 GW of new coal powered plants being proposed at an investment value of Rs 247,421 crore ($33 billion), represented a significant threat to the Indian economy. The authors—Aditya Lolla, Ashish Fernandes and Abhishek Raj—instead suggest "killing the 'zombie' coal projects" and investing in renewables and battery storage that will save the Indian power system Rs 43,219 crore (US $6 billion) a year.
Speaking with mid-day, Ashish Fernandes, CEO of Climate Risk Horizons, says "Maharashtra is one of the states that is quite uniquely poised to benefit significantly from this transition". In June, the research group had stated that the Maharashtra government could save Rs 75,000 crore through three measures—"the quick retirement of 4,020 MW of old coal power plants by 2022, halting ongoing construction of the new Bhusawal unit 6 that is surplus to requirements and the longer term replacement of expensive coal power contracts with cheaper renewable energy by 2030".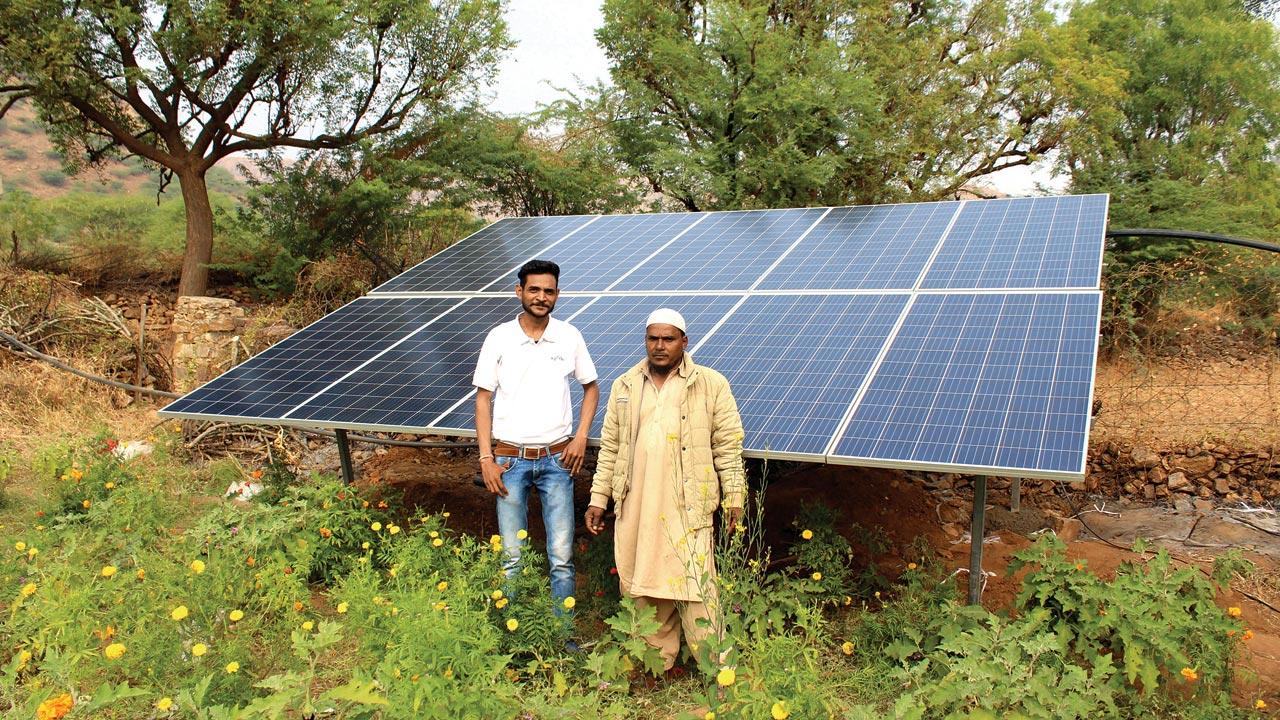 AgriVijay, a marketplace for renewable energy products, has been helping farmers and rural households meet their energy needs though solar power plants and other innovations
One of the reasons why Maharashtra is important in the conversation around renewable energy transition, is also because it has one of the largest coal fleets in the country, and several old plants on the verge of retirement—Bhusawal Unit 3, Chandrapur Units 3-7, Khaparkheda Units 1-4, Koradi Unit 6 and 7, and Nashik Units 3-5. "In our report, we highlighted the economic potential of replacing those old plants with renewable energy. The upshot is that you save costs that would otherwise need to be incurred to retrofit these plants with pollution control equipment, and also reduce air pollution [currently being witnessed in these areas]. Also, the renewable energy that they will be replaced with, would be a lot cheaper. Its really a win-win, even in terms of possible employment opportunities," he adds.
 
This year has been a wake-up call of sorts, for both, the authorities, and also India's leading energy providers. In March, an order issued by the Maharashtra Electricity Regulatory Commission (MERC) stated that power consumers in the state could opt for 100 per cent renewable energy by paying an additional 66 paise per unit for green power tariff. The order was applicable for all consumers and utilities supplying power in the state, including the Maharashtra State Electricity Distribution Company Limited (MSEDCL), Tata Power, Adani Electricity Mumbai Limited and the Brihanmumbai Electric Supply and Transport Undertaking. Soon after, Tata Power announced that its consumers could opt for the transition, and they even set a deadline of three to six months to roll-out the plan.  "The adoption of green tariffs is already happening. Several corporates, like those located in BKC, are keen, because that's part of their overall sustainability goals. Many residential consumers are also slowly making the shift. Are we seeing a tsunami [of change] yet? No, but it's happening," says Ravinder Singh, Chief, Solar Rooftop Business, Tata Power.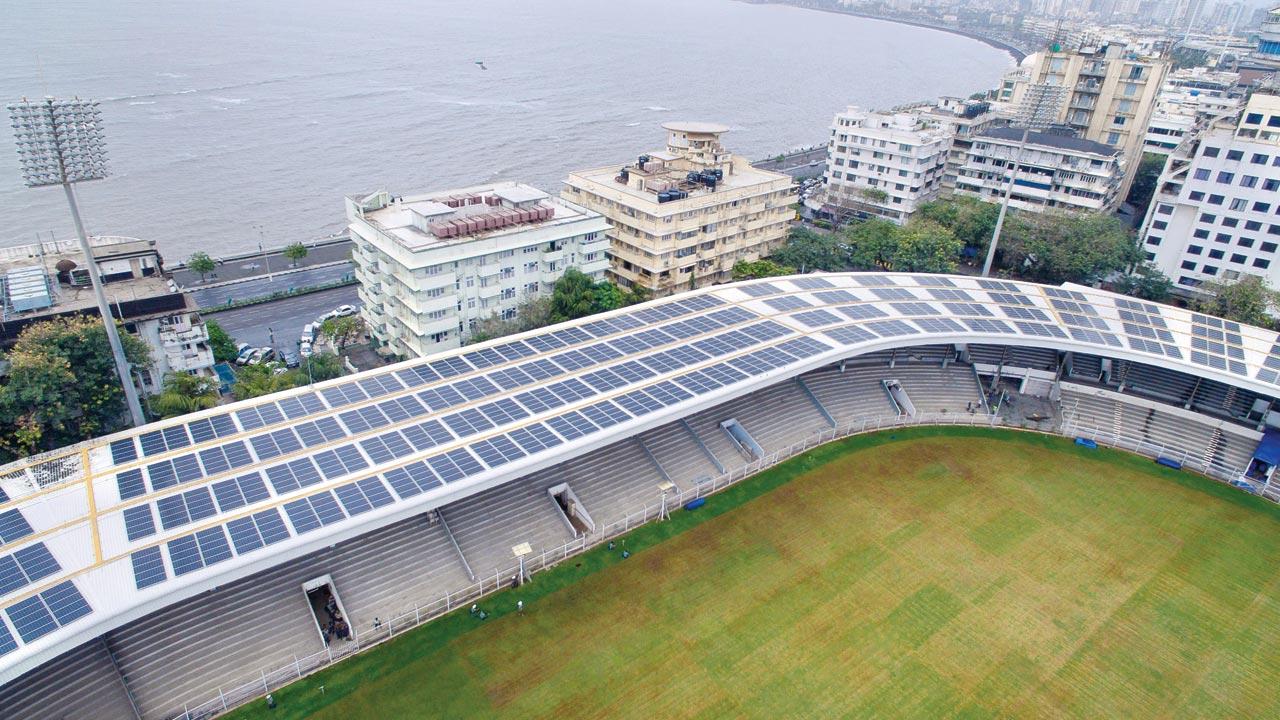 In 2018, Tata Power installed a solar rooftop plant on the stadium roof of the Brabourne Stadium. Known to be the world's largest installation on a cricket stadium, the plant generates 1.2 million units per annum
Not too long ago in June, at the annual general meeting of Reliance, Mukesh Ambani announced investment of Rs 75,000 crore in a new energy business. Earlier this week, Gautam Adani, Chairman of Adani Group, who was attending the Global Investor Summit hosted by the UK government at the Science Museum, London, announced that Adani's renewable energy company, Adani Green Energy Ltd (AGEL) will triple its renewable power generation capacity over the next four years. Apart from announcing, investment of over $50-70 billion in the renewable energy value chain, Adani announced producing the cheapest hydrogen in the world, a source of energy and feedstock for several downstream products.
When contacted, a spokesperson from Adani Electricity said that by 2023 Adani would fulfil over 30 per cent of Mumbai's power requirements through renewable energy sources. "This would further be scaled up to 60 per cent by 2027. This will offset upto 16 per cent of Mumbai's total greenhouse gas emissions and make Mumbai one of the first metropolis to be powered by more than 50 per cent share of renewable energy. The company has linked these targets with financial penalty for non-achievement under its recent issuance of US Dollar denominated bond to international investors, demonstrating commitment."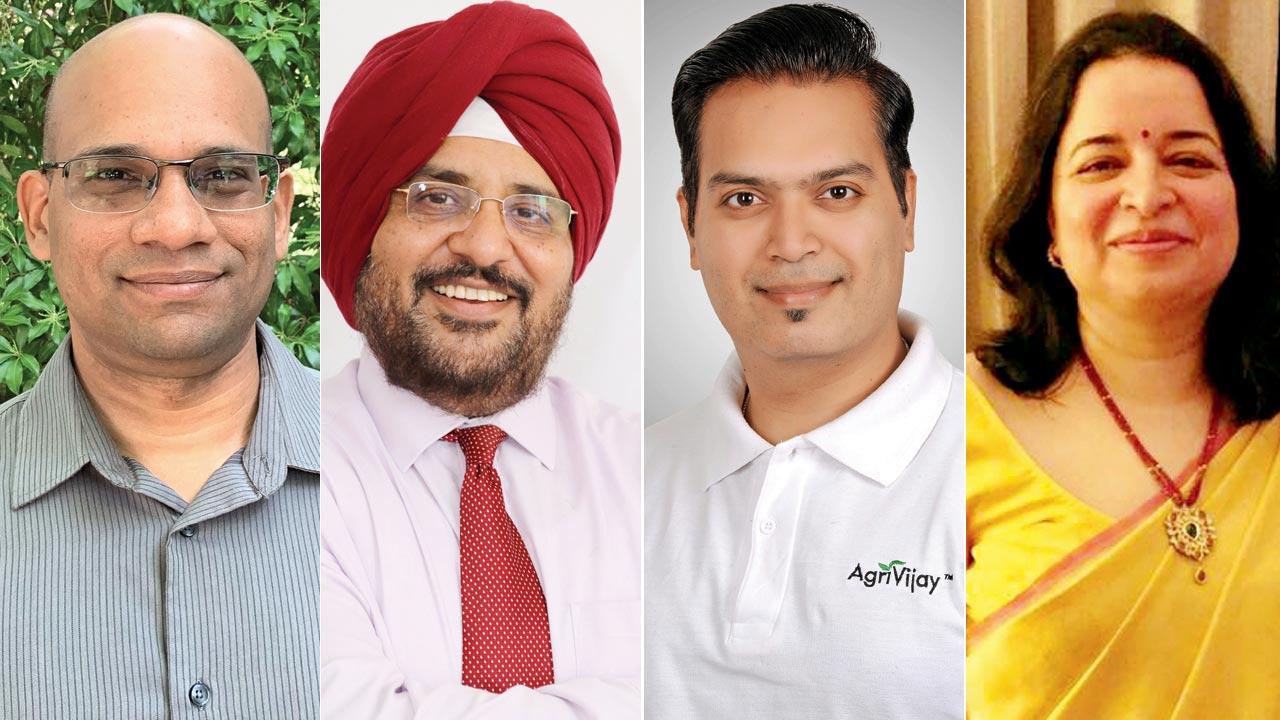 Ashish Fernandes, Ravinder Singh, Vimal Panjwani and Manisha Patankar-Mhaiskar
Singh of Tata Power admits that the renewable energy prices have come down by 50 per cent, "in the last three to four years, because of the scale effect", making it a more feasible and cleaner option.
Fernandes adds that while India is doing a lot of work around green energy transition, they have barely started scratching the top of the surface. "For instance, solar rooftop has not been tapped [in cities]. There is a lot of potential there," he feels.
 
In January 2018, long before the conversation around renewable energy had begun to pick up in India, residents of Byculla's Planet Godrej, a 50-storeyed, five-tower skyscraper overlooking the Mahalaxmi Racecourse, decided to make the switch to solar power. Mushtaque Ansari, technical manager, Planet Godrej, says the demand for this transition came from members of the housing societies of three towers. On an average, each tower was consuming 5,580 kilowatt hour (kWh) units of power per month—this was only for use in common areas, which included lighting the bulbs in the lobby, and stairs, and running the three elevators. The monthly bill would exceed R65,000, he says. Post installation of the Tata Power solar rooftop, the power consumption has dropped by half, with power distribution being shared by the solar power unit and BEST's electricity supply. "Now, the average monthly consumption has dropped to 2,350 kWh units, and our electricity bill usually does not go beyond Rs 40,000." With the amount the residents have saved in the last three years, they have already managed to break even, and cover up the cost of installing the unit, adds Ansari.  
Tata Power, which has been one of the earliest champions of sustainable power, commissioning its first hydroelectric power generating system of 40 MW in 1915, has already installed nearly 70-plus rooftop solar systems in cooperative housing societies across Mumbai. In 2018, they installed a solar rooftop plant on the roof of Churchgate's Brabourne Stadium—the world's largest installation on a cricket stadium—that generates 1.2 million units per annum. "Maharashtra is one of the biggest markets for us," says Singh. He, however, admits that the adoption rate is significantly higher in tier-II and tier-III cities of Maharashtra—Nagpur, for instance—when compared to Mumbai. "Part of the challenge, of course, is that you don't have so many individual home owners in Mumbai. Most of them live in cooperative housing societies, where the roofs and terraces are busy [water tanks, and other kind of obstructions]," says Singh, adding that elevated solar panels could be a good option here.
That green electrification requires ample space for installation, and in an urban setting, where there's already a high demand for power, this is wanting, has proved to be a huge challenge. Singh, however, suggests maximising the use of available space—like installing solar plants at public bus stops or roofs of petrol pumps. "Yes, all of this is not being fully utilised. Not only does it make sense from an environment and sustainability point of view, it is also a compelling argument from a cost perspective."
The model of setting up renewable energy microgrids, which is being implemented in several villages by Tata Power, to end "energy poverty", can also be attempted in urban pockets, feels Singh. "This will, however, work best only for large condominium complexes, educational spaces, institutions, and clubs, where there is a mix of open and rooftop spaces available. Also, because the present regulations don't allow users to sell power outside the four walls of their complexes, this model can only be used to meet internal demands of the premises," he adds.
 
It was in June last year, when Maharashtra was badly hit by the first COVID-19 wave that Vimal Panjwani and his mother, Shobha Chanchlani, a former government official, launched AgriVijay, an online and offline marketplace for renewable energy products for farmers and rural households. This was the time, when the pandemic had hit the agri business hard, and most farmers didn't even have money to pay their monthly electricity bills, says Panjwani, whose last job was as sales head in a biogas firm. He says the idea for the startup came about, during his interaction with farmers from across India. "I realised that these farmers didn't understand the value of the waste available at their disposal, and how they could harness it to generate power. That's also because the product and technology is not available at the village-level yet."  
AgriVijay, as of now, provides everything from biogas slurry pumps, biogas digesters, and solar rooftops, freezers, water heaters and water pumps. "It also serves as an effective platform for companies that struggle to get clients for their renewable energy innovations and products," he says.
The stores reach out to farmers through local channels, and based on their energy requirement and financial strength, help provide them the best solution. "We also install the machines for them."
In the last one year, the bootstrapped company has setup 40 dedicated renewable energy stores in rural Maharashtra and Rajasthan, and has reached out to over 5,000 farmers. Over 100 of them, have already made the green switch. He believes that these small changes, will go a long way in getting entire villages to convert to renewable energy.
Fernandes says that what has worked for Maharashtra is that the state government also seems invested in the environment "and they have definitely taken some measures that are positive".
Singh feels that the COVID-19 situation has also accelerated this switch. "At a subconscious level, the consumers have also realised about the kind of damage we are doing to the environment. And, I think that has been the trigger. On an average, this year alone, we have installed 400-500 solar rooftop systems every month in India. It's a significant jump, when you compare it with last year. It might not look like a huge number on a pie-graph, but we are seeing the winds of change on the ground."
61
No. of thermal power plants that had just four days of coal stock, as of October 17