While Rahul Gandhi's anti-Savarkar remarks have left the ruling party agitated and the MVA alliance divided, historians and biographers examine why the late revolutionary continues to elicit extreme reactions in Maharashtra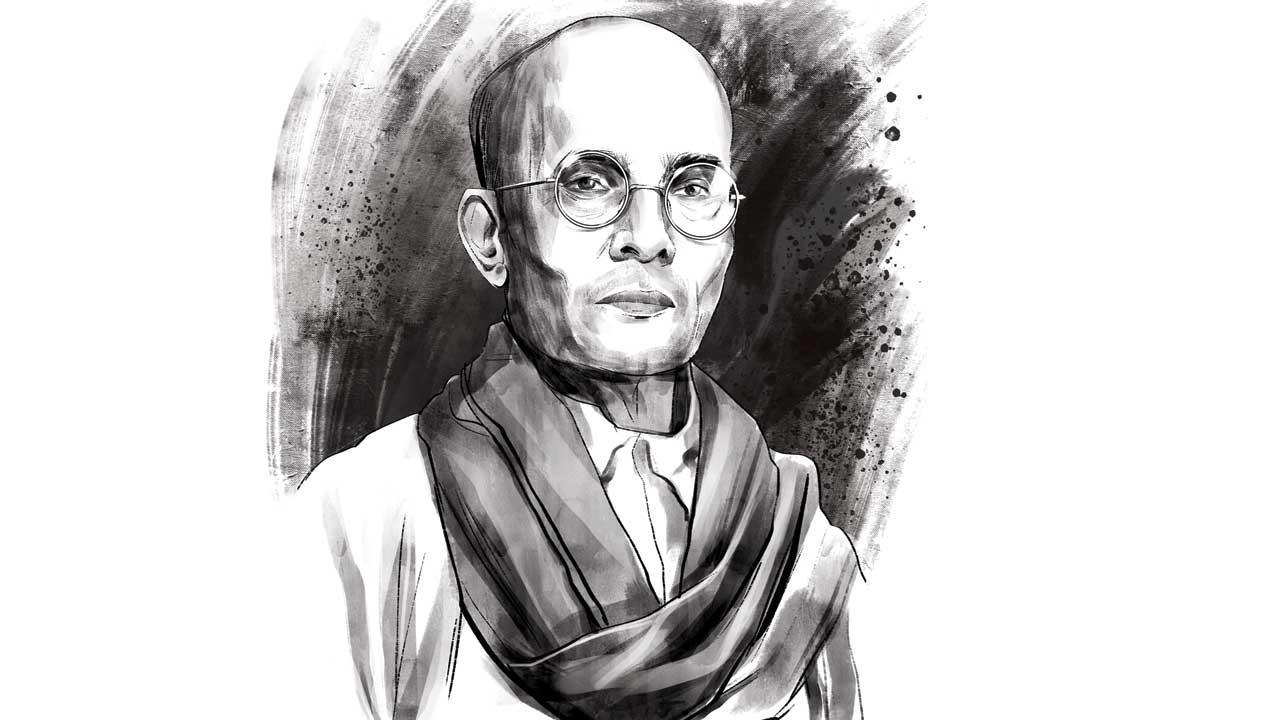 Illustration/Uday Mohite
A complex personality deserves perhaps, a more thorough and nuanced scholarship—one that has escaped India's political chatter and slugfest for the longest time. Indian revolutionary leader Vinayak Damodar Savarkar is one among those, feels writer-journalist Vaibhav Purandare, who in 2019 published the single-volume biography, Savarkar: The True Story of the Father of Hindutva. "Savarkar through his lifetime remained a controversial figure. While he adopted the theory of Hindutva, he was at the same time extremely rational in his approach to public affairs—he didn't have a problem with beef-eating, and did not invest too much importance in rituals. He felt that the books we really need to read are those of science and technology," Purandare tells mid-day, adding, "His Hindutva was not religious, it was political."
This then neither made him a trademark conservative, nor a trademark radical reformer. "One has to understand Savarkar in all his complexities." Unfortunately, he feels, this has not been the case.
ADVERTISEMENT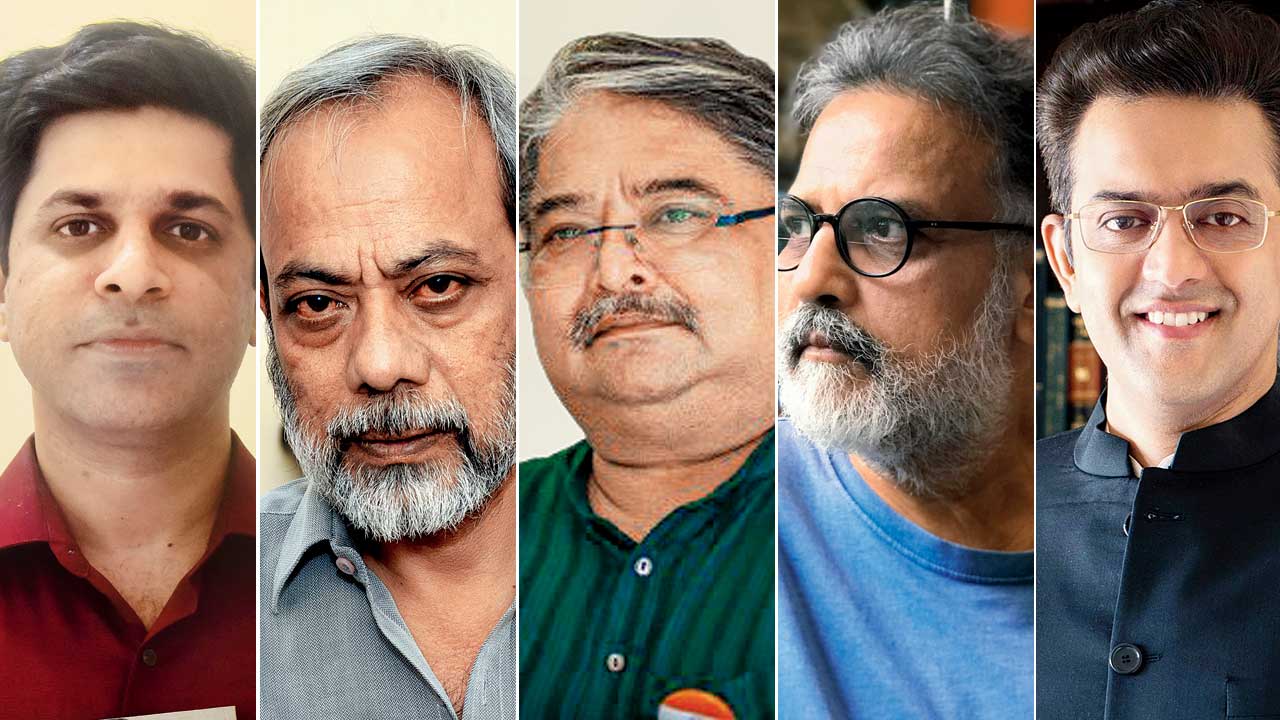 Vaibhav Purandare, Dhirendra K Jha, Ranjit Savarkar, Tushar Gandhi and Dr Vikram Sampath
Earlier this week, veteran politician and chief of the Nationalist Congress Party Sharad Pawar, according to sources, is said to have given a "history lesson" to Congress leader and former MP Rahul Gandhi, after his anti-Savarkar remarks referencing the nationalist's mercy petitions to the British government, sparked news of a rift among the allies in Maharashtra's Maha Vikas Aghadi alliance. "Everyone has the right to their opinions," says Purandare, "But to say that Savarkar is a traitor, not a freedom fighter and that he apologised to the British, while Jawaharlal Nehru and Mahatma Gandhi slept on a dirt floor of a jail cell, is to show that you have poor understanding of history. It also shows contempt for India's Independence movement, and the lack of awareness about the various spin offs of the movement, and the different people who represented the various strands," he argues.  
Also Watch: Analyzing Veer Savarkar's impact on us
Savarkar's life is said to have two very distinct phases—the first is as a major revolutionary, fighting for India's Independence, after which he was sentenced for over a decade to Kaala pani, the Cellular Jail on the Andaman Islands, where, Purandare says, his torture at the hands of the British was well documented. "Savarkar wrote multiple mercy petitions when he was at Kaala pani, seeking his release and also that of his fellow prisoners... that was a legal mechanism available to every political prisoner back then. Before him, many had written mercy petitions, including Bengali revolutionary Barindra Kumar Ghosh, the younger brother of Sri Aurobindo Ghosh."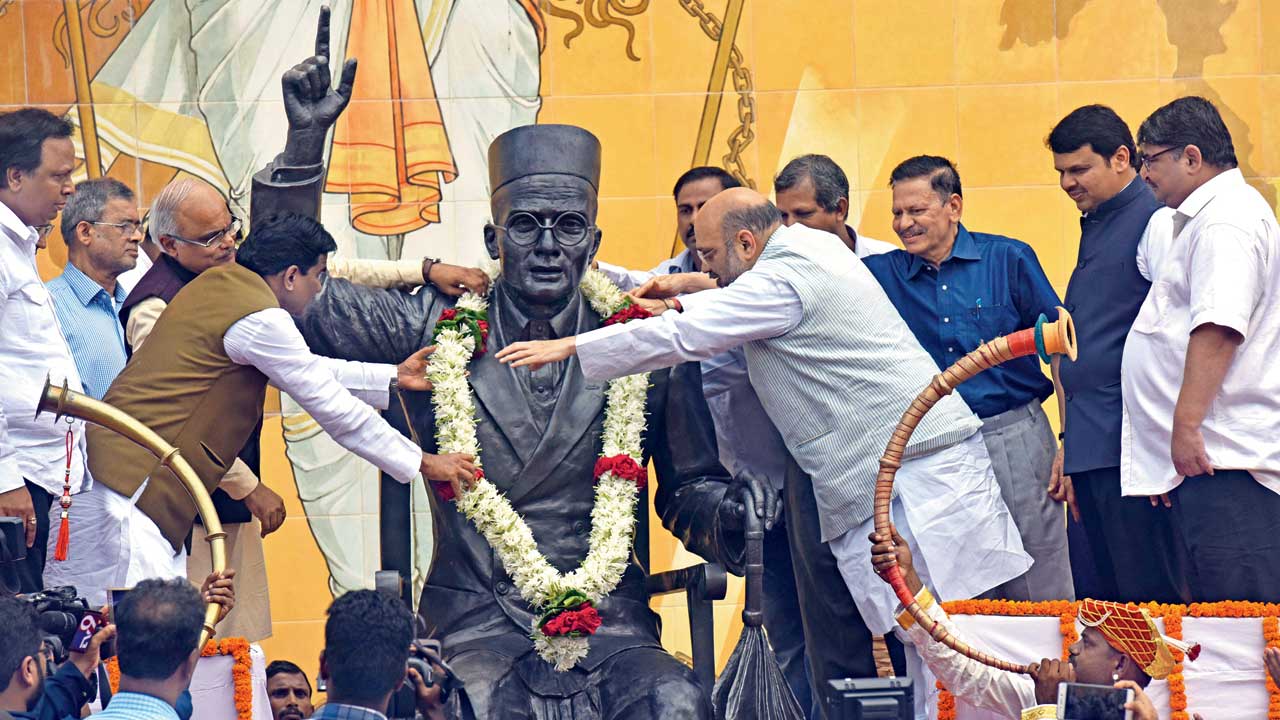 Amit Shah along with then Maharashtra CM Devendra Fadanvis visit Swatantryavir Savarkar Rashtriya Udyaan at Shivaji Park in Dadar in 2017  
Savarkar and his elder brother Babarao's release was said to have been deliberately delayed. According to Purandare, Mahatma Gandhi also made note of this in the weekly journal, Young India, in 1920, where he is said to have written, "His [Savarkar's] only fault is that he loves India too much." The brothers were shifted to jails in the Bombay Presidency in May 1921. "While Babarao was released unconditionally in September 1922, Savarkar was discharged in January 1924 on the condition that he would reside in Ratnagiri district and not go beyond its limits without the permission of the authorities and not participate in politics," shared journalist-author Dhaval Kulkarni in a recent thread on Twitter.
The second phase began soon after, where he led the Hindu nationalist political party the Hindu Mahasabha and critiqued the secular nationalism synonymous with the Indian National Congress.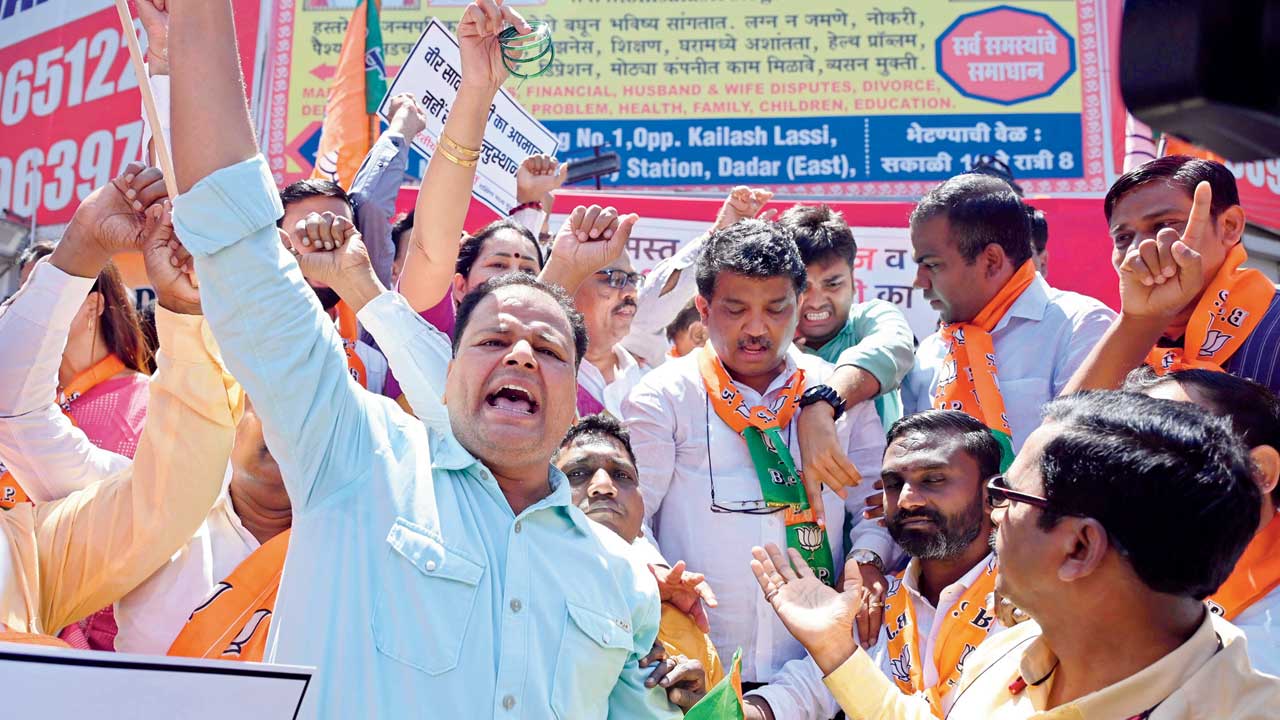 BJP party workers protest against Rahul Gandhi for his recent comments on Savarkar and the OBC community, near Dadar station earlier this month
Historian Dr Vikram Sampath says that contrary to popular opinion, Savarkar wasn't part of the Rashtriya Swayamsevak Sangh (RSS). "He was in the Hindu Mahasabha; it was his brother Babarao Savarkar, who along with Keshav Baliram Hedgewar and others founded the RSS. During MS Golwalkar's [took over as RSS chief in 1940] time, there were in fact a lot of ideological differences between Savarkar and the RSS, which led to a split. Savarkar is even infamously said to have written, 'The epitaph for the RSS volunteer will be that he was born, he joined the RSS and he died without accomplishing anything'," says Sampath, adding, "Hindutva itself had numerous shades, and Savarkar stood for a strong, militarised kind of nation."
Sampath, whose books Savarkar (Part 1): Echoes from a Forgotten Past, 1883–1924 and Savarkar: A Contested Legacy, 1924-1966, explored the length and breadth of the leader's life and legacy, says, he is a "misrepresented figure even by those who claim to support him". "Because nobody has probably understood the intellectual depth of this person and what he espoused."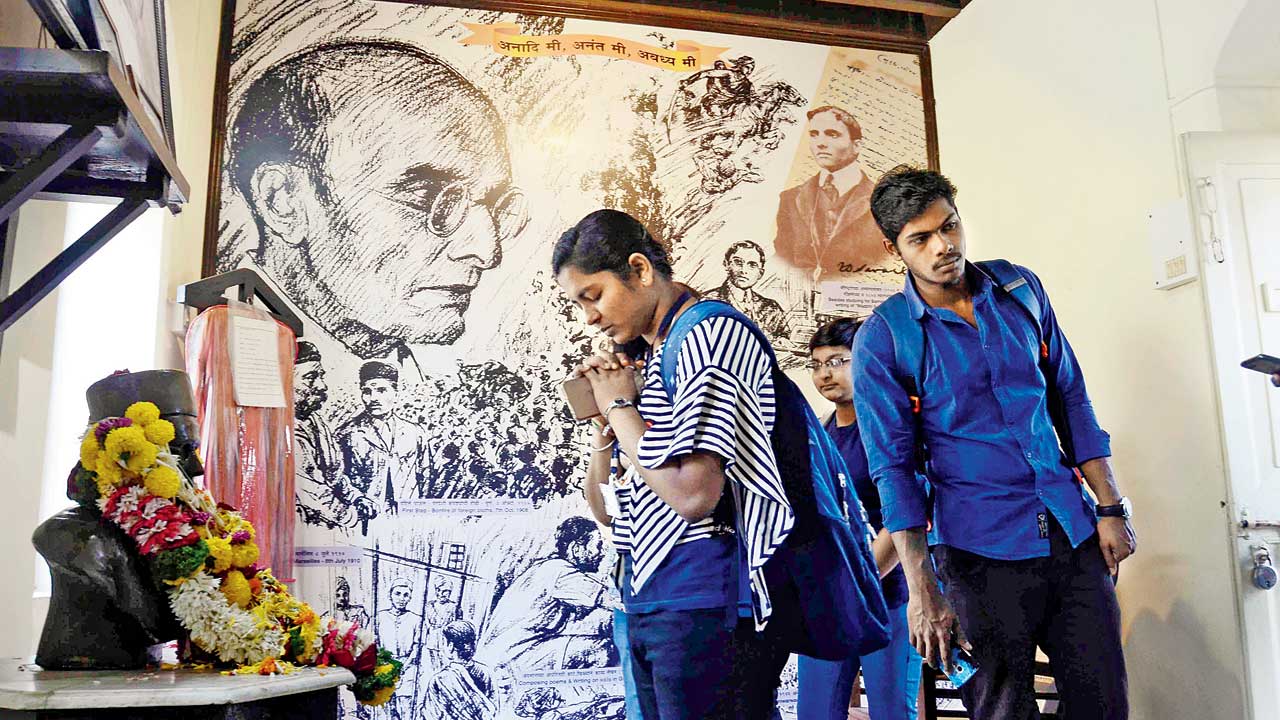 Visitors pay tribute to Veer Savarkar at his room in Fergusson College, Pune, on his death anniversary in 2019. Writer-journalist Vaibhav Purandhare says he continues to be part of the cultural and social consciousness of Maharashtra, because of his poetry, songs and contribution to Marathi literature. Pics/Getty Images
There's another reason why Savarkar came to be identified as a polarising figure. Kulkarni, in his tweet, shares that the "Savarkar who went into the confines of the Cellular jail was a different man from the one who emerged from it a decade on". "While the old Savarkar was an advocate of Hindu-Muslim unity to rid India of British rule, the new Savarkar was burning with anger against the Muslims," he writes.   
     
Delhi-based journalist Dhirendra K Jha who wrote Gandhi's Assassin: The Making of Nathuram Godse and His Idea of India, and also researched Savarkar, says that it is claimed that the bitterness was because of the latter's experience in the Andamans. "Savarkar hinted that the Muslim warders in the jail misbehaved with him, and were converting Hindus," he says, adding, "But, if you look at the developments of the time, you get a completely different picture of why he flipped from an anti-British position to an anti-Muslim one. In 1920, the Non-Cooperation Movement began under the leadership of Gandhi; this movement was launched together with the Khilafat Movement [a pan-Islamic campaign started by Muslims in British India to influence the British Government to protect the Ottoman empire during the aftermath of First World War]. Hindu-Muslim unity was at the heart of the two movements." But Jha feels Savarkar sowed the seeds of division with his treatise, Hindutva, which he wrote in 1923.
Savarkar claimed that those whose holy land was elsewhere would always put their faith before country and thus deserved to be kept out of the scope of Indian nationhood. He is said to have even pushed for re-conversions. "In a way, he convinced Hindus that their interest was more incompatible with the Muslims than the British rulers," feels Jha, adding that even after the restrictions on his movements were lifted, Savarkar didn't align himself with any anti-British movement. "Pro-Savarkars argue that writing the mercy petitions was a tactical move, and that once he was out of jail, he would again launch his struggle against his enemy... but we don't find any struggle."
Sampath disagrees. "By the time Savarkar came out of house arrest, which is 1937, India had witnessed the Morley-Minto reforms, the Lucknow Pact and most importantly, the formation of the All-India Muslim League... all of which was already sowing the seeds of separateness. And the root of this was the Muslim aspiration... they didn't want to be ruled by a group that they once ruled over. You have this in the writings of the Wahabi movement, and Sir Syed Ahmad Khan who in the 1870s, much before Savarkar was born, claimed that Hindus and Muslims could never become one nation. So, to pin all the blame on one man, is to ascribe a lot of importance to him and his ability to undo centuries of co-existence between the two communities."   
The taint of Gandhi's assassination never really left Savarkar, thinks Purandhare. His assassin Nathuram Godse was a Hindu Mahasabha activist. "And that's part of the complicated Savarkar story. There was no evidence found to convict him... but the circumstantial evidence pointed the needle in his direction. It's why every time the assassination is discussed, Savarkar's name finds a mention. Sardar Vallabhbhai Patel had said that while Savarkar may not be criminally culpable, he could not escape moral responsibility. And I think Patel was fairly accurate there... he didn't discourage Nathuram Godse."   
Savarkar was kept in the Red Fort jail for a year, before he was released in 1949. "Though he was acquitted, politically he became a pariah of sorts. He was shunned by everybody for a while. He remained a very obscure political figure for the last decade-and-a-half of his life [he died in 1966]. Post independence, he was nearly forgotten with the Nehruvian establishment taking over completely." He only came back into the limelight when the Manmohan Singh government came to power in 2004 and Mani Shankar Aiyar removed Savarkar's plaque from Cellular jail in 2004. With PM Narendra Modi and members of the ruling party openly displaying admiration for Savarkar, the late revolutionary, feel some, became an easy bait to further political interests. 
 
Tushar Gandhi, the great-grandson of Mahatma Gandhi, says what Rahul Gandhi said wasn't wrong. "Savarkar was an extremist and he is going to elicit extreme reactions. It's no surprise why he is the icon of the forces of polarisation and division today. We cannot stifle truth." Ranjit Savarkar, the grandnephew of Veer Savarkar, who has demanded an apology from Gandhi, and has already filed two cases against the Congress leader in the past, says that it is unfair to use Savarkar for political gains. He tells mid-day, "[Rahul] Gandhi is targeting Savarkar so that he can bag votes... he claims that Savarkar apologised to the British, but I challenge him to show me any such document where he did. He served 14 years in jail and 13 years in house arrest—he was kept outside mainstream politics for 27 years by the British. How can anyone say he supported the British?"
Meanwhile, leaders and ministers of the BJP-Eknath Shinde led Maharashtra government have taken to their social media to register their protest, changing their display pictures to Savarkar's taglined Mee Savarkar and Amhi Sare Savarkar. 
Purandare says, "Savarkar is very much part of the cultural and social consciousness of Maharashtra, because of his poetry, songs and contribution to Marathi literature. His book on the Andamans, Majhi Janmathep (My Transportation for Life) is read in every Marathi household. It becomes very difficult then for Maharashtrians across political categories to look at him as a traitor. His sacrifices are still fresh in everyone's minds."
The pride of Nashik  
Vinayak Savarkar was born on May 28, 1883 in Bhagur, a village 20 km from Nashik. He was only 11 years old when he gathered a group of 10-12 schoolmates to 'avenge the attacks on Hindus' in the wake of the widespread Hindu-Muslim violence in Yeola and Dhule in Nashik district. The group snuck into an abandoned mosque, and "caused some damage". He was only a teenager when he wrote for papers. "The Nasik Vaibhav, a prominent paper in the district, published an article on Hindu culture written by Savarkar on its editorial pages... he also won the top prize at a debating society in Nashik," writes Vaibhav Purandare in his biography of VD Savarkar. 
14
Number of years Savarkar served in jail