Shrinking pockets and travel fatigue have singles and couples choosing tiny, but well-connected, homes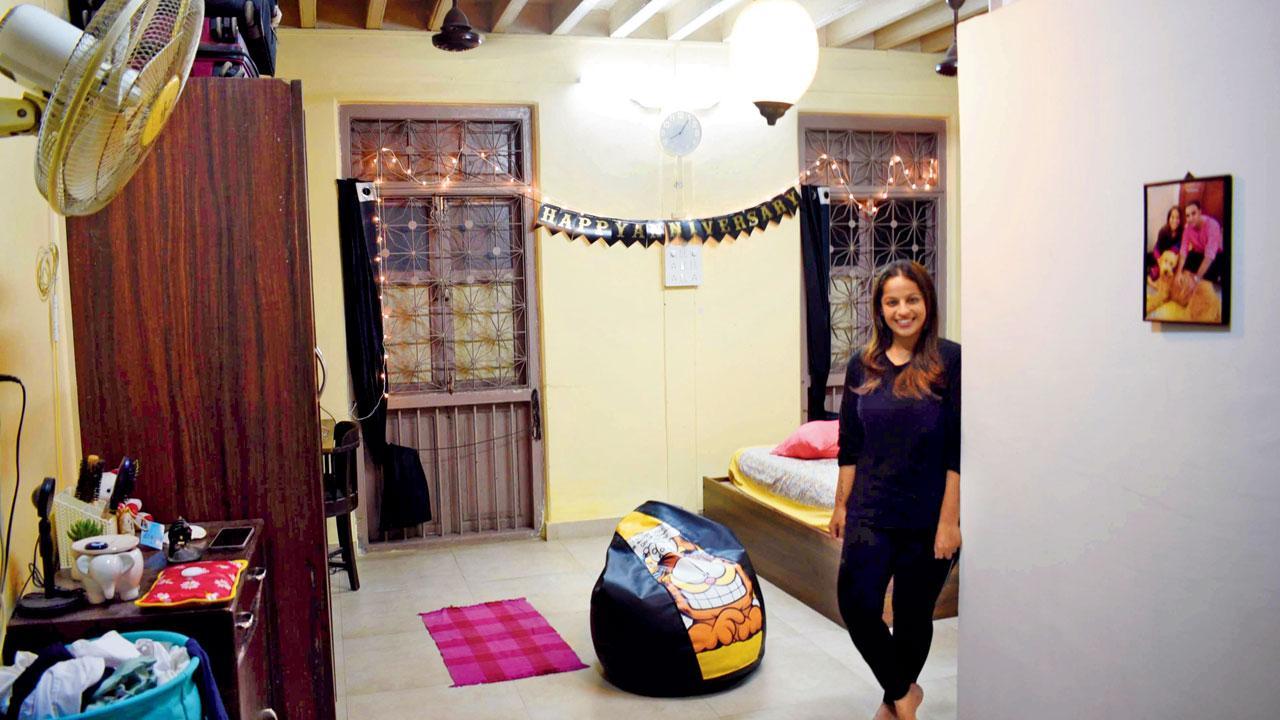 Mallika Kamodia (26) in her Grant Road west, Studio apartment where she lives with her boyfriend Anav Kotecha. Kamodia pays a rent of Rs 29,000 and prefers to stay in South Mumbai for her work as an animal behaviourist. Pic/Sameer Markande
I love my small little studio apartment on Grant Road. It's cute and enough for my boyfriend and I," says Mallika Kamodia, a canine behavourist. Kamodia belongs to the legions of Mumbaikars who have opted for smaller homes in the heart of the city over a spacious one two hours away. Small yet centrally located, these studio apartments sometimes with a compact bedroom, are ideal for those who like Kamodia are five to six years into their career and want to live in the island city. It suits the lifestyle of the footloose who don't have to make room for children, parents… or pets.
The studio apartment has its roots in New York City where it held only enough space for a bed and a counter for a hot-plate, informs Ayushi Ashar, Director at Ashar group. She lived in one of these back in college, and the group has now launched a project in Majiwada, Thane early this year that includes a compact one-bedroom apartment. "The Mumbai studio apartment would be considered a one-bedroom in New York or London," she says. "Here, we call it a compact bedroom as the kitchen layout is such that it is demarcated from the living room, and a small partition sets the bedroom apart."
ADVERTISEMENT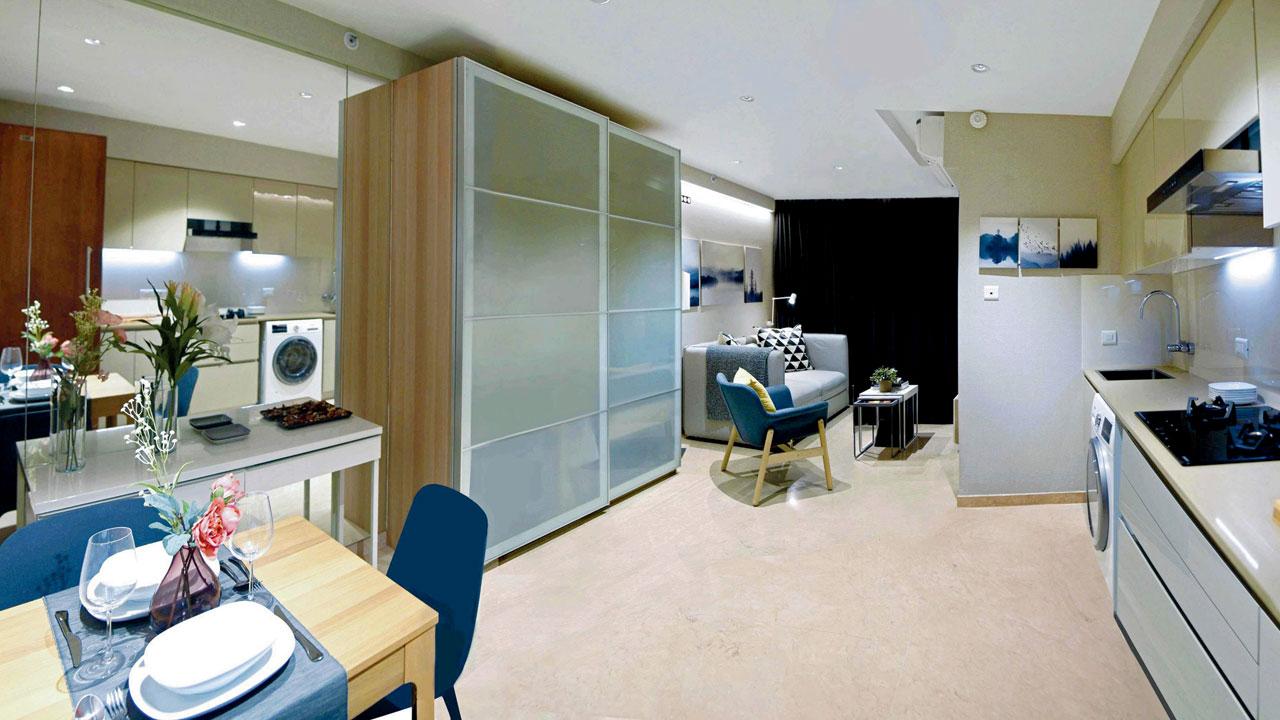 Hiranandani's trendy Studio apartment at Thane has become a hub for singles and couples who want to live close to their workplace in style
The ability to be a hop, skip and a jump away from work and family is paramount for one kind of Mumbaikar. Kamodia, for instance, lives a mere five minutes from Grand Road railway station from where she can go to Marine Drive, where her parents live and the street dogs she feeds gather every day. "We moved here one-and-a-half years ago, and it is big enough for the two of us," says the 26-year-old who lives with her apprentice lawyer boyfriend who travels to Nariman Point. Originally from Coimbatore, he would rather avoid the city's overwhelming public transport. "The entire building belongs to one person, our landlord, who is extremely kind and adjusting. I am allowed to bring the animals I rescue and we have a community here. I don't think we'd live anywhere else unless we'd really have to, or if we wanted children."
Their apartment contains a bed, study table, a fridge and a wardrobe, and a bare kitchen (they rely on dabbas for meals and only cook breakfast at home). It is a tight squeeze, but the couple prefers a commute-free lifestyle. Kamodia's dog training profession takes her all over south Mumbai on her trusty two-wheeler. In a few months, the couple will be moving to a dolled up flat on the floor above, with an enviable rent of just Rs 29,000.
Shreyasi Sarkar wanted to buy her home before she turned 30 and hit her target a year earlier. Sarkar has bought 'compact one-BHK' at R1 crore. Her window overlooks Versova beach, "I work as a strategy analyst by day and lifestyle influencer by night," she chirps. Sarkar lived with her parents in Kandivli, but moved to Thane in 2016. Sarkar wanted to save on commuting, but didn't not like area to and found it to be unsafe, she moved back to Kandivli in October 2022.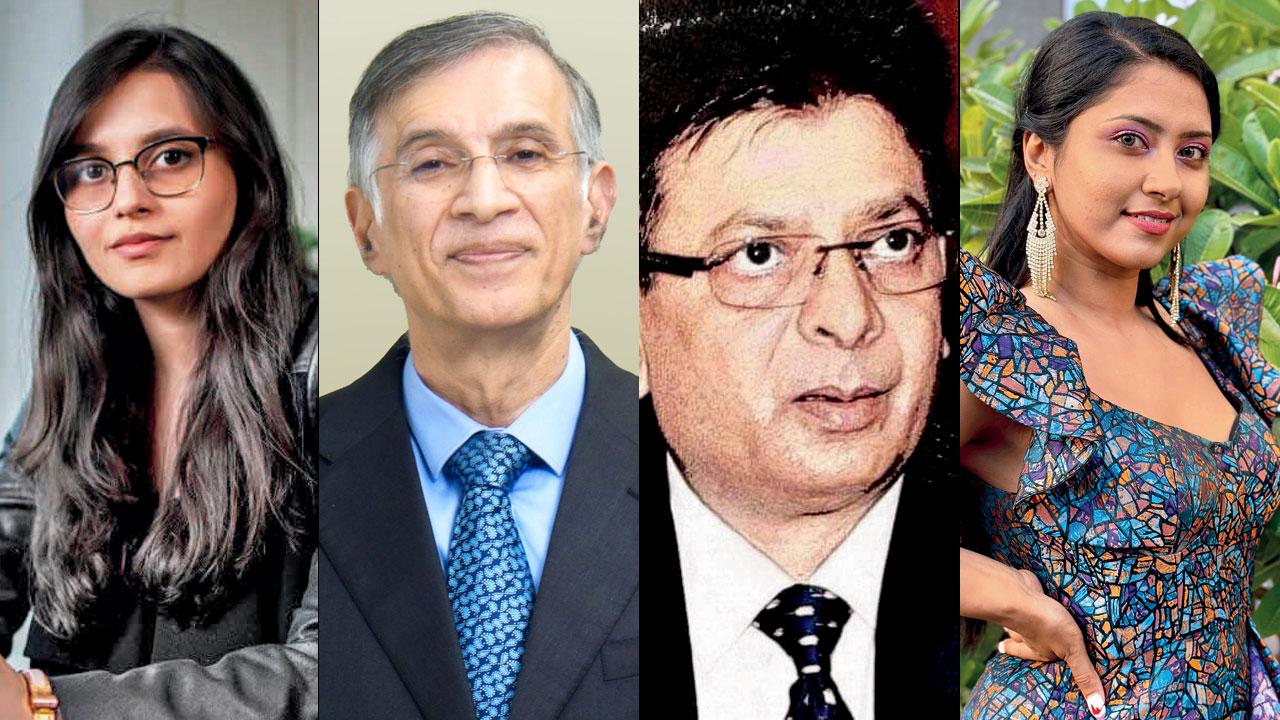 Ayushi Ashar, Niranjan Hiranandani, Arvind Goel and Shreyasi Sarkar
"However," she says, "I didn't want to live in a rented flat and wanted something of my own too. The apartment is 400 sq ft and more than enough for me. The interiors are currently being done, and I will move in a month later." As a young applicant, her home loan's tenure is 30 years; and she bought the then under-construction flat in 2022. Sarkar's new home she says will save her time and money as she travels from Kandivali to Thane by road for now.  Her new home will be a five-minute rickshaw ride to Versova Metro station, from where she goes to Ghatkopar; then a train to Mulund and a rickshaw to Thane.
But Andheri nurtures her moonlighting as a digital lifestyle content creator with several locations to shoot in and around Andheri over the weekend. Sarakar's building complex has a basic gym, but no other recreational facilities, which suits Sarkar just fine. "People go to Andheri Sport Club or other clubhouses to swim and for other fitness activities. That makes more sense as many people including me, just wanted the basics and nothing fancy in a house complex, at extra cost." This bare bones approach to amenities is another lure for home buyers towards studio apartments—raw flats, as they say in real estate parlance.
The pandemic has made people more reluctant than every before to travel too far for work and most corporates have seen employees ask for a hybrid between work-from-home and work-from-office. Colliers' latest report—'Emerging Trends & Opportunities in office sector- 2023' says that 63 per cent of the corporate world has shifted to hybrid working hours. The report observes an, 'Increase in rate of return to work with hybrid working being most preferred.'
Seemingly ideal for Mumbai's young, single workforce, why aren't real estate developers investing in high-end studio apartments as seen in the West? Ashar says the economics don't support it: "A studio apartment is the most expensive to build. In a one or two bedroom flat, the expenses are spread over 700 to 800 sq ft. In a studio apartment, we have to fit in a bathroom, kitchen, partitions in 300 to 400 sqft. The construction cost remains the same, but we do not get adequate returns."
An Anarock study recently observed that the housing stock of studio apartments dwindled in the top 7 back in 2021—out of 1,063 new housing projects in Bengaluru, Hyderabad, National Capital Region, Hyderabad, Chennai, Pune and Mumbai,  only 91 contained studio apartments.
Navi Mumbai, another attractive destination for home buyers, has negligible number of One Room Kitchen, Arvind Goel, former president of Navi Mumbai, Maharashtra Chambers Of Housing Industry (MCHI)CREDAI , says, "The concept works only in SoBo; no one wants a studio apartment in Ulwe, Belapur or Panvel. If they do, it's just as a weekend getaway or for investment purposes."
Kamodia and Sarkar have both said that they might move into a bigger place later in life, but the couple also agrees that the Mumbai's expensive real estate would mean that this would take time. In fact, it ranks sixth among 46 cities globally in terms of annual price growth of high-end residential properties, with an appreciation rate of 5.5 per cent, reveals Knight Frank's report Prime Global Cities Index Q1 2023.
Niranjan Hiranandani vice-chairman of National Real Estate Development Council (NAREDCO) has been one of the first to bring in studio apartments in the city in Thane. The veteran feels that the studio apartment trend will be spurred by younger millennials—militant about their independence, "As young millennial emerge as new home buyers, modish studios will be next in trend. As cost of living soars up in urban centres amidst inflationary environment, studio living is preferable by migrant working populace. Studio apartments reflect urban chic living and curated personal spaces in this metropolis. Many independent youth prefer to rent out studios at premium locations closer to business centers."