An Indian environmental designer living in San Francisco has designed a micro dwelling to solve the homelessness crisis in LA. She tells us why India could use it too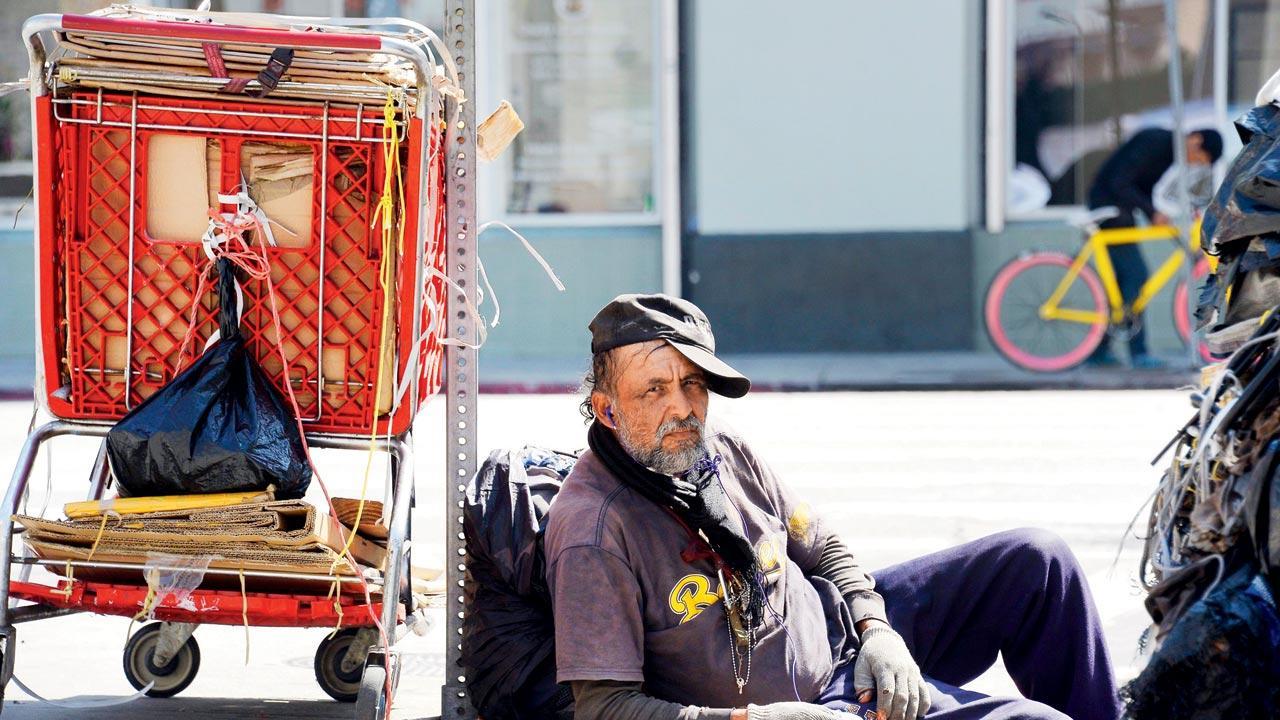 A homeless man in the Skid Row section, Los Angles, in a file photo. Pic/Getty Images
In 2018, when Los Angeles Mayor Eric Garcetti reached out to architecture and design schools in the country for guidance to design what is known as bridge housing or temporary shelters for the homeless, environmental designer Jayati Sinha decided to step up to the challenge. "The project appealed to me because the idea could be directly transported to any country in the world that faces some version of homelessness," says the National Institute of Fashion Technology graduate. "I know what it feels like to be followed and threatened by strangers. Not having a place to go back to at night must feel frighteningly vulnerable. Imagine experiencing that every day! People deserve to feel secure." 
California's ArtCenter College of Design participated in the challenge with a project led by Professor James Meraz, where Sinha joined as an environment designer.
Her prototype of the Pop Hut has been accepted by the Los Angeles mayor and is now in the process of gathering funding. "The Coronavirus pandemic stalled the process, but with vaccinations in full swing, the project is back on track," she says. The Pop Hut is an easily transportable, folding, flat packed housing concept featuring a shaded entry, intended to give the structure a cosier feeling of home. It has a front door with a keyed lock, and a tiny front stoop complete with a motion-activated porch light. Inside the hut, Sinha has used colour and transparency as "therapeutic tools to make users feel secure and cared for". "The interiors also have some open shelving so that the user can customise it according to their needs, personal aesthetic and belongings to make it feel like home. The total footprint of the hut is 5 m2. So, this is an ideal solution for temporary housing to be provided at construction sites, defence installations and even for slum dwellers." The hut was built for about USD 2,000 (about Rs 1,48,434). She says the cost can be reduced further if the huts are made in bulk and using lower cost of materials in India. This version is made of birch plywood, polycarbonate panels (translucent material), aluminium tubes for frames and honeycomb panels for insulation. "I welded each panel myself. 
ADVERTISEMENT
A homeless woman who has been living under the Dadar TT flyover for over a decade. Sinha says she realised that America was grappling with as severe a problem surrounding homelessness as India. Pic/Pradeep Dhivar
That being said, those materials are not the highlight of this concept. What makes it great is the flat packed design that can be reassembled, expanded and contracted into different sizes because of the panel design," says Sinha, who works as visual designer at Fjord, a global design and innovation consultancy.
As an environmental designer, Sinha fuses elements of architecture, graphic and interaction design to focus on the total spatial experience of how people interact with products. "In a way, it's sensory-based design that goes beyond aesthetics to consider the links between the psychological, physical, emotional, sensory and ethnographic effects of design." 
Jayati Sinha with team members  Andy Kim and Stacy Yan, who worked on the prototype which has been accepted by the Los Angeles Mayor and is now in the process of gathering funds
When she moved to the US, Sinha remembers being gob-smacked by the extent of homelessness she encountered. "In San Francisco, where I live, you will see people lying on the roads, with nowhere to go. India has long been seen as a place of poverty and inequality, but living in the US has made me realise that poverty is bad here too. I'd say the poorest people of India are less isolated than their counterparts in the United States. Additionally, fewer people sleep while being exposed in public spaces in India as they least have a semblance of a space even if it's very substandard." 
Incidentally, New York City has a law that guarantees everyone a right to shelter, which requires the state to provide emergency accommodation to every unhoused person who qualifies. But with the paucity of homeless shelters, the city has often turned to renting out hotel rooms. In 2018, reports show that NYC spent USD 364 million renting hotel rooms as shelters.
The Pop Hut has a slanting roof that gives more room for solar panels and prevents the roof from retaining water
Sinha believes that her team's prototype could be effectively replicated for use in India, too. "Today, India is developing fast with an emphasis on infrastructure development, which typically demands moving or migrant labour. This concept prioritises empathetic design values, while providing a low cost solution that could be of high value for a populous country like ours." The huts, she adds, can easily be deployed and moved to different locations to create a safe environment for temporary workers, victims of flood and other disaster relief projects, National Disaster Response Forces, Armed forces and refugee camps. "It makes people's lives a bit more bearable and my hope is that it will provide them a place they can call home."
1.8
Million population of homeless people in India, with 52 per cent based in urban areas 
Jayati Sinha
How They Solved Homelessness
. Vienna became the first city in Europe to solve homelessness. It supports the impoverished by offering affordable housing for all. They set up these housing projects in key downtown locations, allowing for convenient access to public transportation.
. Finland is another European country where the number of homeless is falling rapidly. In 2007, they came up with the Housing First principle, a policy in which the government offers unconditional housing for all. In this scheme, the homeless are given permanent housing on a normal lease. Depending on their income, tenants pay rent and are entitled to receive housing benefits. The rest is covered by the local government. 
. In August 2014, homelessness in Tokyo hit record lows. Hiroki Motoda, a metropolitan government official, said support for the homeless offered by the city, including temporary housing provision and employment advice, had contributed to lowering the figure over the years, the Wall Street Journal reported at the time.