Ironically, one of the most common inherited causes of intellectual disability has very little conversation going around it in India. Here's why we should be talking about Fragile X Syndrome, according to experts and parents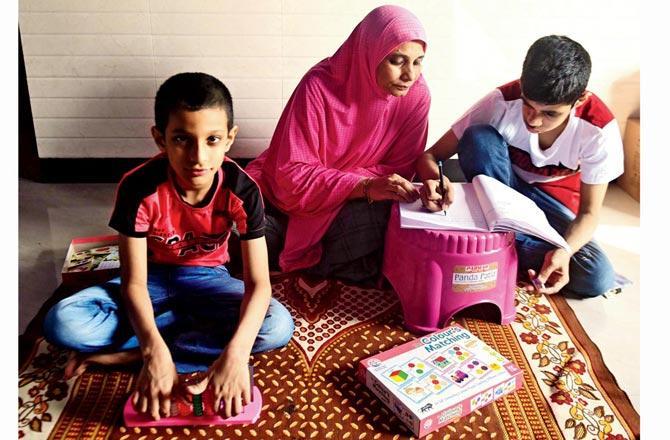 Brothers Adib and Affan Hamdulay are affected by the Fragile X Syndrome. Despite having two male members in her family with a similar condition, their mother Shabana says she didn't know until much later that this is a genetic disorder. Pic/Bipin Kokate
When Adib Hamdulay was born in 2006, he had a small frame. At school, he was learning and writing slower than the rest. It was when he turned five that he began to show signs of hyperactivity. It was on the suggestion of the principal of his school that Adib's parents consulted Goregaon-based developmental paediatrician Dr Samir Dalwai. Adib tested positive for Fragile X, and by then, his brother Affan was born, displaying similar symptoms. "My mother's brother and my brother are both intellectually challenged, but we didn't realise that this condition was genetic. We heard of Fragile X for the first time when Adib was tested," says their mother Shabana.
Fragile X syndrome (FXS) is a genetic disorder caused by changes in the FMR1. The FMR1 gene usually makes a protein needed for normal brain development. People who have FXS do not make this protein, leading to intellectual disability, delay in speaking and walking and exhibition of signs of hyperactivity. Both men and women are affected but women tend to show milder signs. Dr Dalwai says, "This faulty gene manifests in the male child prominently; whereas, it can be carried ahead by the female child with or without her being affected. The fact that this condition can be diagnosed easily (cost being the only constrain) and with proper counselling can be prevented, is rather unknown."
ADVERTISEMENT

Krish with his parents Deepali and Naresh Ahuja. The couple found help at The Fragile X Society India, a network of parents and eminent doctors to raise public awareness. Pic/Sameer Markande
Explaining the signs to look for, Dr Roopa Srinivasan, director, Developmental Pediatrics and Head Clinical Services, Ummeed Child Development Centre, says, "The facial features are telling: The size of the head, eyes, ears are big, the skin and the joints are loose, there are feeding issues and frequent ear infections. There is turning, speech and walk delay and almost all milestones are missed. A subset of those with Fragile X may also have autism. They don't make eye contact easily due to anxiety and the speech is rushed or slurred. The eyes don't see what the mind doesn't know—a lot of parents are in denial for long. It's best to get the child tested by an expert, because early detection and intervention can help with the development of physical, motor, language and cognitive skills."
Deepali Ahuja's 21-year-old daughter is studying to be a dentist and was always a bright student. When she was six, the Ahujas welcomed their second baby, Krish. He didn't cry at birth and all his milestones were delayed. "We put him in a nursery school at 2.5 years, but he wasn't learning nor sitting still in class. His spitting and scratching complaints had me visiting the school often. He was put on medication but we stopped it as he slept a lot. After he was diagnosed by a developmental paediatrician, we considered sending him to a special school but it was better suited for physically disabled children," Ahuja remembers. The couple found help at The Fragile X Society India, a network of parents and eminent doctors to raise public awareness. For its founder Shalini Kedia, the cause is close to her heart. She started the group in 2003, getting help and resources from the National Fragile X Society in the US. "Back then," says Kedia, "there was no resource or ease of availability of information. Even the doctors were not aware of the condition. Slowly, doctors started sending parents with Fragile X children to me for counselling. We began by forming support groups. There were families with four children, all affected."

Dr Roopa Srinivasan, Dr Samir Dalwai, Shalini Kedia
In 2017, Kedia and Dr Dalwai helped draft the guidelines for Fragile X for the Indian Paediatrician Association so that more doctors would be aware of the condition. Recently, she even drafted a 33-minute free course for education app Udemy on Fragile X where she explains in layman terms what it actually means and how to live with it. While Kedia is proud of helping several parents, she feels, given India's vast population, we haven't even scratched the surface. "It surprises me that IVF clinics haven't made it mandatory to conduct the Fragile X test on couples when it is known to be a major reason for infertility. Women with the gene may have multiple miscarriages and this should alert the obstetrician to test the patient for Fragile X. It's plain science—what's not to see in it?"
Dr Hrishikesh Pai, Medical Director, Bloom IVF Group, agrees. He says they test the female patients for the gene. If the woman tests positive, and the couple wishes to go ahead with the with IVF, only eggs without the FMR1 mutation are used. Else the couple can opt for donor eggs, or consider adoption. "In case, a woman is a carrier, and is already pregnant, she can get an amino synthesis done and find out if her child may be affected. She can then choose to abort. It is best to catch the situation in time and take a decision accordingly," he explains.
Three years ago, the Fragile X Society conducted a survey with women across the globe to enquire if women who knew (that they carried the gene) would continue with the pregnancy. Eight out of 10 women in the US said they wouldn't abort because of religious and other reasons. The remaining two didn't want to screen in the first place. However, 10/10 women in India said, they would abort. "It could be the taboo associated with special needs children or the lack of resources for them in India. I am not advocating abortion; I am simply advocating the right of a woman to choose," says Kedia.
In Chembur resident Sunil Jadekar's son 16-year-old's Amogh case, the developmental delays were noticed sooner by his mother. "He turned just once on his own and often kept staring," he says, adding that Kedia's WhatsApp support group has benefited them given how expensive individual therapy sessions can be. "Each session can cost R500 onwards for 45 minutes, and some therapists have a non-service attitude. You are on a clock. There have been times when we have felt very helpless. With Fragile X, awareness is key. Without which, the carriers will continue to grow."
Shabana agreed and believes the government has a responsibility, too. Acquiring a disability certification for Fragile X kids is a challenge, and Shabana has had to change several schools for the boys, finally opting for therapy at Umeed Foundation, Chinchpokli, at discounted rates. "We need the same assistance for parents of children who are deaf, mute and blind," says Jadekar.