In his own words, Shridhar Raghavan is movie-watcher first, writer later. His love for the spy genre and his lessons as crime journalist, reflect in the plot and success of Pathaan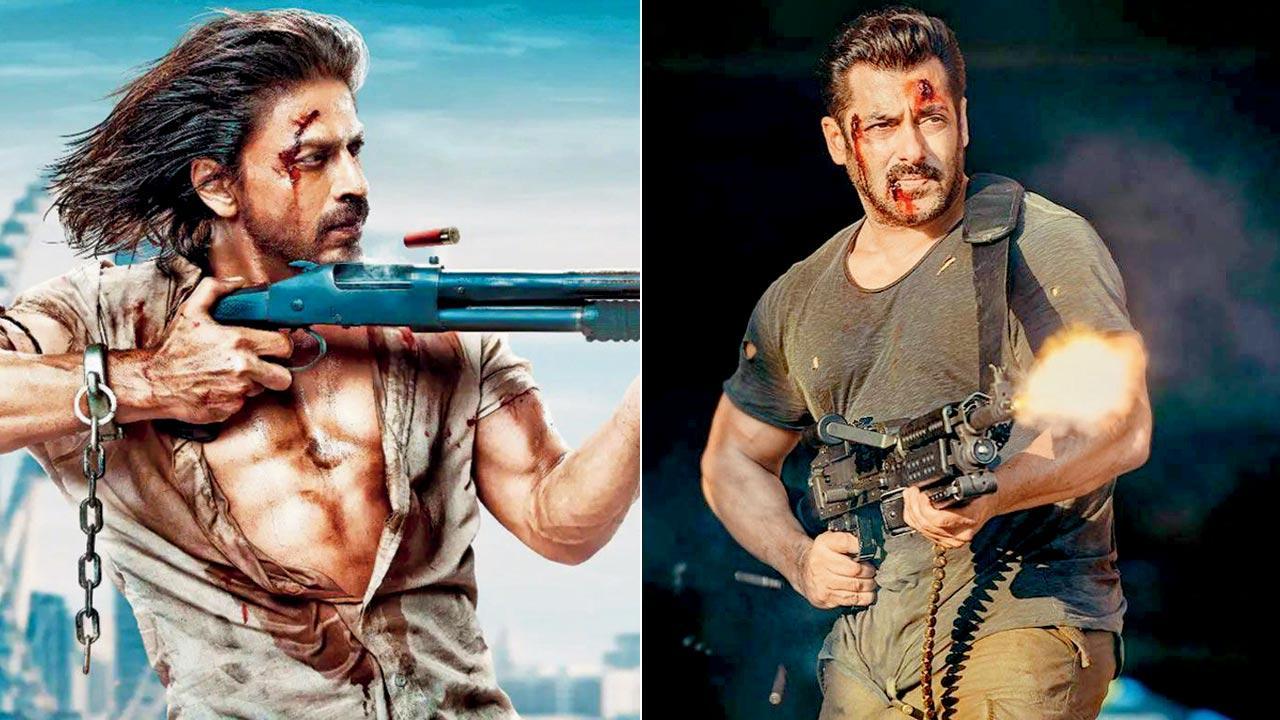 Shah Rukh Khan in Pathaan and Salman Khan in Tiger 3
Shridhar Raghavan is excited to meet us. The writer of Pathaan, last week's release that has broken all box office records, pre and post-pandemic, started his writing career as a humour columnist with mid-day in the 1990s. He even named the iconic protagonist in crime television show CID after a senior journalist he worked with at mid-day. These days, he is enjoying the love that the Shah Rukh Khan-starrer is amassing. "I am glad the audiences connected with the film," he says excitedly. More than a connection, which may be hard to feel as the movie is about Indian and Pakistani spies trying to stop a major catastrophe and save the country, we think the film has resonated because it did what every film should: entertain. Raghav's script is tight, fast-paced, and represents the best of Bollywood potboilers. His characters—whether the charismatic Pathaan played smoothly by Khan; the sardonic, articulate villain called Jim, essayed by John Abraham or the sexy female sidekick, a role that perhaps only Deepika Padukone could have done justice to—are well etched out and get the job done.
"First, I am a reader," Raghavan clarifies. He needn't have. We have spent the first 25 minutes of the interview discussing books. Japanese author Keigo Higashino, famous for The Devotion of Suspect X, comes up in our chat. We get it; he is enamoured by the genre, whether spy, mystery or pure crime. "I reported on crime as a journalist. It taught me a thing or two about being on time with deadlines," he says. Like his filmmaker brother Sriram Raghavan (Johnny Gaddaar), Shridhar too grew up on a steady diet of movies, both English and Hindi. "I lived in Pune, practically between two cinema halls—Apollo and Alankar. One screened English films, old and new, and the other, Hindi. You name it, I saw it. All of Sergio Leone's works, Alfred Hitchcock, Manmohan Desai, Vijay Anand..." In the 80s, he moved to London with his father, and since racism was rife, he spent more time at home, in front of the television. "It showed reruns of movies and shows. It became my comfort zone." 
ADVERTISEMENT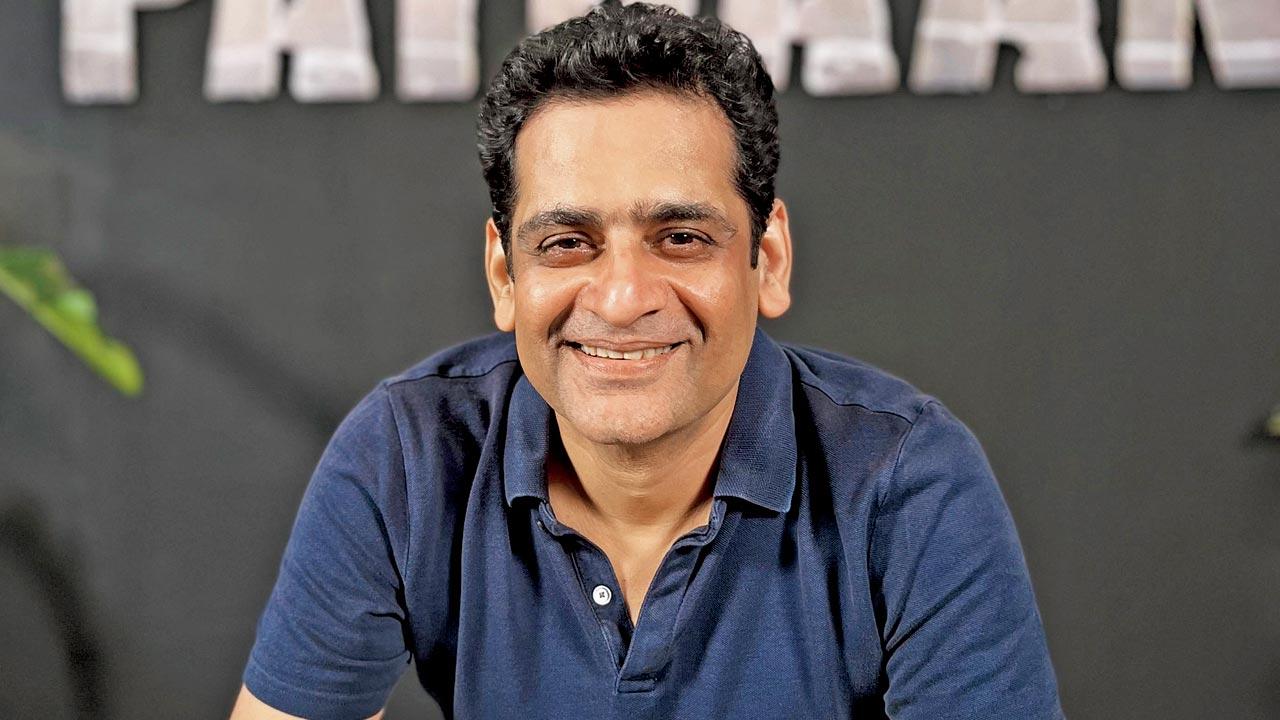 Shridhar Raghavan
We bring up Ian Fleming, the British writer we believe created the trope of the female handler (head of the Secret Intelligence Service, M) and the suave male spy (James Bond), which is also a theme in Pathaan. We discuss the relationship between Dimple Kapadia and SRK, and Shridhar brings up Peter O' Donnell's Modesty Blaise. "They must have existed at the same time. She was the female Bond, you could say."
This conversation is now all over the place. We are talking books, movies, graphic novels, not just the script he is being interviewed for. And  we start to get the beautiful mess that's inside his mind. As Haruki Murakami calls it, "a cabinet", it seems filled with fragments of all a writer knows, which he rummages through to make his new creation. If we have any qualms about the movie—the fact that the background score seems "inspired" by the theme music of The Mandalorian composed by Ludwig Goransson, or elements of production design like the lab within a snow-capped mountain, which is reminiscent of Christopher Nolan's Inception, we don't care anymore. We are being entertained, just as we were in front of the big screen. 
Now that we know where Shridhar comes from, we ask him about the research involved. "I never rely on the Internet. For this movie, which is more like an entertaining graphic novel, I knew enough already. If you want to know more, you pick up the phone and call someone, like a journalist or a service person, and say, 'Give me some insight'."
The bigger challenge was to make this movie fit into the Yashraj top boss Aditya Chopra's vision of his production company's spy verse, which includes War (2019) and Tiger Zinda Hai (2017). "When I came on board, during War, Siddharth [Anand] had a story, the key characters, and the conflict, all in place. I added my take, and it went well. During the time, they were talking about Pathaan. They had been wanting to do a movie with Mr Khan for long. We were thinking if post-COVID, it will be a biological war film. But it was never going to be utterly serious. We went with what Hitchcock would call the MacGuffin, the mechanical element that usually crops up in any story. 'In crook stories, it is almost always the necklace and in spy stories it is most always the papers'. The process was amazing. We were drafting the story board, and adding structure and managed to get a lot of time with Mr Khan. It's very rare for an actor to do this. Siddharth [Anand, director] wanted a spectacle, so we incorporated that. The action film watcher wants pace and momentum. I entered the team as a movie watcher too. The plot is just one part of it; the characters and moments remain with you for long—a line of dialogue, which Abbas [Tyrewala, co-writer] is great at. It was not black versus white. We had to make it equal. The stronger the villain, the greater the hero."
It worked. At last count, the film had collected Rs 729 crore globally (in 10 days). What's next for the spy verse? "We have got a few characters—which the audience knows, and are unique. One way to go will be to create more adventures with them, and there may be organic crossovers as well. We will also create new characters. Some of them who you saw the last of, may emerge again. The idea is to play around."