Shutting down your kitchen is the best nightly ritual you need for a happy morning. And it's been finding fans across social media. Here's what it includes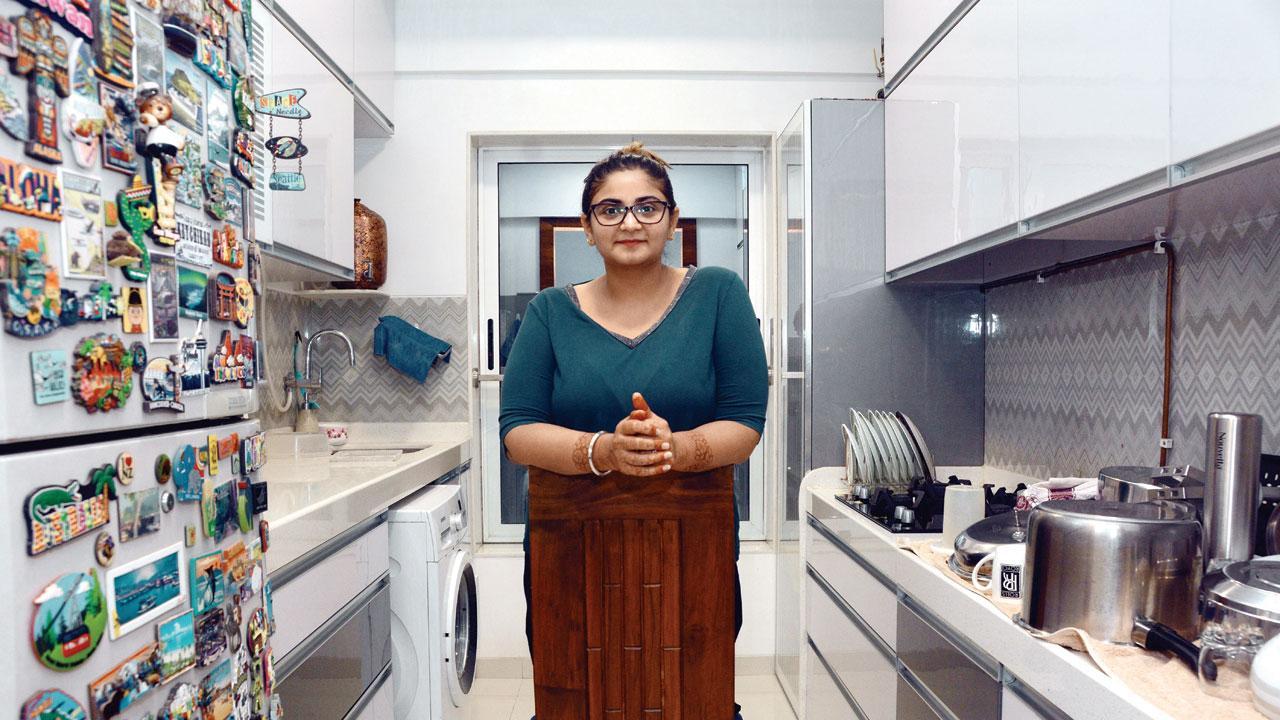 Nikita Dalal
Locked in, our focus has turned towards the home this year," says the therapist when we ask why we find ourselves obsessing over the kitchen and tiny details that we haven't noticed in almost a decade. Having been cooped up since  March 2020 due to the lockdown, without the daily help, the nightly cleaning ritual has graduated from washing the dishes without fail and wiping the kitchen counter to a more elaborate "shutting down of the kitchen".

Nikita Dalal, 26, a trained chef, at her Goregaon East home. The deep cleaning ritual starts with pouring hot water over the vessels and kitchen counter to remove dirt. Though it costs her 30 minutes, Dalal doesn't miss any step because of the promise of a clutter-free view the next morning. Pics/Satej Shinde
ADVERTISEMENT
The term, if you are not familiar with it, refers to "a level of cleaning that's somewhere between post-meal clean-up and a thorough kitchen deep-clean". We came across it in articles by Ella Ceron and Shifrah Combiths, in Apartment Therapy, a site dedicated to those in love with all things home. Ceron tried a nightly ritual that extended to washing the dishes, drying them and placing them back in the racks, decluttering the space, cleaning the counters with disinfectant, wiping the floor and replacing the cat's water if needed. We'd also add cleaning the dabbas you've touched through the day with a damp cloth, to remove any grease from them.
The relief for someone who gathers OCDs like a snowball gathers size as it moves along, is that they are not alone in the world. At 9 pm, you're most likely to find Nikita Dalal, a 26-year-old trained chef, who operates by the name @madbatter25 on Instagram, in her kitchen, plugged into a playlist. Having turned to working from home, her Goregaon East kitchen, she says, is subject to a lot of grease during the day, as are her vessels. And, if these are left over after the domestic help is done for  the day, her work day ends with a ritual that starts with pouring hot water on them and placing them in the sink.
"Then I do the same for the platform as well. Pour hot water on it, add soap and scrub out the grease and add hot water again to pull the grease from it. The vessels are cleaned immediately and air dried," says Dalal, who inherited the trait 12 years ago from her mother. And, if she is not around some day to complete this, her mother fills in. Sleeping with a messy kitchen is not an option. The ritual takes 20 to 30 minutes. Possibly an hour or more after Dalal has wound up her kitchen, elsewhere in the city, restaurateur Siddharth Kashyap's workspace starts seeing a similar, but perhaps more intense operation.
"Typically in commercial kitchens, the wind-down operation begins after the last order is taken, which is around 11.45 pm," says Kashyap, whose restaurants haven't resumed operations post the lockdown. The first step is to switch off the gas burners, OTGs, salamanders, steamers and let them cool down.
When that is done, the burners are removed and cleaned with a steel brush to check for any leftover food particles that may clog the pores, reducing their efficiency. (If you haven't gone and checked your gas burners at this point, this article is probably not for you. We checked and they are fine, which is a wonder considering how we never manage to save the milk from spilling). While Kashyap rattles off a long list of checks and cleans for the refrigerator and dishwasher, ensuring that the detergents are refilled, he says this is probably not a daily ritual that a household can adopt. After all, a kitchen has the entire evening shift working on this routine.
What he has mentioned and that is going to go on our list is the cleaning of walls—at least till where the hand can reach—to wipe them of spills and to clean the sink and remove particles from the food trap. Both Kashyap and Dalal clean the floor with disinfectant as the last step in the process. Dalal admits that over the years, nothing has been deducted from this ritual. Only added. For instance, she uses table top chlorine, which is used in commercial spaces, to wipe down and disinfect the counter. "In Mumbai, there are a lot of flies. This process helps reduce that."
To those already sold on this new ritual, there's perhaps no need to say anything further, except Dalal's response of "the kitchen looks spic and span the next morning and ready for a new work day". For those unconvinced that they need to sacrifice a half hour's Netflix commitment for this, Kashyap's words might help. "If meat fibres are left on the surface, they start deteriorating within hours. Fish, within minutes. This is not hygienic and it's certainly not the smell you want to be greeted with when you enter the kitchen in the morning. Which is why, this clean-up routine is better left for the end of the day and not morning, because by that time the bacteria acting on each surface inside every corner is going to be higher." And, you know you are addicted when you wake up at 1 am for no reason at all and find yourself cleaning up your kitchen because you'd left it messy when you'd crashed. #truestory
"Exciting news! Mid-day is now on WhatsApp Channels

Subscribe today by clicking the link and stay updated with the latest news!"
Click here!