Chronicling the lives of the Doms—the funeral custodians living by Varanasi—for a new book, a journalist witnesses the scramble to salvage remnants from a smouldering pyre
A member of the Dom community tends to the "sacred fire" at the Manikarnika Ghat in Varanasi. Pics/Getty Images
That day, Bhola woke up, startled. At first, his small body felt like lead—too fatigued and heavy to move—but he managed to push himself to his feet. There was no time to splash water on his face or change clothes; they had to hurry. More time at the masaan meant more money. 
"Ek tarah ka nasha bann gaya tha voh. It had become an intoxication," Shortcut admits, when he talks about foraging for shrouds as a child. 
ADVERTISEMENT
Outside, everything was blanketed in a thick layer of darkness. Daylight was yet to make an appearance. The boys quickly made their way through Chand Ghat. A solitary street light flickered in the distance. Brown-winged moths whirled under it—a mesmeric, golden blur. The narrow gali ahead was deserted. A stray dog appeared out of nowhere and started barking. Two other indie dogs caught up with him, lifted their bony heads and began to howl. 
"What if they've seen a ghost?" Shortcut asked fearfully, trying to keep his voice low. 
Bhola said nothing. He grabbed Shortcut's hand and sprinted in the opposite direction, swerving to take the longer route. 
"Hurry!" Shortcut yelled, one foot chasing the other. "We have to make sure that the ghost doesn't catch us!"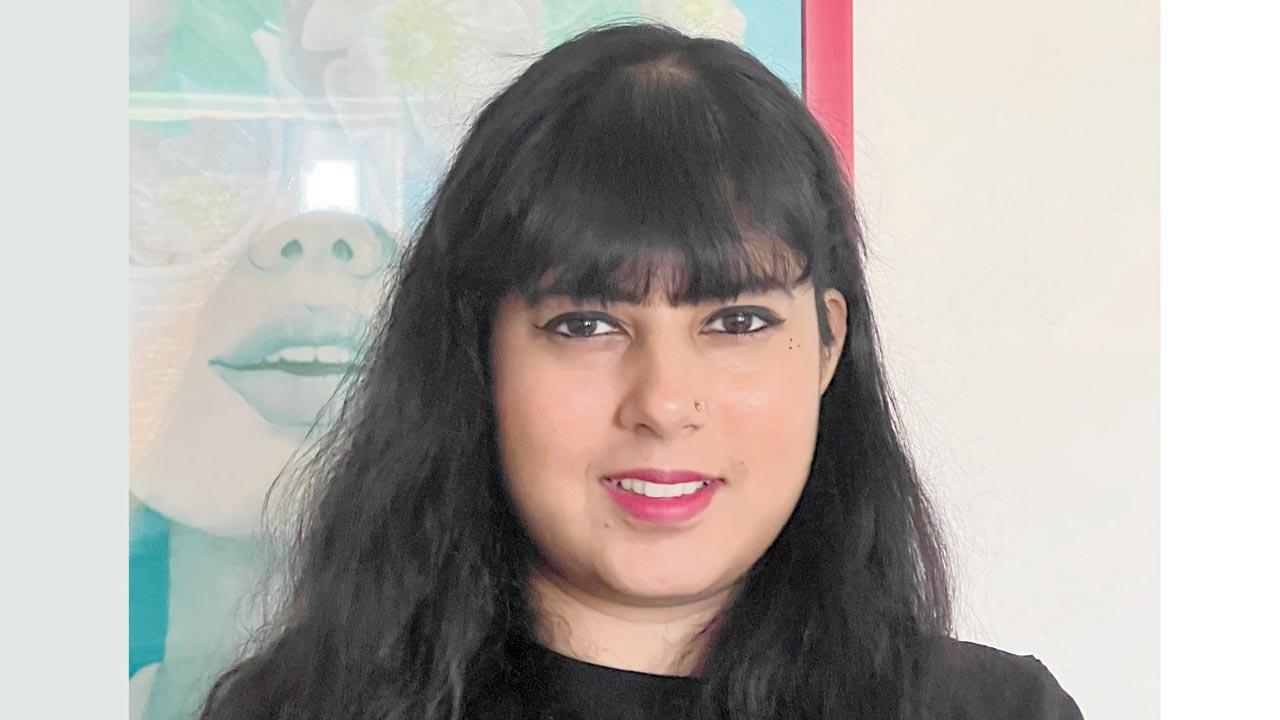 Radhika Iyengar
Bhola held on to the waist of his shorts, which were threatening to slip off. "Forget about the ghost," he answered, breathless, heels kicking against his bottom. "We have to make sure we reach the cremation ground before the Rajghat boys do!" 
At Manikarnika, the competition was fierce. There were at least 12-15 other boys who wanted exactly what they did: a sprawl of salvaged castaways—tasselled, patterned, bordered; made of cotton, silk and faux silk; in radiant hues of gold, orange and deep red. The Rajghat boys, in particular, were always competing with them. They were unafraid to rouse trouble and took delight in grabbing and pushing the younger boys from the Chand Ghat gang when the older ones were not around. 
When Bhola and Shortcut arrived, the ghat itself was poorly lit, but clusters of pyres glowed fiercely. A snaggle-toothed boy was already sifting through a pile of shrouds dumped near the river. The other Rajghat boys hadn't arrived yet. Bhola signalled to Shortcut to ignore the kid and inspect other parts of the cremation ground. They had to find the spot that had the most number of good-quality shrouds. 
Shortcut was still learning the ropes. He was short and skinny, with a trusting disposition. Being the youngest in his family, he had lived a relatively cocooned existence, brought up to believe in the niceness in everyone, until proven otherwise. He was reticent, while the other boys were wild and raucous. He stuck close to Bhola, often lacing his fingers with the older boy's as a habit. He was willing to follow Bhola anywhere, and Bhola went where there were shrouds.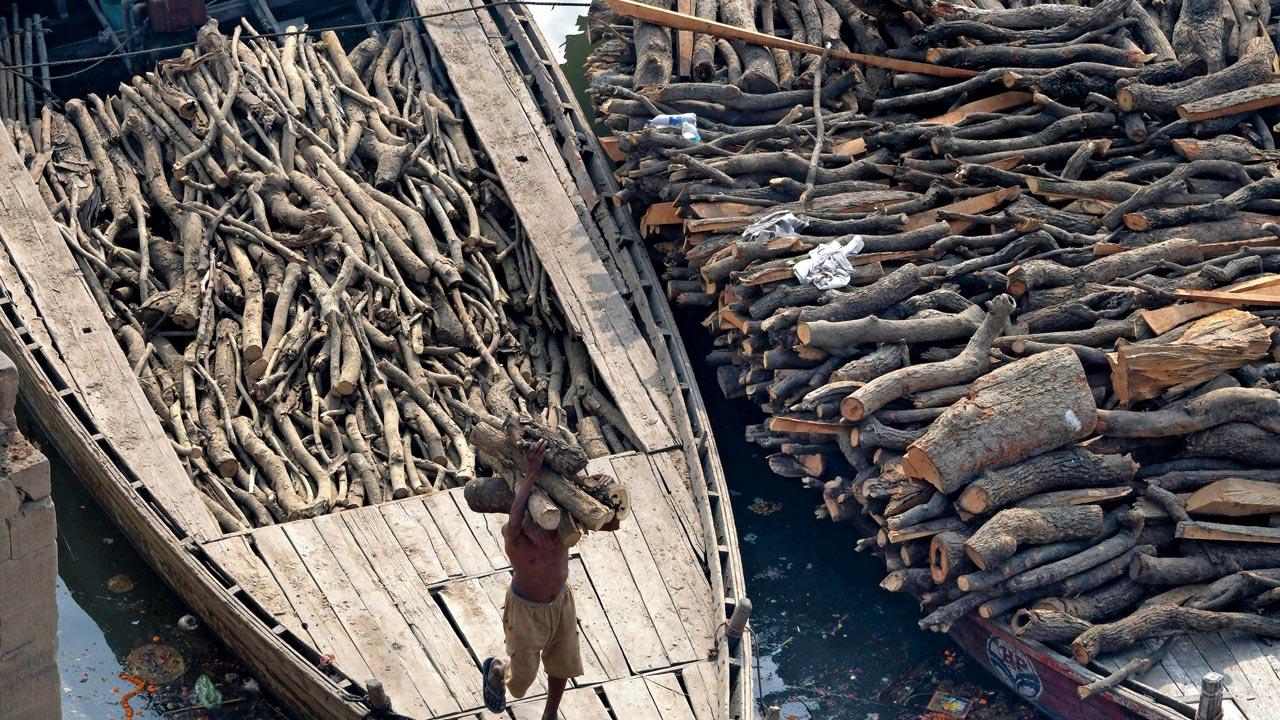 A man is seen unloading wood from a boat to be used at the crematorium grounds in Varanasi. Boys from the Dom community are often sent by mothers to procure firewood from the pyres for their choolahs; the boys "pull out the burnt logs of wood... and drown them in water for a few minutes" before walking back home with the bundle 
The first time Shortcut saw a corpse, he was five years old. The body had just arrived from the post-mortem building. The dead man's face was slashed; his left eye and sunken belly had been sewn up. He was also missing a hand. At the time, the little boy was aghast. For weeks to come, the corpse's ghoulish face would visit him every night, starring in the most twisted nightmares. But Shortcut could not stay at home and sulk even if he wanted to. For one, his family needed the money, and second, he would be laughed at by his older and meaner teammates. All things considered, it was best if Shortcut feigned some kind of valour. 
Going forward, to avoid seeing the faces of the dead and their dismembered pieces, the boy promised himself that he would learn how to become "high-speed" on his feet and keep his eyes on the ground when the corpses arrived. 
The kids became experts at sorting. Deep red shrouds with circular gold motifs and shimmering tassels are the most sought after. The kids nicknamed it "godhva" because it looked similar to the rich cloth that is draped on a mare's back at a wedding. The cloth was the "fancy", unrivalled kind. "This shroud would be placed on a person who came from a 'high-fi' home—a rich man's home," Shortcut says. If bargained well, a godhva could be resold to the shopkeepers for Rs 15, which was a high resale price for the shroud pickers. 
A cotton shroud resold at Rs 10 per piece. The children called it "oonwa". It wasn't as shimmery as the godhva, but it was the next best thing. "It had patterns made of gold-coloured thread," Shortcut describes. Then, there were iridescent gold and silver shrouds, which were abundant and plasticky in appearance. They were dubbed "papad" due to their annoyingly crispy feel. At the time, papads resold for Rs 2-3. Most of the time, there were more papads strewn about at Manikarnika Ghat than godhvas or oonwas. 
The truly unsalvageable shrouds were used by them as hauling material. The younger boys, sent by mothers to procure firewood from the pyres for their choolahs, would skilfully pull out the burnt logs of wood using a pair of bamboo sticks and drown them in water for a few minutes, before tying them in the soiled shrouds and walking back home with the bundle. 
"Every Dom boy has grown up carrying wood from the cremation ground," Bhola tells me. "At times, the weight of the wood was double that of our tiny bodies. Sometimes, we'd even find pieces of flesh stuck to the logs." 
To find a godhva or oonwa took sustained effort. It required standing for long hours amidst raging pyres and keeping an eye on the shroud draped on a corpse closely guarded by shavyatris—male relatives who travelled with a corpse. It required patience and intuition: the ability to anticipate the exact moment when the shavyatris would be distracted, allowing the boys to swoop in and do the deed. The waiting game required strategy. While they waited, the children would be drenched in sweat, their lips dry, their throats parched. As Shortcut puts it, "It felt as though all the blood had left our bodies." 
Even among the boys at the ghat, Shortcut was the youngest and the shortest. He was seldom given the tougher job of working near the burning pyres. The older boys did the hard work of pilfering the shrouds; Shortcut was in charge of safely securing them in a gunny bag. "If I was somehow unable to do that or if I left them piled up in one place, our rivals would steal them, or the older Dom men who disapproved of our work would throw the pile in the fire so that we couldn't earn any money from them." 
Shortcut would search for and find castaway cement sacks at the cremation ground—dirty and frayed. On a good day, the children managed to shove 20, even 25 shrouds into the bag. Bhola and Shortcut would collect as many shrouds as possible, sling them onto their backs and head home, where they would freshen up, bathe and eat whatever there was at home. By 10 am, the pair was back at the cremation ground for round two, hawk-eyed and nimble, even though their legs ached. Aakash and other children, like Bhola's older brothers, would also arrive by then and begin scavenging for shrouds.
Excerpted with permission from Fire on the Ganges: Life among the Dead in Banaras by Radhika Iyengar, HarperCollins India
"Exciting news! Mid-day is now on WhatsApp Channels

Subscribe today by clicking the link and stay updated with the latest news!"
Click here!