The rapping boy from an Andheri slum is getting a worldwide Apple Music release. Will Divine become JB Nagar's Slumdog Millionaire?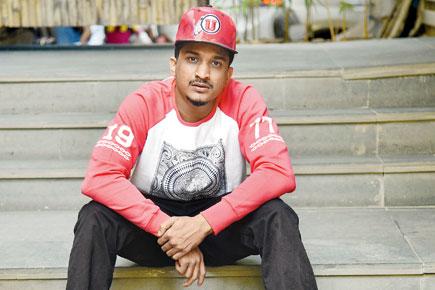 Divine is the only Indian artiste to get an Apple Music release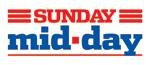 If Divine's new single, Jungli Sher, smashes records, he knows he has no one's feet to touch in gratitude. It's a piece of advice, his mother, Nathaline, a single parent, gave him.
Born Vivian Fernandes, rapper Divine, now 25, became the only Indian artist to get an Apple Music release for his single last week. That the video has been shot entirely on an iPhone 6 makes it another first for the Indian music industry.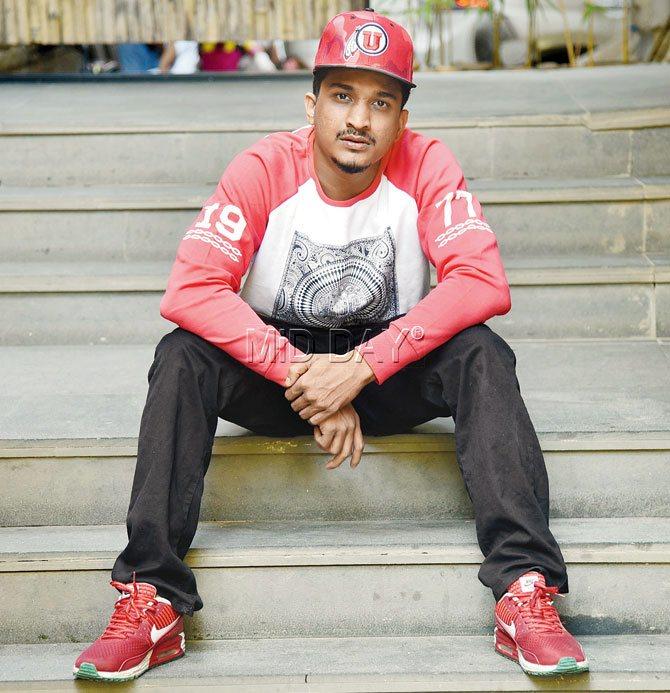 Divine is the only Indian artiste to get an Apple Music release. Pic/Nimesh Dave
Divine knows he's on the cusp of stardom, and that he continues to live in a home in Andheri's sprawling slum, JB Nagar, keeps him connected with the backstory which is ironically, central to his fame.
"I used to crave for a pair of shoes when I was the only kid at church in sandals," he says during an interview at Sony Music's Santacruz office. "Rap, they think, is about the girls and gold. It's not; it's about telling your story. With Jungli Sher, I have."
His mother had little choice but to leave for Qatar on a work visa to support an alcoholic husband and two teenage sons. When she sent home money, they bought a home in a Sahar slum only to see the father hawk it off, leaving Divine and his brother, Anthony, to fend for themselves. "He gave us half the amount from the sale, and asked us to get out of his life."
JB Nagar became home, and when Anthony, seven years his senior, left for the Middle East for a job as a medical worker, Divine was alone at 14. "My mother sent me money, but I also made money, the wrong way. Nothing big; I was just the pass-the-parcel guy. I fell in with bad kids," he admits.

A still from Jungli Sher, which released on Friday
That Anthony had acquired him admission into St John's, an English medium school, kept him afloat. After school, he got through Bandra's National College, and his tryst with music began. It happened thanks to the Internet, a medium Divine was addicted to. "I got my mother to buy me a computer after I promised I would pass my exams. Once I got it, my world blew up!"
Although it was a picture of 50 Cent with a gun in hand that inspired him to rap, his musical influences include legends, TuPac and Nas. "Nas, who was a Muslim, used to write his words from the end up. And Eminem scribbled them and then put them all together. I used to sit for hours and read. And then a friend and I downloaded some software and started putting beats together. But there was still something missing… it wasn't sounding right."
One morning, he realised what was amiss. Instead of rapping in English, a language he was still shaky at, Divine would embrace Hindi. "When my friends heard me, they said, 'yeh aag hai!'" Joel DSouza, a friend since they were 14, now directs all of Divine's videos, and sees his transformation as nothing short of a "dream come true." "We hung in the neighbourhood. Divine was always focused and a perfectionist."
He remembers shooting their first song, Coming for You, on a Nokia N8. "That was the only phone with an HD option. It's lovely to see him shine. I now direct videos thanks to him," says the 25 year old. Divine had his first taste of fame when Yeh Mera Bombay, shot in the gullies of his neighbourhood, began trending on YouTube. It got over two lakh views, a rarity in 2013. It was the song that Sony noticed.
He then dropped his second single, #meregullymein (produced by Sony and now enjoying 470,805 views), and a bonafide from-the-streets rap poet was born. His closest contenders would be Raftaar, Baadshah and Yo Yo Honey Singh. But the industry would classify them as commercial and Bollywood, leaving Divine in a league of his own.
Jungli Sher, he says, is all the more special because it talks about growing up where he did. "Soon, the slum will be redeveloped. I wanted to immortalise it by including it in a song, so we never forget what we went through," he says.
He suggests we listen to the track and plays it for us. It's loud, brash, unabashedly addictive with visuals that are an ode to Mumbai's streets. His producer, 22-year-old Sez from Delhi says when Divine sent him his music on Facebook, where the two met, it wasn't tough to decide what sound to give him.
"His words are so different, so is his tone. We wanted a beat that wasn't just hip hop, but a mix of dub step and rap, in-your-face." Sony, who spotted Divine on YouTube, says he represents the changing face of the music scene. "His credibility with fans, and his enthusiasm to present reality in raw without prejudice, has established the young rapper as a seemingly unstoppable phenomenon. We signed him on because we believe in his sustainability," says Rohan Jha, head, Sony Music Pop. The firm produces, pushes and promotes his videos. His earnings come mostly from live shows that are growing more frequent because of his online presence.
But Divine is clear he cannot become 'a Bandra boy' all of a sudden because "my neighbourhood is my muse". Because he lived alone, the older neighbourhood boys — rowdy, as he calls them — would shack up. "I'd roam the bars with them at night, even if I wasn't drinking. I write about their Mumbai, my Mumbai."
And while he isn't willing to trade it at one go, he does hope for some privacy. "One kid knocks on my door every day just to see my face!" A recent visit to Sahar saw him mobbed. "I spotted a drain with two planks across it for a bridge. I had slipped there once. It made me strong, inspired me, but if I had stayed back, I would've been a goonda." That he isn't, he attributes to his mother and God. He even owes his name to Gospel Rap he started writing when he'd visit church. "I wanted to write songs about God and how he can save us." For Divine, God and Nathaline are often interchangeable. "When she visited me some time ago from Paris where she is now a PA to a singer, she got me several pairs of shoes. Suddenly, I was the cool kid. She is my biggest support." And, his friends, like Joel.
"They are my strength. Like your crew who surround you instantly when you get into a fight. You can do anything for them." This belligerence, he celebrates in his music. There is no time for apology.
"Iss jungle ki kahani mein khiladi mere jungli hain, khiladi mere jungli hain."