Rajamanohar Somasundaram, an IIT Alumnus, is a serial technology entrepreneur with extensive experience in building the Internet and mobile technology-driven businesses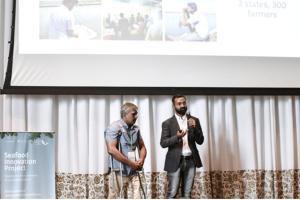 Rajamanohar Somasundaram
India's own Aquaman wins innovator award, his startup sailed to Indonesian shores. Aqua connect is the only Indian startup to have won Innovator award 2019 in Indonesia. 80 startups from different parts of the world competed for the prestigious honour. After a rigorous selection process, informed and supported by seafood sector experts, sustainability specialists & business professionals, there were 6 innovators chosen for the program.
The initiative is supported by the Indonesian Government, Seafood sector, Australian Government (Department of Foreign affairs and Trade)
After helping more than 3000 farmers in India Aqua connect is all set to expand internationally and shall be running pilots in Acehand Sulawesi among 2000 farms by the end of 2020.
Rajamanohar Somasundaram, an IIT Alumnus, is a serial technology entrepreneur with extensive experience in building the Internet and mobile technology-driven businesses. "Young Global Leader in 2012" by World Economic Forum in recognition of the leadership and contribution in the technology innovation.
Shrimp and Fish farming is a one of the biggest livelihood activity in the coastal regions of India. India exports about $5bn worth farmed shrimp & fishes every year. Though it is a multi-billion-dollar industry, the industry uses little or no technology to improve productivity and prevent losses due to the diseases. 1 out of 4 farmers have been losing their farm income due to the disease spread and that is prevalent in the industry. Raj found a novel solution for disease prediction and minimizes the losses due to the diseases.
Raj uses Artificial intelligence technologies to assist shrimp & fish farmers to predict the diseases well in advance, improve their farm efficiency and revenue from the farms.
His organisation Aquaconnect created 'FarmMOJO', an AI (Artificial intelligence ) enabled farm advisor tool. FarmMOJO built farm efficiency models and disease prediction model based on the historic data. The simple mobile application interface advises farmers based on the information such as water quality report, feed usage and health indicators of their pond. Thus the benefit of the high tech solution passed on to the farmers through mobile phones.
In their endeavour to further promote and contribute in Global sustainable seafood innovation ecosystem, Aquaconnect entered Indonesian seafood innovation project.
In late 2018, SIP placed a global call for innovations with the potential to improve Indonesia's seafood sector in three challenge areas: Innovative financing, novel technologies, and market demand creation.
The Seafood Innovation Project is building an entrepreneurial ecosystem for the fisheries and aquaculture sector in Indonesia. Through collaboration with a range of stakeholders, the Seafood Innovation Project will accelerate innovative solutions to achieve a sustainable economy, and build resilient communities engaged in the Indonesian fisheries sector.
Catch up on all the latest Crime, National, International and Hatke news here. Also download the new mid-day Android and iOS apps to get latest updates