Someone needs to tell Madhur Bhandarkar that this is 2015. What worked for him in 2005 in 'Page 3' can obviously not work now in 'Calendar Girls' because he is unimaginatively and rather cockily serving us the same dish in a different plate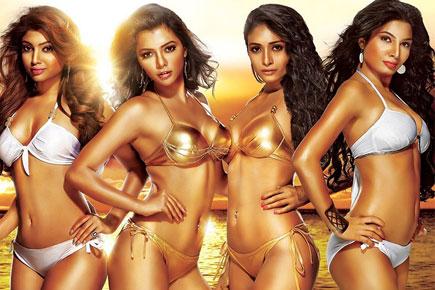 'Calendar Girls' - Movie Review
'Calendar Girls'
A; Drama
Director: Madhur Bhandarkar
Cast: Akanksha Puri, Avani Modi, Kyra Dutt, Ruhi Singh, Satarupa Pyne
Rating: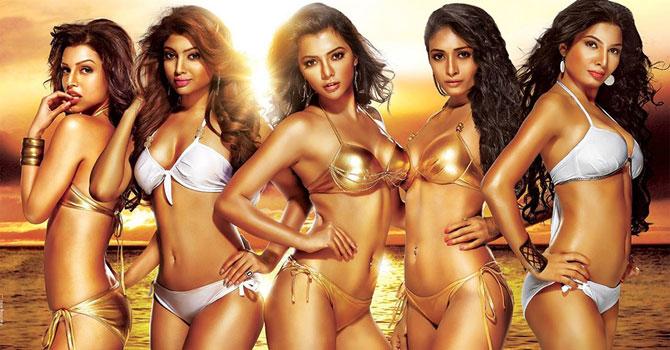 'Calendar Girls' poster. Pic/Santa Banta
A few agonising Madhur Bhandarkar films over the years and I am imagining this is how his script factory functions.
So let's start with the essentials;
1. Get an intense looking cop, preferably with red rimmed eyes; call a Marathi actor.
2. A rich industrialist whose introductory scene will be in a board room meeting, awkwardly deriding some extras in suits; call Suhel Seth.
3. A socialite who looks like she is born with a wine glass stuck to her hand and who goes around introducing random people to random people at tacky parties; call Suchitra Pillai
4. A fashionable madame who is sophisticated but will 'shock' you yet again for the millionth time when she reveals that she runs an escort service. She twists her face for added effect when she tells you power brokers and foreign diplomats are her clients; call Meeta Vashisht.
5. Oh and yes, get girls. This time let's make it large scale. Get 5 of them. Talent doesn't matter as long as they look like they can even sleepwalk on the ramp.
What worked for Bhandarkar in 2005 in 'Page 3' can obviously not work in 2015 because he is unimaginatively and rather cockily serving us the same dish in a different plate.
Photos: Special screening of 'Calendar Girls'
This time Bhandarkar presumably focuses on five calendar girls, four from various parts of the country and one a Pakistani from London. These girls are shortlisted for the Kingfisher kind of, presumably prestigious, calendar. Apart from the glamour, fame and money, yippee! they also get a permanent calendar girl prefix added to their names. Cocky, because neither Bhandarkar nor his co-scriptwriters have even bothered to check basic English grammar while making the poor girls mouth them in ishtyle.
Someone also needs to tell the scripting team that this is 2015 and casual sex, powerful men asking for escorts, a straying husband are not materials inducing shock and awe anymore.
Also, little sensitivity while dealing with that Pakistani character would have helped. It is irresponsible to portray a Pak actress, inviting fatwa in her country because she chose a glamour field in India, who loses her way and character just the way her nemesis back home predicted for her.

And yes, talking about Twitter in every second dialogue won't magically make the film modern and contemporary.