Dia Mirza who is married to filmmaker Sahil Sangha,will soon be seen portraying the role of Manyata Dutt in Sanju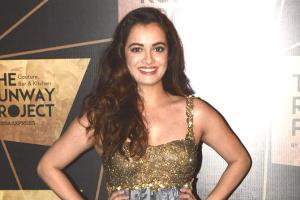 Dia Mirza
Actress Dia Mirza, who is married to filmmaker Sahil Sangha, feels friendship is the essence of a strong relationship. The actress and philanthropist attended the pre-wedding celebrations of erstwhile Kurnool royal Adnan Ul Mulk and Nida Farooqui here on Wednesday. She hosted a sufiyana evening at a Mumbai hotel.
Dia told the media: "I am very happy and excited to be part of the Mulk and Farooqui family unions. It is a grand celebration. It is going to happen over the next couple of days. I think as an artiste and entertainers, it is always such a privilege to be part of such special occasions that bring families together in happiness."
ADVERTISEMENT
Happy for the couple, Dia said: "It is a wish that I wish for every couple that comes together -- be friends forever. Love, respect and cherish each other."
On being asked about buying a Mother India poster for Rs 145,000 for actor Sanjay Dutt and his family during an auction, Dia said: "I was part of very important and beautiful auction, to restore and preserve the heritage of cinema. And during that auction, some very priceless memorabilia was being auctioned.
"I found this 'Mother India' poster and I thought it would make a very special present for Sanjay Dutt and his family. So I bid for it". Dia will soon be seen portraying the role of Manyata Dutt in Sanju, a film on Sanjay's life.
"Sanju is a special film and I think everyone who is part of it is excited and cannot wait for the audience to watch the film and enjoy it," she said. Apart from Dia, Badshah, Kanika Kapoor, Urvashi Rautela, Rohin Puri, Nirmika, Nora Fatehi, Jonita Gandhi, DJ Sumit, DJ Stetson and DJ Udita were a part of the pre-wedding function.
Catch up on all the latest entertainment news and gossip here. Also download the new mid-day Android and iOS apps to get latest updates
This story has been sourced from a third party syndicated feed, agencies. Except for the change in headline, the story has been provided "AS-IS," "AS AVAILABLE, without any verification or editing from our side. Mid-day accepts no responsibility or liability for its dependability, trustworthiness, reliability and data of the text. Mid-day management/mid-day.com reserves the sole right to alter, delete or remove (without notice) the content in its absolute discretion for any reason whatsoever