Mother India's Crochet Queens is a group that is uniting crochet enthusiasts across the country with an aim to achieve a Guinness World Record of the largest crochet blanket by a participating group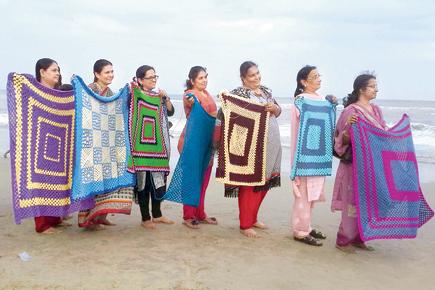 A crochet meet at Besant Nagar Beach in Chennai
  Social media has proven to be a uniting factor for several women across the country from different social and economical backgrounds but with a common area of interest. A great example of this online camaraderie is the #100sareepact campaign, started by two Bangalore-based women, where women across the world are encouraged to wear 100 sarees before the end of 2015, and post photos of each sari worn by them.
Another such campaign that is beginning to gain momentum is Mother India's Crochet Queens.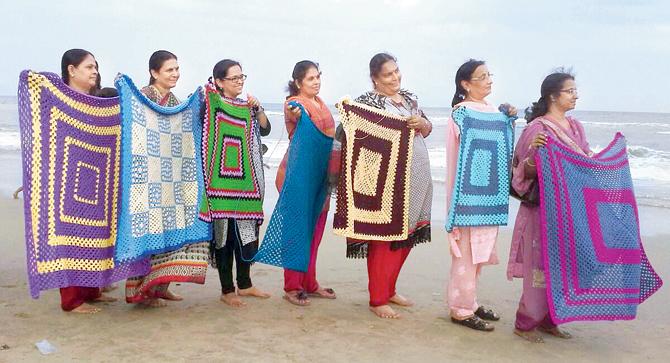 A crochet meet at Besant Nagar Beach in Chennai
The first stitch
For Chennai-based Subashri Natarajan, who is a few days short of turning 44, crocheting has been a hobby since her childhood. "The company I work for (a private limited engineering firm) was my first job and I am now the CEO of the company. I have always wanted to achieve something in my life and be on the top. And getting one's name featured in the Guinness World Records will be the official stamp to being the best at what you are interested in. So, I browsed the Internet for different world records and realised knitting has always been an area of interest, so, why not try and set a world record in it," says Subashri.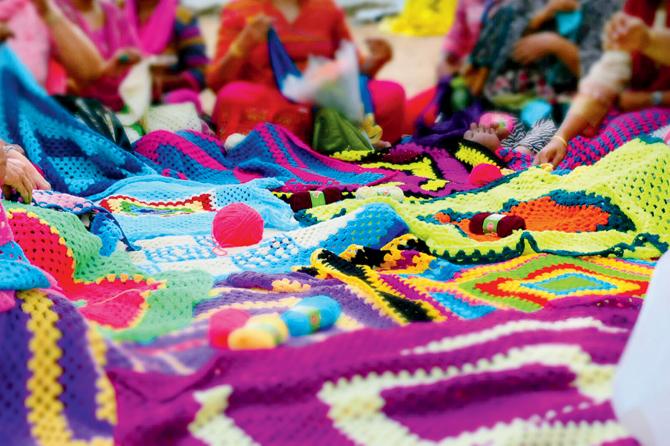 Some of the blankets knit at a group meet
A further search revealed that the world record for the largest crochet blanket by a participating group was held by a group in South Africa. The final dimensions of the blanket, which set the record in April 2015 was 3377 sq metres. "First I thought I could achieve a record on my own. When I saw the final length, I realised that it is a huge task," she says. So, Subashri posted on Facebook and invited her friends and family to be a part of the campaign.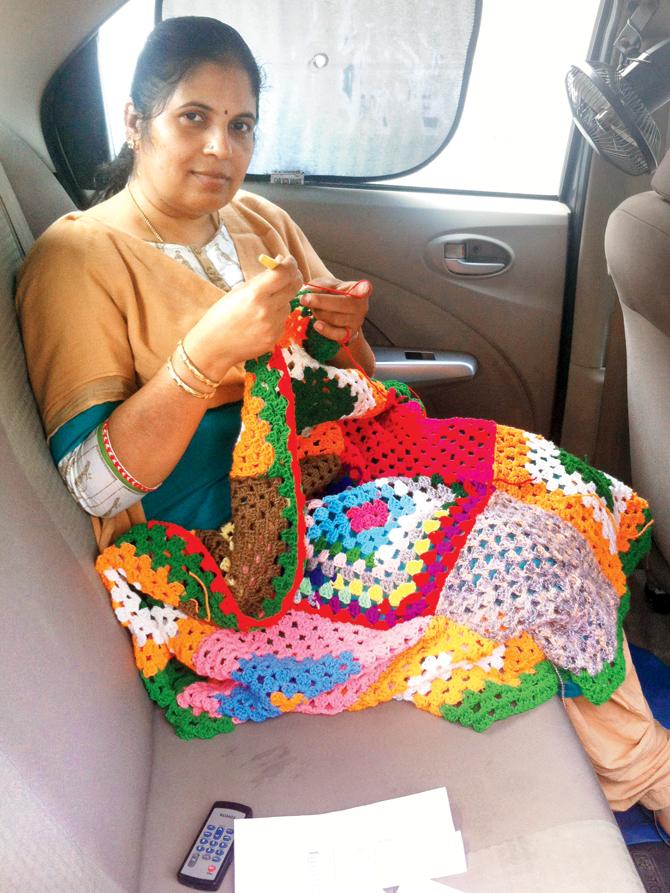 Subashri Natarajan, the Chennai-based founder of the group, Mother India's Crochet Queens, usually knits on her
way to work in her car
What's the prize?
Subashri's aim was to achieve a minimum of 5,000 crochet blankets. The selected design was the Granny Square Pattern, a 40-inch X 40 inch blanket that comes to a sq metre of a blanket. These would then by joined together to make a large blanket. Once Subashri applied for the record, she received an acceptance letter in July 2015 and created the group in August. "My friends and relatives were very excited about this project and they invited their acquaintances to be a part of it too. Today, we have more than 900 women as a part of the group," she says happily. Subashri tells us that she wanted to make India proud, so she restricted the participation to Indian women only. This includes Indian women from across the world though, "We have members from Poland, Australia, Switzerland, Middle East and many more countries."

A group knitting session in progress at Besant Nagar Beach in Chennai
More power to women
The mass inclusion of women across age groups (she tells us they have an 85-year-old grandmother from Gujarat) has had a subtle, positive effect on all the participating women. "There are several ladies who are at their homes with little touch with the outside world and are depressed about it. But with this, they now feel proud and self confident that they are a part of a movement and can achieve something based on their own skill and determination.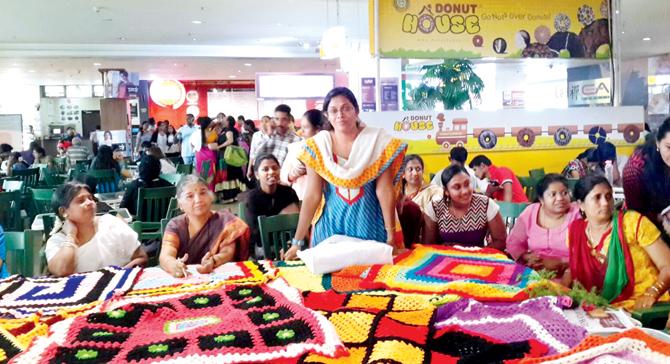 A group knitting session in progress at a mall in Chennai
My biggest clause while deciding on the choice of the Guinness Record option was not to pick something absurd which has no point. And through our Internet groups, we can see the unity and confidence that the project has raised in Indian ladies," Subashri adds proudly. With the increase in the number of participants in the group, Natarajan then decided to create WhatsApp group for specific regions which had six or more participating women for better co ordination. This helps uploading posts, sharing links and conducting meet ups easier.
Final frontier
All the blankets will need to be shipped to Chennai, where it started, by January 15, 2016 (so the group will have to wrap up the knitting by December 31). Once collected, these will then be joined together to make the largest blanket. Based on the initial quantity confirmations, the group has already exceeded its target in theory. They also have two schools on board (one each in Chennai and Bangalore).
Not one to make efforts go waste, the women of the group added a social angle to the project. Once the record is registered, the blankets will then be taken apart, and the smaller blankets will by distributed to the needy. Subashri tells us that one blanket is enough for a 4 to 5-year-old child while an adult can use two of them together.